The T-Shirt. The Sweat. The Bomber Jacket. The Sneakers. Here are the building blocks for your new-season wardrobe.
The Arrivals – Sage Mir Modular Rain Jacket
We'd like to tell you that the inclusion of this jacket in this month's essential list is because of its practicality – of course, the fact that it's a lightweight and breathable waterproof ripstop rain jacket with a modular hood, adjustable sleeve lengths and a ventilating mudflap back panel makes it a useful layering piece through summer. But we'd be lying. We really chose it because of its muted sage colour hue – which is the perfect complement to any summer evening outfit, particularly when paired to a grey tailored trouser and classic all-white leather sneaker.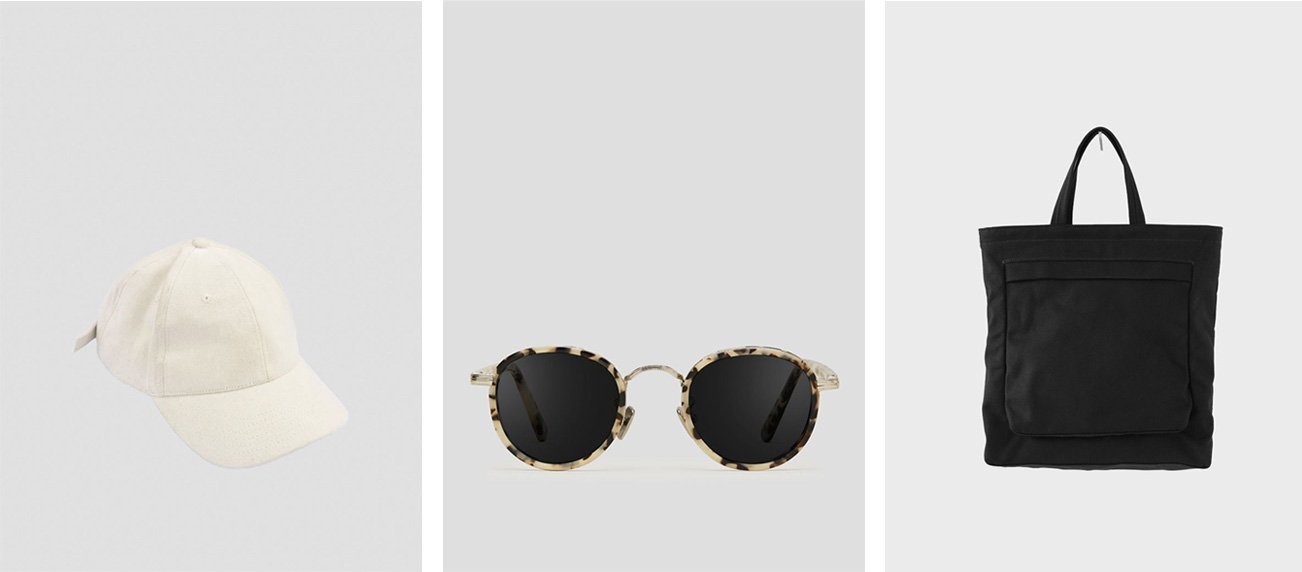 Cole Buxton –  Natural Brushed Cotton Ball Cap
Cole Buxton's Ball Cap is a minimalist take on a truly classic style with its luxurious brushed cotton construction, old-school short peak and discreet white 'CB' branding to the side. The virtues of the less-is-more approach can hardly be better expressed than by pairing a classic cotton ball cap with a loose-fitting white t-shirt and a pair of dark coloured jeans. The cap's light colouring and subtle texture will be noticeable enough to provide some visual depth, without overtaking the pared-down colour palette.
Cubitts – Granite Gifford Sunglasses
With a classic panto lens and speckled granite acetate frames, the Gifford sunglasses by Cubitts are what can be considered an investment piece. Not only will the expertly constructed sunglasses – finished with custom Cubitts pins – look good this summer, but the sculpted round shape and light shell frames ensure that the sunglasses can be worn for seasons to come too.
Makr – Black Organiser Tote Bag
Makr's large Black Organiser Tote ticks all the boxes when it comes to size, durability and ease of use. The slim and stylish accessory is fit for any adventure courtesy of its comfortable double-rolled handles and double-layered base. While the reliable heavy cotton duck construction ensures the bag will last through decades of dedicated travel, while the spacious interior capacity is the perfect size for organising your belongings thanks to its full zip closure and single interior pocket.
YMC – Pink Television Raglan T-Shirt
This year, summer collections are absolutely packed with pink. In particular, pastel pinks, dusty blush pinks and the revival of the old-favourite 'salmon' pink. One of our favourites, the YMC Pink Television Raglan T-Shirt, puts the pastel revival to good use and is an easy and understated way to wear pink this summer. While its luxurious cotton slub jersey construction makes it feel great, too.
A Day's March – Red Raglan Sweatshirt
A Day's March offers clean-cut basics and high-quality wardrobe staples at a friendly price – which means the brand's array of shirts, t-shirts and sweats need no real introduction. By taking influence from classic American and Italian menswear as well as traditional military apparel and modern sportswear, the brand makes staples that will look and feel good season after season. And this Red Raglan Sweat – crafted from organic loopback cotton – makes for the perfect building block for any transitional wardrobe, particularly because its pastel red colour hue can anchor any smart-casual outfit, whether its paired with a pair of tailored trousers or sweatpants.
Paladrin – Black Milburn Shirt
Paladrin's extra-special ethos of 'designed, sourced and made exclusively in London' means that they have incredible control over every piece of clothing they create – and the brand's intricate eye for detail radiates from this Black Milburn Shirt. Featuring two large workwear-inspired chest pockets, a short-point slightly widespread collar and a durable corduroy construction, the shirt will come into its own towards the dying embers of summer, but it can also work nicely as a lightweight layer over a simple white tee in the upcoming evenings too.
It's simple really; every man should own at least one pair of go-to chinos. For one, they're comfortable. Two, they're incredibly versatile. And three, they're the perfect fair-weather fall-back when it's too hot for a hard-wearing jean or trouser. Chino's also don't get much better than this pair of 55 Chinos from Edwin – based on the shape of the brand's most popular 5-pocket style with a relaxed tapered fit and mid-rise – they provide the perfect balance between timeless design and a light, contemporary colour palette.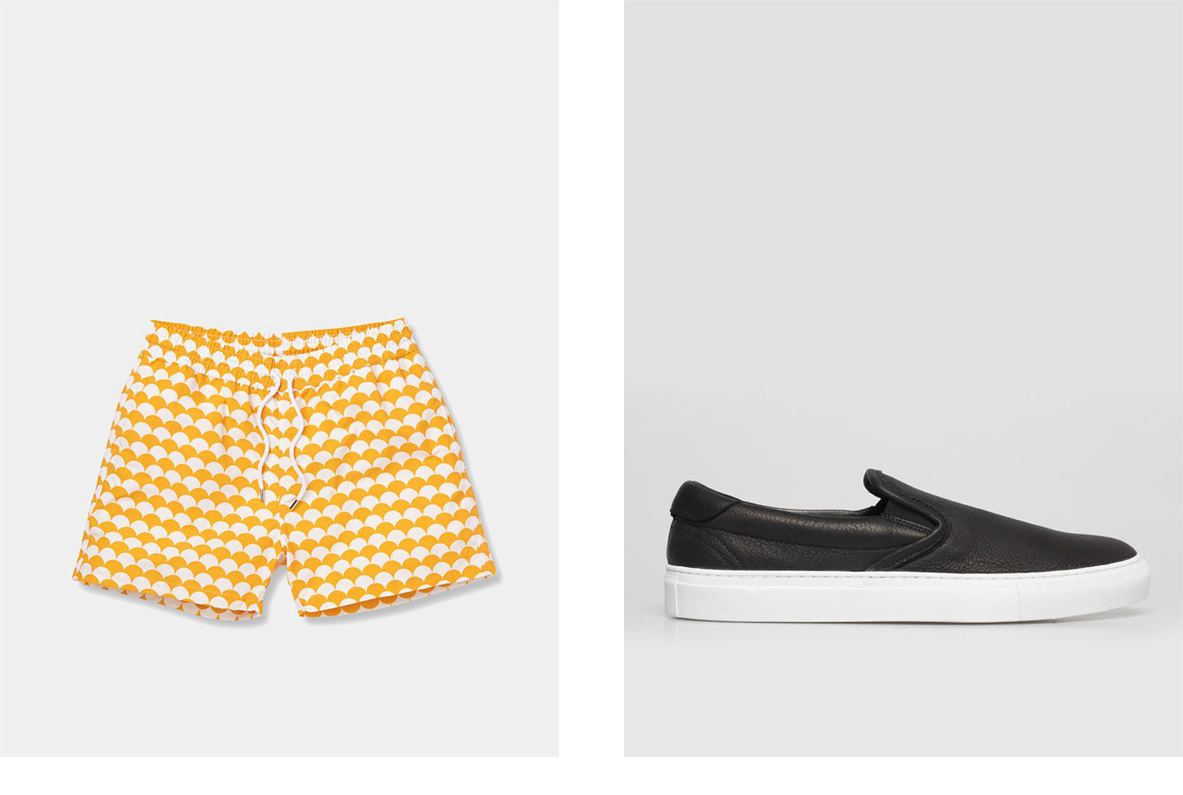 Frescobol Carioca – Yellow Noronha Sport Swim Shorts
The dependability we all put upon swim shorts has naturally changed their function – with more and more swim shorts moving away from overly-garish designs and incredibly short lengths, to offer shorts that are equally at home on the beach as they are when you step towards the bar. Frescobol Carioca is one such brand pioneering the functional transition of swimshorts, and this sunflower yellow Noronha pair are one of our particular favourites. Featuring a comfortable short length and a bold print inspired by the idyllic landscape of Noronha on the north-eastern Brazilian coast, the shorts are constructed from a quick-dry polyamide fabric with an elasticated waistband and a handy tailored back pocket.
Diemme – Black Deer Garda Slip-On Sneakers
Diemme know a thing or two about contemporary, reliable designs when it comes to sneakers – evidenced by the fact that their creations are spawned from founders Denis and Maico Signor's prior experience at Chanel, Bottega Veneta and Gucci. So its no exaggeration when we say this slip-on pair of Garda sneakers make for the perfect summer sneaker. Not only are they built on the brand's signature robust rubber sole, but the uppers are made from a supple Deer Nappa leather that make them slim, lightweight and incredibly easy to slip-on and off as the weather dictates.