Natural skincare brand OM-SE ("to care for" in Swedish) was established by Stockholm-based couple Jenny and Jacob Huurinainen out of pure necessity.
It all began in 2016, when, after decades of trying and failing to find "that perfect cream or that perfect routine" that would solve all her skin issues, Jenny took matters into her own hands. Inspired by the FODMAP methodology – which involves eliminating and gradually reintroducing ingredients one at a time to test their effects – she began to formulate potent plant-based blends. After a year of endless experiments, the foundations for OM-SE were established.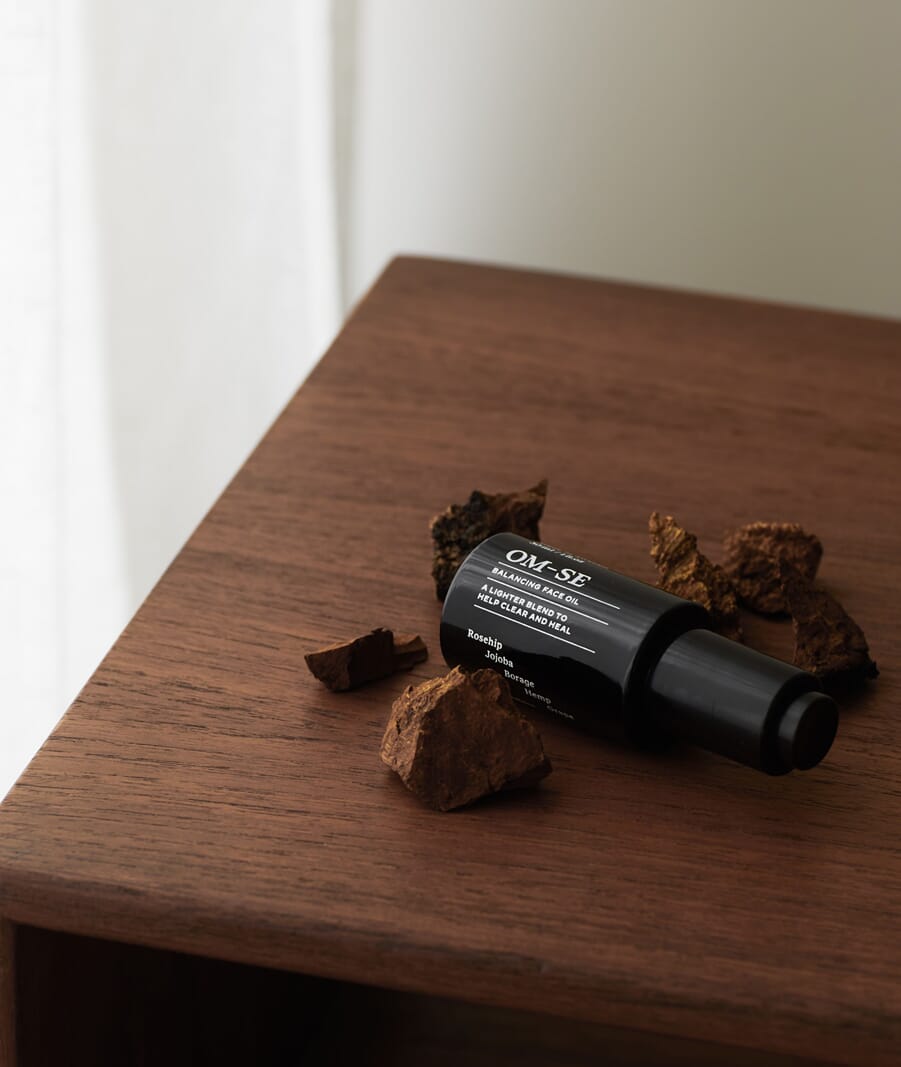 "My skin really cleared up and the secret basically was because I did it for my own sake, only using ingredients that add value to the skin," Jenny says. "I didn't use any harsh ingredients, minimised the preservatives and focused on keeping the skin balanced and keeping the natural protection of the sebum in the skin balanced rather than removing it."
Jacob started applying the formulas to his skin and quickly began fielding compliments from co-workers. Eventually, the couple were getting requests to purchase the products, so they knew they were onto something. With Jenny as the formulator in charge of "creating the magic inside the bottles" and Jacob tasked with design and branding, they set to work developing what would soon become the OM-SE range – a cleansing oil, face mist and two types of facial oils – 'Balancing' for combination and oily skin and 'Renewing' for dry and sensitive skin. The range is limited to these four formulas with the firm belief that less is more – fewer products are easier on your skin, wallet and shelf space. "We're told that there are all these products we need, but we turned that upside down," says Jenny.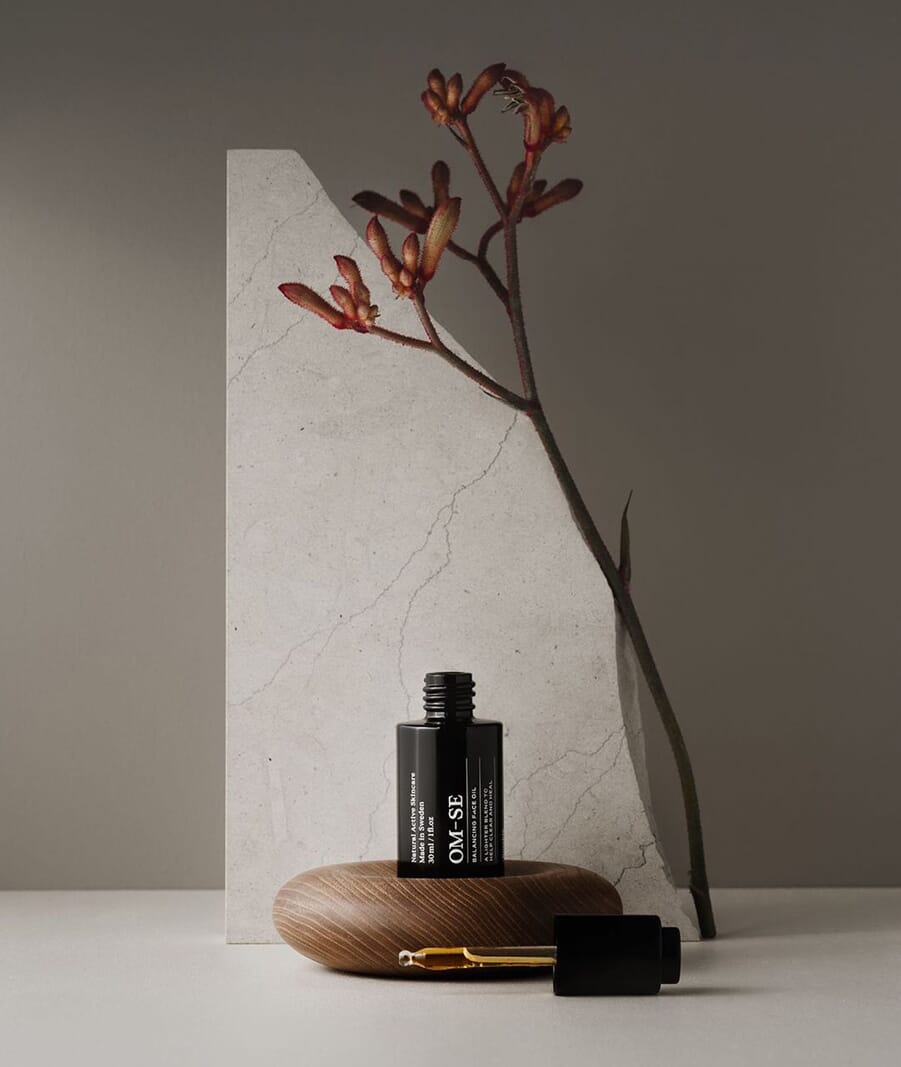 All products are gender-neutral and multipurpose, designed to treat every type of skin - making implementing your own personal skincare routine easy. In the spirit of true transparency, the high performance natural ingredients are listed clearly and confidently on each bottle. "We want to do honest products, we want people to be able to read the ingredient list so the ingredient list is what's most beautiful on the product," says Jacob. The products are free of fillers like emulsifiers, colour additives and perfume, and are made in small batches in the north of Sweden using 100% premium organic plant-based ingredients, each selected for their performance – from rosehip and avocado oils to hyaluronic and salicin acids.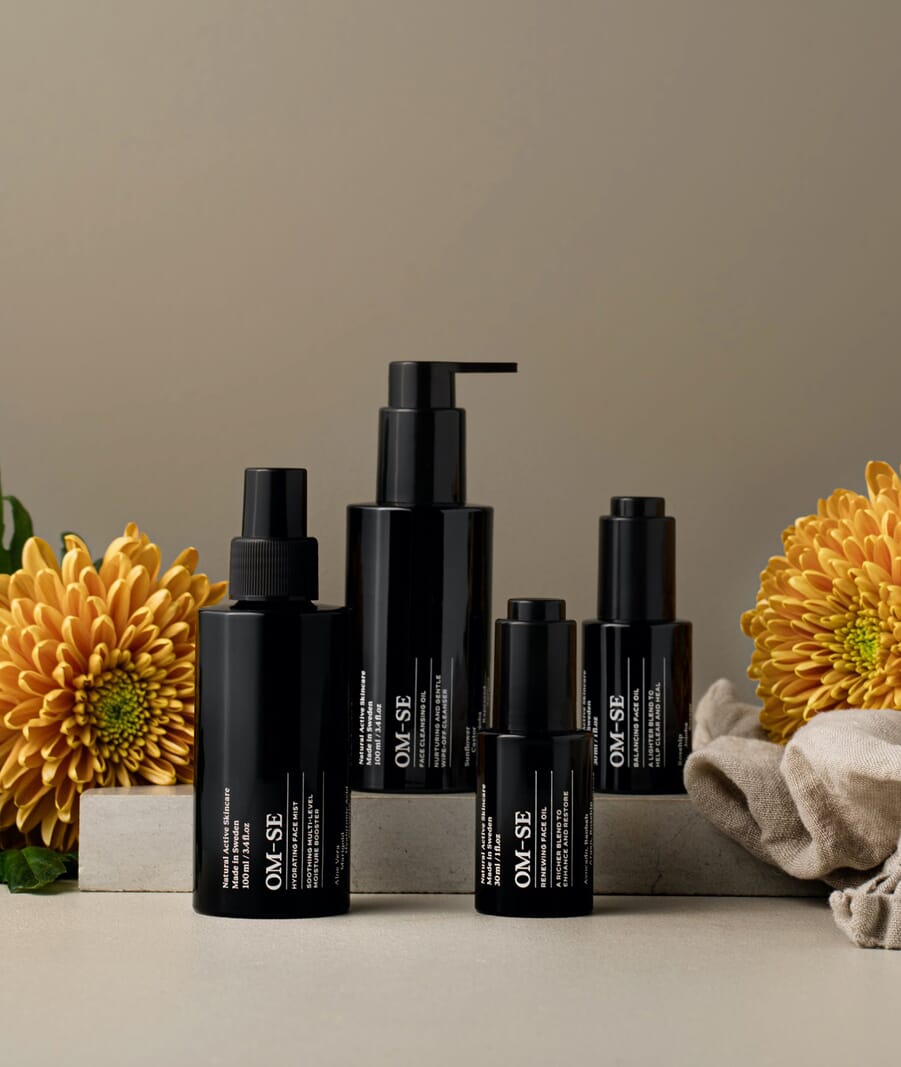 This is skincare at its most simple, stripped right back to the bare essentials. "It's ironic because we come from marketing backgrounds but we excluded all the marketing tools like colour, texture, scent – all the things that create that typical marketing experience – because of course it adds value when it comes to the first experience but it doesn't add value to the skin," says Jenny. Jacob sums up the OM-SE approach in a sentence: "We're going back to the roots basically."
---
---
---
---