Harry Brantly walks into the Frescobol Carioca Notting Hill shop with the look of man who's pretty happy with his lot. Happy to be at work. Even though the weather outside is typical of a cold October morning and he's been pulled in early to speak to me. Regardless, he's happy. The smile itself is a good enough representation of how things are going for Frescobol Carioca. The British brand with a Brazilian heart that allow customers to 'live like a Carioca', wherever they may be — through the use of beach bats, luxury men's swimwear, flowing cuts, light shirting, linen trousers and simple styling.
Harry talks openly from the off. Joking, claiming he's not comfortable enough to be in front of the camera as he walks us around the shop. Showing us how to play Frescobol, the Brazilian paddle ball game that you play with the brand's iconic wooden beach bats, before sitting down, coffee in hand, to talk us through it all. The highs, the lows, the secrets and the stories of the brand he founded with long-time friend and business partner Max Leese in 2013.
Let's start from the very beginning; growing up, who was your hero?
I can't remember having an actual hero growing up, but I always remember looking to my Dad a lot. I grew up in a fairly entrepreneurial environment as my Dad ran his own private equity holding company in Brazil. I was always exposed to him buying and selling so I was always aware of what was going on in that world from a relatively young age. I think some of that must have rubbed off on me a little.
What was your first job?
I've always had a little bit entrepreneurial spirit. I remember I had a business selling chocolate in front of our house when I was really young. But my first proper job was in Finance. Even though I was born and raised in Brazil I went to school in Europe, I always went back to Brazil around four times a year though, so the country was always very much a part of me. Finance never really suited me, though. I always had that urge for something new, something creative. I always harboured this ambition of doing something that merged my Brazilian heritage with my upbringing in Europe – and Frescobol Carioca was the best way to do that.
So, where did the idea for Frescobol Carioca come from?
Me and Max, my business partner, have known each other since we were 13. We went to Edinburgh University together, where I did a degree in Business Studies. We were on a surfing holiday on the west coast of France and I had bought along these amazing Brazilian beach bats with me. Although we were meant to be surfing, we spent all our time playing with these bats.
We'd be playing and people would stop on the beach, ask questions and join in. At that point we thought – wow – we've transformed this Carioca lifestyle, which means 'from Rio de Janeiro', to an entirely new part of the world. We've taken Rio to Europe. That was the real light bulb moment. In respect of bringing the game to a new audience. From then on we knew we needed to make our own; we knew these bats could open up other avenues for us.
We'll stop there for a minute, just how big is this game in Brazil?
We joke that its Brazil's second national sport. Of course, Brazil is best known for football but nearly every home in the country has a football and a pair of beach bats too. Wherever you go in Rio – on any beach – you hear this instantly recognisable knock-knock of the bat and ball. You can land me on a beach in Brazil blindfolded and I'll hear that sound and I'll know exactly where I am.
Why do you think no one had the vision to bring this game to new territories before?
We just saw the opportunity because no one had really done it. I think a couple of people had tried to do it but not properly. We wanted to do it big. We wanted to bring the Carioca lifestyle to the world, we wanted the first thing you think about when it comes to Rio not to be football or the architecture but Frescobol Carioca.
There is still a lot to learn along the way, though. What was the first steps in forming Frescobol Carioca?
We stayed working in Finance initially. We were conscious of building up a bit of capital before giving it a real go. We stayed in our jobs for a year developing the project. We both worked in the same office building and it got to a stage where we spent all evenings and weekends just packing up boxes of beach bats for distribution. It then evolved to every lunch time running to the post office to ship these items around the world. It all got too much so when the year had passed we made the jump.
Was there any calamities along the way?
We moved into swim and ready-to-wear quite quickly. Too quickly, really. Within a space of the year we were moving into swimwear as that's where we saw the biggest opportunity. Looking back, I don't think we got the first batch right – in fact, I know we didn't get it right. Being two boys from finance it's a lot more difficult than just walking into a factory with designs and making a collection. We were completely naïve at the time. There's a lot more that goes into it as we first imagined, but we were proud that we even got that first collection out.
So, how did you learn from that?
We realised that design wasn't always our strength, so we hired the right people in the right places to help us. I think that was the breakthrough. You can only go so far with beach bats. You can only go so fast with beach bats. I mean, we were surprised with how many beach bats you could actually sell, but we knew to build a brand we needed a lot more than that.
You stepped into swimwear…
Yes, swim and ready-to-wear was the big opportunity for us. There was only one brand at the time really doing it. Me and my friends all had seven or eight pairs of swim shorts from this one brand so we knew we could do it ourselves. There was no supply but a lot of demand. Twenty years ago, you'd have one pair of trunks. Today, you want one for different outcomes – one in the morning, one at lunch, one for tennis, for example.
What also really helped us was just how big Brazil was at the time. Everyone wanted to be a part of Brazil. Culturally with art and music; there was the World Cup and the Olympics, too. There was a lot of different forces pulling people to Brazil. So, when we called our first stockist saying 'hey, we're a Brazilian brand,' there was a real warm welcome for us. Of course, we had a bit of luck in terms of timing, but we knew swimwear was the right road for us.
How is the brand thought of in Brazil?
Trying to sell our brand in Brazil is like to selling ice to the eskimos. There's more swimwear in Brazil than you can imagine. You can be sat on the beach and people will come up to you selling swimwear. So, we have to do things our own way. We work on exclusive collaborations; we did one with Louis Vuitton for a show a couple of years go in Rio. But we often find that Brazilians go out of Brazil and buy our brand. We have so many anecdotes of people going abroad and supporting the brand by bringing it back to Brazil.
The ultimate goal for us though is to sell the Rio dream to the world. To sell this lifestyle to people who don't live there. That's the ambition and that hasn't changed. Rio is all about good humour and good nature – life is always in a good place. We hope when you go into one of our shops – you understand that and feel that Carioca culture.
On the topic of stores, how do you get your staff to a level where they can sell the Carioca dream?
We haven't hired a non-Brazilian in our stores. We think that's really important. Not for cosmetic reasons – like 'ah they speak the language' – its more about giving them the opportunity to share their stories, their anecdotes and what Rio means to them. So, when you go into the shop to buy a new pair of trunks or a bat you can gain genuine insight and stories from people who know the culture – from where you should go to watch the sunset, where you should go on the beach to which gallery to visit.
All the Frescobol Carioca shop staff are known for giving out great pieces of advice, but what is the best piece of advice that you have received on this journey?
It was from my dad. He said the 'greatest risk in life is taking no risk at all'. It sounds obvious but before I started this, I was in a very comfortable position. I was in a great job, I liked it. But I wanted to do more. I wanted to create this experience and I wanted people to share it with me – I wanted to create jobs and opportunities for other people. When I first heard that from my Dad I was debating this whole journey but that was the advice I needed to make the jump.
So, what is the most important thing that you've learned along the Frescobol Carioca journey?
Focus on people. Every business needs the original spark and the game-changing idea to start the journey but after that very short time period it all comes down to your people. We focus on that as much as we can. We're not designers, product developers or anything like that. We get the best people in place to do that. Our job is to allow people to thrive in those positions – giving them the opportunity and tools to do the best job that they possibly can.
What keeps driving you?
Personally, I get a massive kick from job creation. When the company is growing, and it needs more staff to grow, that's a great motivation for me. I love that. I want the brand to be global. We have a good presence in London and a sprinkling around the world. But we want to grow deeper roots in LA, Australia, Germany. We've built something that is beautiful, fun and inspirational but we need to get it out to more people. That's the plan for 2019.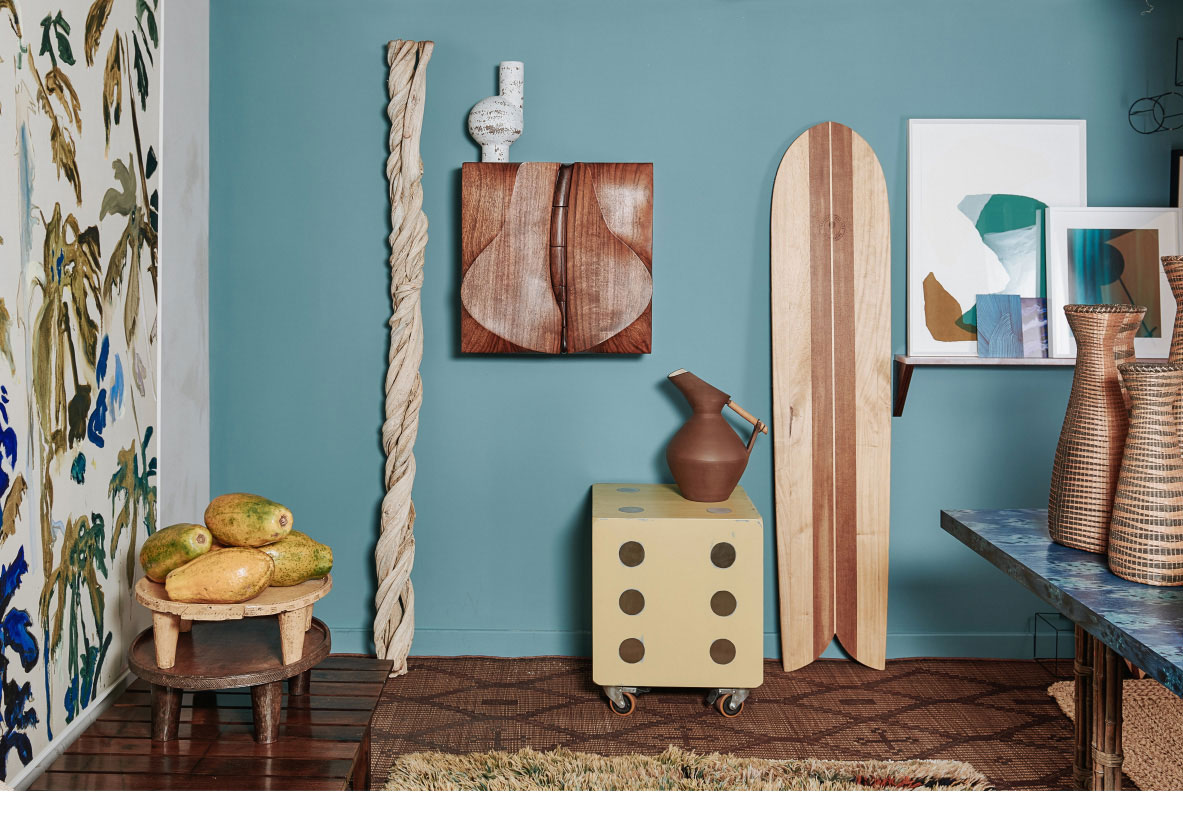 Shop and explore the latest Frescobol Carioca collection at OPUMO.
Want more entrepreneurial insight? Check out our interview with Scott Gabrielson – the creative mind and founder behind one of the best new brands in men's sneakers, Oliver Cabell.