The greatest pieces of design from around the world are indescribable. They all possess a certain special quality that you just can't put your finger on but you just know that it's something special. Through the work of their London design studio Sella Concept, Tatjana von Stein and Gayle Noonan have become known for creating interiors, installations and branding concepts that have a certain air of comfort, warmth and wanting-to-be that comes with the very best interior design projects. They're special, basically.
Powered by their complete understanding of emotion-led behaviour, spatial interaction and what it takes to create a successful interior, the diversely talented duo's portfolio of work includes everything that you have come to expect and a few projects that you haven't. From co-working spaces at East London's De Beauvoir Block and branding Grade II-listed Mediterranean restaurant Omar's in Pimlico, to event and design installation for some of the world's digital powerhouses including Netflix and Google. As pioneers of the digital generation continue to turn to physical spaces to create something bigger than virtual reality, Von Stein and Noonan share their thoughts on the secrets to a successful communal space, creativity and how to create the perfect interior at home.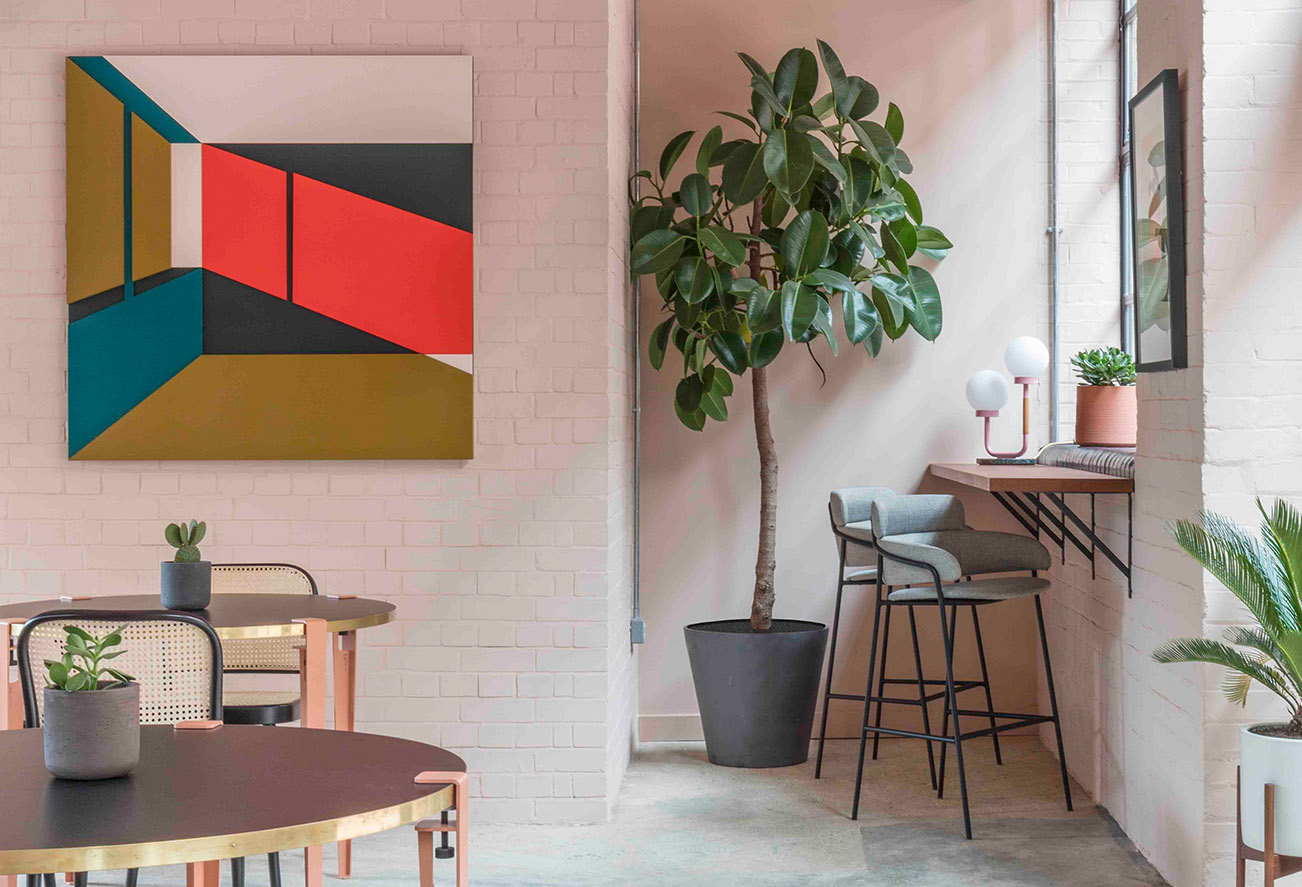 What are the key ingredients when it comes to creating a communal space?
Gayle Noonan: What are communal spaces anyway? They're places where people breakout in search of less confined, rigid or prescribed areas to exist in. They need to offer something that you can't quite put your finger on - but you know you'd rather work from "there, for a while".
Essentially, successful spaces are spaces that offer the user many ways to interact with them. They accept that a table and a desk, no matter how beautiful the chair or joinery of the table, will not provide a sufficient variety of "ways of being"; smart spaces know their people and take note of how they like to exist within them.
Observing these communities is a fascinating thing, they give you an insight into the culture that binds them together. If you can create a space that is empathetic to a culture, then you're on your way to creating a space with longevity. The key to creating an effective communal space is not asking the space to do the same thing for each person who uses it. It needs to offer far more than that, it needs multiple areas, materials, and formats that can speak to the individual physically and emotionally.
So what intrigues you about spaces and how people interact with them?
Tatjana von Stein: We are all looking for different experiences, from our daily routines to special occasions. Sometimes the tone is perfectly set, sometimes spaces feel too prescribed, and other times we surprise ourselves in the most unforgiving of places. It excites me to think of someone's journey and how we can incentivise behaviour; how we can somehow reach an overarching atmosphere that transcends people's culture and personalities through a gentle flow and thought-through design details.
The debate of the design intent of a space vs. the energy that people can bring is ongoing, and its probably a combination of both that particularly intrigues me.
You work across the principles of interior design, event design and branding. Why is having such a holistic approach so important to you?
GN: I love the idea of taking a project from start to finish no matter how great the start is and how significant the finish is. Projects can be manhandled sometimes, too many hands touching too many parts which can leave room for interpretation at each point. This isn't always ideal as a clear concept and application is the key to great design in my opinion.
What we adore is problem solving, once you arrive at the answer to any design question the fun part is applying it. The application can be the across several disciplines and while the final result might be different the process is familiar whether you're working on a concept, a restaurant design or a new identity for a brand. Adding design to a creative concept and applying a layer of graphic design all from one approach is a very satisfying task. We love exercising all areas with the discipline of design – it keeps our creative muscles defined and toned. It's a win-win.
Why do you believe a space is so important to creativity?
TVS: In London a lot of creative spaces are set through art, seating flexibility, casual atmospheres and palpable inspiration.
However, I listened to a wonderful Japanese architect discuss the ideal bare setting to master the art of creativity, allowing us to reach our individual peak of creation rather than be influenced by the noise around us. I believe this true for all artists in us. I also believe that we respond to climate, as a neutral setting sits more comfortably in the dawn of heat.
We all find our individual spaces that inspire us to think and create, we do our best to help encourage it depending on the audience at hand.
How has interior design changed since you started?
TVS: I am not sure that we have been in the industry for long enough to really justify our thoughts. I do feel, though, that there is a gentle merge between permanent spaces and event spaces. On the one hand hospitality & workplaces are looking for a timelessness to set their brand in stone, yet the appeal and attractiveness to reinvent themselves to meet today's hunger for stimulation and further revenue streams is undeniable.
On the temporary set ups, bigger brands are becoming more environmentally conscientious to reduce material waste and it seems they are also looking for more permanence in their voice and quality in experiences through an ongoing and recognisable message and aesthetic.
What was the first item that made you fall in love with design?
TVS: An old chair. Sella is also the first word for chair, I have been renovating a chair for 2 years and it turns out this love comes from the many 'occasional' chairs spread around the house by my mother.
Moving out of the business side of design – can you describe what your home looks like?
TVS: That's quite simple. It's a greenhouse with too many collectibles.
What was the item in your home you could not live without?
TVS: An old plantation chair, it's been with us forever, it's become an old friend and sat in the corner when we didn't have the space to use it or properly place it in.
What is the most important room in the house?
TVS: The kitchen/lounge area, for sure. I'd love to get a secret camera to capture us circulating in the same room from metre to metre indulging our several moods in different chairs, sofas or on the floor.
The design project I am most proud of is...
TVS: Omar's Place, we really considered and designed every millimetre with so much love and detail. We were also lucky enough to get an incredible worldly recognition for the project…passion for design goes a long way. That's all there is to it.
Your favourite Instagram accounts at the moment are..
TVS & GN: @EmilyForgot, Emily is a friend and designer we highly respect.
@Teaaalexis – Alexis Christodoulou is a 3D visualiser who shares our love of curves and spheres.
Keep up to date with Sella Concept by following the pair on Instagram, @Sella.Concept and for even more interior inspiration, check out the revolving door and open-plan of this Tokyo apartment.