"I was in advertising throughout the 1980s and 90s and my biggest account was Adidas and my second biggest account was Timberland. Naturally, I was very involved in shoes and I loved the idea of being part of everything, right from the outset. So one day I just thought the only way to do this properly is to start my own business."
If you're reading this on the weekend you may be taking a well-earned break from a hard working week. If you're reading this on your commute, you may be looking for a distraction before you have to head into the humdrum of work. And if you're actually reading this at work, well, it may give you a little extra inspiration to carry on. Because if you've ever considered a career change, then let Tim Little be your inspiration. Twenty years ago, after feeding off the energy of Adidas and Timberland, Grenson's now-owner and creative director gave up a decade-long career in advertising to pursue his love of shoes.
"I was in love with classic British shoe design at the time. I was in awe of how they were made and I had this obsession with the craftsmanship and the level of detail in each shoe. But I thought that certain vintage brands and their products never moved on or evolved.
Being involved with someone like Adidas where there was a huge focus on product development, innovation and even science, made everything so exciting. I just thought when I go buy a pair of business shoes or work shoes – as you actually did back in those days – it was so dull. Nothing had moved on in thirty years. So I had this idea of starting my own brand that had all the craftsmanship and all the heritage but was much more interesting and contemporary."
Twenty years later, Tim's eponymous shoe brand continues to blaze a trail as a forward-thinking heritage shoe-maker, while he also sits at the helm of Grenson, where he has revived the iconic brand by putting a contemporary twist on timeless styles such as the derby, brogue and loafer. Today, Grenson continues to make shoes the traditional way; built to last and beautifully handmade at the Northamptonshire-based factory where Tim makes twice-weekly pilgrimages.
As you would expect, Tim is a man full of stories and secrets on just how to revive one of Britain's best-loved shoe brands. Our initial half-hour interview slot soon turned into a two-hour chat across the topics of shoes, the Blues and football in the Grenson showroom on the King's Road in Chelsea. But, don't worry. We haven't transcribed over two hours of conversation around the art of the British brogue. Instead, we're serving up a bite-sized selection of the hints, tips and stories behind one of the most innovative British shoe designers of the modern day…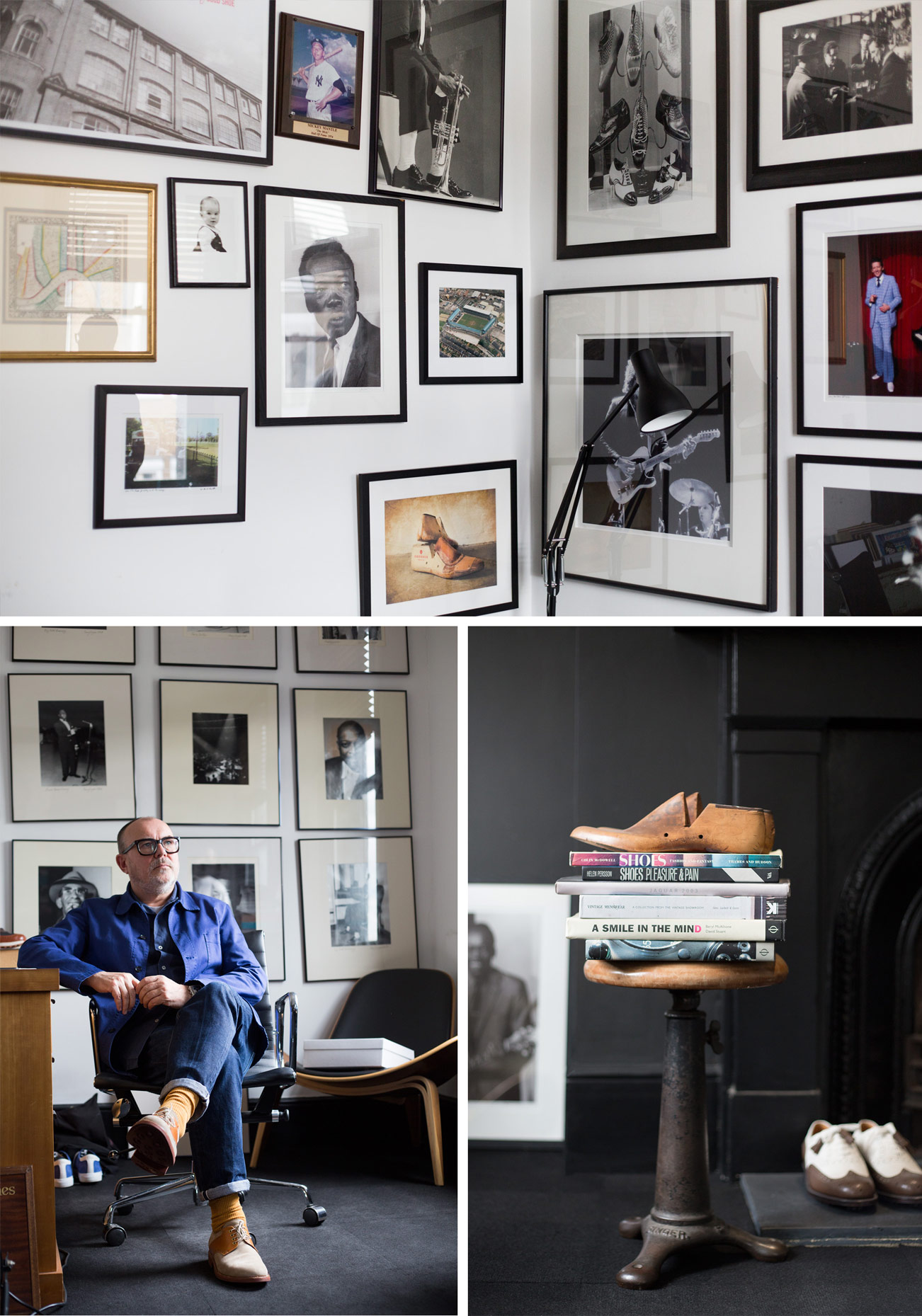 Your move from advertising into shoe-making sounds rather easy, but how did you begin to build your own brand 'Tim Little' all those years ago?
I actually started in this shop right here on King's Road. I started with one bag of shoes. I got all kinds of samples together which took around two years to do while I was still working. I used to work at weekends and travel up to Northampton and ask all the factories to make samples for me. The very first order I ever got was Barney's in New York and the second was Selfridges in London. I thought straight away that I have to test my shoes at the very top. So, if I could sell to Selfridges then that will tell me they're relevant and I've got something right.
There is still a lot to learn along the way, though. Was it scary making the jump into the relatively unknown and starting your own business?
Very much so. It was a really steep learning curve. What I learned really quickly was that I had to appreciate and fully understand how the shoes were made. Once you know how the product is made then you can work out what you can do, what you can't do, what you can change and what you can't.
So it was all about sitting down with factory workers and telling them what I didn't like and seeing what we could change and what we couldn't. It was tough. Telling people these ideas for shoes I had in mind and them telling me it wasn't possible. I had to constantly question and push them a little bit. Throughout advertising, I was taught to question everything. When someone says no, you have to ask 'how do you know it's a no'. So, that's a lesson. Never accept things unless you're absolutely certain. I'd probably say that perseverance is the key to setting up a new brand.
But when did things go up a level; when did you manage to push beyond the initial bag of shoes?
It was around the fourth season. I got Liberty and they offered me a concession; I had half of the entire shoe department. That really shone a light for me as a shoe designer.
What was the hardest part of the journey?
In the early days, it was all about the traditional shoe buyers who knew a lot about the tradition and quality. They were hard to persuade and impress in terms of challenging what they like and what they know.
We made all our own shoe lasts right from the very beginning alongside all the patterns and shapes too. Everything was exclusive to us. It was extremely hard-work as every collection was completely our own. It was hard but it was all worth it. We were designing shoes from pure scratch and it was a unique vision that people, thankfully, got on board with.
In a recent Netflix documentary, 'Abstract: The Art of Design', Tinker Hatfield, the creator of the Nike Air Jordan, explains how the evolution of the sneaker grew in response to the desires of Michael Jordan as an athlete. But when it comes to traditional British shoe-making, how hard is it to push the dynamics and make sure that you're doing something unique and different?
That's a really difficult question. There's a really, really fine balance between keeping what's there originally and what you can add. If you go too far too quickly, you lose all that heritage feeling. Likewise, if you don't go far enough there's no point.
What to keep from the past and what to add has been the constant question in my mind since the very beginning. Adding a white wedge sole, for instance, to a brogue was our first real experiment. The upper of the shoe was pretty much the same as it had been for 100 years. The way it had been made was the same it had ever been. The only thing that was different was the materials and the sole. But that's the most exciting part of the entire process. The more restricted you are, the more creative you are.
How did you come to acquire Grenson?  
The company was going a bit down-hill so the owner gave the business to in his son. However, the son was working in London and didn't want to take over full-time. He asked around and heard about me and asked me to turn it around and make the brand more interesting again. I started that in 2005 and turned it around. I left for a little bit before he rang me up a few years later and said he was looking to sell it. In that time the brand had grown a lot, we had made a lot of changes. It was ready for the next push so I ended up buying the business there and then in 2010. Since then it has been amazing. This brand represents everything that I want it to. We work on impulse now.
How important is it to move forward with design whilst also staying true to Grenson's heritage?
I see it as a real responsibility. This company and brand have been known by people for over 150 years. You have to respect that. You have to move forward but you have to respect that.
The responsibility was initially daunting, but there was no future unless we made quite a few radical moves and embraced the fashion world. At the time they were completely separate; the fashion world and the traditional shoe-makers. Don't get me wrong, I got a few complaints right from the very start. We changed the packaging first and foremost, and certain customers were incensed as they thought we were ruining the brand. But it was time to move on. Grenson was only selling shoes to a certain customer back then. Now it's a lot different.
So how would you describe Grenson today?
'An old company with a young heart'. That's the phrase I use a lot. The biggest thing is that we shifted our followers. We haven't lost our original following, though. We can still make bespoke shoes, we still have our classic 'City' collection. But we've moved it onto a younger audience too. Our biggest customer base now is 24-35 year-olds and that's enormous. It's not about being young for the sake of it, but it naturally makes it more exciting and interesting. The younger the audience the more they let you experiment. They like the heritage because it means something but they don't like to be strangled by it.  Which is quite inspiring when it comes to designing shoes.
That being said, where do you find inspiration for your shoes?
It's so difficult to answer that one; everywhere really. I love a lot of different brands for a lot of different things. Celine, for example. I love how they can do something so amazing yet so simple. The same applies to A.P.C. But generally, ideas tend to just pop into my mind, as I am travelling and it could be anything from an old video, a film, a piece of old furniture or a chair. I take a picture and then convert that into a leather somewhere.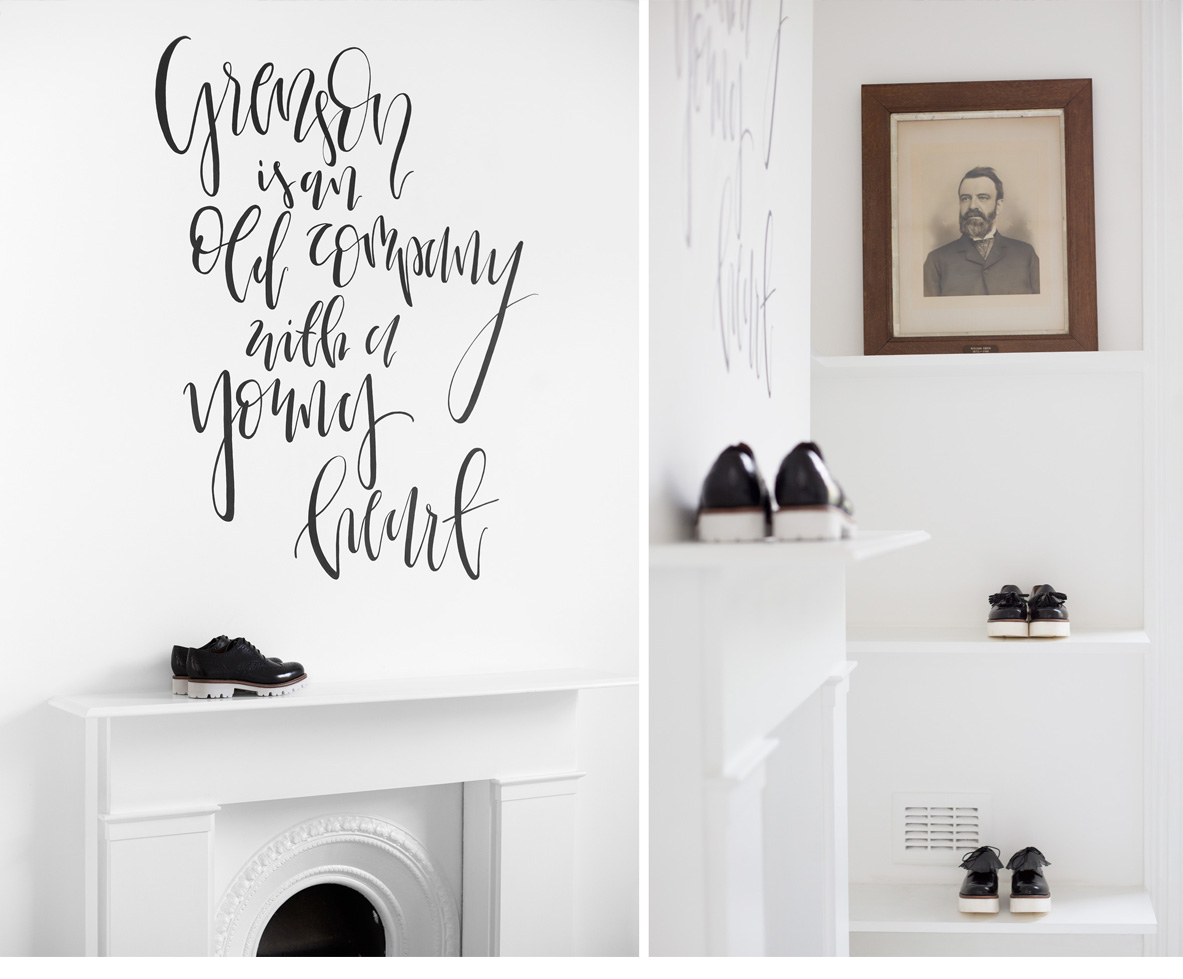 What makes a great shoe?
For me, it's the combination of quality and design. Both are subjective but the consumer will tell us when we get something wrong. Design-wise I love simplicity, I always have. Simplicity is way harder than complicated design because you have to focus on every detail. Some people think design is about being different at all costs. I don't buy that, I spend time on shape, proportion and lines.
Could you pick a favourite Grenson shoe?
I started with the wholecut shoe so that's a really important shoe for me because that's how it all started. In terms of Grenson, it will have been the Stanley brogue. That was our biggest selling shoe for so long and it really set us off on the new path. I sat down and looked at Grenson's history and the one thing they were known for was the full classic brogue. So I thought we would centre it around that and start with that shoe.
More recently, Grenson has entered the sneaker world too. How do you approach new territories, especially one so fast-moving as sneakers?
The sneakers have had an enormous reaction. That was a big scary thing for us to move in to. We have been known for our Goodyear welted shoes and all of our customers and followers kept asking why weren't doing sneakers for so long. So we jumped, we did it. The first thing was to find a connection to what we normally do. The first connection is the upper leather. We only use beautiful, hand-finished leather so you can see the Grenson link. The sneakers have been a big new movement that has freshened up the entire brand again.
What are some of the most popular Grenson styles right now?
The Archie remains our best-selling shoe for sure. The sneakers are continuing to grow. A lot of distressed shoes are proving particularly popular because they're so easy to dress-down. Also, the triple-welted shoes are finding their feet. We launched the silhouette two years ago and they're continuing to grow. It's a really heavy, well-built silhouette so if you're not used to wearing English shoes they're a bit of a challenge at first but then they become the most comfortable and dependable shoes in any collection. Because of all the wonderful natural materials used in all of our shoes, they just get more comfortable with wear. That's the most important part of English shoe-making. You just can't underestimate the quality of design, the dependability and the longevity of our shoes.
How do you see the future of English shoe-making?
It's been through a really strong period with the focus on heritage and so the 10 or so factories that are left are in a strong position because they're the best at what they do. However, they've all got to adapt design wise. In the world of shoes, I don't think you want to be pigeon-holed. You don't want to disrespect the heritage and the craft, but you also need to move away from the core a little bit and challenge conventions. That's the challenge for us all.
Shop the latest Grenson collection at OPUMO.