If there is one thing you can guarantee with every new season, unlike the weather, is that military styles and silhouettes will influence what we wear in someway, shape or form. Surviving the celestial seasons, the bomber jacket, originally designed for American cockpit pilots in the First World War, remains one of the most stylish outerwear options for Spring/Summer and the entire year ahead.
The classic silhouette is immersed in military tradition- which in itself provides reliability, versatility and an air of self-assurance. Not only is the bomber jacket flattering, thanks to its waist-minimising and shoulder-accentuating shape, but it is also highly versatile whether it be paired with jeans and sneakers or shirt and trousers.
With Spring collections landing online at OPUMO, the bomber is also the perfect outerwear choice for the transition through the seasons. The characteristically oversized shoulder-to sleeve construction provides endless layering options without looking forced or uncomfortable. Yet, we are not solely advocating oversized styles – instead this season lends itself to traditional cuts, lightweight silhouettes and new, modernised adaptations.
Check out the selection of our five favourite styles for new season: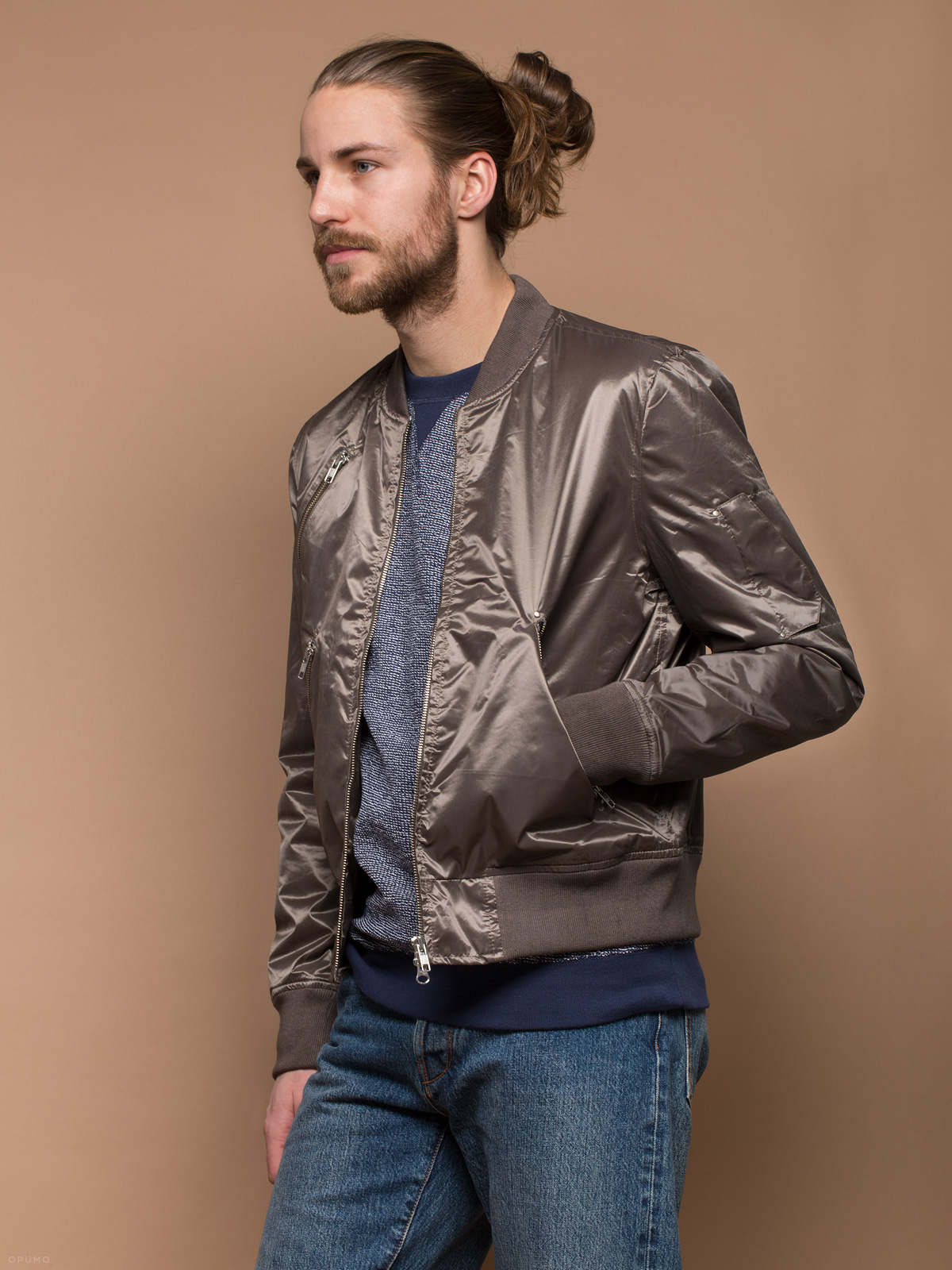 MKI Olive Textured Nylon MA-1 Jacket
Part of the MKI TN Collection, a range focussing on the brand's unique textured nylon, comes the Olive MA-1 Jacket. Fusing a lightweight nylon base with an overlaid texture for a unique shine that speaks of an assured elegance.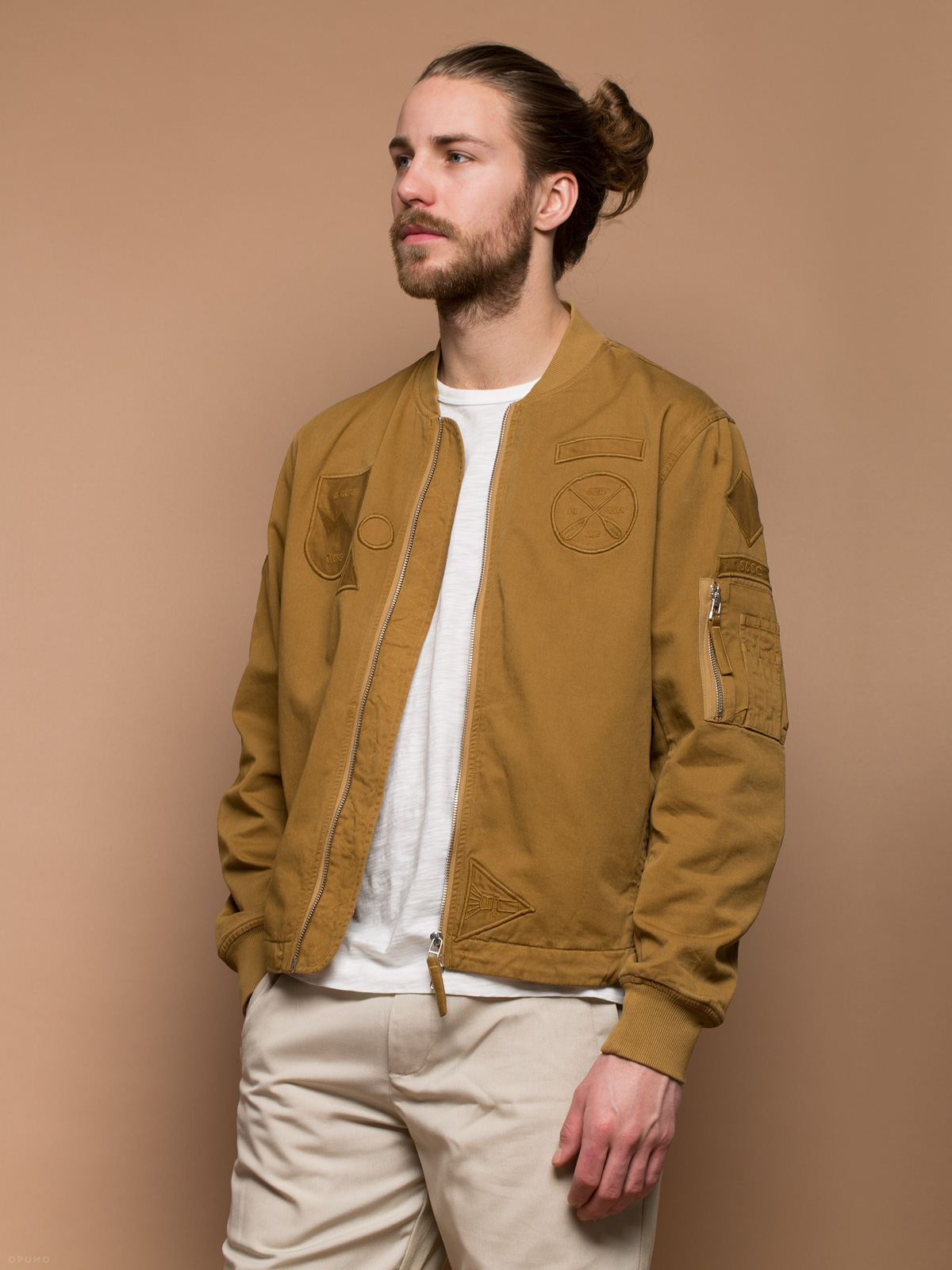 Universal Works Camel MA1 Jacket
A lightweight insulation, ribbed collar and unique tonal badge detailing make Universal Work's Camel MA1 a distinctive military style. With workwear details, which the label is renowned for, perfecting the silhouette for added functionality.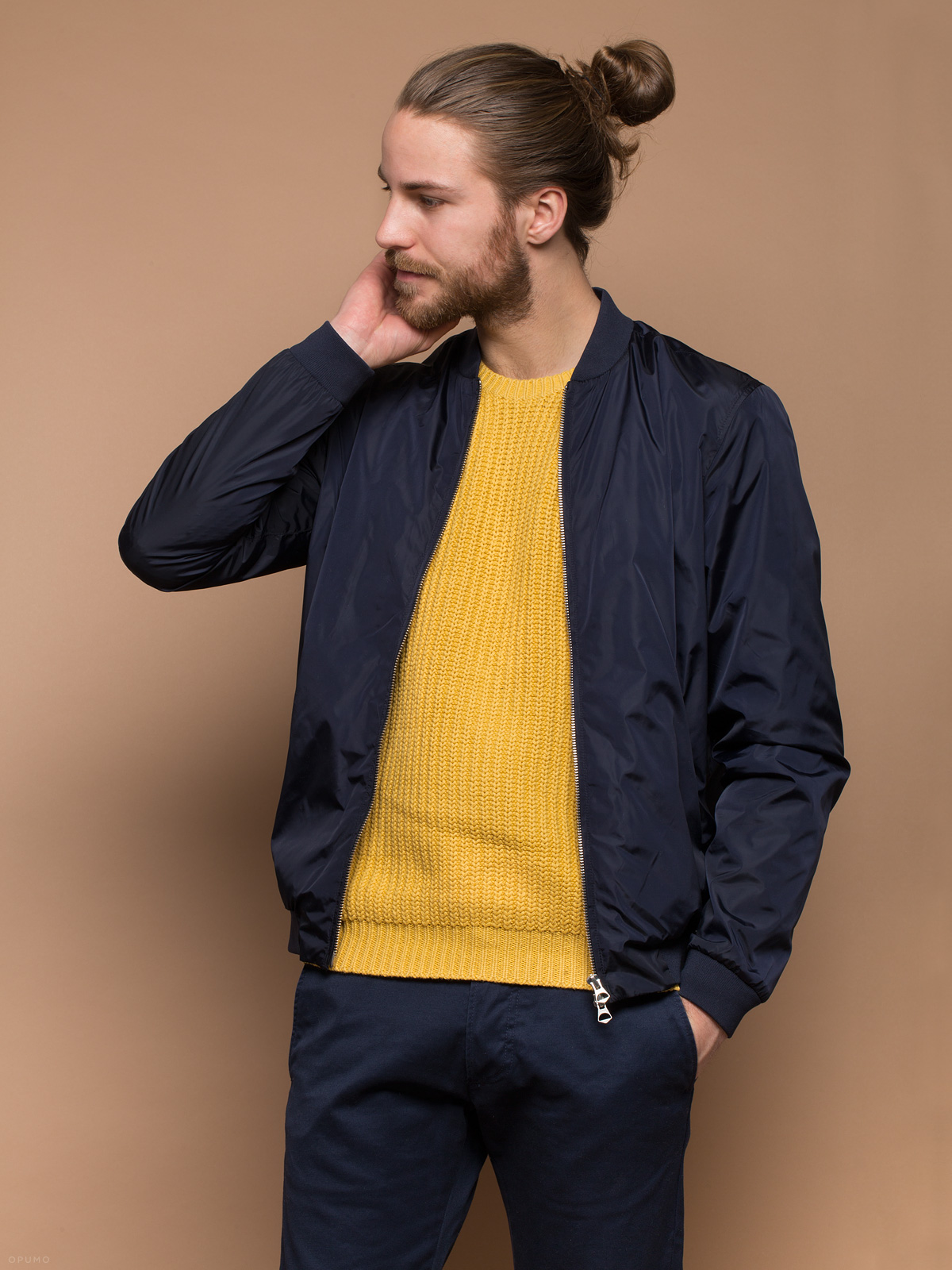 A refreshing interpretation of the bomber, influenced by the brand's contemporary-collegiate adaptations of classic styles. Crafted from a lightweight nylon construction for a breathable, versatile feel. A Spring essential.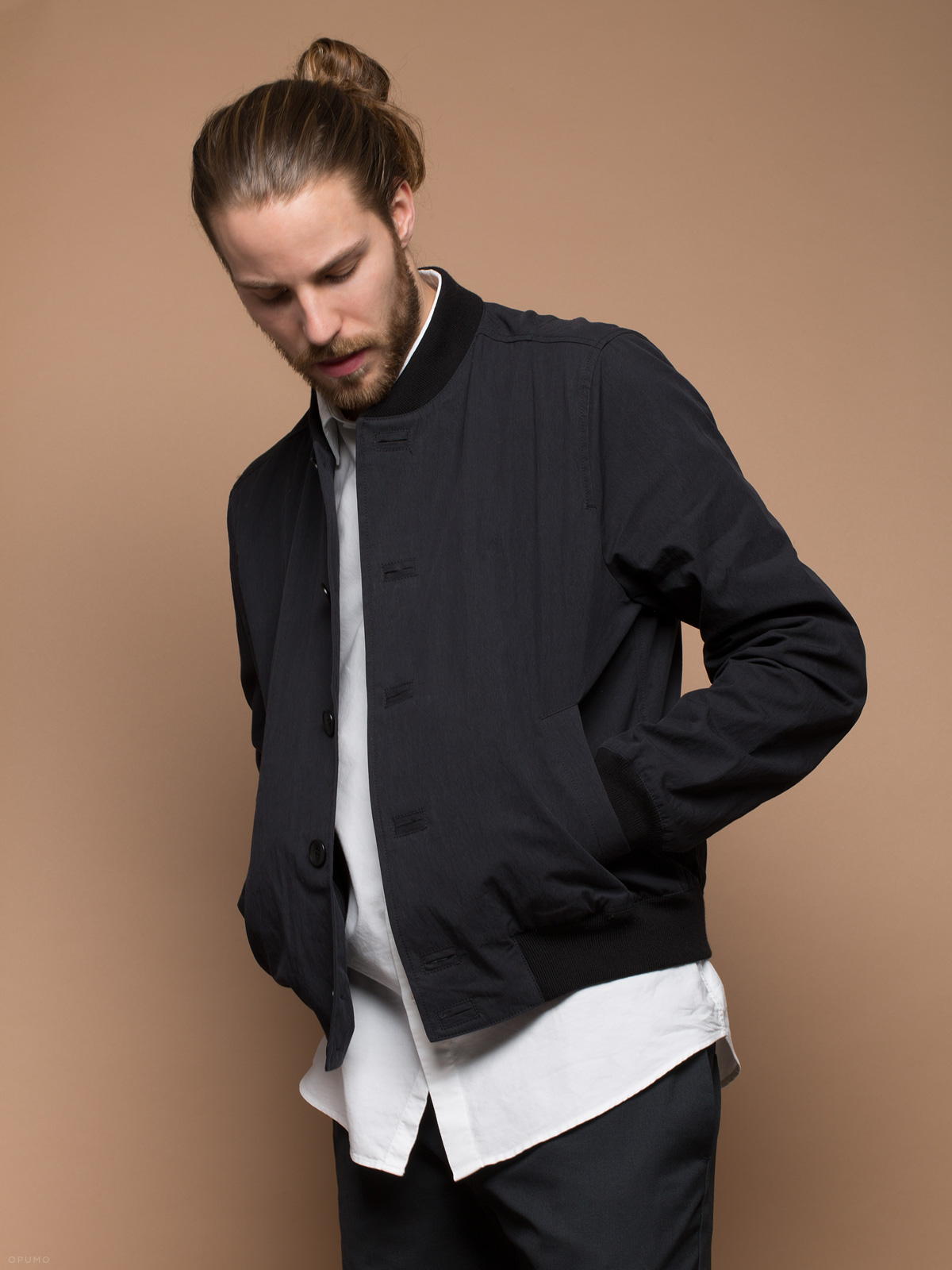 YMC Black Button Bomber Jacket
Cropped bomber jackets have been a key style for two successive seasons. Although some appear in metallic fabrics and two-tone sleeves, this YMC clean-cut bomber is defined by a classic button-fastening and heavy bottom hem for a healthy, slightly oversized style.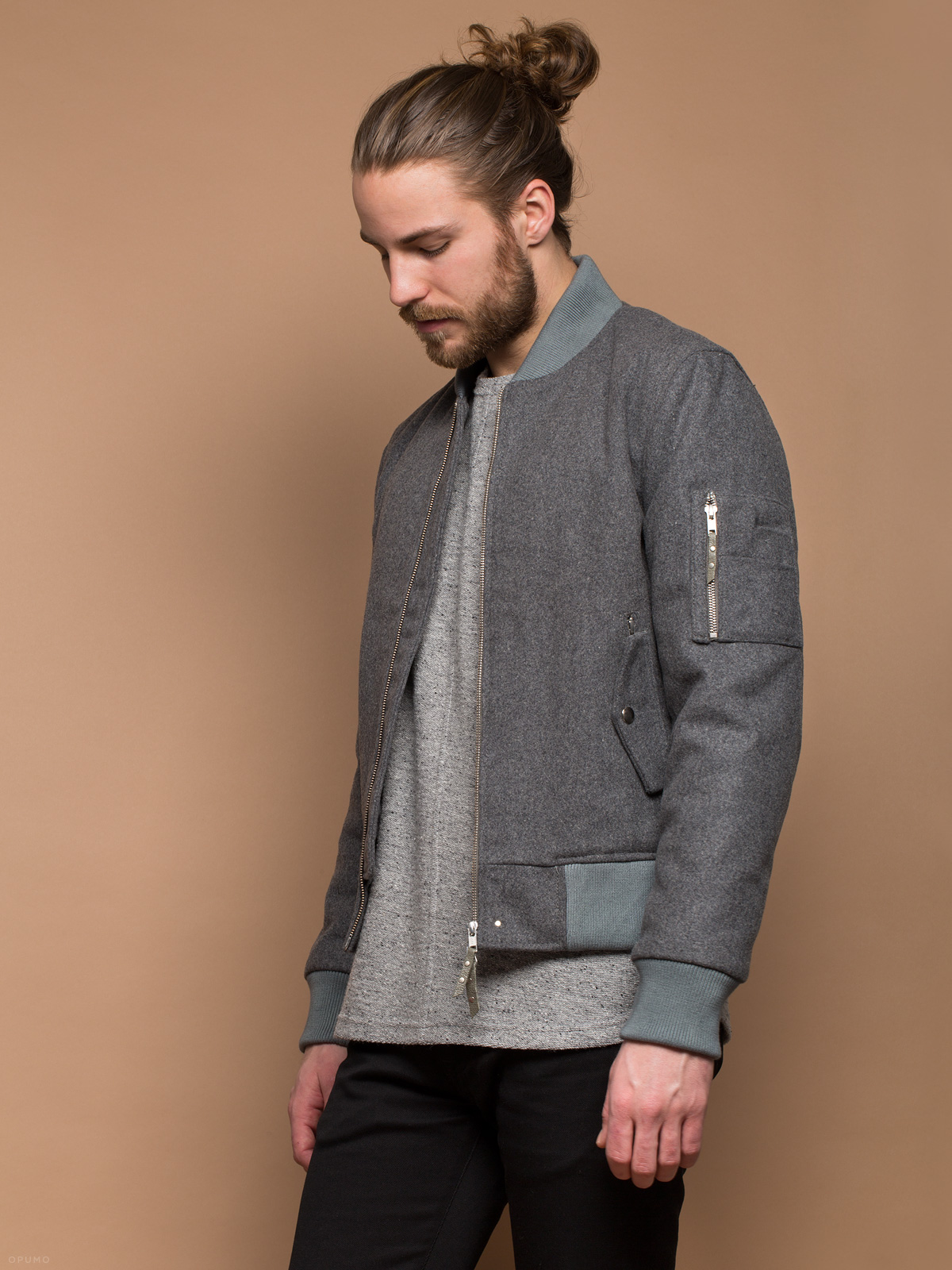 MKI Grey Fitted Wool MA-1 Jacket
Bringing the Miyuki-Zoku style to the modern day, this Grey Fitted Bomber from MKI features a retro two-way zip closure and a full satin lining. A timeless investment that will keep you warm and stylish for years to come.
Shop all Bomber Jackets online at OPUMO.
Be sure to read our ultimate guide to men's coats and jackets.