Words by Lucy Thomas
Because there is more to life than nights out, new sneakers and holidays; these are the items that will make your day-to-day that little bit brighter, make those menial tasks more enjoyable and above all, make your house a home. Check out some of our favourite homeware items to arrive as part of our curated Lifestyle offering, featuring everything from homeware, furniture and contemporary art; to bicycles, cosmetics and books.
Beyond Object – Gold Orbis Fruit Bowl
Despite its simplistic design, this fruit bowl challenges your perception to create the illusion of suspension. Which pretty much makes the Orbis Bowl from London-based Beyond Object the epitome of the phrase 'I never knew I wanted this'. Available in two colours, black and gold, the bowl is destined to blend seamlessly into your home because it has multiple purposes. Its not just limited to holding fruit; even when empty the bowl has its own special kind of structural elegance that will sit handsomely in any interior.

Flyte – Lyfe Levitating Planter
Who knew humans had advanced this far? Levitating planters seem like they are a thing of the distant future, however they are very much a thing of the present. You can now update your indoor plant obsession with Flyte's pioneering design by Stockholm-based American designer Simon Morris. Made from silicon with a built-in drainage system, this attention-grabbing planter rotates - just like the heads of those who encounter it - allowing all sides of the plant to receive sunlight . The design makes looking after plants low maintenance, catering for even the laziest of plant owners, feeding, watering and revolving to help your plant grow.
Tishk Barzanji – Solitude
Inspired by ancient history and modernism, the foreground of Tishk Barzanji's work is dominated by strong, geometric lines and impossible architecture that shows Tishk's dream of 'perfecting a world where there are no boundaries for space and colour, just everything colliding with free will.' His unique interpretation of anxiety and isolation in the modern world is demonstrated in this timeless piece. 'Solitude's' dreamy pastel hues reflect the surreal and defy urban dimension to create a real sense of tranquillity and utopia.  The only dilemma you'll have, though, is deciding where to hang it; failing that, just buy one print for every room and create a futuristic paradise of your own.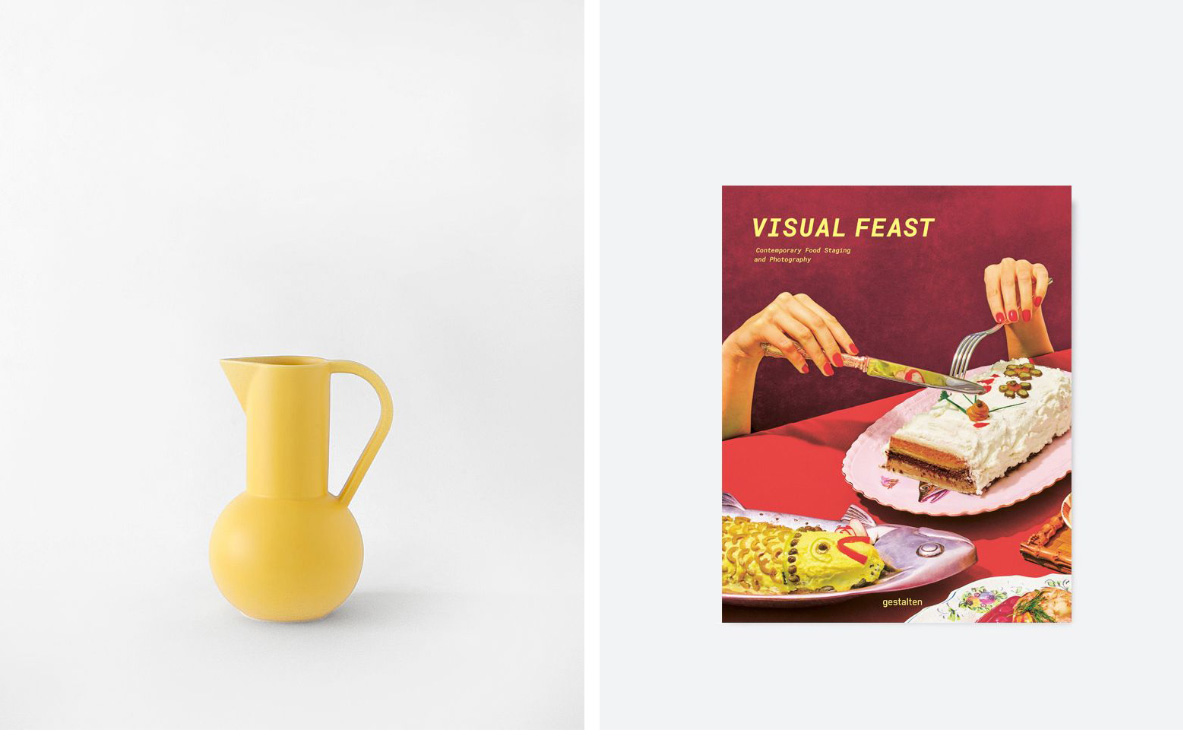 Raawii – Yellow Small Jug
This ceramic jug is the buttercup yellow that has been everywhere this season, from YMC's Yellow Wingtip Trainers to ATF's Yellow Worker Coat –  so why not introduce it to your home? Its contemporary design, created by designed by Nicholai Wiig-Hansen, boasts the kind of Danish elegance that Raawii epitomises and it will add that touch of 'hygge' you've been longing for, too.
Mendo – Visual Feast Book
In the age where taking photos of your food ingrains itself into day-to-day life, Visual Feast lives up to its name and celebrates this obsession with a collection of mouth-wateringly satisfying table spreads, unparalleled to any Instagram account out there. The book boasts 256 pages of images taken from magazine editorials and social media covering all bases from vegetables to sweet treats. To be used as cooking and presentation inspiration or just to appreciate the photography. If you weren't feeling hungry, you definitely will be after reading this.
Shop and explore all the latest lifestyle releases at OPUMO.