The term essential means a lot of different things to a lot of different people. We think of the things that consistently bring us pleasure – the little things. The pair of sneakers that we wear day-in-day-out, the speakers that are always just one click away from connecting our favourite music around the house, or the candle that just smells better than the rest. They are the type of items to make you feel comfortable and confident and they are the type of items to build your life around.
To illustrate our point, we are launching a new series simply titled 'OPUMO Essentials' where we select the essential items from across the entire site; featuring everything from wardrobe staples, sneakers and accessories to indispensable lifestyle items including our favourite audio, cosmetics and contemporary art. Scroll down to check out the first edition of 'OPUMO Essentials' to start building up your basics today.
It looks good, it's incredibly easy-to-wear – especially in the turbulent transitional weather – it's incredibly well-made and it's incredibly versatile. Four simple reasons that don't really need any explanation as to why you need this Original Overshirt from A Day's March. Just look at it. It's that simple, really.
Just one look at the latest collection from L'Estrange and it is clear to see why they are regarded as one of the best upcoming brands in Britain. For one, they make simple, wardrobe classics that pretty much any man can wear. And two, they have built a brand on the idea that if you get the basics right then the rest will follow. It is a strong and meticulous mission statement that has allowed them to constantly improve and reinvent the classic tailored trouser into something more wearable. Constructed using a fin cotton blend that stretches with movement, the tailored-fitting 24 Trousers also come complete with an elasticated waistband for added comfort and versatility.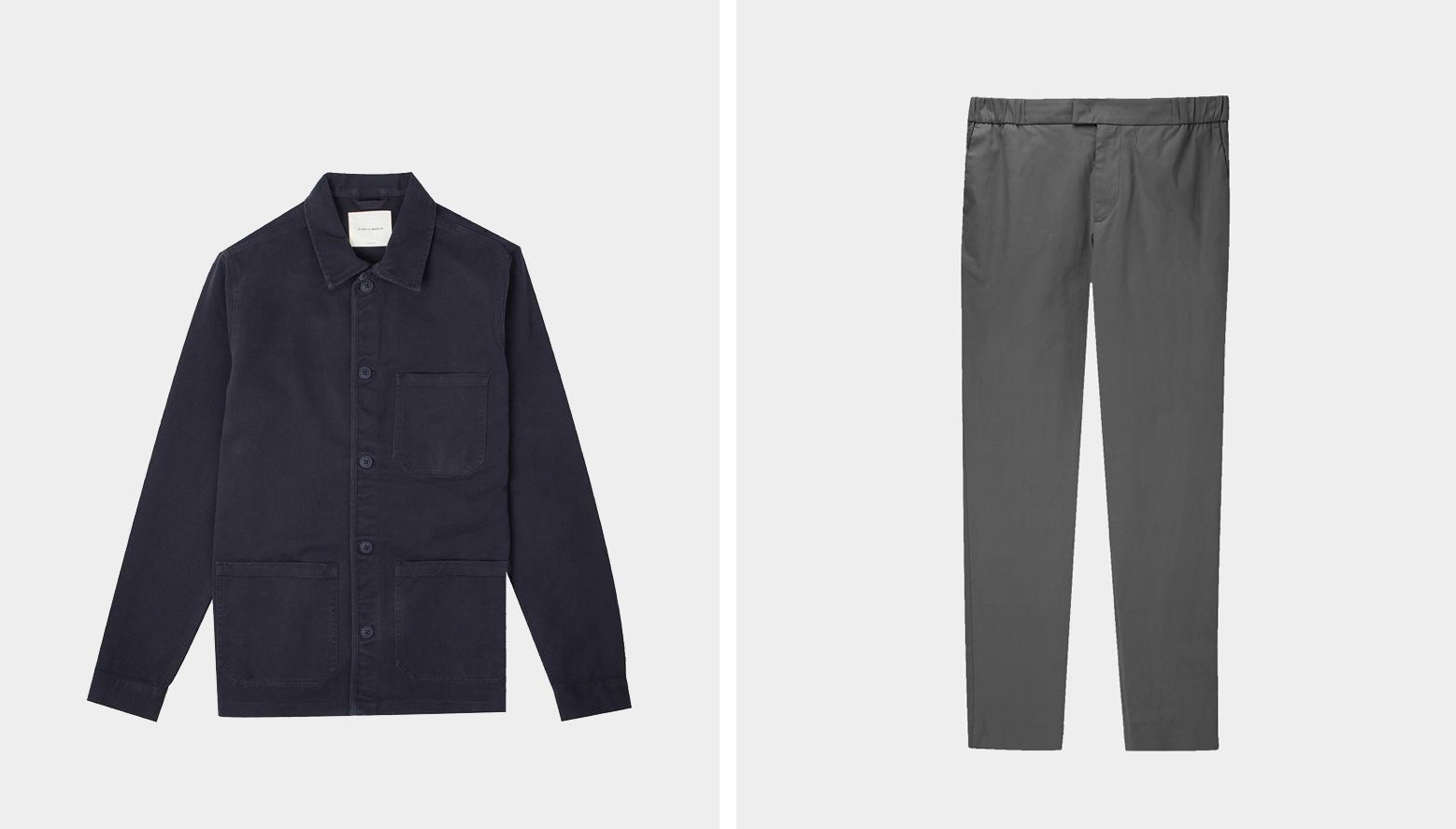 Common Projects White Achilles Low sneakers have gained worldwide status thanks to their minimalist design, superior Italian construction and dependability – the fact that you can simply where them whenever and wherever. If you are yet to own a pair – buy a pair. Preserve them, as not only will they become a sure found favourite in your current collection, but they will also become a cult classic for years to come.
It's hard to think of an affordable modern watch brand that combines discrete elegance, practicality and genuine watchmaking history better than Uniform Wares. The British brand's signature C40 Day Date Watch is housed in a slim C-Line case silhouette at 40mm diameter and matched to an Italian nitrile rubber strap for a considered, contemporary aesthetic.
When it comes to explaining the merits of home audio things can get confusing; but what really matters is how the speakers sound and how they look. Unsurprisingly, the all-new Audio Pro Addon C5 Speakers excels on both of those fronts, which is why it was formally awarded the title of the 'Best Wireless Speaker £200-£500' from What HiFi?. But the really great thing about the Addon C5 is that it is a diminutive, easy-to-place multi-room speaker that has a sound which exceeds its small stature. With stunning dynamics and deep bass in abundance, the Addon C5 performs bigger than it looks. Don't just take our word for it.