Underneath Dumi Oburota's name on Instagram it reads, 'Londoner, Founder, Manager, Connector, Creator and Lover'. Although all of those titles do accurately describe an individual branch of Dumi's character, they do not do him justice. For he is no ordinary 'creator' and even though he may disagree, he is no ordinary 'Londoner'.
As the Founder and Director of British Hip-Hop Commercial Corporation Disturbing London, Dumi has pushed the boundaries of possibility further than most managers, and most Londoners, ever have – or ever will. Part of the reason why he's been able to crack the notoriously hard nut of the music world, is his passion. His dedication to 'the dream' and his unwavering ambition is evident to anyone who spends just a few minutes in his company. Whether he is speaking about the success he has achieved alongside his friend and disciple Tinie Tempah, or the secrets to setting up a business, he'll pause meaningfully. Then he'll smile while passing through the trails of his imagination, before announcing his-well considered thoughts; in that exact order, every single time. And that's a pleasure to watch – a man who has seen his artist roster record nine number ones in just ten years – remain a slave to his trade and his evolving ingenuity. OPUMO met with the London scene maker to talk record-breaking No1s, building an empire and the power of positivity.
The interview has been a long time coming and when we finally sit down to talk I notice Dumi considerately neglect a stream of calls on his mobile and immediately I feel a little guilty for using up the time of a man who heads up Britain's leading 360 entertainment company. But I shouldn't be. Dumi has much to say. His words are constantly running like he's reciting a 16-bar, and when, closing in on two hours of conversation, I offer him a chance to bring proceedings to a halt, he shakes his head and keeps talking. "All we care about at Disturbing London is making it easier for the next people coming through. I don't want the next ethnic minority or any artist coming through and saying I can't do this; I can't do that. We want them to do it. We want to pave the way," he continues to chime.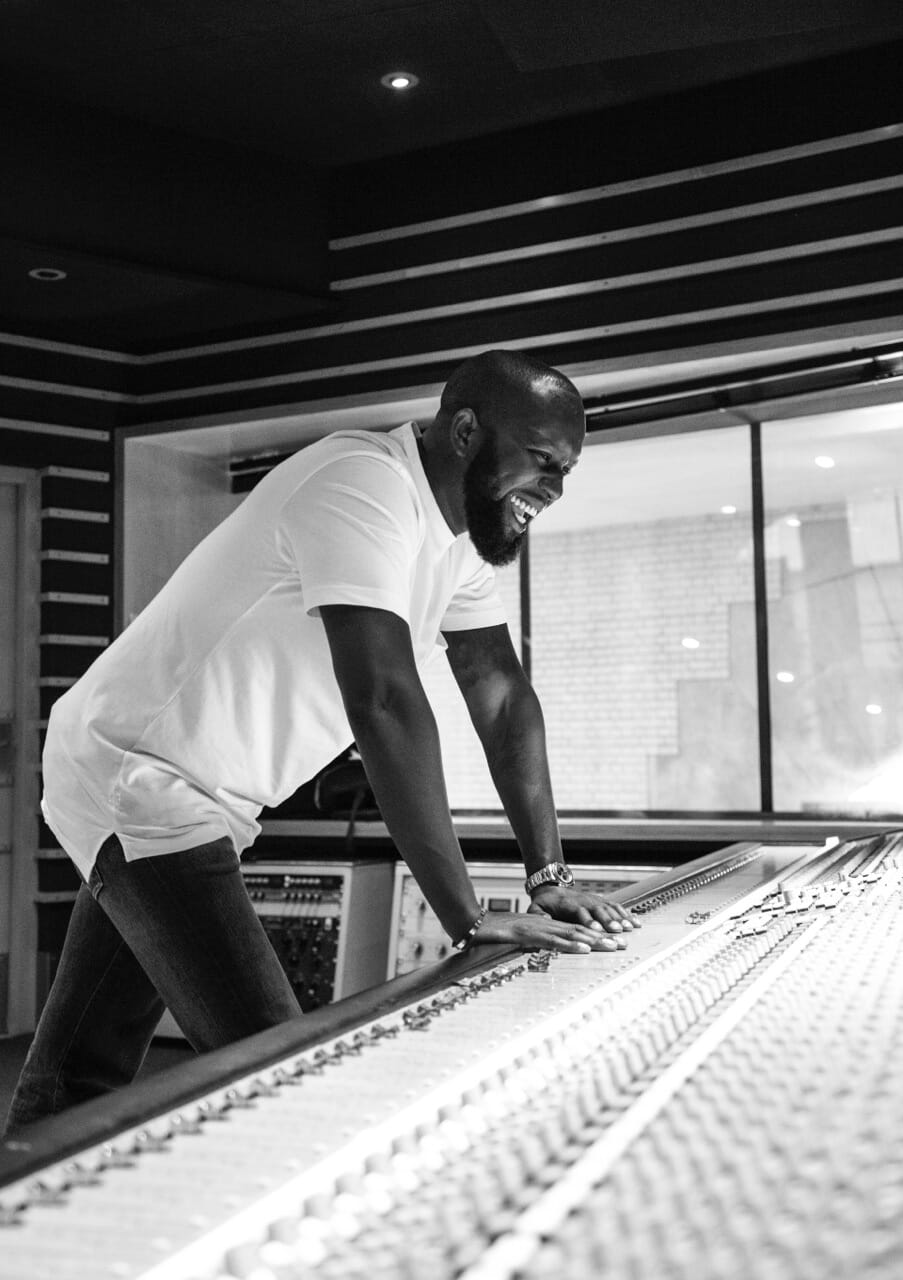 The 'way' Dumi is referring to is the trail blazed by his own explorations – the 'Disturbing' model which he describes as the 'mind-set of anyone who is making movements in their own world, moving up the ladder and simply enjoying life by doing what they believe in'. "I'm a proud Londoner (born and bred in Lewisham) and I feel in terms of street culture and living in urban London I've experienced all the sides of the city and I'm proud of that. After all, that is what has given me my texture and my core beliefs," recites Dumi.
"But in order to make the most of those experiences, I thought what can I do? I've always been massively into music so I looked at the Russell Simmons of this world, the Puffy's - all of them guys - and suddenly thought, where is our guy? Who is doing it over here? It was then I knew. I thought, you know what, I can do that."
However, the journey to become a real-time music mogul only really began eleven years ago when Dumi was introduced to a family friend in the shape of Patrick Okogwu, aka Tinie Tempah. The initial spark in their relationship was ignited by Dumi's acumen and Tinie's talent; and the pair instantly set upon the long road of creating their own independent label, Disturbing London. It was a turbulent six-year stint with the rapper not claiming a record deal until 2009. And in that time, full-time manager Dumi, who was only 22-years-old upon starting out, was also studying a sports science degree at the University of Greenwich.
"Those days were hard, of course, but we knew what we had to do. First and foremost, the music was key so it was about getting music sessions – Tinie was recording in Richie Montana's house in Leyton and that was getting a bit difficult so we got a studio and an office space in Greenwich - and T still records in that studio now," explains Dumi.
"For me; every day I used to go in 9-5, probably longer, in the office just sending cold emails. Whenever I got a reply that was like payment for me," he says with a smile. "I thought yes we're moving up in the game. Because the music industry is such a closed business you know. If you're not in it, it's like constantly jumping to look over the fence – so every time you get any signal from over the fence – you're like wow they see me and that's the start."
The start, albeit slow, was not laborious but rather more relentless. Dumi's 'obsession with the music business' was fuelled by his constant reading, studying and learning about the industry in order to see where the gap in the market was. A gap that Tinie now fills at the forefront of British hip-hop. "We had to work on finding what T's USP was and to grow that – so for about six years we were about town just teaching T certain things. I was like an older brother – saying don't do this, do that, don't go there, wear this, wear that, you know.
"And that all worked because we've got a great relationship – he's my partner. If I tell him let's walk up Mt. Everest, he'll be like yeah let's go. Maybe 90% of the way if he's not sure he'll be like 'D, are you sure?' And all I have to do is talk to him for ten minutes and we'll crack on."
Beyond the life lessons, Dumi continued to invest his own student loans in getting his friend studio time and appearances. Working together, Dumi helped Tinie get his songs played by influential DJs, and create a strong image to stand alongside the rapper's songwriting and well-recognisable flow. In late 2009, after six years of hard work and little money, Tinie signed a lucrative record deal with Parlophone, once the home of the Beatles, and today part of global giant, Warner Music.
A wry smile stretches across Dumi's face at the mere mention of that day. "It wasn't all straight celebration you know," he exclaims. "When we got signed I said to T, we're not walking into this building to be on the wall – if we're doing it, let's do it proper. How quick it happened was a bit of a surprise, but we found our sweet spot and we kept going."
The pair have 'kept going' to the tune of seven number ones – making Tinie the most successful artist of the last decade. In doing so, Disturbing London have also been able to build an impressive artist roster that has handed them two more numbers ones; with former client Jessie J and 'Bang Bang', and most recently with WizKid for his feature on Drake's global hit, 'One Dance' – a track that was announced this week to be the most streamed song on Spotify of all-time.
Amongst all the success you would be forgiven to think that Dumi looks upon it all with a tinge of arrogance, but you would be wrong. As Tinie and so many others have found out – as I immediately did too – Dumi is the kind of person that everyone takes a piece of him away with them. He is constantly creating, giving and helping. Be it a laugh, a piece of advice or a sense of guidance, Dumi - with his welcoming and relaxed aura – holds the keys to the success and celebration of contemporary British culture. But most importantly, he's willing to open doors for other people. And the man with deep roots and wide branches, shows no sign of changing.
"I'm just mad ambitious, I just want to do so much more," he chimes as he readjusts the turn-up cuff that defines his double-denim choice of dress. "Disturbing London is all about grass roots global talent and that will never change, it will just grow," he adds. Alongside artist management, Disturbing London has already grown into more than just a '360 entertainment and lifestyle company' that Dumi describes. The brand is a cultural and social movement that portrays the positivity, diversity and beating heart of London to the world. Not only through the music but through a multitude of events – including its annual residency at Ushuaia as part of Disturbing Ibiza – and its own active brand consultancy, publishing and clothing line.
"I don't want people to think this is about me, I'm about supporting like-minded people who want to shake up things," Dumi stipulates. "That's my greatest pleasure, seeing people succeed. I want more people to feel like the brand is theirs and then use the infrastructure to benefit them as It's a wider movement." It's an irregular pause in Dumi's narrative before he empowers, "I want so many more bosses to come from Disturbing London, be it in music, clothing or just life in general." The latter is a statement that represents Dumi's humility - and also his devotion towards his team of staff that he never fails to mention. But, most impressively, his humility is matched by his strength. For he does not listen to a sound he does not want to hear. Nor does he not speak a sentence he doesn't mean.
"Ignorance is bliss sometimes," Dumi chimes, as he lays bare the secrets to growing the business. "When all you know is what you know then all you can do is stay truthful to that. That's what I've always lived to," he explains. "If that's what I'm doing and that's what I'm good at, then I'm going to keep going until something proves me wrong. And until I'm proved wrong that's when I'll change, and I won't listen to anyone in between. I'm the sort of guy who needs to hear it gospel – I've got to read it or hear it all the time to believe in it. Nothing can tell me otherwise."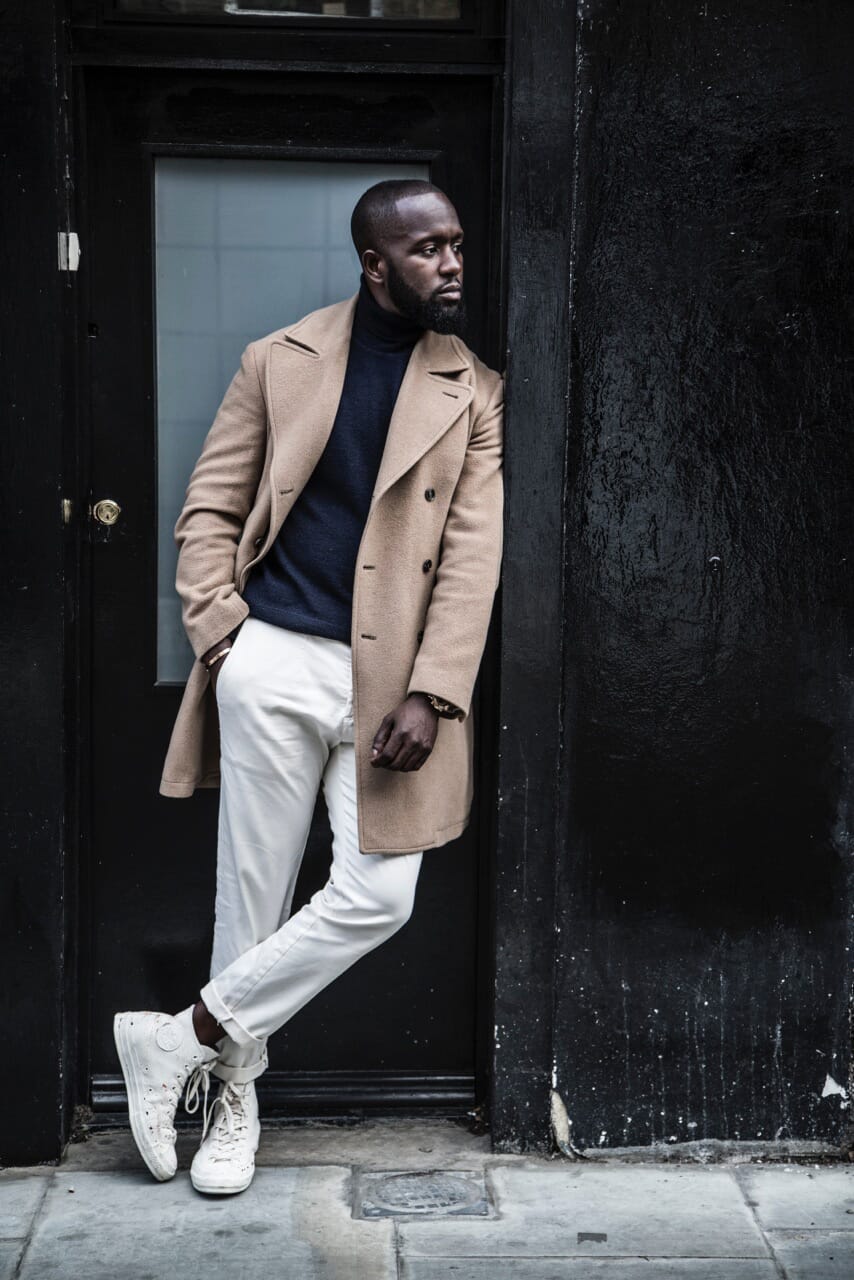 Whether it is through believing that 'ignorance is bliss' or blind optimism, Disturbing London now stands in its own class – employing over ten staff who all sew their creative seeds across all levels of the business. But beyond the success of Tinie Tempah and the brand collaborations with Nike, Selfridges and Smart to name a few, Disturbing London represents something more significant. A voice, an identity and an example to many. In the current climate where Britain's undercurrent is rising up –  in a year which has seen Skepta scoop the Mercury prize and Stormzy unveil the world's most expensive footballer – Disturbing London has played a part in making that happen. Which is perhaps the greatest slice of satisfaction that Dumi can take from the whole adventure.
"When I started the business all I wanted was to set up a structure to help and contribute to the culture; and a platform and a business to do that," Dumi explains. "So now when I see the likes of Skepta, Stormzy, Novelist, Section Boyz – all these guys – making money and making good things about something they love it shows me that British music is in a healthy place."
"Gone are the days where we are just looking at America and thinking that's the whole vibe. We're in a good place, the likes of T and Dizzee have been doing it for over a decade now, so that's a good thing that we're continuing to build."
But what about the future, I interject. For the man who has carved his own path, where does he expect London's cultural powerhouse to tread next? It's a question, as you would expect, that he has an answer for. "Throughout this whole journey I've been fortunate to create my own bubble, and as a team we have had a constant focus and a constant belief in what we do," he responds. "But of course, we want to grow, maybe get an office in LA but above all, I want everyone to learn and grow with Disturbing London. For everyone to live their dreams through Disturbing London. I love to see people at their optimum and doing their best – that's when people are happiest and that's when I'm happiest. So in terms of the future, that's all I can ask for."
But rather than a businessman seeking happiness to spread employee satisfaction or to satiate an inflating ego, Dumi is different. He uses the tricks of his trade; his education, his demeanor and his growing black book to turn the dreams of creative individuals, and a whole city for that matter, into a reality. Perhaps – above being called a creator, manager and connector – Dumi can be best described as a crusader. For he challenges tradition and radiates immortality. After all, Norman Mailer famously said that, 'he who is not courageous enough to take risks for what they believe in will accomplish nothing in life'.
Follow Dumi on Instagram, @DumiOburota and also @DisturbingLondon to stay updated with all the latest news and events.