Percival Cuban Collar Fuji Hokusai Short Sleeve Shirt
Cuban, Camp, Spread or Bowling – whatever you call the loose, easy and casual spread collar of the short sleeve it doesn't really matter, as long as you have one. The Cuban collar – as we have chosen to call it - is a far cooler and comfortable alternative to the classic shirt this summer, and it also continues to pay homage to the laidback 1950s trend that re-emerged last year. This Fuji Hokusai short sleeve shirt from Percival is one of our favourite styles, as it features a signature Fuji design that has been woven and printed exclusively in Japan.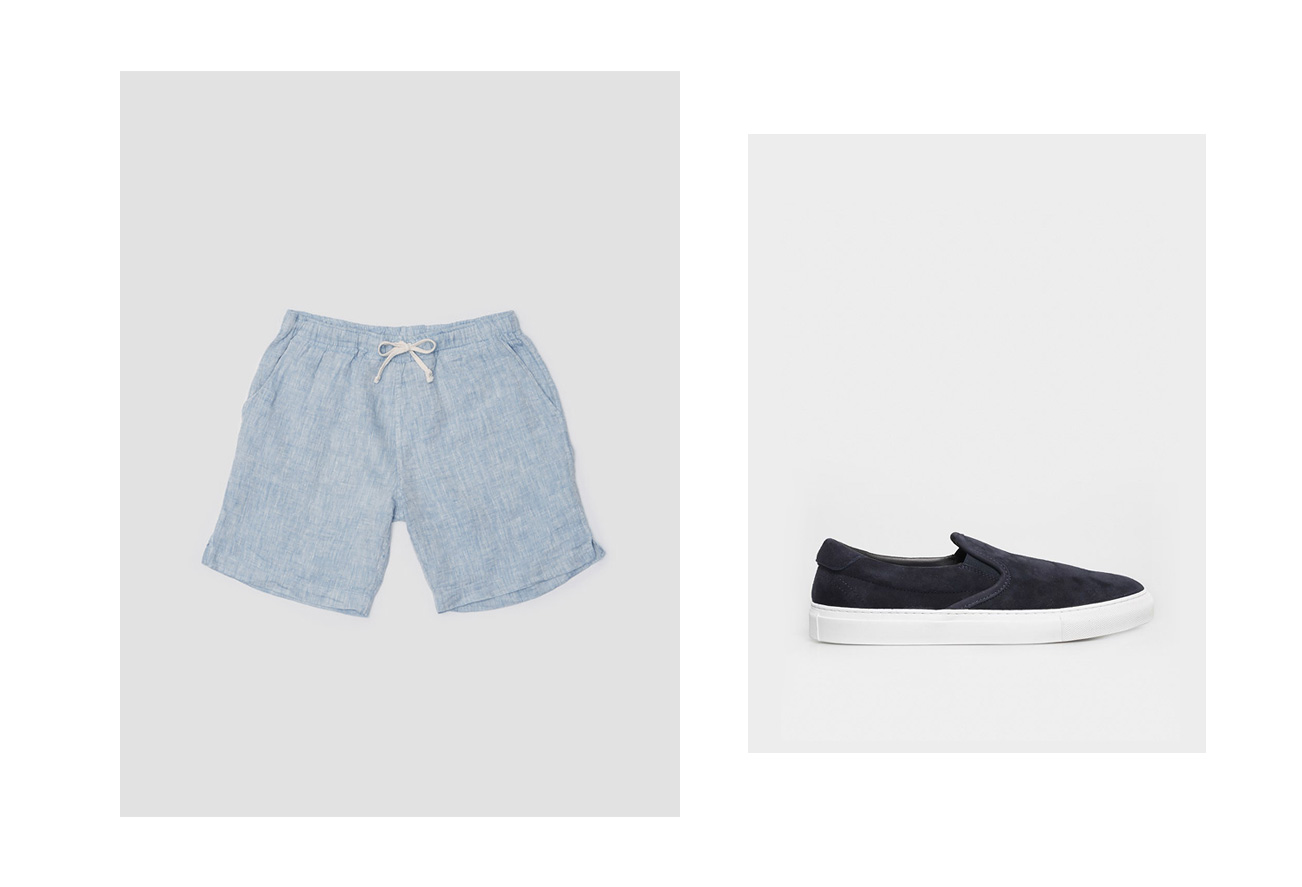 New York outfit Alex Crane make clothes that you can wear all day, every day, from the 'boardroom or beach boardwalk,' which means not only is their latest collection incredibly versatile but comfortable, too. This pair of Sky Blue Bo Shorts is one of the brand's most popular pieces courtesy of its soft, lightweight linen construction and pastel blue colour hue that is extremely easy to match up to other popular summer shades, including ivory and light khaki.
Diemme Blue Garda Slip On Sneakers
Twenty years' experience in producing the finest Italian-made footwear has culminated in the production of the Garda – Diemme's take on the perfect slip-on sneaker. Finished with premium blue Kudu reverse leather uppers, the slim summer sneaker sits atop of a contrasting white Serena rubber sole that not only offers unparalleled levels of comfort and support.
Quattrocento Crystal Twice Ventura Sunglasses
We've often spoke of the need of having more than one pair of sunglasses in your summer artillery, and beyond the classics; a round-frame or a tortoise acetate for example, you should always have room for something new. These striking Crystal Ventura frames from Quattrocento are exactly what we're referring to, as these classic round-frame shades have been updated with icy-cool clear acetate and mirrored blue lenses.
Miansai Navy Rope Casing Bracelet
The nautical look is a summer perennial, which means you'll get plenty of wear out of this Miansai Casing Bracelet. The Miami-based brand has anchored a large part of the men's jewellery market with its colourful leather, rope and cord styles, and this Navy Rope Casing Bracelet is versatile enough for all but the most formal occasions with its adjustable fit and subtle gold casings.