Veark is a Copenhagen-based company that specialises in the production of knives and kitchen accessories. With a nod to its Scandinavian heritage and the form-follows-function principles of the Bauhaus design tradition at its heart, Veark is all about top-notch craftsmanship and long-lasting quality.
Each Veark knife is individually crafted in the German town of Solingen, which is world-renowned for its centuries-long knife-making tradition. So much so, in fact, that it's been nicknamed the 'City of Blades'. The work – which involves forging, shaping, sanding and polishing – is completed by humans rather than machines, ensuring an added element of quality control at each stage.
Perhaps most impressive is the innovative single-piece construction of each Veark knife, which results in no unnecessary joints and an easy-to-grip blade that continues cleanly from the open handle.
It all sounds great on paper, but to get a proper feel for the true quality of Veark, I put three of its knives to the test in my own kitchen. Read on for my take on the Veark CK20 Forged Chef's Knife, the Veark BK22 Bread Knife and the Veark SK15 Forged Santoku Knife.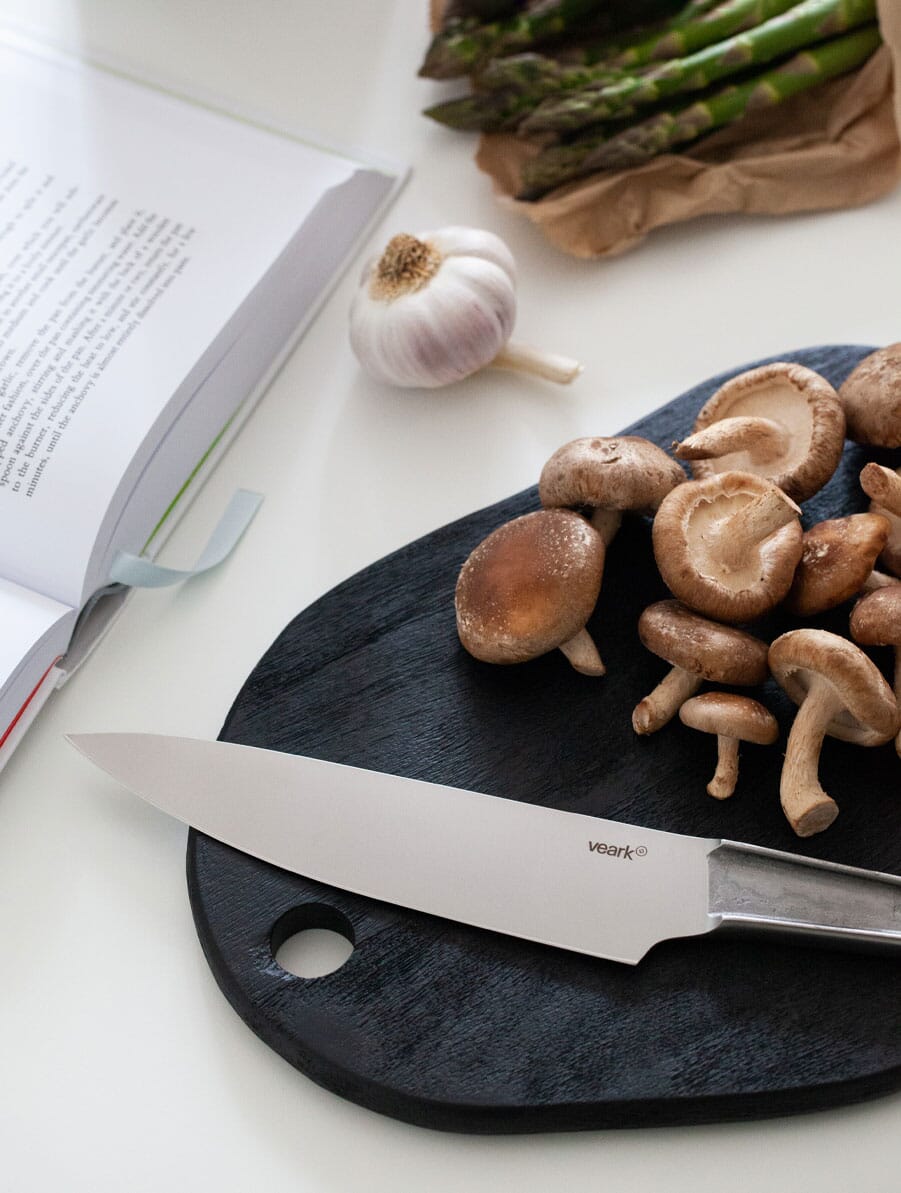 Veark CK20 Forged Chef's Knife review
The CK20 Forged Chef's Knife is the unofficial hero of Veark's fully forged collection of knives, so if you're going to buy just one Veark knife, I'd recommend this one. The visual inspiration, Veark say, was drawn from examining traditional metal tools, with the belief that the knife is the most essential tool in the kitchen.
A wrench-inspired open handle was designed to help users slide their thumb onto the blade and grab it right at the balancing point. I've never paid much attention to how a knife feels in my hand, but the difference was immediately felt when I started cutting with the CK20. There's an added stability and comfort that makes cooking less of a chore. Plus, the drop forging process – whereby a hammer is lifted and then 'dropped' onto a heated piece of metal to reshape it into the shape of the die or tool – results in a unique pattern on the handle that makes each knife one of a kind, which I really appreciate.
All in all, the CK20 is durable, reliable, and the sort of kitchen tool I can imagine reaching for time and again – for just about anything, from fruit and veg to meat.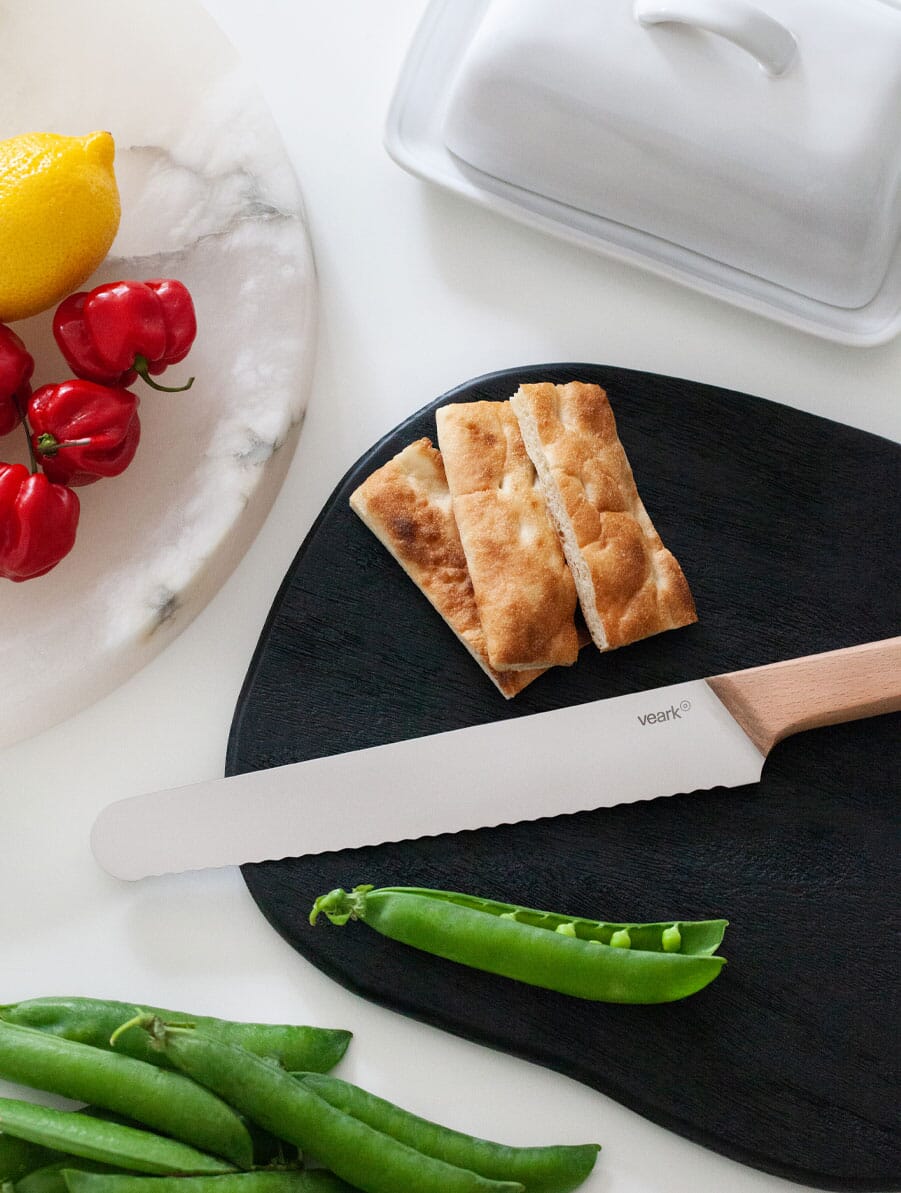 Veark BK22 Bread Knife review
As a hardcore bread obsessive, I couldn't possibly forgo trying Veark's BK22 Bread Knife. It's been developed in partnership with Jesper Gøtz, a Copenhagen-based chef and baker, and the high level of design and manufacturing expertise that's gone into it is immediately evident: this is no standard bread knife.
The blade of the knife is laser cut from premium stainless steel and sandblasted with a smooth matt finish. Unlike many bread knives on the market, the blade has a subtle curve that makes cutting it all the way through feel a lot easier and smoother than I expected. But the handle is definitely my favourite part of this knife. Made from natural beech wood, it gives a real sense of organic, hand craftsmanship. A blue plastic rivet, made from the same material as industrial chopping boards, holds the knife together and provides a contemporary contrast to the beech. It's a clever touch that distinguishes the BK22 from other more average-looking knives and ensures it will look the part in any kitchen.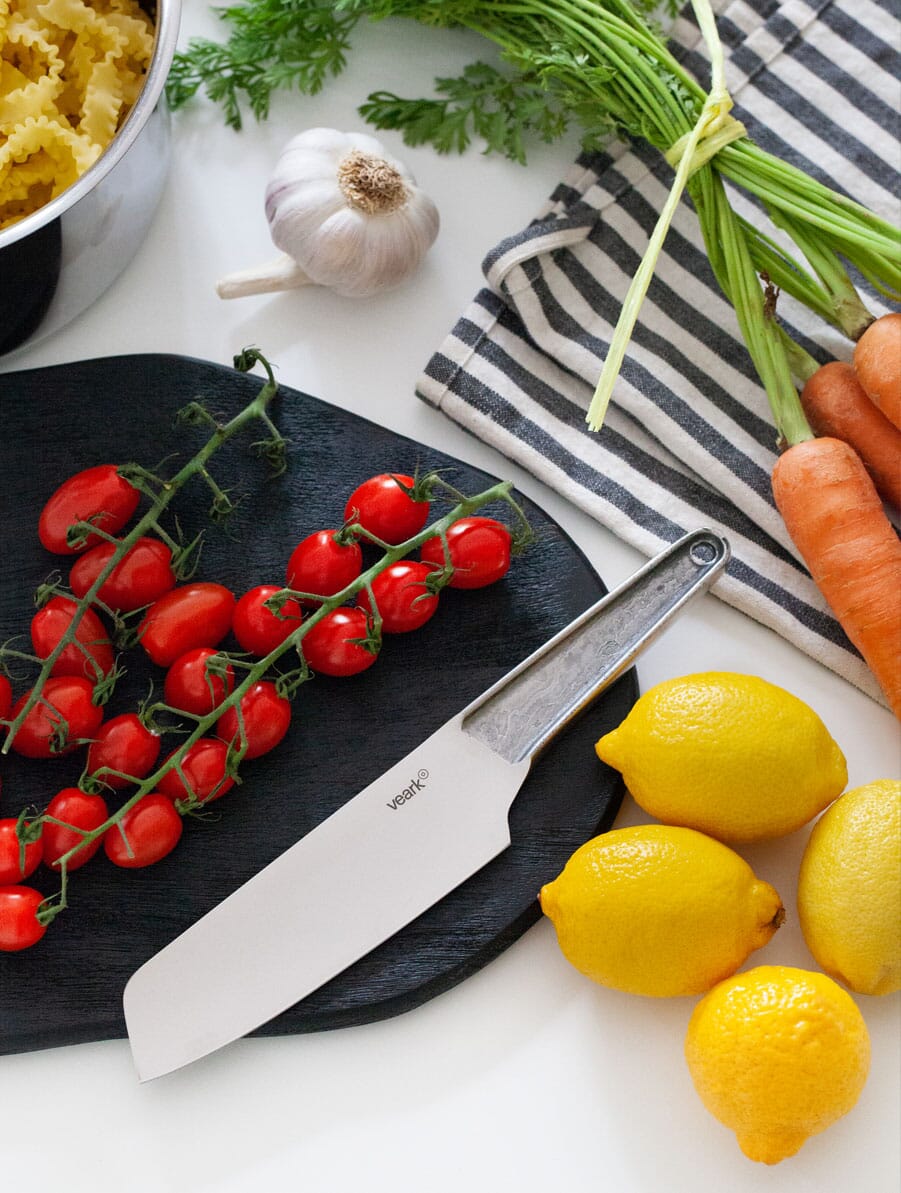 Veark SK15 Forged Santoku Knife review
Of the three knives I received from Veark, frankly I was most uncertain about trying out the SK15 Forged Santoku Knife, purely because I wasn't exactly sure what the purpose of a Santoku knife is. However, after a bit of quick research, I was convinced that I needed a Santoku knife in my life. Santoku translates from the Japanese as "three uses" or "three virtues", traditionally thought to be cutting, crushing and scooping. In short, it's super-versatile.
The essential difference to the traditional chef's knife is the deeper shape of the blade, as made evident with Veark's The Santoku knife really is that versatile. Key difference to the chef's knife is the distinctive deeper shape of the blade, as you'll see with Veark's SK15 Forged Santoku Knife, which features a 5.9" blade, formed – like all of Veark's forged knives – from a single piece of steel. I was seriously impressed with the SK15 and found it was perfect for when I needed a bit more precision with my cutting, e.g. thinner slices of tofu or meat.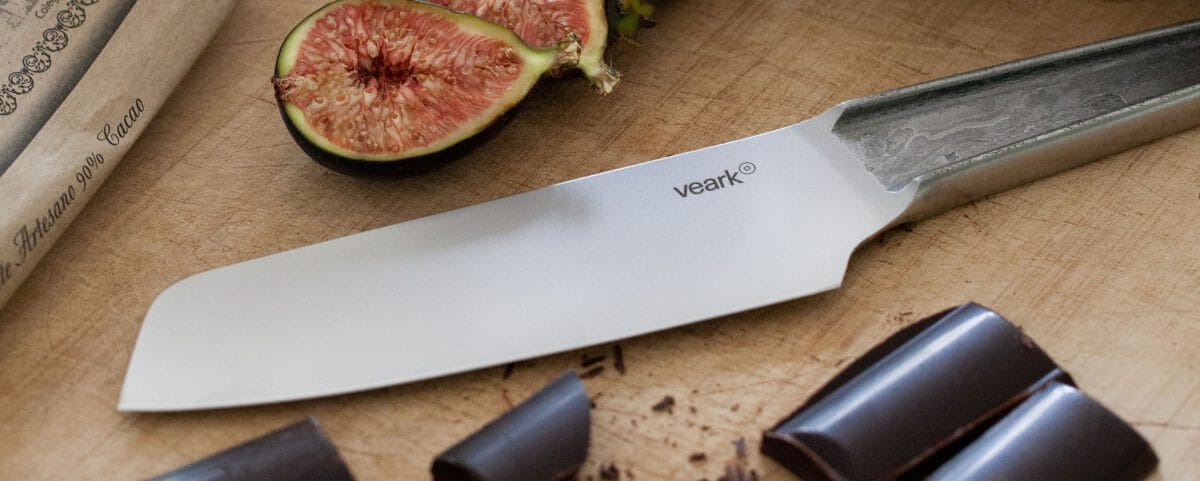 Our verdict
It's safe to say that I am mildly obsessed with the three Veark knives I tried. I'm not a hugely enthusiastic home cook, but the knives were enough to get me into the kitchen and experimenting with different recipes, so for that I'm grateful. I really appreciate the fusion of sleek, minimalist design with top-notch functionality, a rare combination with most knives (which usually feature one or the other). The meticulous craftsmanship and artisanal expertise is immediately evident and offers a nice change from the mass produced knives that have saturated the market. While the knives certainly aren't the cheapest, it's well worth the investment for a lifetime of use.
---
---
Discover the essential knives every home cook needs.
---
---