Many fear that that world of physical retail is in decline. Not us. Even though we're a digital marketplace, we know that the brick-and-mortar stores have a bright future ahead. How? Because the brands that really care about it will make it happen, in fact, they are making it happen. One of the newest labels at OPUMO is VIU Eyewear, the Swiss brand offers a wide range of premium sunglasses and minimal glasses for men, placing a focus on physical experiences. With two VIU Eyewear stores in London, we couldn't wait to take the tour and we weren't disappointed. 
Materiality plays a large role in VIU's outlook in general. Each pair of VIU glasses is designed in Switzerland before being handcrafted by a family-run business in the heart of the Italian Dolomite mountains as well as the Japanese island of Honshu. Searching far and wide for the best materials and factories is at the heart of VIU's collection as well as their physical locations.
---
---
VIU Eyewear pop-up store
Location: 70-72 Marylebone Lane, W1U 2PL, London, United Kingdom
Opening times: 
Monday to Saturday - 10am-7pm
Sunday & public holidays - Closed 
Exposed brick walls combine with raw wooden stands to give VIU's Marylebone pop-up store a sense of rawness from within. From the outside, however, it's a different story. The pristine white exterior is a perfect example of minimal Scandinavian design principles, with large windows siphoning in abundant light. The minimal white colour scheme continues on the interior, working to make the space feel spacious and airy.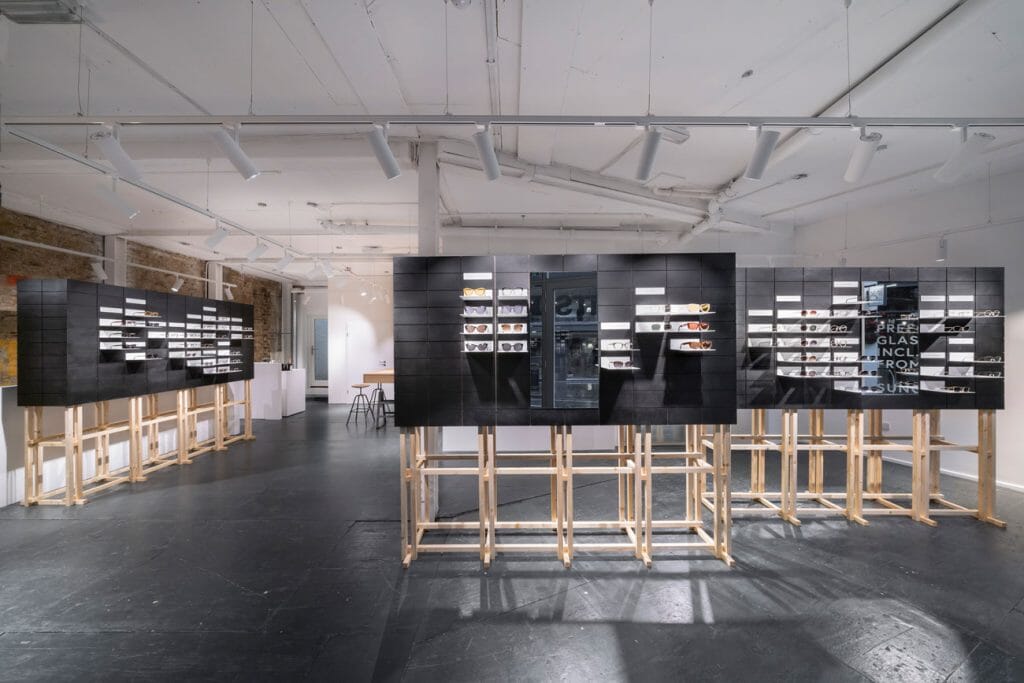 Dark black blocks of fold-down shelves form the backdrop for VIU's collection of premium acetate sunglasses and prescription glasses for men and women. The stripped-back aesthetic of the interior design emphasises the stark material contrasts within it: wood, exposed brick and monolithic black shelves make for a dramatic but effortlessly stylish overall effect.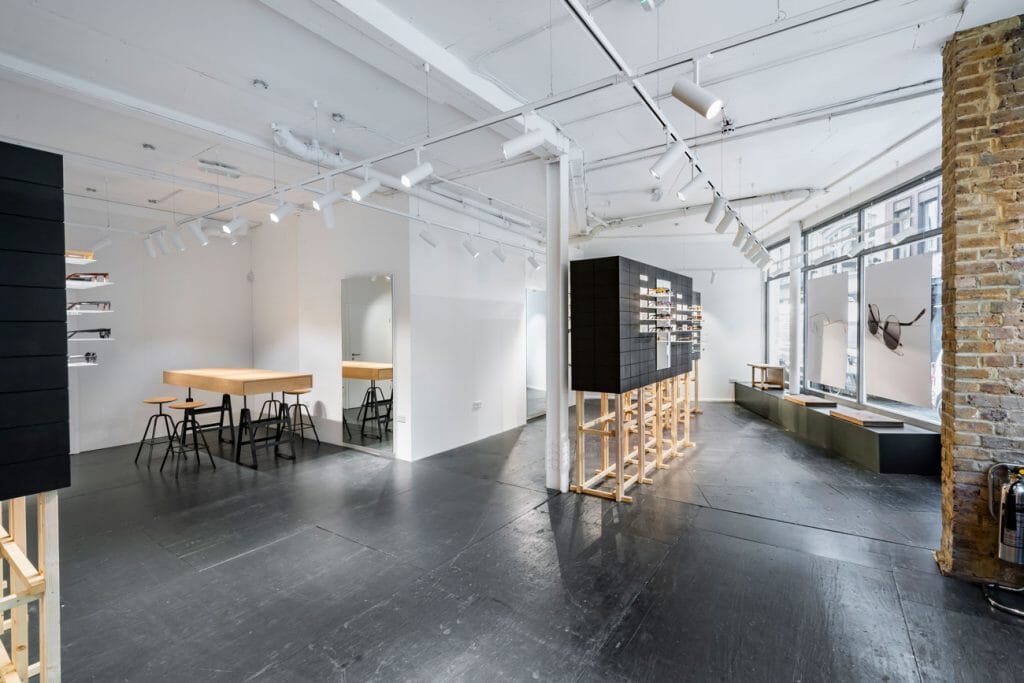 VIU Flagship Store
Location: 5 Upper James Street, W1F 9DG, London, United Kingdom 
Opening: 
Monday to Saturday - 10am-7pm
Sunday - 11am-6pm
Continuing the rugged yet natural interior design style, VIU's London flagship store in Soho is a blend of industrial interior design and light, minimal features. Again, the fold-down shelves built into the imitation brick walls constitute a rightfully dramatic stage for VIU's bold, characterful frames.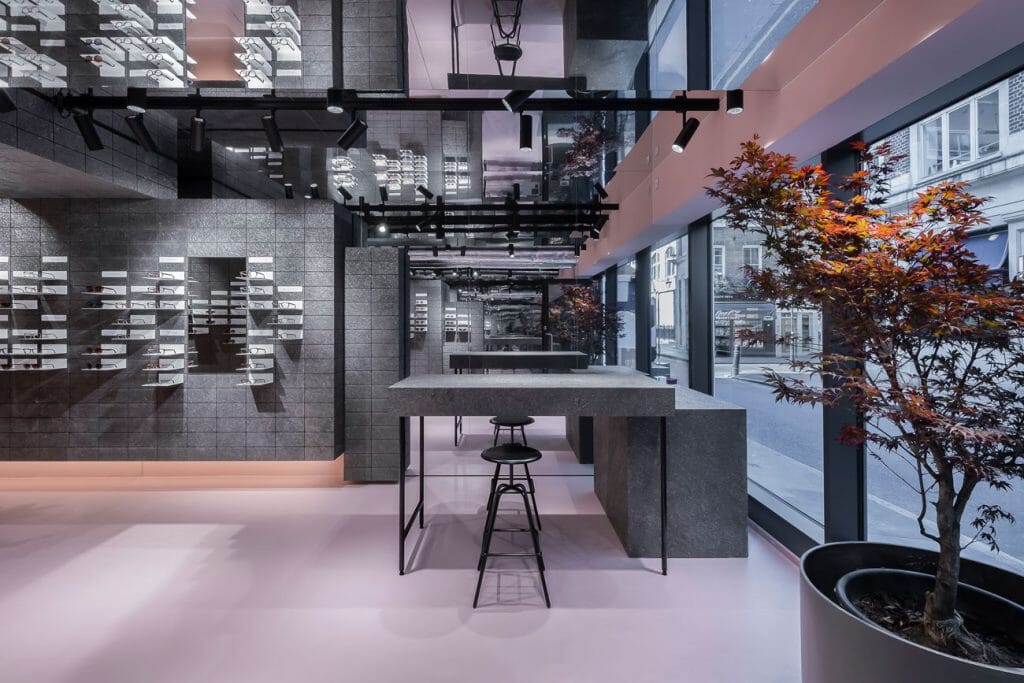 Not only will you find the full collection of VIU eyewear styles, from prescription lenses to men's sunglasses, the Soho flagship is your first point of contact to get a free eye test from an experienced optician. 
Physical retail experiences like this show that, when done right, a brick-and-mortar store can add a new angle to a label's products. The collection of VIU eyewear is essentially framed by the bold interior design that surrounds it, putting it in context and emphasising the stunning designs.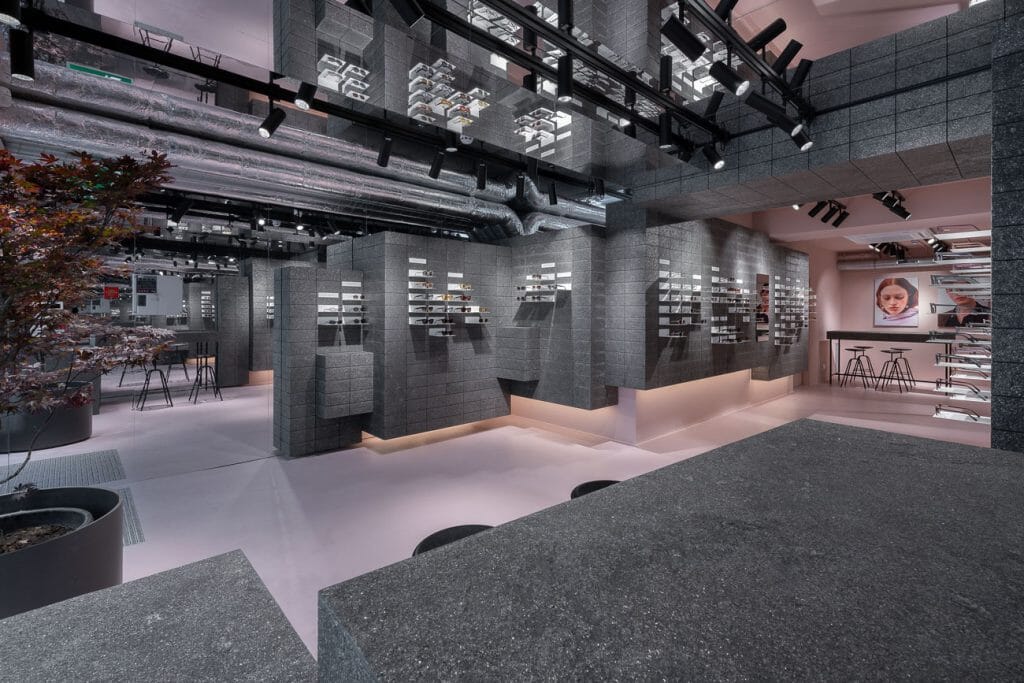 Shop VIU Eyewear at OPUMO.
Wearing sunglasses during winter can be a risk, so use our guide to pulling off sunglasses over winter.
---
---