There's plenty of great stories across Instagram that are not being told. That's why we set up the 'Who We're Following Series'. It gives us a chance to delve a little deeper into a story that needs to be told or to highlight the incredible work of someone who you are perhaps unaware of. The latest instalment in the series is one we've been looking forward to for some time but it's been well worth the wait.
Thomas Lavin – aka @tjl_petrol – is a Boston-based, Los-Angeles born automotive lifestyle photographer that specialises in creative journalistic angles. Despite being a relatively new name on the photography scene, Thomas' aesthetic and incredible eye for detail surpasses his relative inexperience. But, best of all, in a world full of side hustles, Thomas is an example in how to grow, nurture and work at a passion to make it a successful project to enjoy away from the humdrum of a working week. So, this week we linked up with Thomas to unwrap his love for photography, track his creative process and to find out what car continues to elude him.
Can you introduce yourself?
My name is Thomas Lavin and I'm an automotive photographer based most of the year in Boston, but I make it out to my hometown of Los Angeles as much as I can. I actually work at fairly tiny tech start-up, working around 40 hours a week, as a product manager and spend as much of my free time as I can photographing cars.
I'm extremely fortunate to have the option of pursing photography as a side job, and I have a tremendous respect for those who do work full-time and can get up every day and produce amazing photos. I don't think I'm even close to that level yet though. Most recently, I've recently been experimenting with film and lifestyle photography in an effort to avoid pigeonholing myself into one niche. Both have been immensely challenging in their own ways, but equally rewarding.
Who was your childhood hero?
If I had to pick one person, it would definitely be Bill Nye "The Science Guy." Nearly every science class growing up had one of his videos playing to explain some new concept. The theme song is eternally etched into my memory after listening to it hundreds of times for every science class I've ever taken. Plus, I was definitely a nerd growing up, which didn't help. Steve Irwin and Jack Hanna are also honourable mentions and were always on the TV at home.
What book are you reading at the moment?
One of my biggest faults is that I never seem to finish a book in a timely manner, I'm always eager to get started on the next one before I've finished the last. Needless to say, I have a few books I've been trying to work through. One book that I'm working on now is Neuromancer by William Gibson. I read it years ago and it's always been up there as one of my favourites, but it's refreshing to revisit it to experience it again. I've forgotten a lot of the details so it's still just as engaging as when I first read it. Plus, I'm a huge fan of the cyberpunk genre as a whole and this is really where it all started. If you have any interest in near-future sci-fi movies like Blade Runner or similar, you need to read this book.
What album are you listening to at the moment?
This is hard for the same reason as the books. I generally listen so haphazardly that I never make it all the way through an album in any reasonable timeframe. A recent favourite has been "Three" by Phantogram, which came out a few years ago now. My favourite track is definitely, "You're Mine," which checks all the boxes for me, but I just wish it wasn't the shortest song on the album. There isn't a song I'll skip, but if you are interested in checking it out "You Don't Get Me High Anymore" and "Destroyer" are standouts for me as well.
What sparked your interest in cars?
I was always interested in planes as a kid, particularly the old radial engine planes from the '30s and '40s into the early jet age in the '50s. It wasn't until much, much later that I seriously got into cars. A few years ago, I had a particularly rough time living and working abroad in the Netherlands, and due to various issues, I had to come back to LA earlier than I expected. A good friend of mine, who I can't thank enough for this, pushed me to wake up at 5:00AM and drive down to this car show about 45 minutes away from me. It was a show for air cooled Porsches, which I knew virtually nothing about at the time, called Luftgekühlt. I had a great time just running around taking photos of what I saw, so I started going to more shows.
From there it snowballed and all of the sudden I was waking up at 5:00AM nearly every weekend to go to a show. It's worked out pretty well since then, although my knowledge of cars is still very surface level compared to a lot of other enthusiasts. I've most recently gone down the rabbit hole into Formula 1, which is actually pretty entertaining. Since then it's all come very much full circle, as I ended up shooting that same Luftgekühlt show the next year for Petrolicious. This year, if all goes to plan, I'll be doing it again on May 11th for Luftgekühlt 6.
When did you first pick up a camera?
The first time I really picked up a camera was after a month-long study abroad in Central Europe for college. I travelled around Prague and a few cities in Poland with 20 other students in the same program, many of whom had much nicer cameras than my iPhone 4. I took hundreds of photos of mainly architecture, which I continued to shoot for fun for the following year or so. As soon as I got back home for the rest of summer break, I started taking some photos on my family's Rebel XS. At this point I had no intention to shoot cars in any capacity. I had always liked them, but it hadn't entered my mind to ever photograph them. From there I did there typical "take pictures of everything until I find something I like." It was about 6 months later that I really found my niche. I was lucky that I did, as I was dangerously close to burning out on photography altogether.
What's your favourite car?
The Citroen DS Break, the early station wagon version from the mid-1960s with the funky looking exposed headlights, has always been my favourite. The design was absolutely revolutionary for the era and I firmly believe it's one of the most influential cars ever made. I personally think it is also one of the most gorgeous cars ever made, but I realise that view is not shared by some. I've always been a fan of weird cars however, and this is one of the weirdest. Unfortunately, though, I've never had the chance to photograph one properly. They're remarkably rare here in the US, like any Citroen car, due in large part to a poor dealership strategy from corporate. The complexity of the car in comparison to American cars of the era didn't help, and as a result they're currently expensive to keep running. I've been meaning to travel back to where I used to live in the Netherlands for a short vacation and try photography some while I'm there. That being said, I don't think I'll ever be able to afford to maintain one in the States.
LA must be one of the best places to see amazing motors, how does Boston compare?
It's certainly different. It's easy to take the year-round car culture for granted in LA, which is something that exists in very few other places. If you're looking to check out some cars on the street, I don't think any city can equal LA. Just driving around nearly any part of LA you see an overabundance of old Mercedes, BMWs, and even less-common cars like Porsches and Alfa Romeos that are still running. In Boston you see more vehicles that you would consider as traditionally "New England:" Defenders, Range Rovers Classics, old Volvos, and older British cars such as MGs.
Boston is also just a terrible place to drive as anyone who has visited the city can tell you. That being said, there are still some fantastic collections dotted around the area that occasionally make their way out to shows. The differences extend to the car culture at shows as well. In Southern California it's less a matter of when are the shows and events happening, but rather which ones. Boston does have the Larz Anderson Auto Museum, which also happens to be the country's oldest private collection and hosts multiple events every week during the summer. If you want to see interesting cars, you really need to go to shows and make connections with the owners there. They won't be just parked on the street corner all year round like they will in LA.
Where's the best place that Instagram has taken you?
I'm not sure if it's the best place, but certainly the most interesting place has been The Quail: A Motorsports Gathering for the 2018 Monterey Car Week. It's a bit more contemporary than Pebble Beach and the show field is much more diverse. It was the event in which Bugatti revealed the new Divo and Lamborghini unveiled their new Aventador SV-J. Although I'm certainly fonder of shooting classic cars, it's an experience to be there, nonetheless. In terms of classics, the show certainly wasn't lacking either. Porsche had brought the first sports car they had ever made, the 356/1, and over at the Ferrari section one could see not only every generation of Ferrari supercar from the 288 GTO to the La Ferrari, but also some truly extraordinary race cars and special editions. My favourite of these and of the show was a 1967 Ferrari 275 GTB N.A.R.T. Spyder, made famous for its limited product run of only 10 and the fact that Steve McQueen crashed one.
The drive back home was equally as fantastic as I drove down the Pacific Coast Highway through Big Sur at sunset. Half the trip I was stuck behind a seemingly endless supply of Ford Mustang convertibles driving at half the speed limit, but the twists and turns hugging the mountains above a 50+ meter drop is unforgettable.
Can you give us all one tip to up our Instagram game?
As with many things in life, it's incredibly important to simply make the first move. People really appreciate it when you just take a moment to write something genuine. We're in the age of automated bots leaving nonsensical comments, it's really refreshing to receive a well thought out comment or DM. I've made most of my connections by just reaching out and I certainly wouldn't have gotten this far if I hadn't. The same goes for real life, don't be afraid to talk to people you don't know. You'll almost certainly regret it.
Who are three people we should all go and follow?
First one is an easy choice: @thomaswalkphotos. A really fantastic lifestyle photographer based in Australia who has a really interesting variety of work from classic Porsches in LA to look book shoots with old Land Rovers in New Zealand.
Another favourite is a good friend of mine out in LA, @iamtrevordalton. Everything he posts is on film, which is remarkable by itself, but each of the photos are so well planned and interesting. You won't find better car photos on film.
Last is @lifeof_riley, who has an unbelievable variety of film and digital photos from all over the globe. Whether it's just daily life in Malibu or on just his travels around the Mediterranean, they're always enjoyable to see. I'm also very partial to Riley's work just because we're from the same town.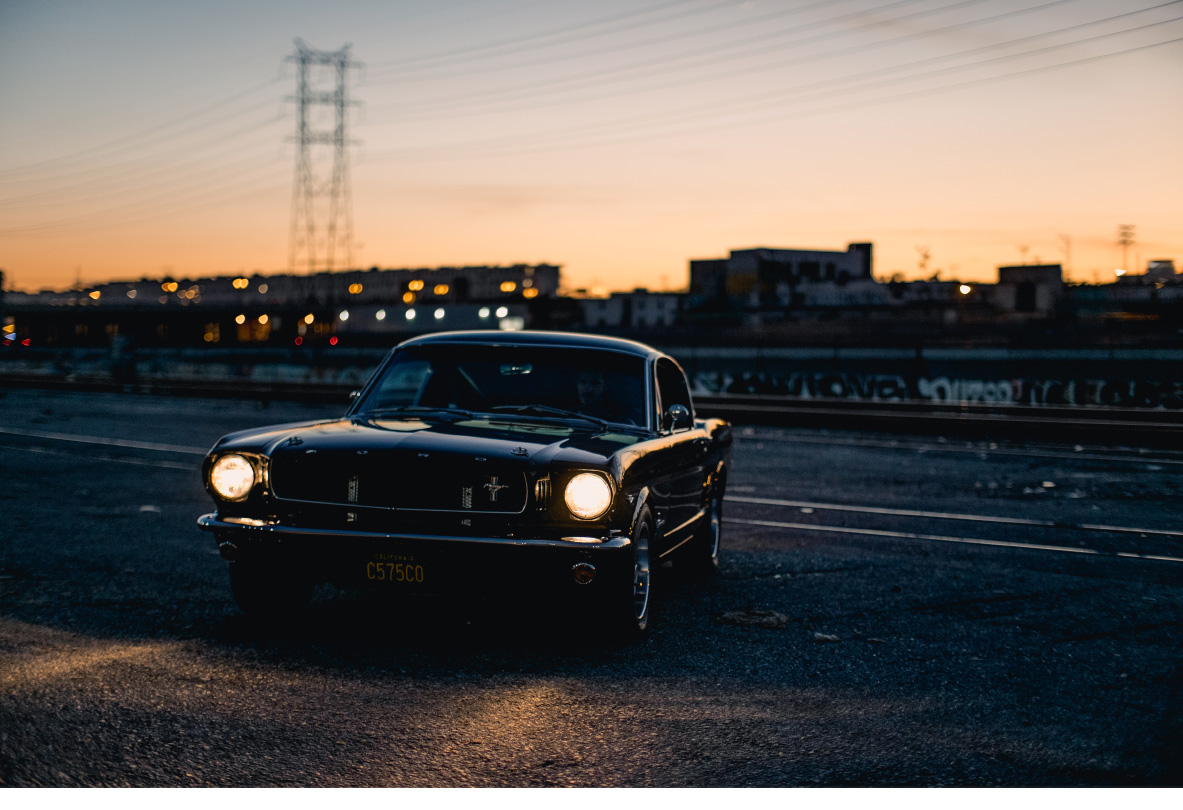 Make sure you follow Thomas Lavin, and keep up with his incredible work, on Instagram, @tjl_petrol.
Want more in the 'Who We're Following' series? The read what happened when we sat down with one of our favourite content creators Matthew Buckets, aka @MatBuckets.