Words by Lucy Thomas
When your Instagram is looking a little too familiar it's hard to know where to look to inject some life back into your feed. The 'Who We're Following' series was designed to combat that creative chasm and showcase some of OPUMO's favourite accounts of the moment. Berlin-based duo Zebu, who use illustration, block colours and full-blown murals to create striking pieces of art and design are certainly two people to pep up your infinite scroll. To hand you an extra slice on inspiration, we sat down with Zebu to talk about Berlin and its influential powers, having no fixed agendas and the real impact that Instagram has on working artists.
What does Zebu mean to you?
Founded in 2015, Zebu is a creative duo from Berlin which is active in the field of illustration, painting and screen printing. Our Studio is full colour as well as weird, humorous and bold characters which find their home in print products, murals and exhibitions.
How would you describe your style?
We love to work with colours, it's a lot of fun. Our visual language is reduced, abstract and bold. The way we paint is a result of the way we see the things around us. When we look at an object, shape or figure we feel the need to reduce its form and make it more abstract. We like to erase all the unimportant information and focus on the essence. Through this creative process our work becomes bold and dynamic. There is no fix agenda in our work, but there is definitely a motivation for the way we paint: through reducing and abstracting the form of the human body we create figures which can't be assigned to a specific gender or nationality. Every person should have the possibility to identify with our work. We would like to depict a diverse society in our works, not a stereotype one.
What are you currently reading, listening to and looking at to fuel your work?
We're currently reading a bunch of books about hobo culture, listening to Mulatu Astatke and we always love to look at the work of Mirò.
How does Berlin influence your work?
Berlin is definitely a great city for creatives. The art scene is huge and you have the possibility to get a lot of input and connect with people. We like to visit exhibitions – which is also good for the free drinks – but we get the most inspiration in our everyday lives: colours and shapes you discover during a walk by accident. We love to take walks, just go around town or nature and explore places. It's also one of our techniques when we get stuck in the creative process. Going out, thinking about things you see suddenly brings you the ideas you have been looking for on the drawing desk.
You display your work outside 'traditional art spaces' e.g. murals, t-shirts and zines. What is the effect of this?
We grew up in the graffiti-culture of Berlin and still have a passion for working on walls and surfaces in public space. What we like about working on walls is that you have the opportunity to present your work to a big variety of people. This gives you the chance to inspire people who would maybe never go into galleries or look into design-y books, websites and social media accounts. Also working on a mural is a welcome variety to the daily illustrator-life in the studio.
How has Instagram as a platform had an impact on your work?
Instagram definitely gave us the chance to present our work to a big audience worldwide. But it didn't really change the way we work or influenced our creative process.
Do you believe the digital medium is the direction that contemporary art and design is heading?
3D works, animation and the whole VR thing definitely became important and interesting fields the last years. They are already and will play big roles in contemporary art and illustration in the future since applications and the way things are communicated become more and more digital.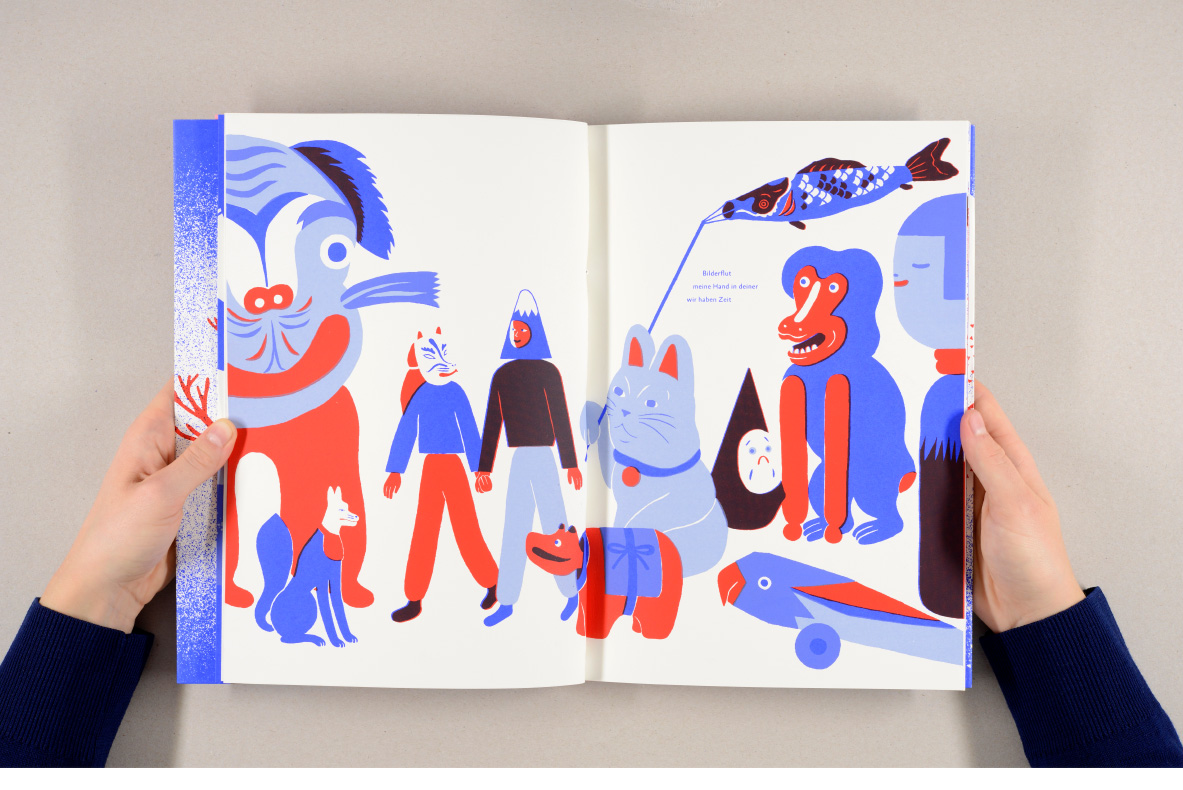 What are the limitations of the digital medium? Do you think that having a physical print is more or less important today?
Digital and analogue both have their advantages and disadvantages. It always depends on what you want to do, what you want to communicate. For us it's important to produce physical work, we love the analogue process. Just starring at screens is not how we want to spend our whole day or how we want to see our reality.
What are your three favourite Instagram accounts at the moment?

Make sure to follow Zebu on Instagram and if you're after another instalment in the series, be sure to check out our interview with Christina Forsberg, the creative mind behind Scandinavialist – who shares all the stories and best-kept secrets of modern Scandinavian design.