There is an embarrassment of riches out there when it comes to coats; and that in itself presents its own problems in what is invariably the most important purchase of the season.
Beyond its practical appeal, the winter coat is the one item that can drastically alter your persona and style. And when faced with decisions of considerable importance it pays to look to a familiar face for leadership; which is why Harris Wharf London are the producers of some of our favourite men's coats this winter.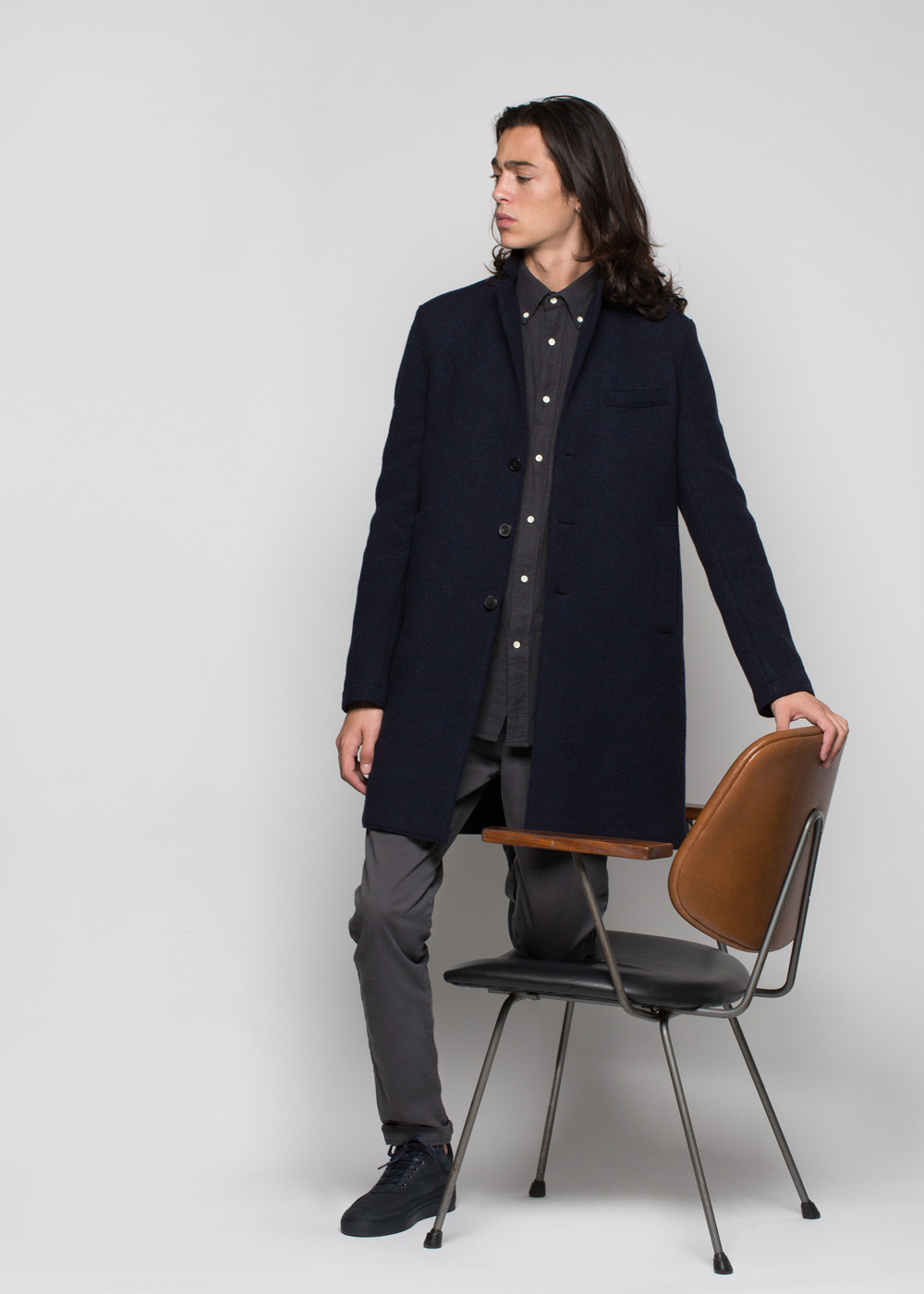 Harris Wharf London is known for being the contemporary outerwear brand that transform a range of classic men's overcoats into something more interesting – and importantly, wearable. The Navy Boxy 3 Button Felt Coat is a case in point, and it makes for one of the finest investment pieces this season for a number of different reasons.
Firstly, the contemporary details, such as the raw edges and unlined interior, make the Boxy Coat a perennial essential, immune to the unpredictability of fashion trends. Which simply means you'll get a lot of wear out of it. Secondly, it's a hardened style that will look good on anyone; whether it is matched with dark denim, chinos or tailored trousers. And thirdly, it's extremely versatile. The classic navy colour hue is enhanced by the luxurious soft-touch military felt construction – which not only makes it durable, but it gives the silhouette a unique finish to ensure it can function in isolation. By that we mean, it looks good enough to operate as a statement piece of outerwear in its own right, which means it can be dressed-down effortlessly.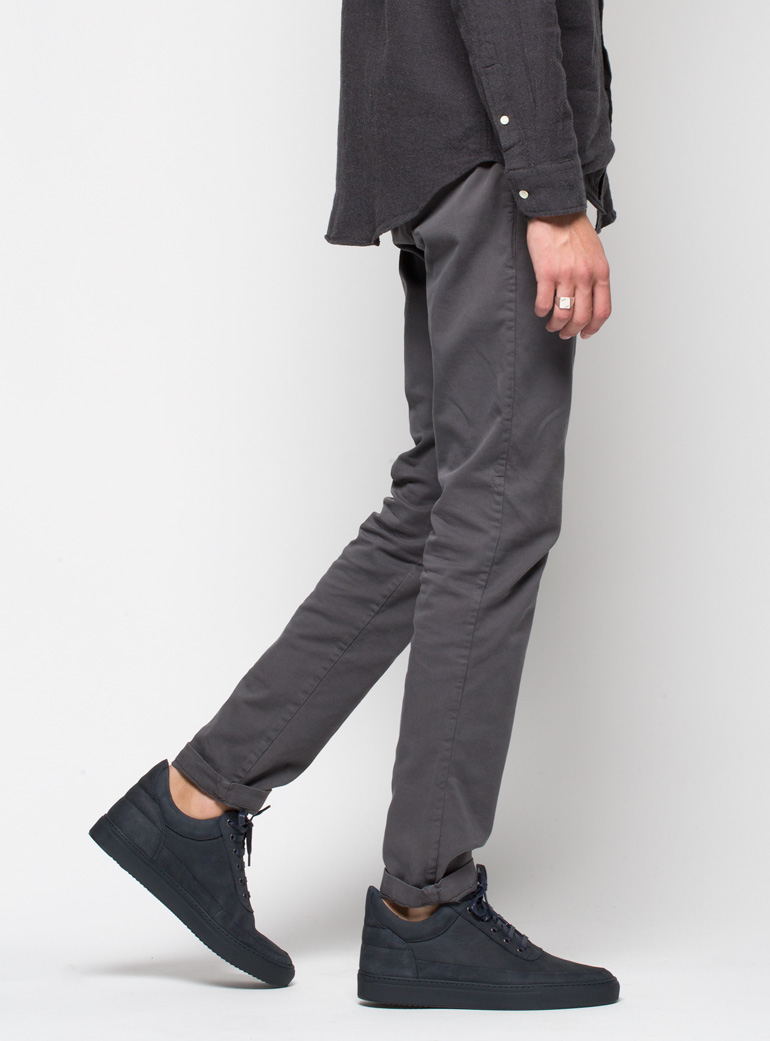 To illustrate our point, we styled the Harris Wharf Coat in a relaxed, weekend-appropriate look with the Boxy Overcoat as the focal point alongside tapered Déjà vu Chinos from YMC and premium Navy Low Top Sneakers from Filling Pieces. The bold navy colouring of the coat serves to both break up and draw out the different shades in the outfit – most noticeably the tonality of the Filling Pieces sneakers. Also, note the tactile combination of textures from the luxury felt coat to the stretch cotton chinos and to the lightweight cotton construction of the Gant Rugger Charcoal Melange Plain Weave Shirt.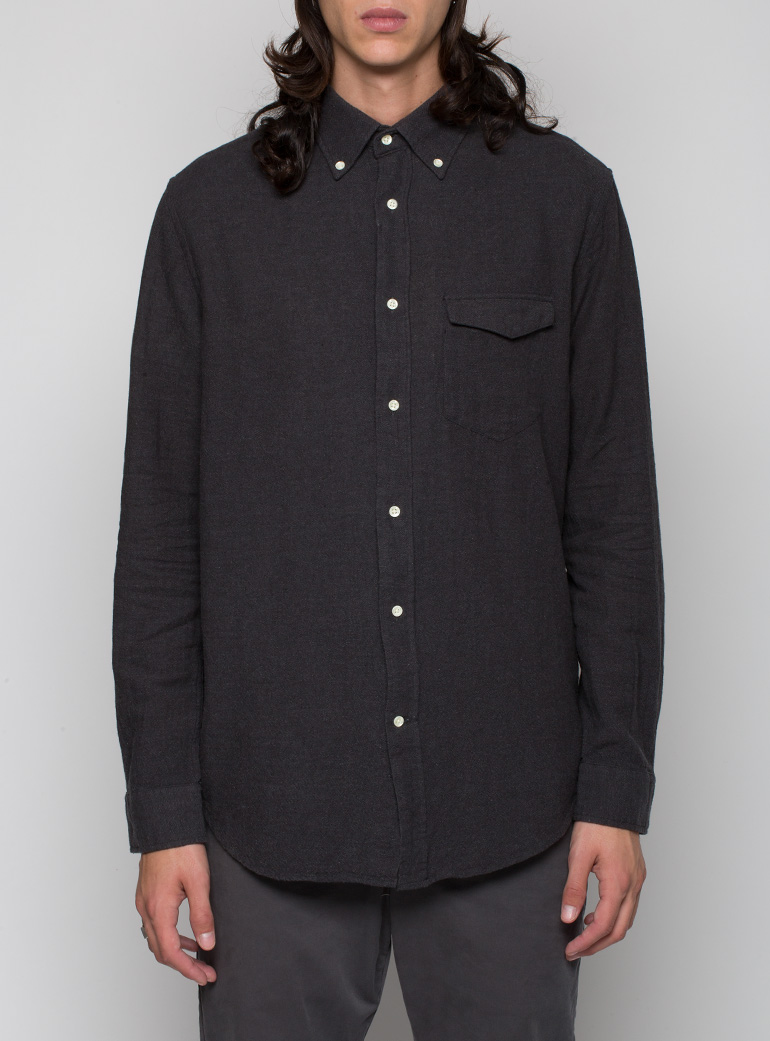 The slightly oversized design, with a healthier finish in the shoulder and arms, ensures the Boxy 3 Button Coat will accommodate both structured tailoring and chunky layering. With tailoring, make sure the coat finishes longer than the suit jacket, and if you are wearing casual knitwear ensure the layers build from thin to thick in order to emphasise the contemporary shape and character of the overcoat.
Shop the entire look online at OPUMO and for more style inspiration, check out 'Why You Need: Portuguese Flannel Prego Checked Shirt'.
Be sure to read our ultimate guide to men's coats and jackets.