Seasons change, trends fade away and people always appear to be one-step ahead. What seems to be 'in' and what you should be seen to be wearing changes every day. Yet, there is an easy way to stay on top of it all. Despite the cyclical trends in fashion, certain men's clothing essentials – a long sleeve knit polo or a denim jacket for example – will keep you looking good, all-year long. To illustrate our point, we have selected 10 spring staples that'll keep you one step ahead from this season onwards.
White Sneakers
There is something so appealing about the clean aesthetic of an all-white sneaker, which is why they will always be a menswear essential. This season there is infinite possibilities when it comes to lacing up a white sneaker, from the minimal styling of the Common Projects Original Achilles Low to the forward-thinking designs from CQP and the All-White Tarmac Sneaker, ETQ Amsterdam's White Bone Low Top 5's and the statement White Sonic E17 Gummy Mesh Sneakers from Kenzo.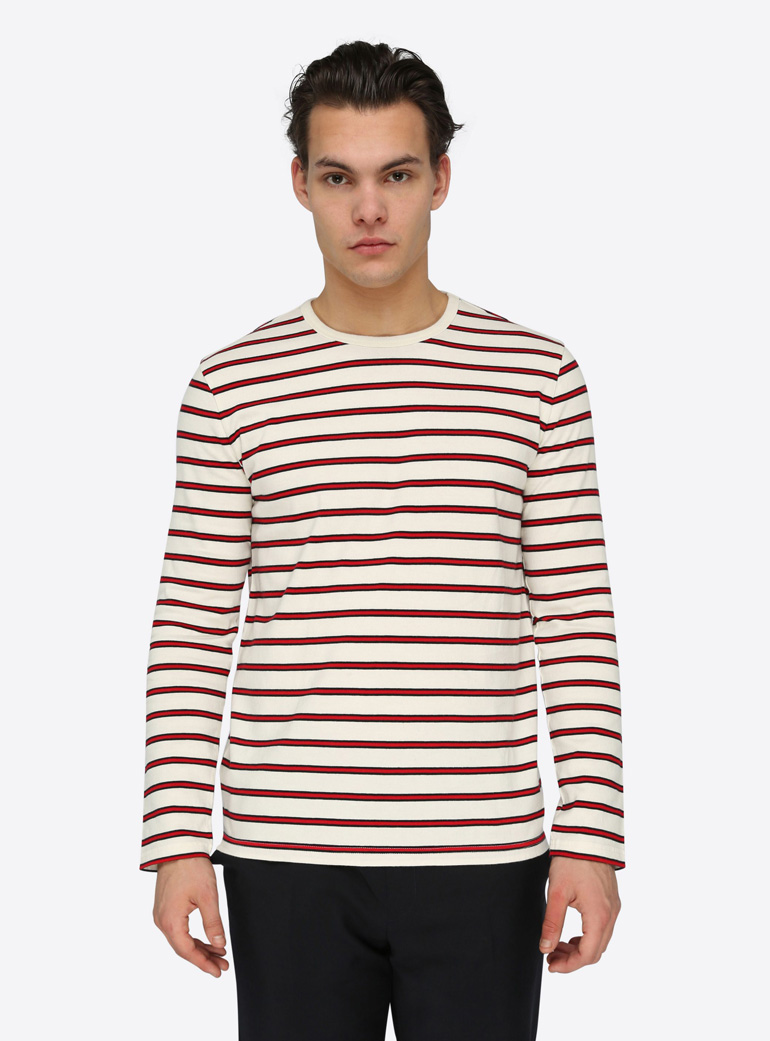 The traditional Breton T-Shirt has come a long way since its decree on the 27th March 1858 that confirmed the striped t-shirt as the prescribed uniform for French seamen. Favoured for its loose-fit, wide boat neckline and flash of colour, the Breton has been the subject of numerous modern reinterpretations, yet this Ecru Long Sleeve Tom Striped T-Shirt from Harmony remains our favourite.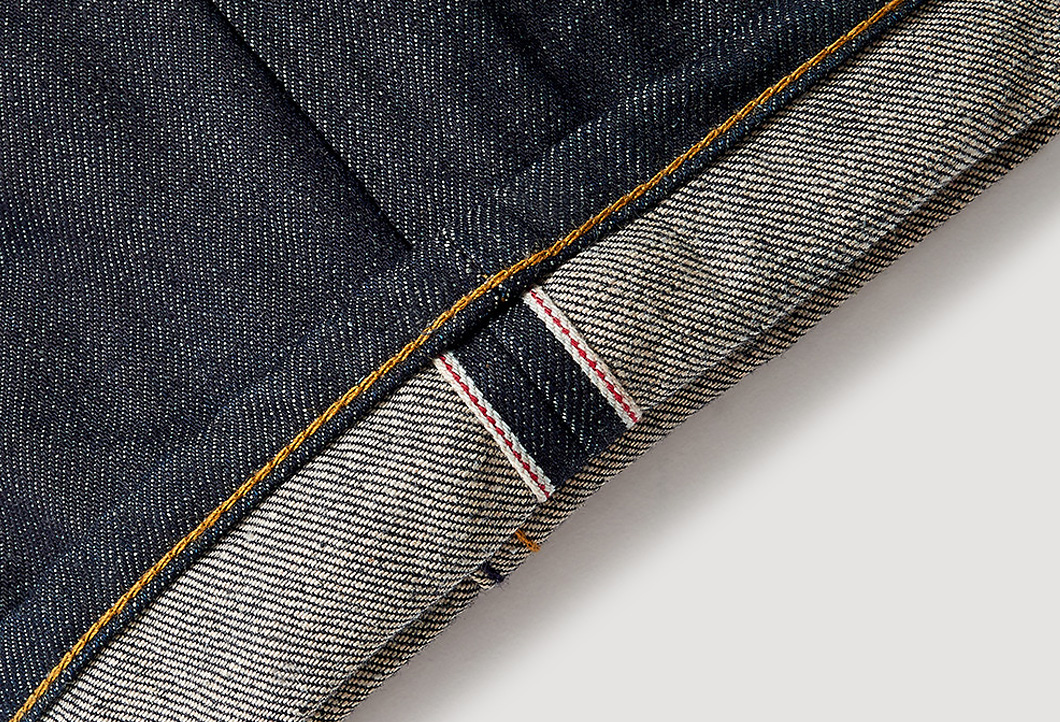 Denim Jacket
The popularity of the denim jacket is easy to explain – it's lightweight, practical, warm, rugged and breathable. But what gives the denim jacket its real edge is its cultural status. Originally worn by 19th century railroad workers, the denim jacket was later picked up by a host of important figures – literary characters, artists, musicians, rock stars and of course, James Dean – who turned it into a must-have piece of outerwear. The easiest way to wear a denim jacket this season is by choosing one with a workwear focus –  look to the Hawskmill Denim Co MK2 Range for inspiration – and simply wear it slung over a plain white tee with a pair of wayfarer sunglasses.
Slim Track Pants
Formerly a go-to for the late night dash to the shops, the track pant is now a modern day street-style essential due to its extreme comfort and surprisingly smart – if bought in a slim and tapered fit – look. Today, there is a variety of styles currently available from the comfortable, the characterful to the high-end. The best place to start is with a slim-tapered, technical sweatpant like the Grey Melange Pants from etq store, with a basic t-shirt or staple cotton sweatshirt.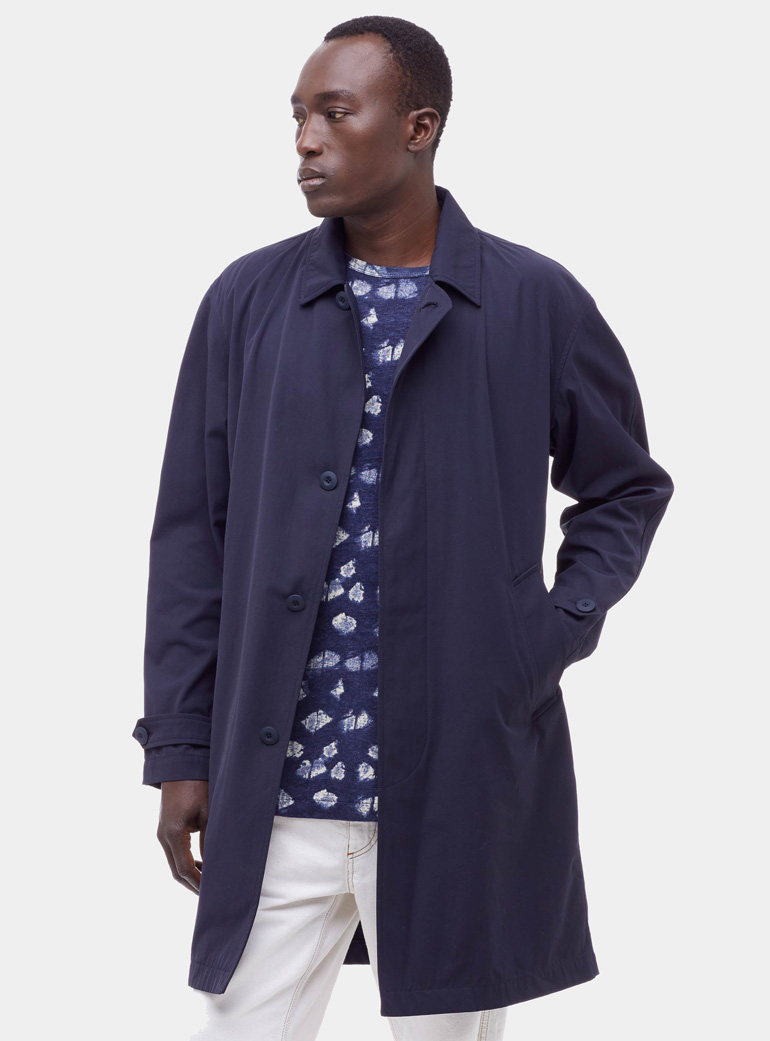 Lightweight Mac
It goes without saying that if you're living in the UK you'll need a classic trench coat or mac to keep the rain from drenching what's underneath. Lightweight and protective, this YMC Navy Gumshoe, is a go-to piece for seasons to come. Cut in a simple, minimal silhouette with a covered button closure, pointed collar, angled side pockets and cuff adjusters for an incredibly versatile and comfortable fit.
Long Sleeve Knit Polo
Today, the polo can be added to the long list of reinvented sports classics, as many cashmere, linen and silk variations have given the humble polo a luxurious twist. This season, pair up a simple long-sleeve polo with a tailored black trouser and a black patent penny loafer for a relaxed alternative to tailoring. A few of our favourites include the Grey Pique Collared Polo Shirt from Hamilton and Hare and the Black Cashmere Long Sleeve Polo from Timothy Everest.
Slim Selvedge Jeans
Jeans; despite being the item of clothing that we wear the most, seem to be one of the most uninspiring purchases that we make year on year. But if you're going to buy any trousers this spring make sure it's a good quality pair of selvedge jeans made from raw, unwashed denim. Avoid ultra-skinny fits and bleach finishes, and stick with a slim, dark pair from Hawksmill Denim Co.
Drawstring Trousers
Drawstring trousers arrived in a big way last autumn, and they remain a saviour as we creep into warmer climes. The contemporary and comfortable slim-fit silhouette of these YMC Alva Trousers for example, feature a zipped fly fastening and a sly hidden drawstring around the hips. Most importantly of all, the comfortable Alva Trousers are a quick and easy styling option – which is a valuable commodity when facing the clock in the morning rush or when you've got plans that take you from work and into the night.
A Touch of Pink
This year, spring collections are absolutely packed with pink. In particular, pastel pinks, dusty blush pinks and the revival of the old-favourite 'salmon' pink. New arrivals from Norse Projects put the pastel shades to good use in the form of the Mercerised Sweater, while the essential Pink Baseball Cap from Don Paris and YMC's Almost Grown Sweater provide an easy and understated way to wear pink this spring.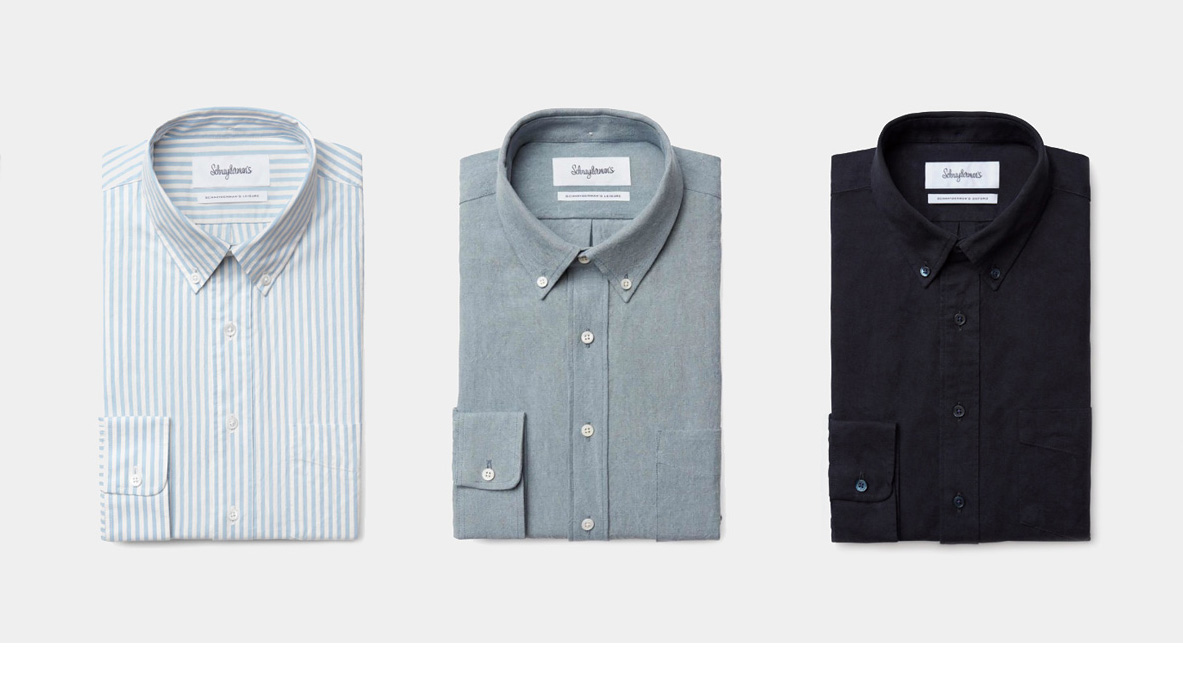 Oxford Shirt
We are all a little guilty of neglecting the Oxford Shirt by staying loyal to the same long-sleeve shirts all-year round. But, the shirt deserves a little more thought; as there's little that won't go well with it. Because it's collar is conventionally smart, albeit softer and more relaxed compared to stiff-collared shirts, the Oxford Shirt has a causal feel that can be worn to the office or under a simple crew neck jumper when temperatures fall. It also pays to invest in a shirt with a tailored, slim-fit, which is why latest collection from Swedish-shirting specialists Schanyderman's comes so highly recommended.