There's a lot of chat about the basics in these circles. You know you need a white t-shirt. You know you need a navy suit. A solid pair of well-kept, year-round white sneakers and of course the indigo wash pair of denim jeans or a refined pair of trousers. There's consensus on what basics are needed for a dynamic capsule wardrobe. 
We'll add to this that for a great capsule wardrobe, you should invest in a solid Breton striped t-shirt, be it long or short-sleeved. Scroll on for our guide to Breton striped tops, including our pick of the best to buy.
The history of the Breton top
Like much of the iconic clothing we hold dear, the Breton striped shirt has origins in the military. In 1858, the French Navy put out a decree stating a new uniform would be worn by sailors. The uniform featured a white knitted top with Navy stripes. The number and width of the stripes (21 for each of Napoleon's victories) as well as the neckline and hem were all designed according to  meticulous military standards. There was rationale behind the design. A striped, stylish man overboard was easier to locate.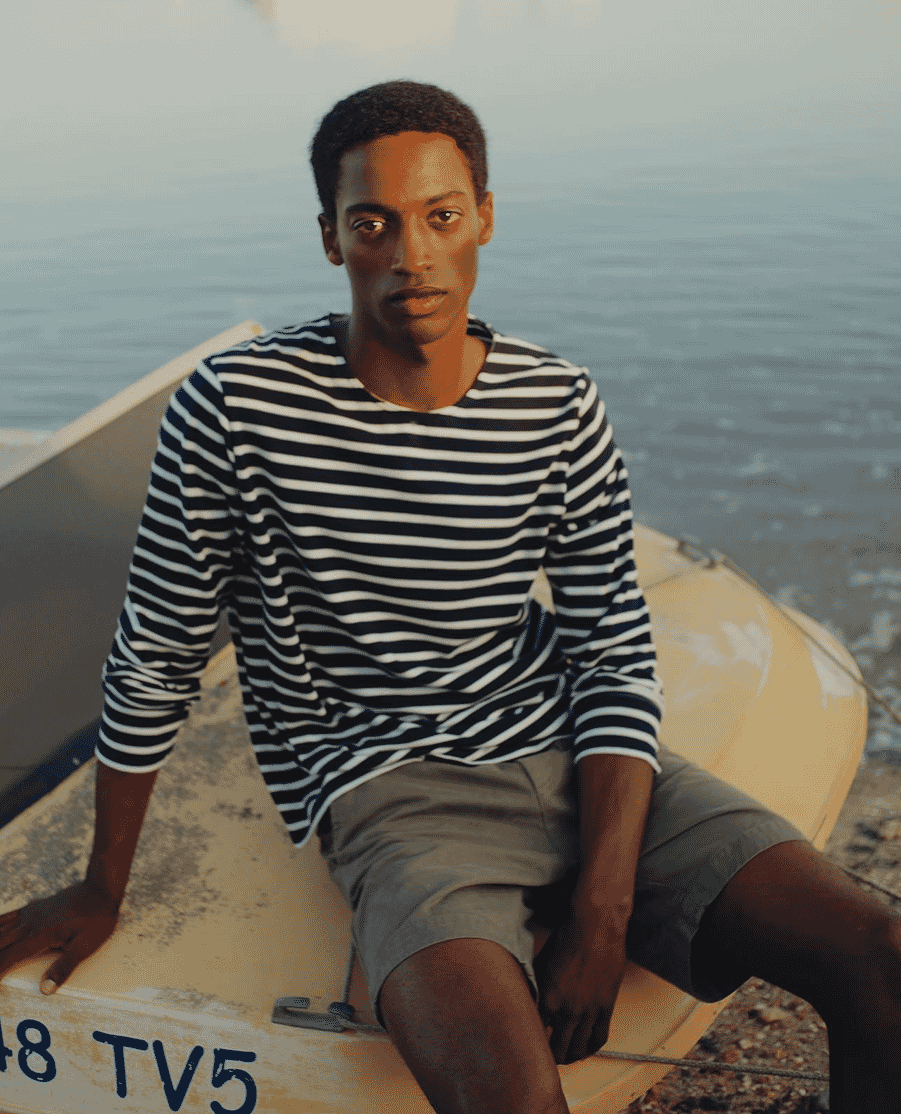 After the First World War the Breton soon took off as a style statement. Coco Chanel had earlier introduced the garment into her nautical collection in 1917, proving to be a watershed moment in casual womenswear, loosening previously formal and uncomfortable norms. Film soon absorbed the garment with iconic turns from James Dean, John Wayne and Michael Douglas. Picasso was often pictured in Breton stripes and the garment continues to be a signature element of Jean Paul Gaultier's namesake brand.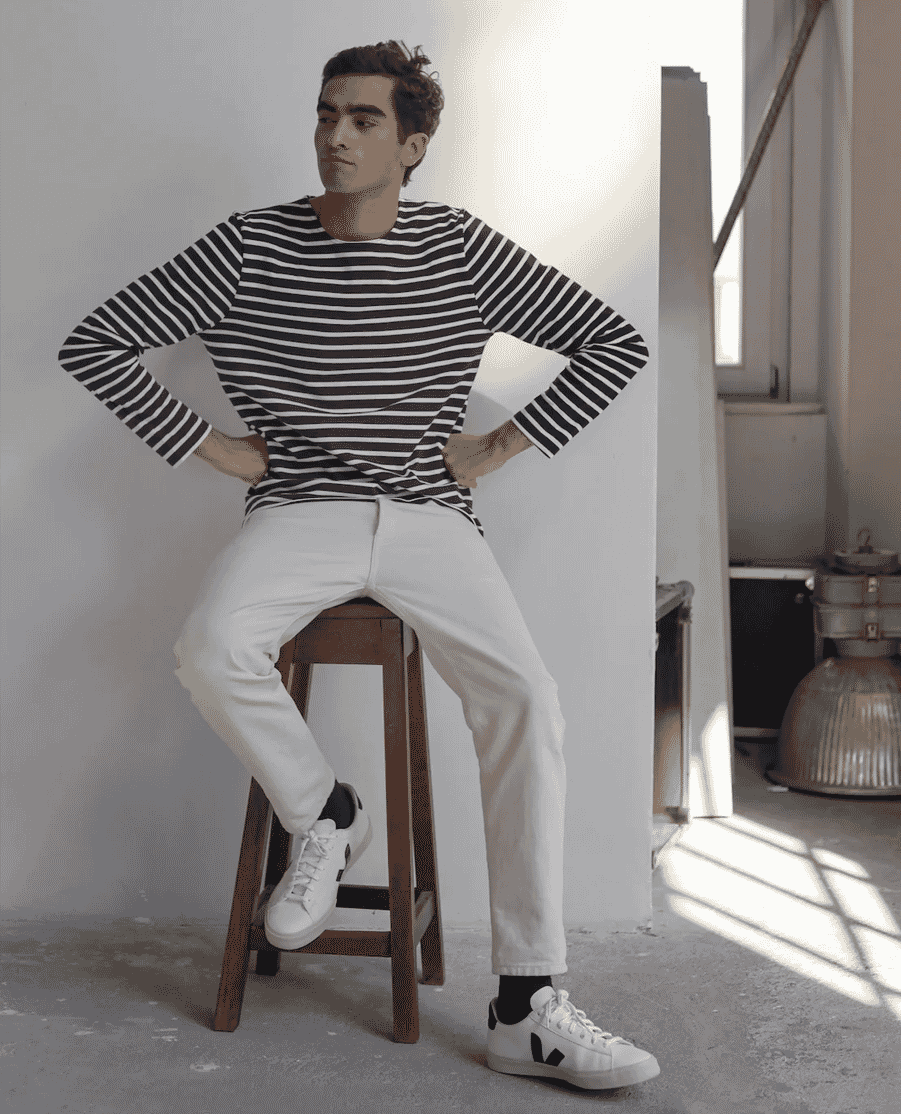 How to style a Breton top
The Breton tee is an icon because it's versatile. It's happy to be styled with nothing on top, long or short sleeves, wear it above a pair of shorts or casual trousers and a sneaker. A loose tuck is a nice touch but apart from that, let the stripes do their thing. A white trouser is also a tried and tested companion to the humble Breton.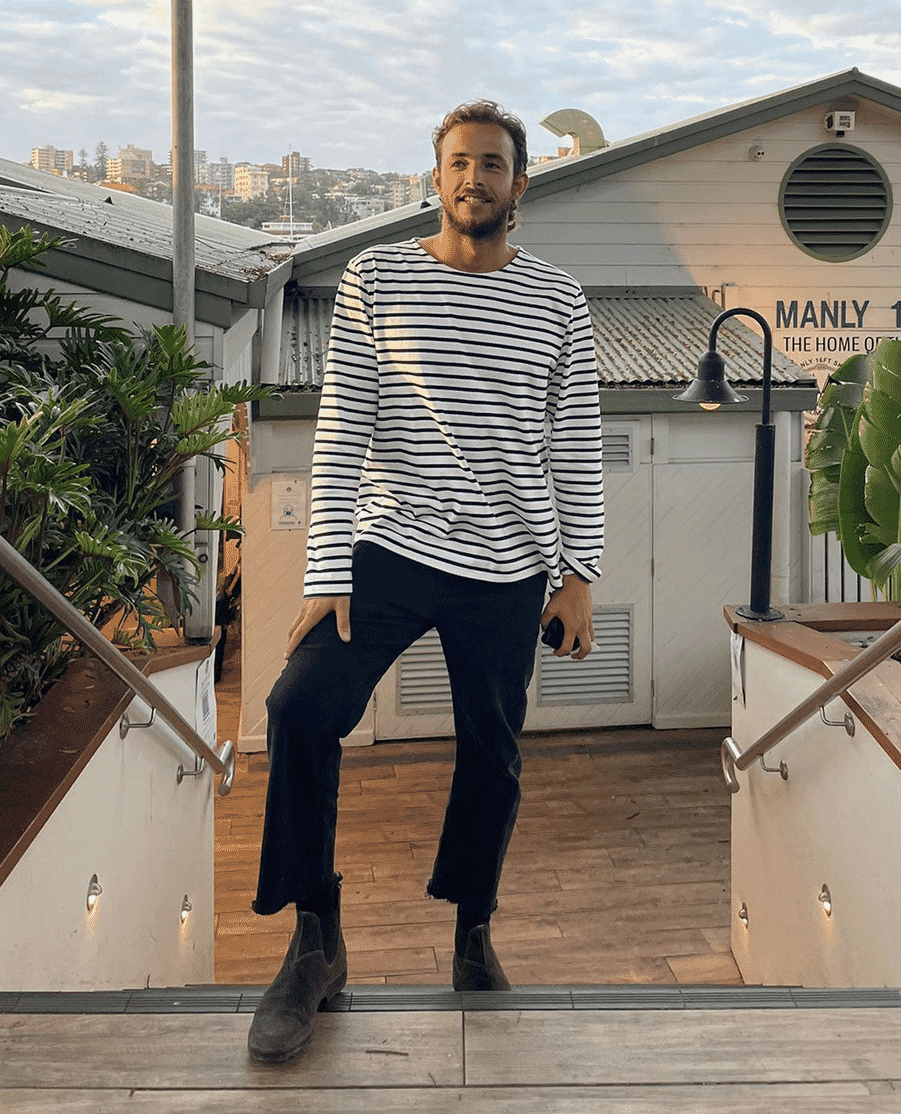 Your chest is the canvas with a Breton top, so wear it under open overshirts, coach jackets and coats in block colors. The stripes naturally attract eyes to a point of difference and break up the outfit. Those stripes are handy for skinny frames too, giving the illusion of a wider torso. For something a little smarter, consider thinner stripes under navy tailoring for a refined tailoring and sneaker look.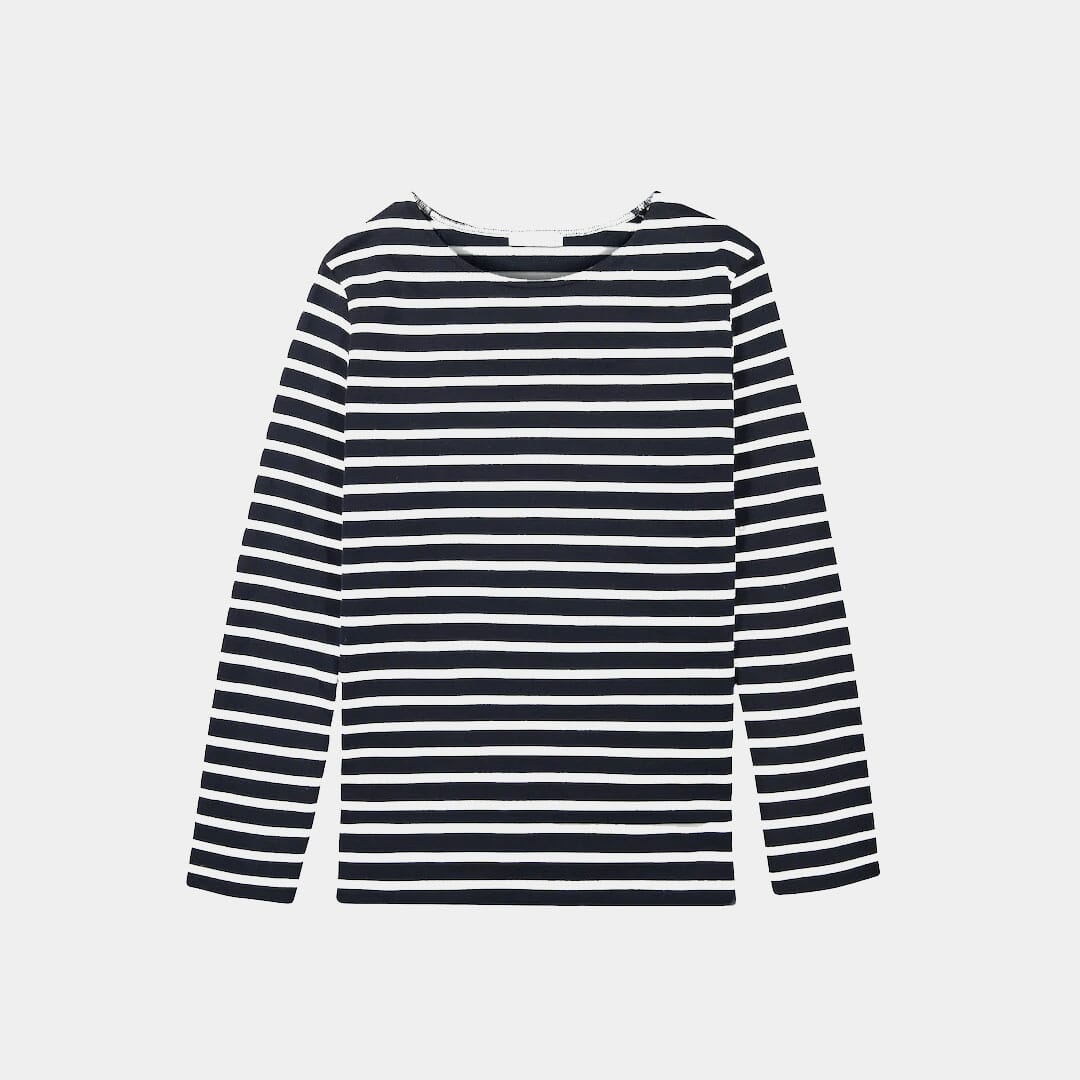 Best Breton striped tops for men in 2023
ISTO. Breton
Freedom from industry constraints is the vibe at ISTO. Garments made with transparency in Portugal with an emphasis on quality over quantity. ISTO. has gone for a sophisticated approach to the classic Breton with a white and navy (alternated colours also available) long-sleeve cut from midweight 100% organic (GOTS certified) jersey cotton. The fabric is smooth with a slight rib knit, making this a slightly heavier Breton that is great for wearing all year round.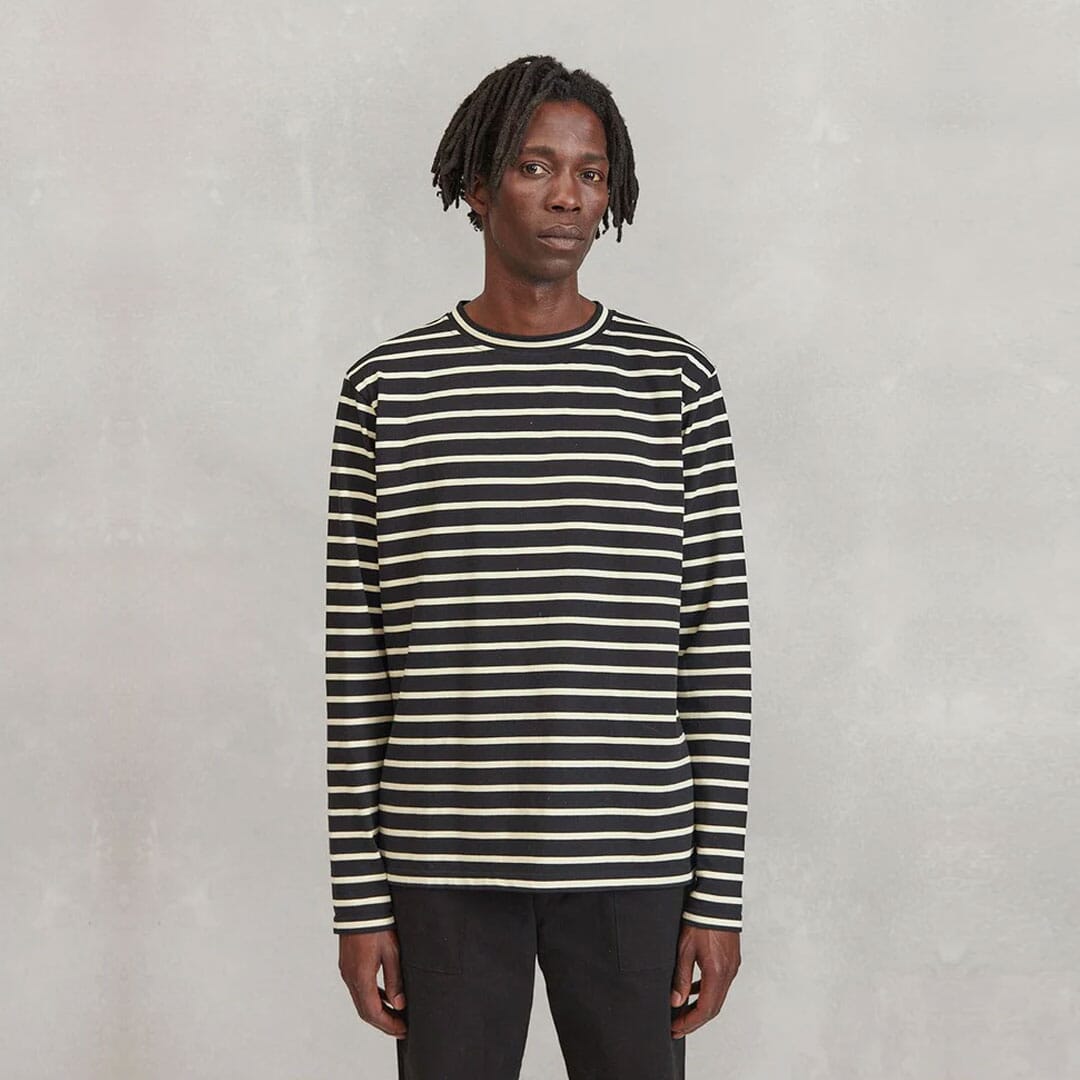 Percival Long Sleeve Breton T Shirt
Percival has been a tour de force of a brand of late. Simple, stylish collections with enough collaborative pizzazz to keep things interesting. It makes perfect sense that Percival would be a solid bet for the Breton good stuff and lo and behold, there's one on their site waiting for you. Theirs is a black and cream number made from a cotton blend in a regular fit. The brand also does multiple colour options and a short-sleeve variety if you yearn for the refreshing seaside breeze on your bare arms.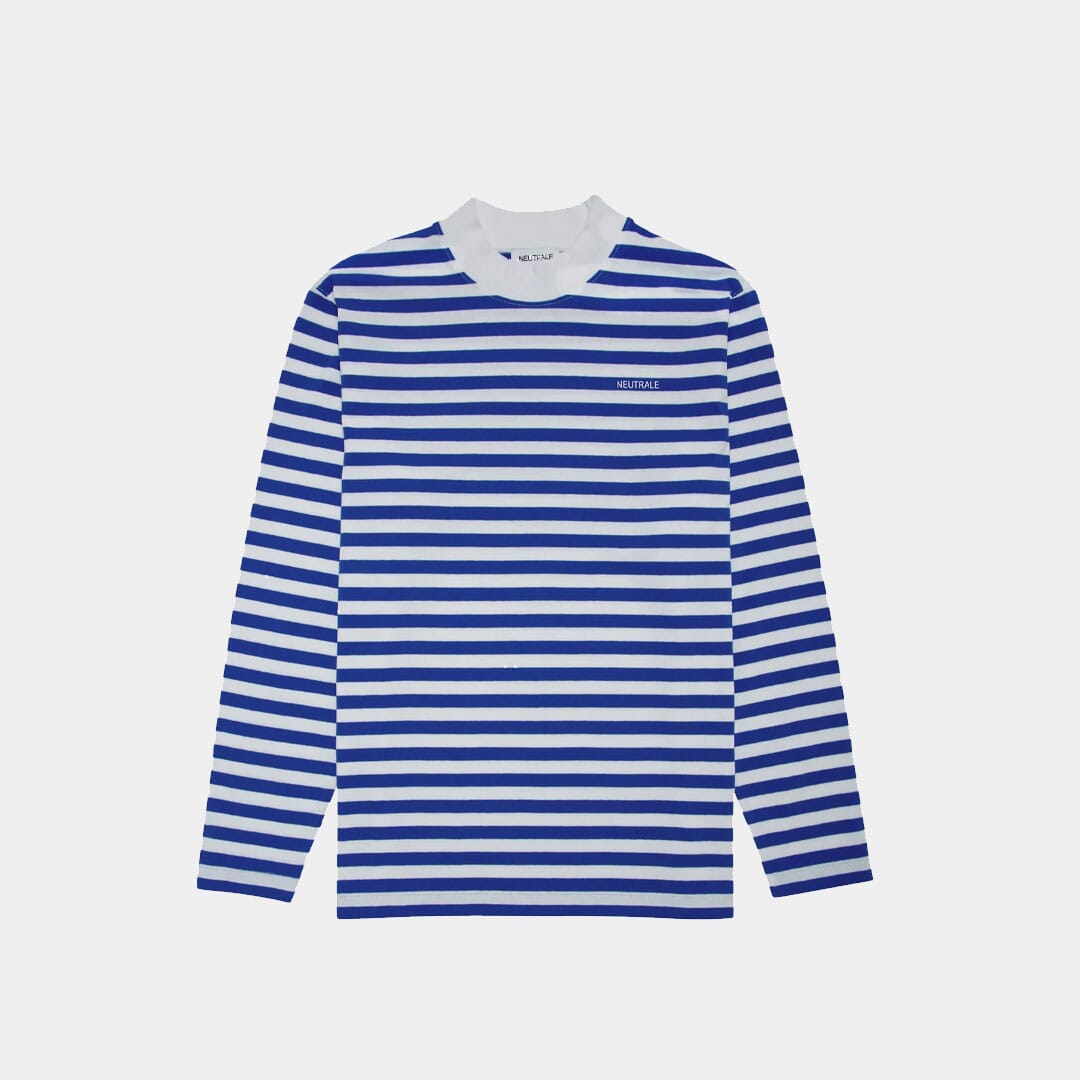 Neutrale Striped Mock Neck
We've been getting really into mock neck t-shirts lately. They provide a bit of interest around the neckline and they elevate simple t-shirts underneath overshirts and jackets without being too busy. Neutrale's striped mock neck long sleeve is fun. Available in shades of navy and peach, reminiscent of walls in Santorini or the Cinque Terre, the bold white mock neck is a nice contrast. Made from 100% certified organic cotton with a true-to-size but slightly slouchy fit, cop one for a fun addition to a casual capsule wardrobe.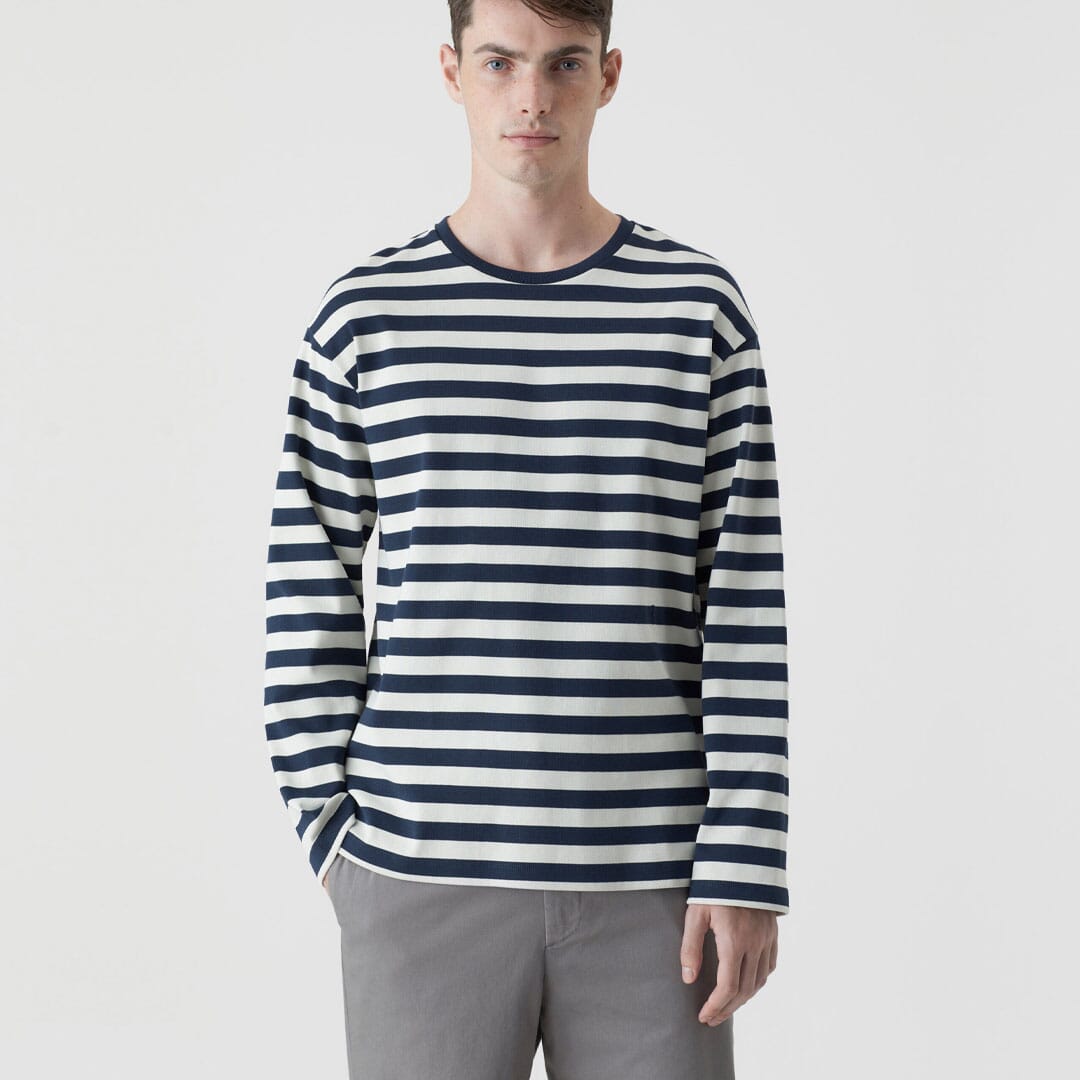 Closed Striped Long Sleeve
A bold black and white Breton top is always a winner and German brand, Closed, have just that. Thick stripes, long sleeves and a bold crew neck in a boxy, regular fit. An ideal piece for wearing underneath open coats, cardigans, shirts or whatever chest-showcasing garment you're looking to wear over the top. The 100% organic cotton provides a structured surface that's firm to the touch with the brand's subtle C logo embroidered at the front.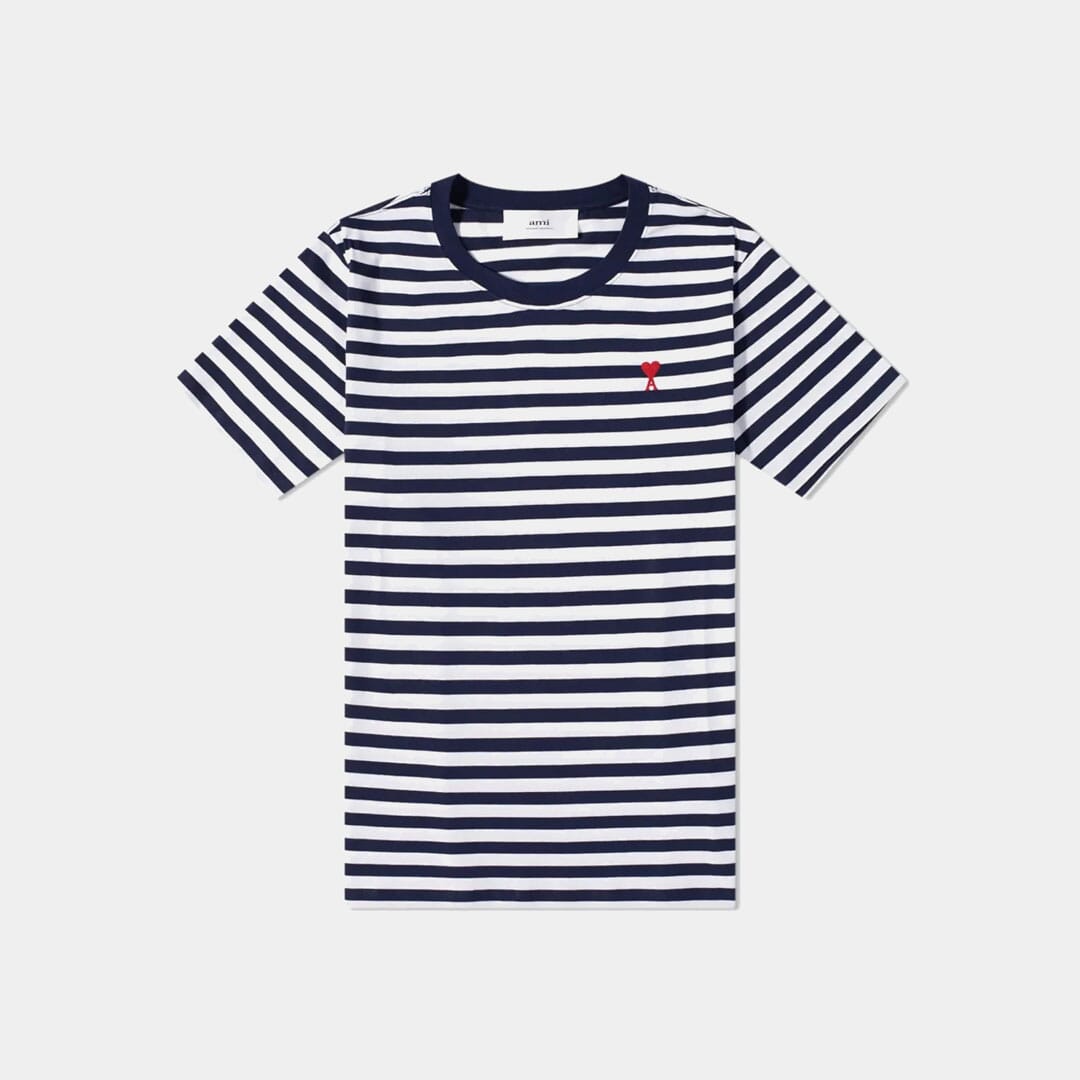 AMI Striped ADC Tee
A lesser spotted short sleeve in the mix. Breton stripes getting the AMI treatment. Fitting of course, AMI being the cool, effortless Parisian brand ran by the inimitable Alexandre Mattiussi. Here it's coming at you in Navy and white stripes with a contrast crew neck. AMI is written on the lower neck on the back whilst the front is adorned with the trademark heart logo - symbolising friendship, love and joy - embroidered on the front. A cotton mix with a little stretch. Brave some white trousers underneath. Revel in Francophilia.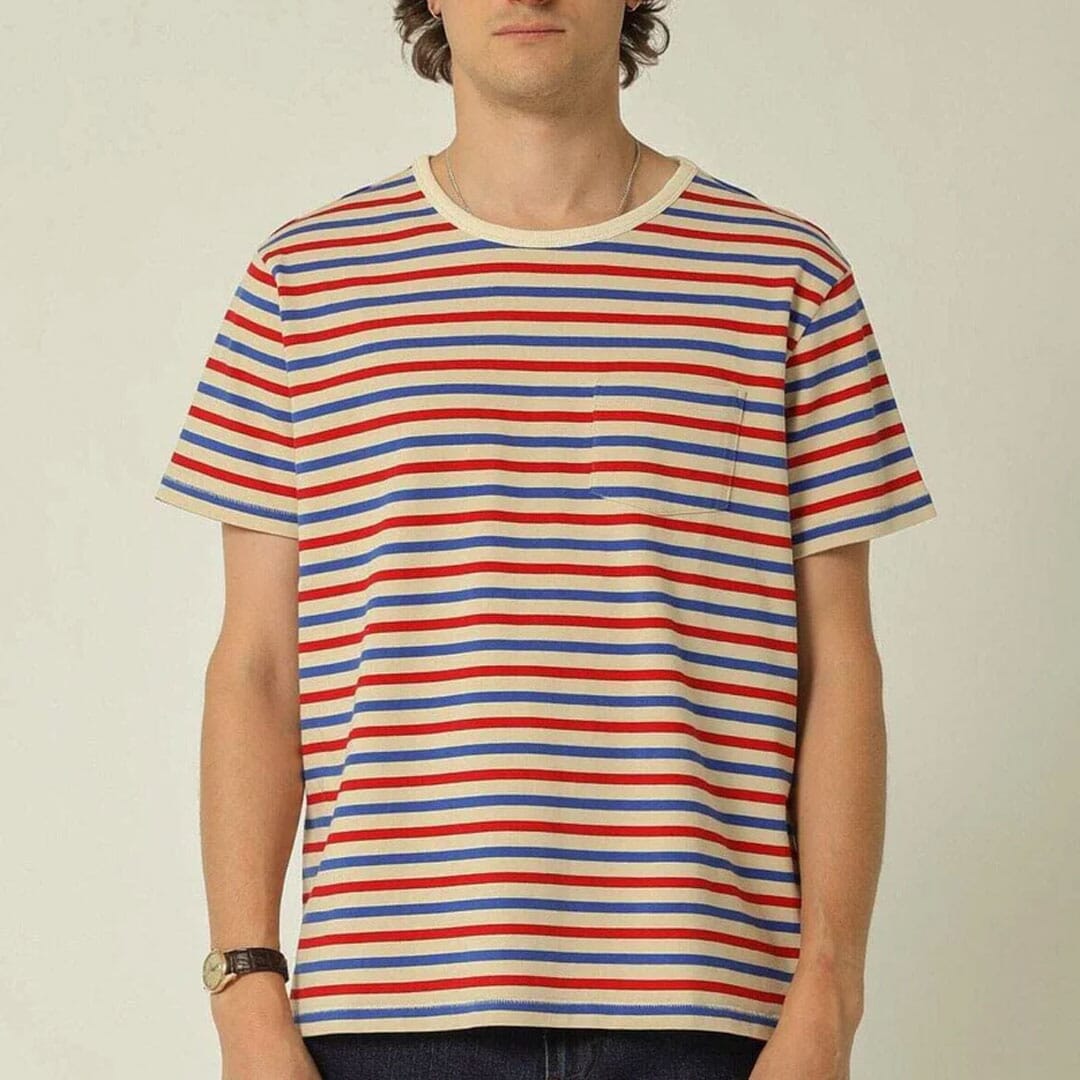 Corridor Organic Blue & Red Striped T-Shirt
What if instead of a Breton striped top with merely two colours, you could have a Breton striped top with three colours? New York indie brand Corridor have made that dream a reality with this organic blue red striped t-shirt which gives off soothing riding around on a chopper Americana vibes. Made from 100% organic cotton with a boxy regular fit, the chest pocket is a fun addition to what could be a statement piece come summer.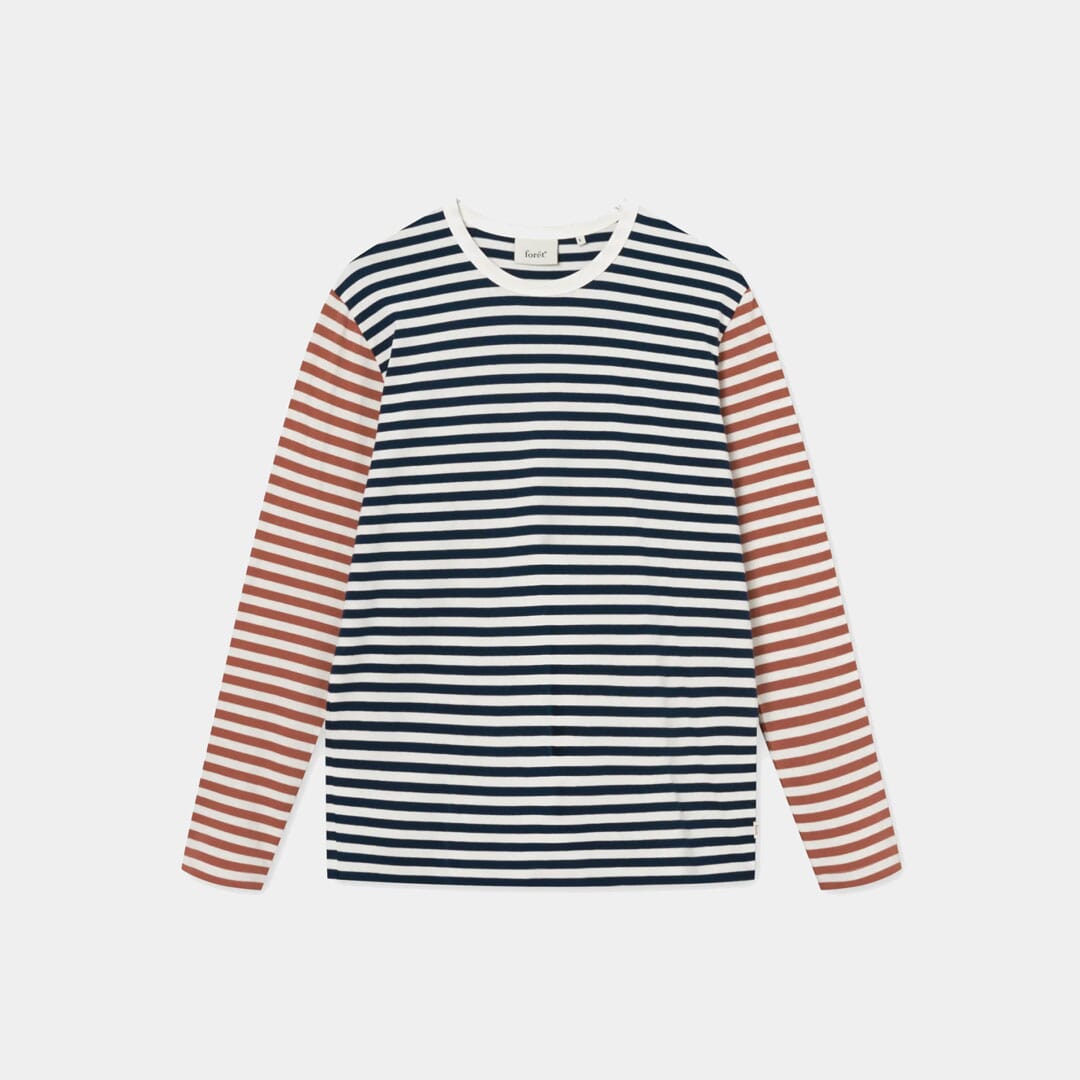 Forét Throw Long Sleeve
Uh oh, there's been a mix-up at the sleeves factory again. Only joking, we're talking contrast striped sleeves thanks to this fashionable take on the classic Breton by Danish brand Forét. Trust the Danes to do pragmatic style with a low-key twist. Made from soft, 100% organic (GOTS certified) cotton, this long-sleeve t-shirt is gagging to be worn over a pair of refined trousers to flaunt those sleeves. Forét also do some great Breton striped tops without the contrast arms if you're on the hunt for something less eye-catching.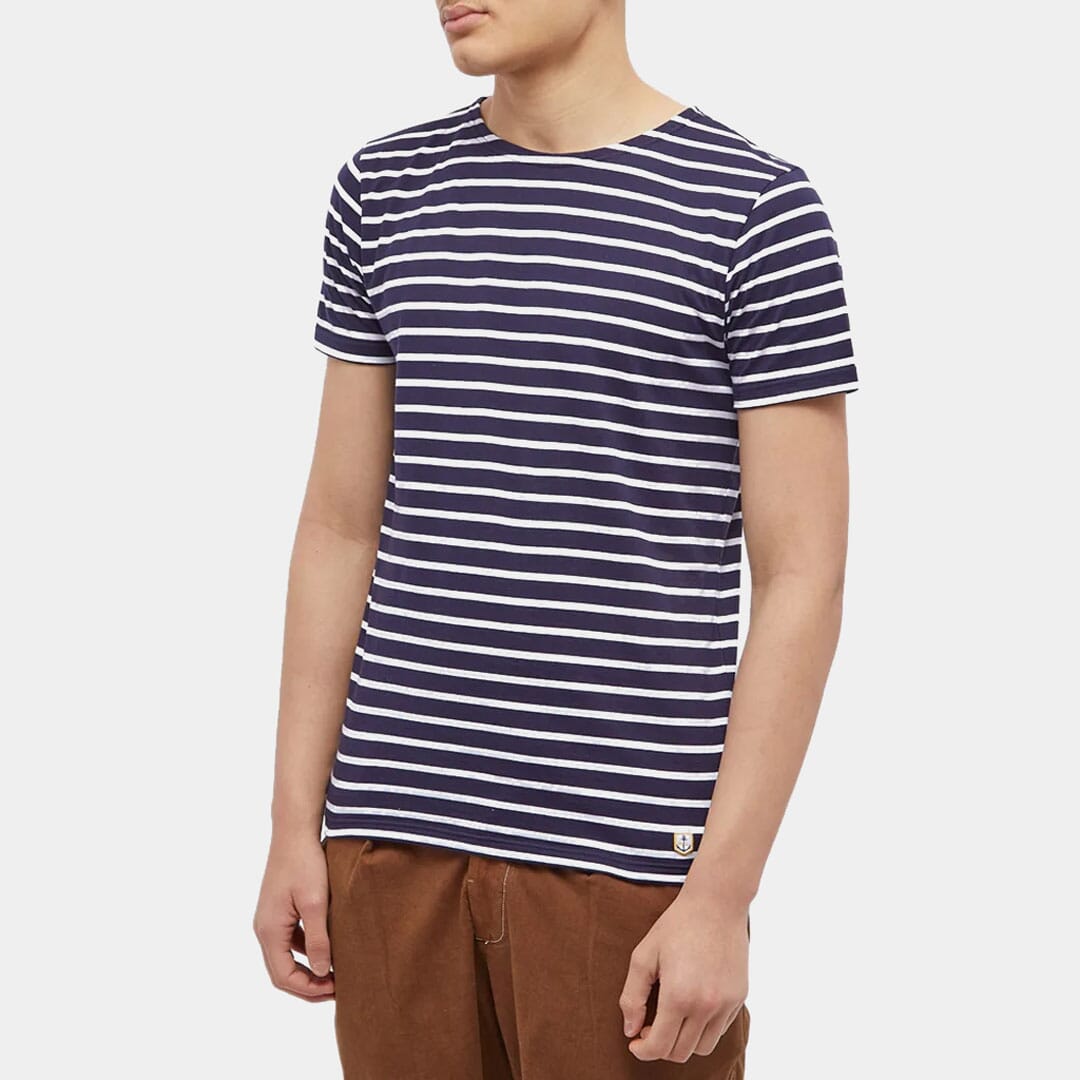 Armor-Lux Mariniere Tee
Armor-Lux has form with Breton t-shirts. The French brand which translates as 'the sea, the light', originally started out with underwear and hosiery before moving into the ready-to-wear outerwear field and nautically-minded fashions. Striped t-shirts are the brand's bread and butter and there's plenty of variety, be it thick or thin stripes and variation in colour. This short-sleeved mariniere t-shirt in navy and white comes in signature bold stripes, in soft cotton with the brand's anchor logo on the hem.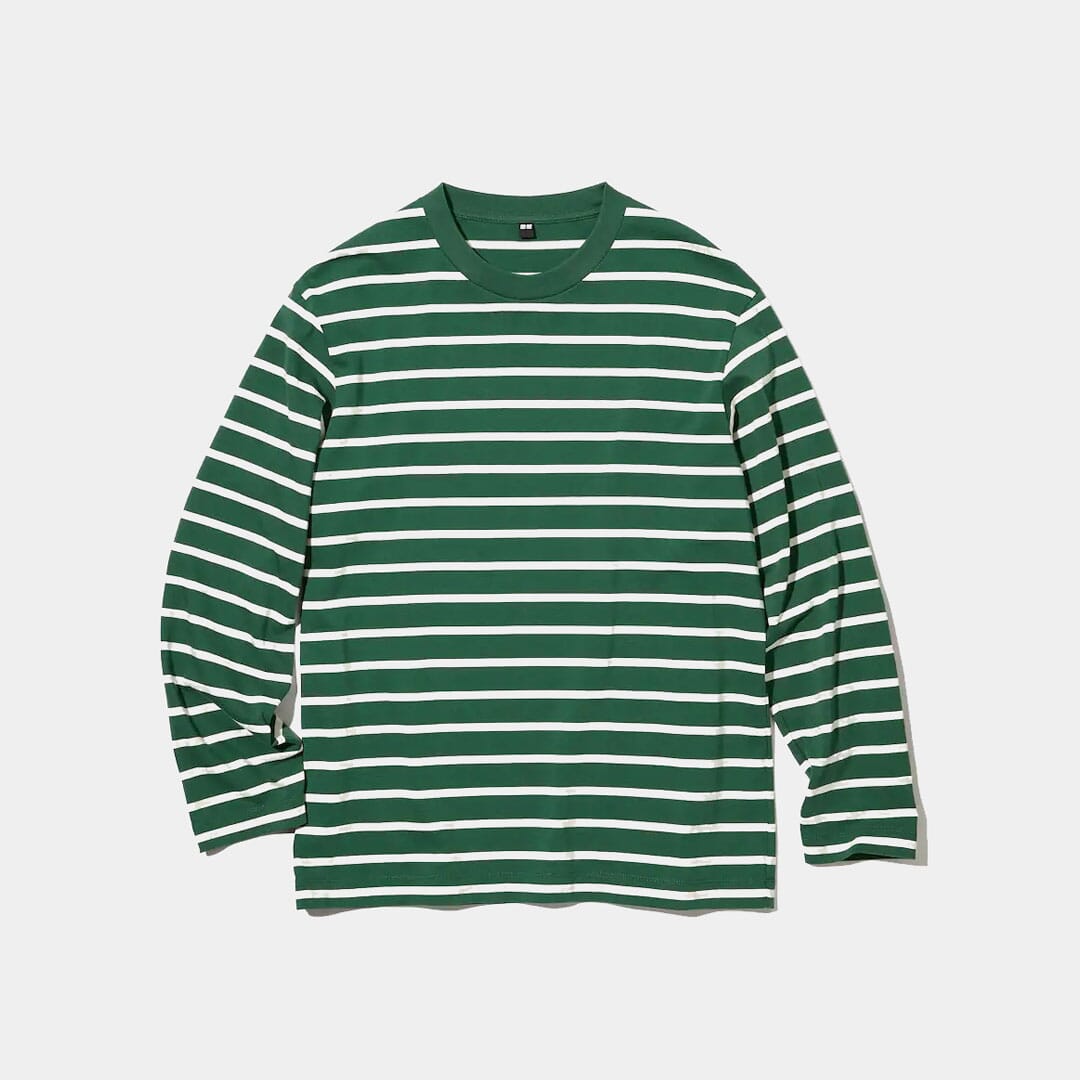 Uniqlo Striped Long Sleeved T-Shirt
Uniqlo are always on hand to provide affordable but no less stylish essentials and as the seasons change, the long-sleeved Breton striped tops arrive. Available in three colourways, Uniqlo's 100% cotton long-sleeved striped tees are soft to the touch with a wide-ribbed collar and shoulder stitching. Thicker than many on this list, Uniqlo's version makes for a solid year-round option, a stalwart of bold, colourful layering.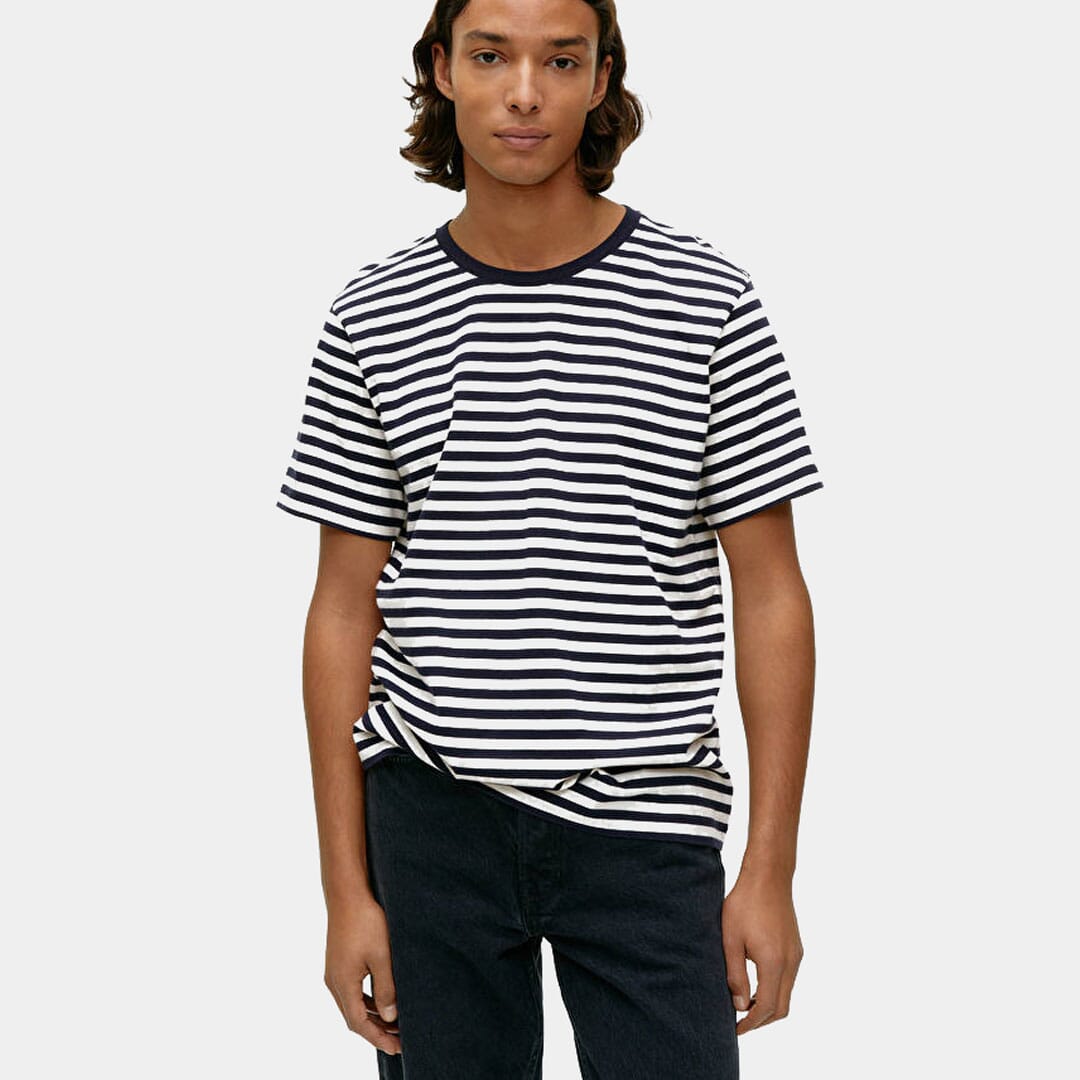 Arket Heavyweight T-Shirt
Last but not least a boxy regular fit short-sleeved number from Arket. A classic bold yarn-dyed stripe from top to bottom, the t-shirt is made from a 50% recycled cotton mix that's in line with the brand's other heavyweight 220 gsm jersey fabric t-shirts. Comfortable to the touch but substantial. A nice crew neck tops a garment that'll look the part underneath a lighter overshirt or coach jacket. 
Discover more striped tees for men.
---
---