Let's address the obvious right away; it's hot. Not a nice kind of hot just yet, though, it's a bit muggy in actual fact, but over the next few weeks London is going to be taken over by a heatwave. It's a heatwave by our standards anyway – as temperatures are set to stay the right side of 25 degrees for over a week or so, and the rise in temperature is likely to be accompanied by the customary British complaints of just how unbearably hot it is. The problem, beyond the weather, is that it will catch many of us off-guard when it comes to what we should be wearing through the working week.
That's why our latest edit pulls together 5 summer menswear staples that will keep you on the right side of smart-casual, and most importantly, comfortable in the height of the summer sun. Shop and explore the full working-week edit below.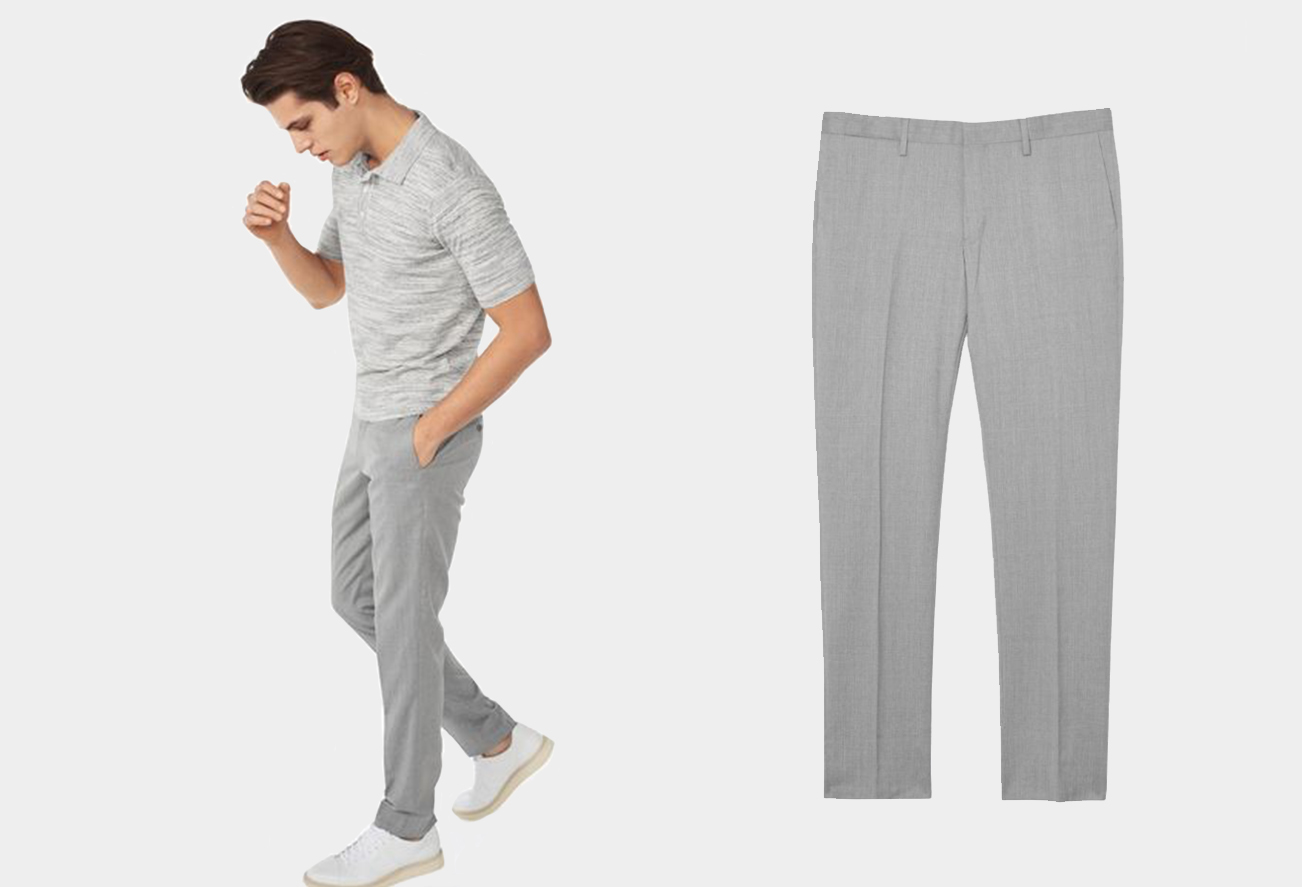 Sunspel describe this Drill Harrington Jacket as 'the ultimate outerwear staple' which is all you need to know, really. Light enough to throw on over a jumper but substantial enough to be worn every season, the lightweight jacket has all the hallmarks of the iconic Sunspel Harrington – slanted welt pockets, interior side pockets and a smart collar with a simple zip enclosure – to sit nicely in between workwear and tailoring. Which means its clean shape goes perfectly well with a pair of tailored trousers as it does with a classic white t-shirt in summer.
You can't be wearing jeans to work every day, nor them heavy cotton chinos or even those hard-wearing work trousers, either. You can, however, wear these Slim Travel Trousers from Gant. The 'Travel' name alludes to the levels of comfort that these trousers offer as they're made from a high twist super 100s wool that has its own unique mechanical stretch due to its tightly twisted quality. Effectively, they're a lot more comfortable than the tailored trousers you usually wear. Plus, the trousers are stain and crease resistant – to help overcome the tortures of the working week – and they feature a regular straight leg fit which means they can be worn with all kinds of formal footwear from loafers, Chelsea boots and Derby's to premium sneakers, too.
We shouldn't need to point out Common Projects' signature motif – the understated Original Achilles Low Sneakers - synonymous with Italian-garde elegance because they are the sneakers that you should be wearing through the week already. In case you missed it, last week we shone a spotlight on the three sneakers that you can wear to the office, and naturally a pair of Common Projects featured. That's because the minimal silhouette of the Achilles Low will compliment any outfit without demanding excess attention – pretty much perfect, then.
If you were looking to upgrade your staple white shirt, this might be a good place to start. Cut in a classic tailored fit and a crisp white shade, this L'Estrange shirt is defined by its traditional front cotton panel that contrasts exquisitely against the textured pique knit on the reverse and sleeves. Pair it with the tailored slim-fit Gant trousers and the Common Projects Original Black Achilles Low to allow the shirt's considered details to come to the fore.
The principal of Alludens is to master elegant sporting watches and elevate refined sporting design. Which means the brand's considered, contemporary designs tread the beautifully untapped lined between sporting design and elegant time-telling. The complete balance is achieved through the brushed 316L steel barrel case which houses an elegant dial and clean time-telling detail. Not to mention the refined sporting trinity of steel, red and navy.