The arrival of autumn isn't all bad. It isn't always about shorter, darker days, torrential rain and a lot less money in the run up to Christmas. It's also about bringing out those jackets that you haven't worn in a while and welcoming in new collections from some of your favourite brands. Including Swedish shirting specialists Schnayderman's.
Following on from its minimalist Spring/Summer 2018 collection, Stockholm-based label Schnayderman's has continued its focus on shirting for Autumn/Winter 2018. The new collection takes inspiration from the New Wave era of the 1970s and 80s, and particularly music icons of the period including Joy Division's Ian Curtis and The Cure's Robert Smith.
Like we said it's not just the usual repetitiveness through winter. As for this season, Schnayderman's have moved ever so slightly out of its shirting remit to operate in the realms of lightweight outerwear and hoodies too. The Swedish brand has referenced the influences of the 70s and 80s by using a series of colours and textures in the collection, with pink, mustard yellow and rust contrasting with the more understated tones of black, blue and sand. In terms of fabrics, the collection features everything from mohair wool and linen to twill and technical nylon and tencel materials, too. Anything but predictable.
To illustrate our point, we've picked out a few of the standout shirts and overshirts from Schnayderman's below.
+
Rust Garment Dyed Poplin Shirt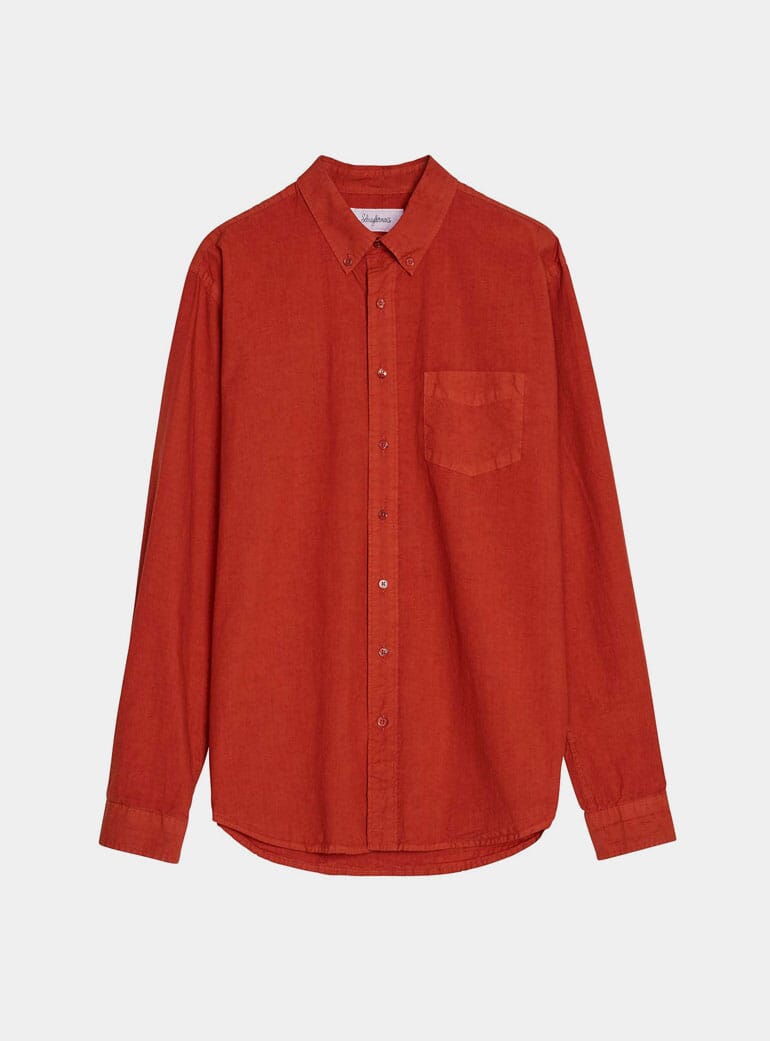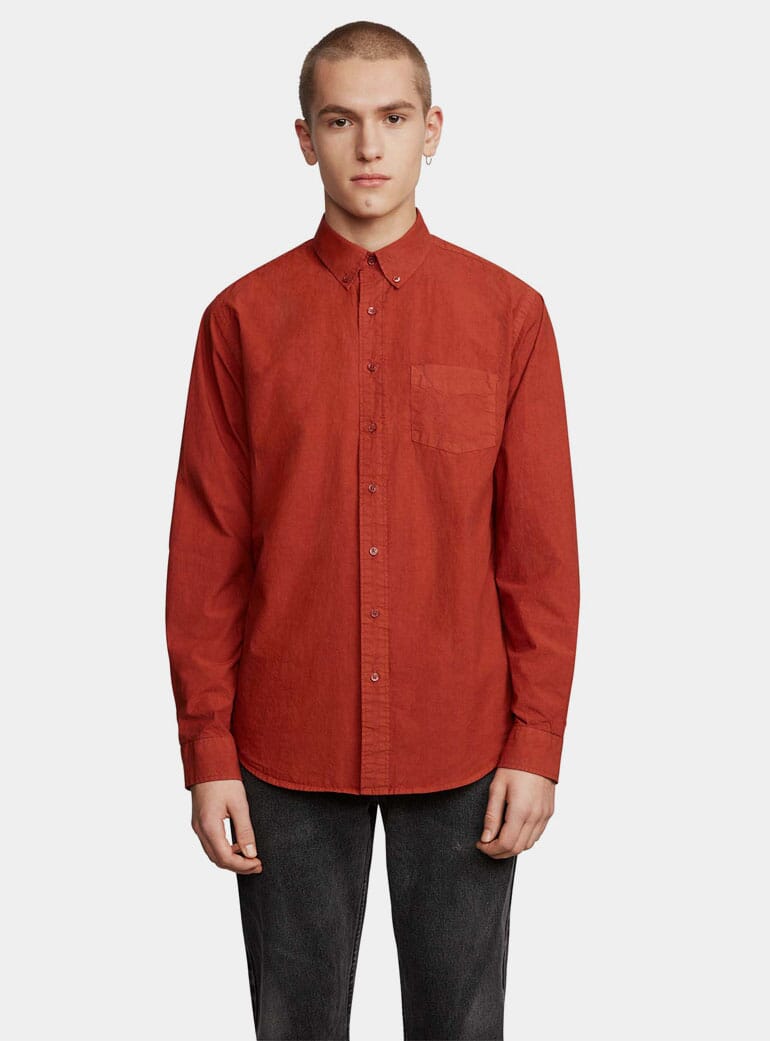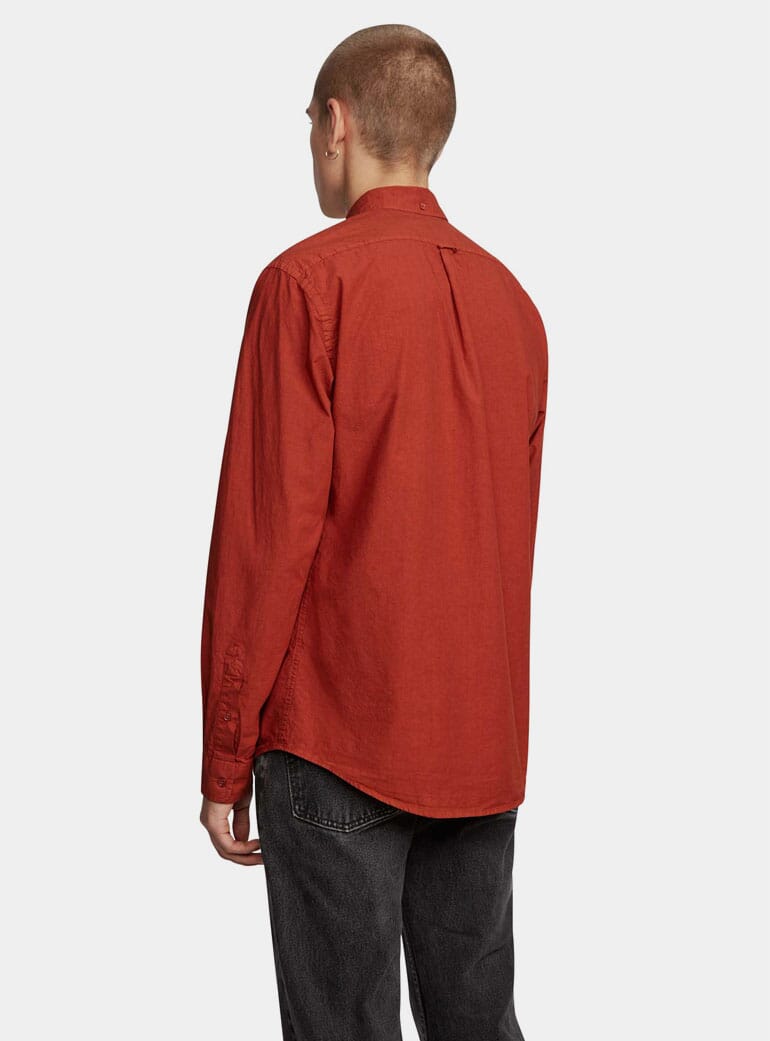 Rust Garment Dyed Poplin Shirt
Lightweight, water-repellent and cut with a new functional hood; the Schnayderman's overshirt has had many guises and colours over the last few years but none quite like this. It still retains all the details that make the overshirt one of the most-loved elements of a man's winter wardrobe, but it is enhanced with a sprinkling of new details such as the technical nylon construction, drawstring hood, double-end zipper and single-button cuffs.
It's safe to say that Schnayderman's have nailed every type of shirt out there, so it makes sense for them to go back through the archives and update one of its all-time classics, the poplin shirt, with a new rust colour hue. It's particularly important for winter, not only for its warm autumnal colour hue, but also for its premium cotton construction which makes it the perfect layering piece for the season ahead. Especially when its matched to a slim tailored trouser and a pair of casual shoes like one of the latest releases from Yogi Footwear.
The overshirt is often the lightweight jacket of choice to welcome in the warmer weather in spring. It is, however, the perfect piece through winter too, as you can layer it up as easy as you like – over a t-shirt or lightweight jumper and underneath a parka or a overcoat. With its classic back pleat, which gives it a more refined appearance, the Schnayderman's tech twill overshirt comes with all the trappings of a workwear-inspired piece of outerwear – turn-down collar, patch pockets – but it also manages to look incredibly slick, with its pop burgundy colour hue and heavyweight cotton construction.
Schnayderman's welcomed back the zipshirt in a big way last year and it looks like they're keen to stretch that influence even further this year. The zip shirt that has really caught our eye is the Mustard Moleskin Zipshirt, for obvious reasons really. It pleasingly treads the lines between smart and casual, and it also stands out for its large chest pocket and its double-ended zipper that you can personalise as you see fit.
The Schnayderman's Poplin Shirt is representative of the brand's tradition of reworking classic silhouettes with a timeless quality. It's made from Portuguese cotton that possess a crisp, lightweight texture, to ensure that the shirt will age gracefully overtime. While, the single-button barrel cuffs, button down collar, chest pocket and curved hem ensure that the shirt will also act as the perfect complement to pretty much all colour hues come winter – particularly black and grey.
We could say what we want here, really. We could say that this Schnayderman's shirt comes with beautifully sanded corozo buttons. Or that it's crafted from a supremely soft Italian virgin wool. But you probably won't care much for all that. You're already enamoured by the mustard green checkerboard design that grows gracefully against the green base colour and red cross detailing. That's all that matters, really. Especially when a shirt looks this good.
The new Noise Schnayderman's shirt is special, and by no means deserving of its final slot in this edit, because it blends an amalgamation of different influences into one contemporary, easy-to-wear shirt. The lightweight Italian-viscose shirt adopts a notched spread collar, oversized mother of pearl buttons and the delightfully refined rust pattern throughout. It shouldn't work, but it does. That's all there is to say.
Shop and explore the entire Schnayderman's shirt collection at OPUMO.
Be sure to check out our ultimate guide to men's shirts for everything you need to know.
Be sure to read our ultimate guide to men's coats and jackets.