Independence and innovation are two of the most sought-after qualities in menswear. Some brands will be lucky to possess just one, very rarely do brands boast the luxury of both. But the fact that SCRT – founded in London 2010 – has grown from being a self-funded project into a forward-thinking, independent British streetwear brand collaborating with creatives from around the world, is not only a testament to the brand but it also marks their impact on popular culture. And, perhaps most importantly, it is also proof that SCRT is one of an elusive number of brands that is revered for its style, originality and innovation.
Coinciding with the launch of the all-new SCRT SS18 collection, we thought it was a good time to sit down with head designer Daniel to track the SCRT story and talk about the resurgence of independent UK streetwear and, most importantly, who is next in line for SCRT's series of 'hero' t-shirts.
Read the full SCRT interview feature below and shop the all-new SCRT collection at OPUMO.
Here's an easy question to begin with. What initially inspired you to start SCRT?
Originally it was a lack of interest in what was available on the high-street. We thought we could do something more interesting and certainly different to what was available at the time. We were fortunate enough to be surrounded by many creative people so our collaborations all came naturally.
But how exactly was SCRT going to be different?
The two things we hoped were going to set us apart were the exclusivity of the designs through keeping the print runs limited, and the number of collaborations with artists we had planned. Everything was built around supporting creativity and supporting independents, through only working with independent retailers and artists.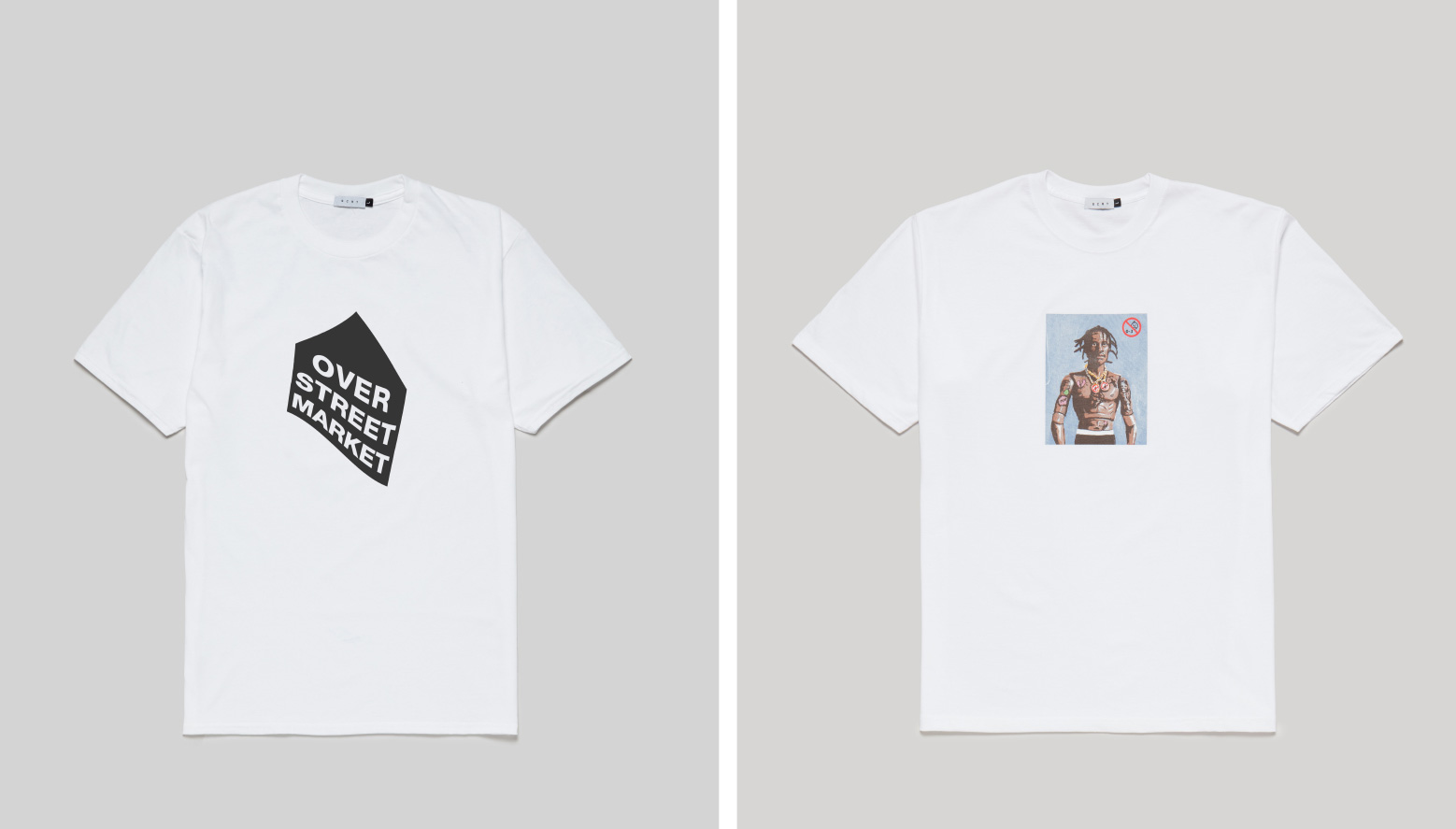 Where and how did your personal obsession with streetwear/menswear develop?
For me personally it grew very much with the brand. Initially we were a t-shirt company but as I learnt more about what it was possible to do with cut, fabric, feel and finish, I started looking for these things more in what I wore. It's been an experience of learning on the job and it's grown into a real passion for looking where trends are going, as well as looking back on older themes we can draw from.
How is that reflected in SCRT?
I think you can see both sides of that interest in the design. The influence of older classic/workwear fits within our cut and sew and perhaps some more modern trends and pop culture references in the printwear.
Do you remember your first piece of clothing you particularly fell in love with?
My passion has always been vintage shop finds. It feeds back into that idea of it being limited and different. We've started looking at the possibility of doing extremely small runs of certain items which is playing off that same feeling.
Streetwear, particularly UK streetwear blew up considerably again this year, why do you think that is?
UK brands and designers are certainly getting more attention. With social media and online communities making it easier for people not traditionally part of those circles, it can be hard to divide the genuine excitement from hype; it can and does get out of control, but we've taken the opportunity to concentrate on quality garments and fabrics over gimmicks.
On the topic, how does SCRT set itself apart from other streetwear brand especially in today's growing market?
To this day it's still probably the number of collaborations. That's never changed. It's just on a wider scale now from local to international. That said, we still have a lot of local going on beyond the collaborations, but I believe that is what sets us apart.
For us at OPUMO, SCRT remains a fresh and exciting influence on the streetwear scene because you're not typically streetwear. Your collection is a lot more versatile. It has streetwear influences alongside that of workwear too. How do you blend all of your influences into one aesthetic?
That was perhaps one of our biggest challenges, especially transitioning from a t-shirt brand which was already varied in style, to offering a full range that had to feel cohesive. I think fortunately we've got a pretty good balance now, the print helps bring a bit of personality to the cleaner, utilitarian cut and sew.
The brand is centred around artists and musicians; which artists have you collaborated with so far?
Honestly too many to name at this point, working with Bob Mazzer was a personal highlight as I'd been a big fan of his for a while. Bo Matteini has helped us out with more than just his artwork. Brandon Celi deserves a mention for a number of designs he has collaborated with us on, including Donnie and Travis from SS18.
You also pay homage to some cult and contemporary figures across popular culture in a range of t-shirts – including David Attenborough and Frank Ocean to name just two. How do those designs come about?
Some are heroes of ours, some we think are amusing, others drop onto our lap. Kanye has probably been the most generous in giving us enough material for a couple of seasons. Generally, if we're passionate about something, it'll probably end up on a t-shirt.
Naturally, the Attenborough tee is incredibly popular. Do you get requests as to who to feature on a t-shirt next?
We get a lot, some good, some less so. The next drop does actually feature one of the most requested.
Who can we expect SCRT to big-up on a t-shirt next?
As a rule, we keep that quiet until it's ready. So you've got to wait on that.
How do you design your collections? Do you have a particular ritual or formula to abide by?
Keep notes. Write down every bad idea you have. In terms of ritual we always look at what went well, what we could do better, and what we were lacking.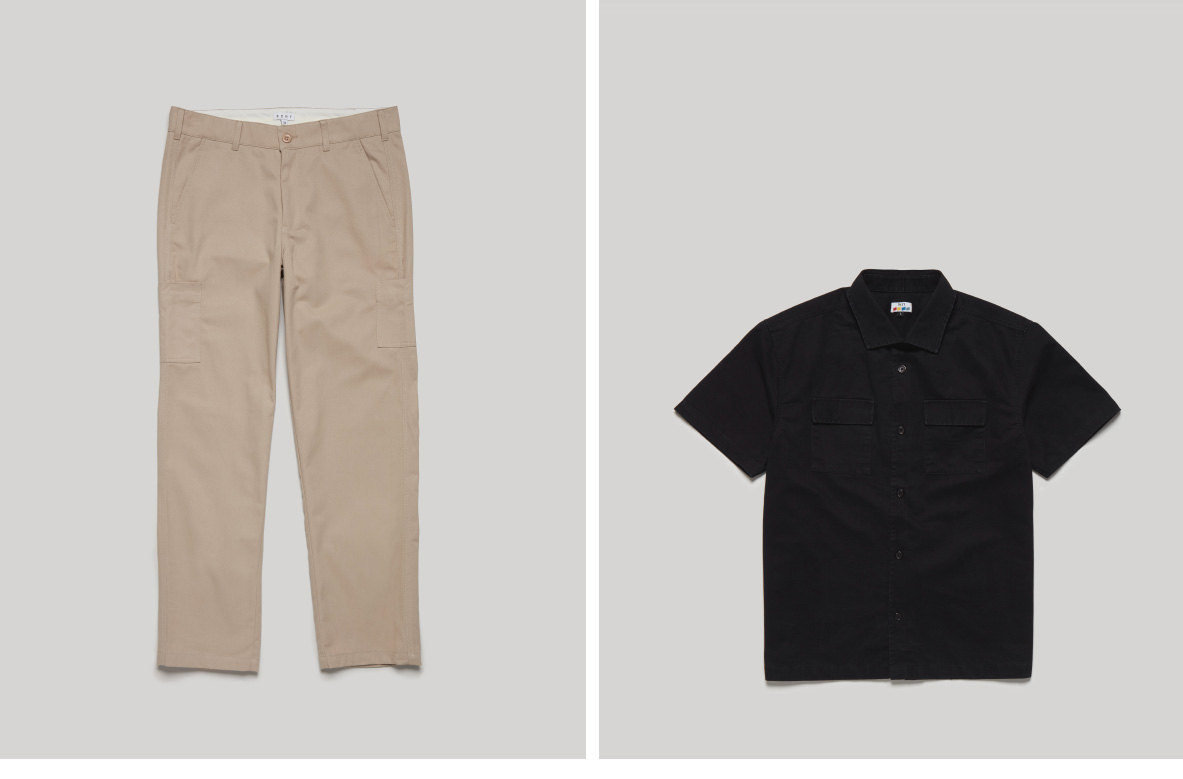 A 'wardrobe staple' is a bit of an overused and tedious phrase but what do you think are the essentials of a male wardrobe?
A heavy cord overshirt and a pair of Doc Martens.
Moving on from clothing chat, what else do you like to get up to? What music are you into?

According to youtube, photography, anime and philosophy. A very mixed bag but recently a lot of shoegaze and new wave.
What was the last film you watched?
A Fantastic Woman, 8.5/10
Have you got any recommendations for things to do in London? Where are your favourite places to escape work?

I've been trying to get to more exhibitions, both 180 The Strand and the Barbican have had some really interesting bits on recently. So it always pays to check out what they've got going on.
Okay, we think we have all the clothing-related and greater life issues so far...have you got any words of wisdom you'd like to add?
Stay creative.
For a closer look at some more of Britain's innovators, check out our exclusive interview with Tim Little of Grenson.