From the heights of London's tallest skyscraper to eating aboard a barge, the capital fairly brims with restaurant options offering a new and unique perspective on this great, ever-changing city. Michelin-starred chef while dining on high? Of course. Twenty-four hour cuisine atop a new City landmark? It's all yours, complete with breathtaking lift ride. Whether you're looking for lunchtime oysters while you marvel at the views, or London's lights served with a night-time gourmet feast, we've something for you. Stand by for our top ten favourite London restaurants with a view.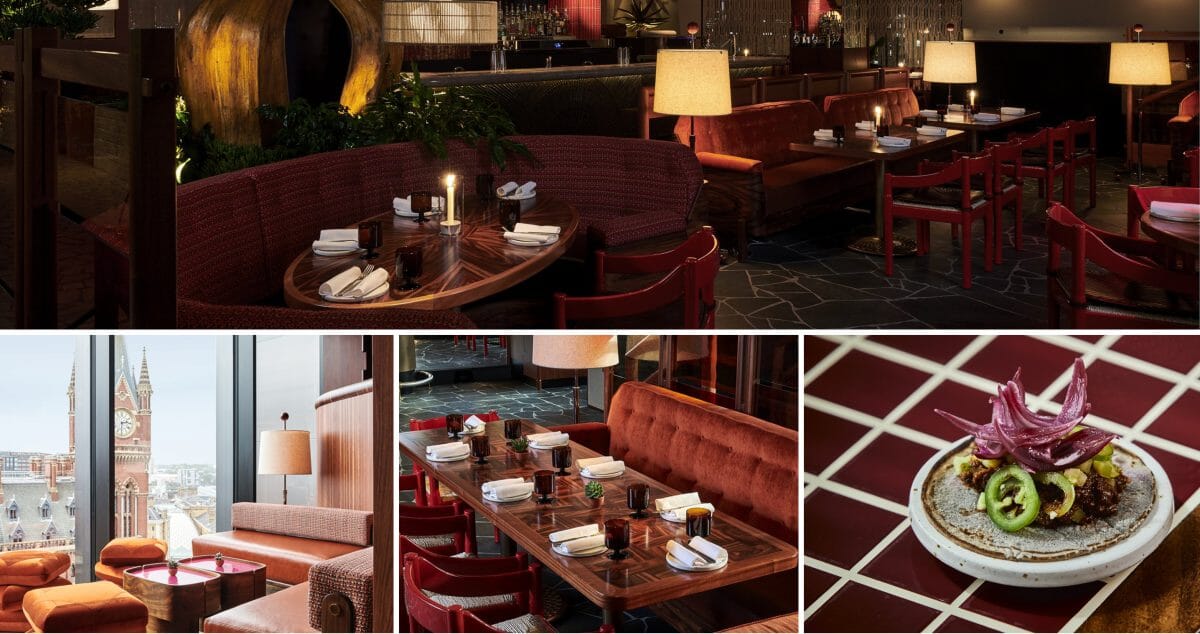 Best London restaurants with a view
Decimo at The Standard
Rock star cool comes at no added cost at achingly hip The Standard, first venture outside America for these trend-setting hoteliers. Decimo is high on the tenth level, floor-to-ceiling windows showcasing panoramic views of the London skyline. Michelin-starred Chef Peter Sanchez-Iglesias offers his signature Spanish cuisine, infused with Mexican flourishes, cooking that's won rave reviews from the capital's most-hard-to-please writers. DJs add ambience on selected nights.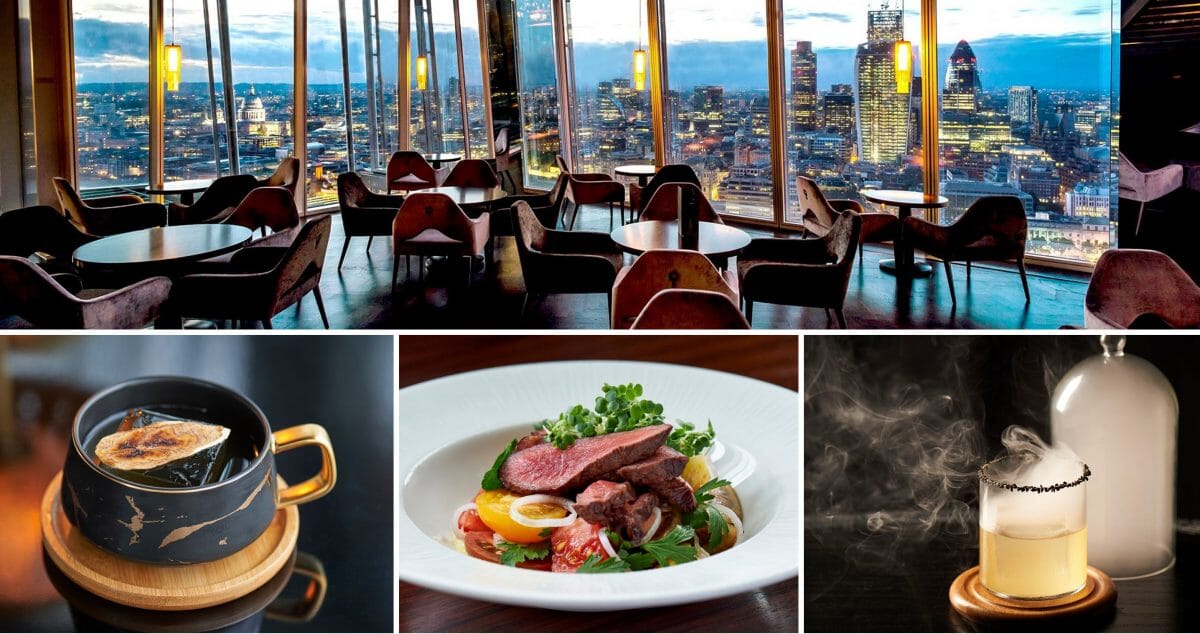 Aqua Shard
High up gets no higher that London's tallest building, Italian architect Renzo Piano's extraordinary all-glass Shard. You're surrounded by truly breathtaking views on all sides at Aqua Shard's 31st storey restaurant wherever you're seated in this impressively inviting space. Cuisine is contemporary British, perfectly to complement those views. Go by day to watch a bustling city at work, by night for those lights way below you. An unforgettable experience. Afternoon tea also served, for a breathtaking breather while shopping.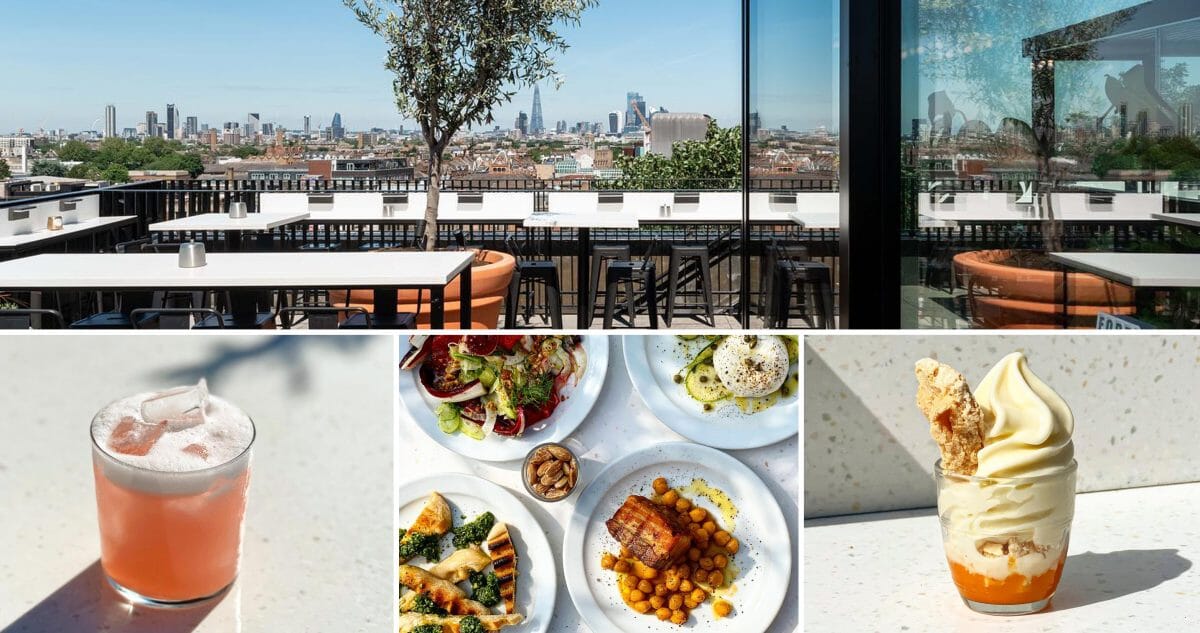 Forza Wine
London hip comes no hipper these days than Peckham, and Forza Wine is high up at the centre of it all. The setting is a modernist rooftop terrace, with indoor/outdoor seating depending on preference and, of course, London's magnificently unpredictable weather. Chef Michael Lavery - previously of Michelin-starred The River Cafe - offers Italian-influenced sharing plates, designed to accompany a carafe or two of their excellent wine or your choice from their cocktail menu. Peckham's finest? We'd venture to say so.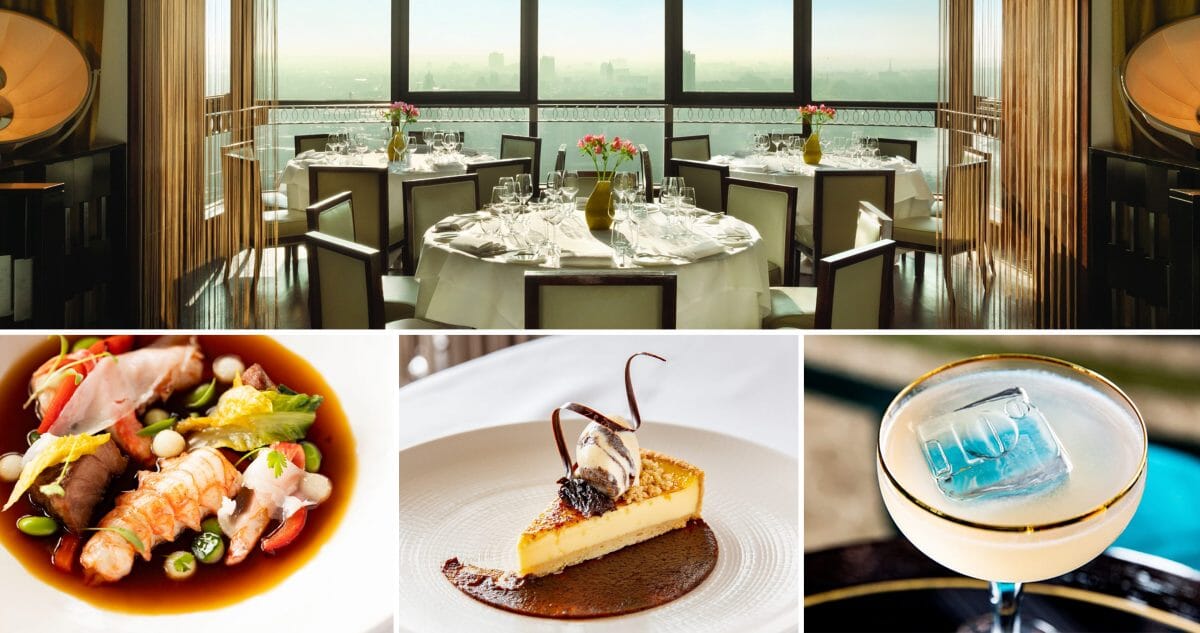 Galvin at Windows
Galvin at Windows is a true Mayfair classic and an occasion restaurant that deserves a place among your upscale London favourites. Location is the 28th floor of the London Hilton on super-posh Park Lane and acclaimed cuisine is by Marc Hardiman, formerly of The Ritz, so you know you're in good hands. Views are as royal as you're feeling, Hardiman's cooking is aimed at being at the cutting edge, using British ingredients to create signature dishes in haute cuisine style. The wine list is as impressive and extensive as the views are.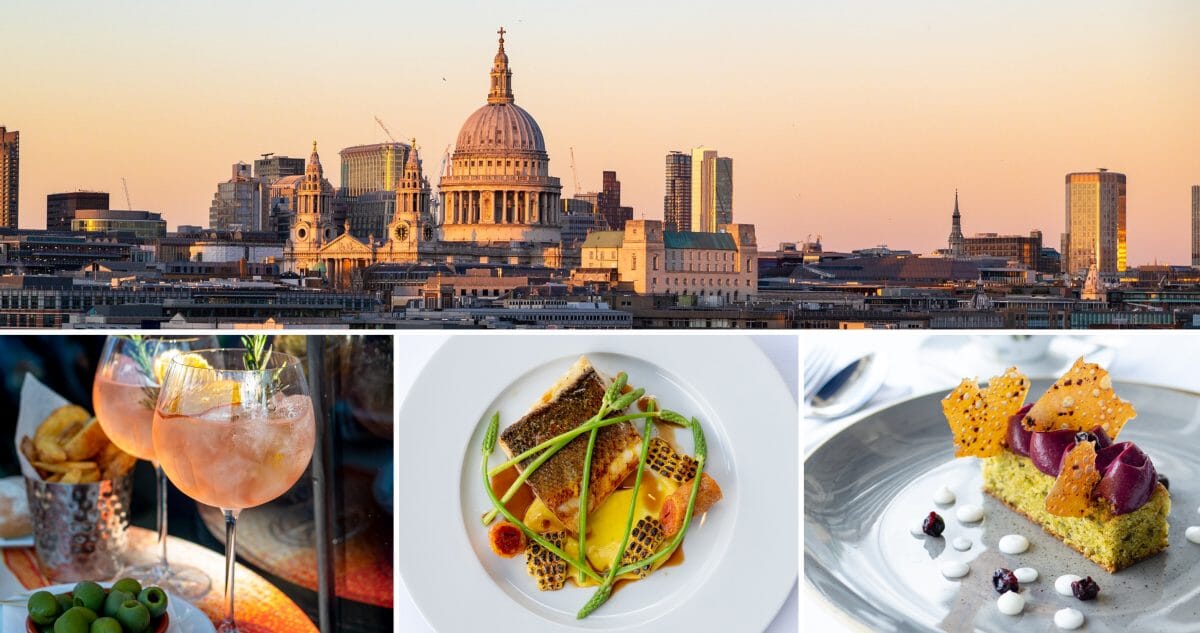 OXO Tower
Who couldn't love the OXO Tower's twin eating spots, topping a landmark building on London's South Bank, right next to the mighty Thames? Panoramic views take in St Paul's Cathedral and all other aspects of London's always-changing skyline. Choice here is between the upscale OXO Tower Restaurant serving contemporary British cooking under the watchful eye of chef Jeremy Bloo, or Keir Barry's relaxed Brasserie fare with an open kitchen incorporating a charcoal grill. No Oxo cubes in evidence, so perhaps bring your own.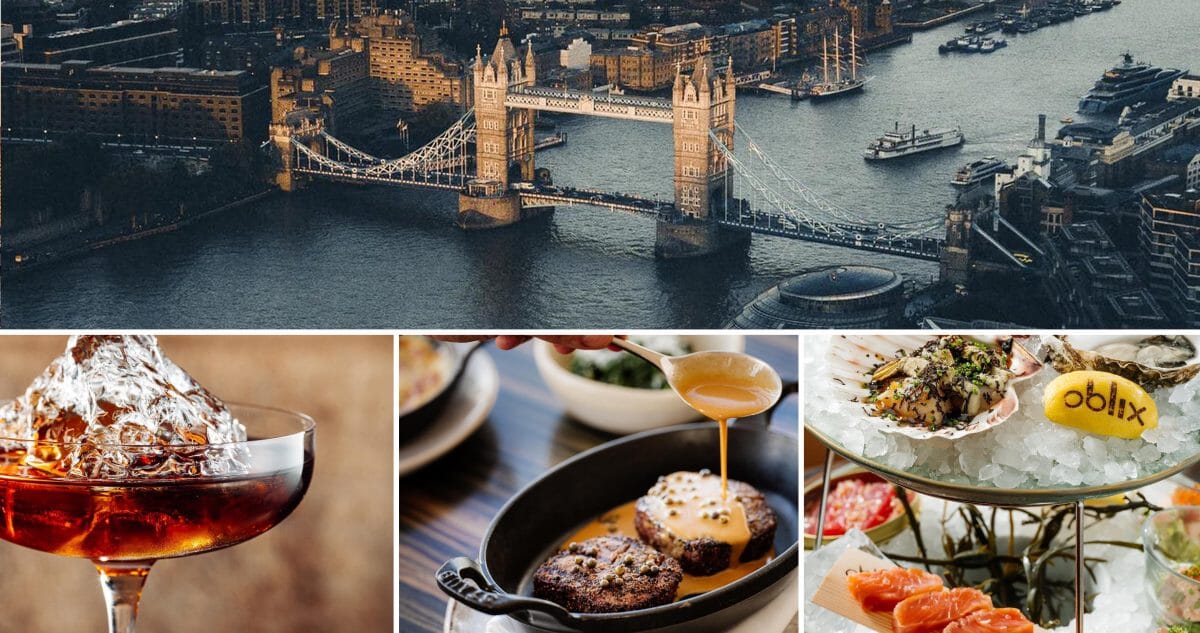 Oblix at the Shard
More outstanding views at The Shard, this time from the innovators at Oblix, with a choice of views and fare on the 32nd floor. Oblix West takes in floor-to-ceiling west London perspectives while you're enjoying classic and contemporary dishes created using rotisserie and grill in the open kitchen, brunches and afternoon teas available, sunsets highly recommended. Oblix East offers you the view in precisely the opposite direction, menus here are more casual and eclectic, afternoon teas served too.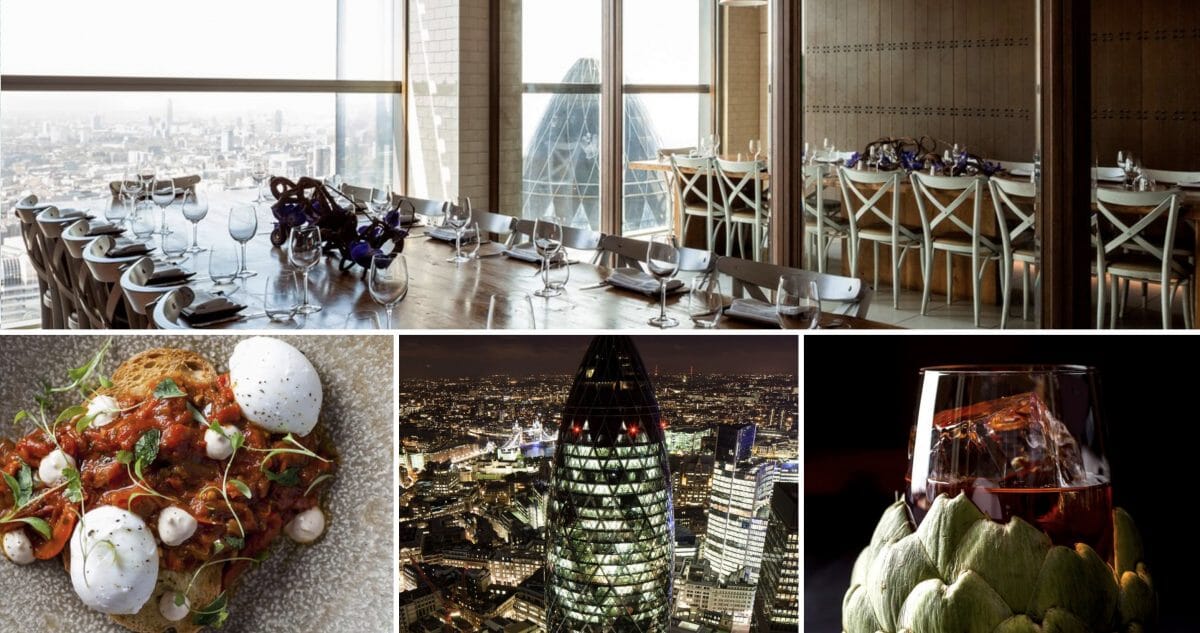 Duck and Waffle
Duck and Waffle call themselves London's highest 24-hour restaurant and we're not going to argue with that. Proudly topping a futuristic tower at 110 Bishopsgate in The City, the journey up to the 40th floor is an event in itself: in a double-glazed lift, gasps obligatory. Playful decor - think stainless steel, weathered wood, frosted glass - complements the outstanding views, and the equally impressive menu, serving British cooking with European influences in a range of sharing plates. Whatever the hour, Duck and Waffle is a high point.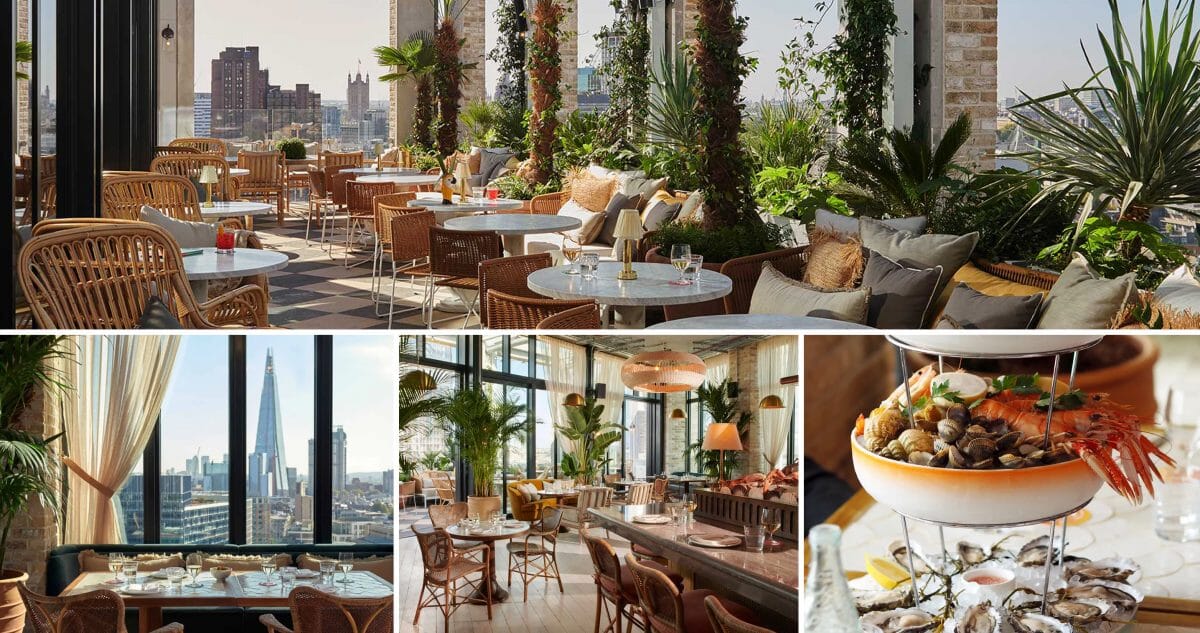 Seabird at The Hoxton
On the rooftop at The Hoxton's stunningly eclectic Southwark location, Seabird's views enjoy all that this ancient meets modern location has to offer. The menu, as the name suggests, leans towards seafood - oysters always, happily, available - with Portuguese and Spanish influences. Sharing plates are available and Seabird's Sunday brunches - who could resist their take on patatas bravas? - are already an institution. For the adventurous, raw options will entice.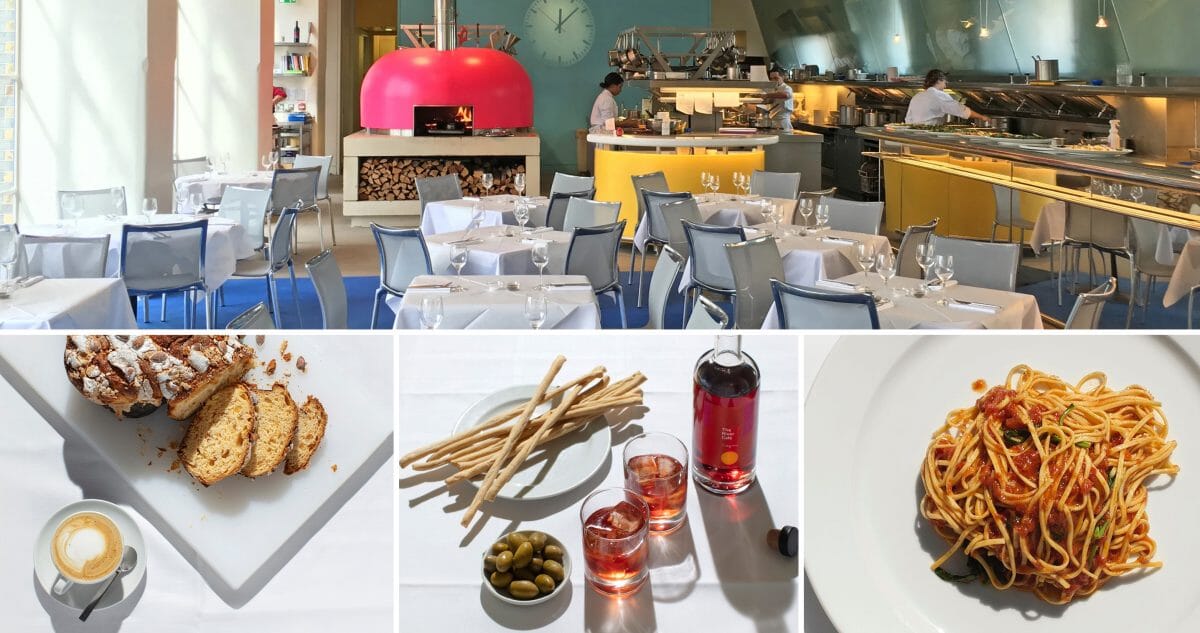 The River Cafe
A West London classic, Michelin-starred and - we'd humbly suggest - one of the all-time best London restaurants with a view. Design of what was once a Duckhams Oil storage facility was by the late Richard Rogers, architect extraordinaire, originally a canteen for his nearby practice, then as an acclaimed restaurant run by Ruth Rogers and her late business partner Rose Gray. Ruth is still very much in charge at The River Cafe. Book a garden table for views of London's best and defining feature: the Thames. Cuisine leans to Italian, signature dishes include wild mushroom risotto.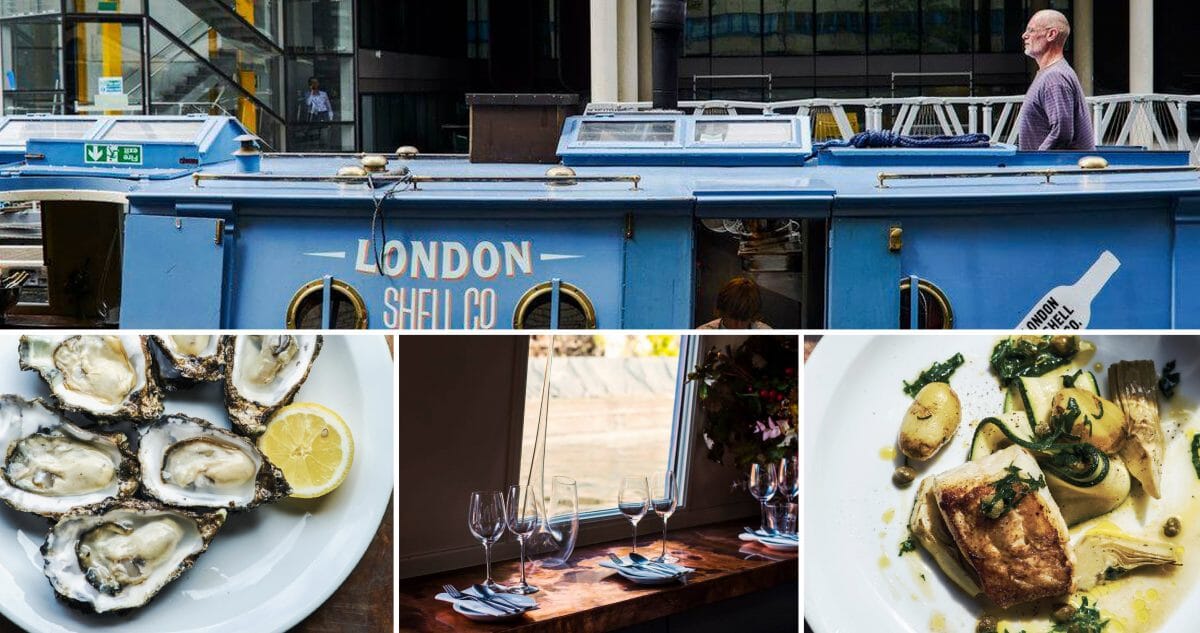 London Shell Co.
For the full-fat Thames experience, step aboard The Grand Duchess, moored in the splendour of Paddington Basin. On the menu - naturally - is the finest seafood available, mostly sourced from high-end suppliers Kernowsashimi and Wild Harbour, both supporting traditional Cornish day fishers. Scrumptious fish platters are designed to be shared and there is also the perfect - essential, even - fish and chips for the traditionalists.
Scared of heights? Try these top 10 Japanese restaurants closer to ground.
---
---