If the images that come to mind when you think of safari jackets are Nigel Thornberry and the poacher in Jumanji, you need to think again. The safari jacket is back in a big fashion way, baby. You need to be thinking of Ernest Hemingway sunning it up in the bush or Burt Reynolds doing something adventurous, both with a hint of make-it-fashion.
It's not difficult to see the return of the jacket's appeal. Cargo trousers and shorts have crept in lately and utility-minded wares are all the rage. Every man now has a shacket, it was only a matter of time before we invited the pocketed, collared version back onto the scene. The safari jacket has the potential to be a stylish, summer workhorse if you pick wisely. Here's our pick of the best safari jackets for men with a handy primer delving into the origins and buying considerations.
What is a safari jacket?
Unsurprisingly, the safari jacket has origins in military attire. Functional first and foremost, the jacket type was popular during the 20th century with origins traceable to South African bush warfare of the early 1900s. Popularity continued as wars came and went (unfortunately fashion owes a lot to this arena), with the jacket also appealing to conservationists and explorers alike.
The jacket soon caught on, peaking in popularity due to its prominence on the big screen in the '40s and '50s, with the likes of Clark Gable and co. giving it significant clout. James Bond and Prince Charles carried the style into the '60s and '70s but the popularity soon waned.
The jacket is characterised by its functionality. Lightweight and breathable, originally made in cotton drill owing to the cheapness and durability of the cloth. A classic safari jacket usually features four bellows pockets across the chest and waist, with a wide revere collar for breathability, epaulettes nodding to military origins and a belted waist to stop unnecessary material snags when trekking through the bush. Pockets could be added according to specific needs.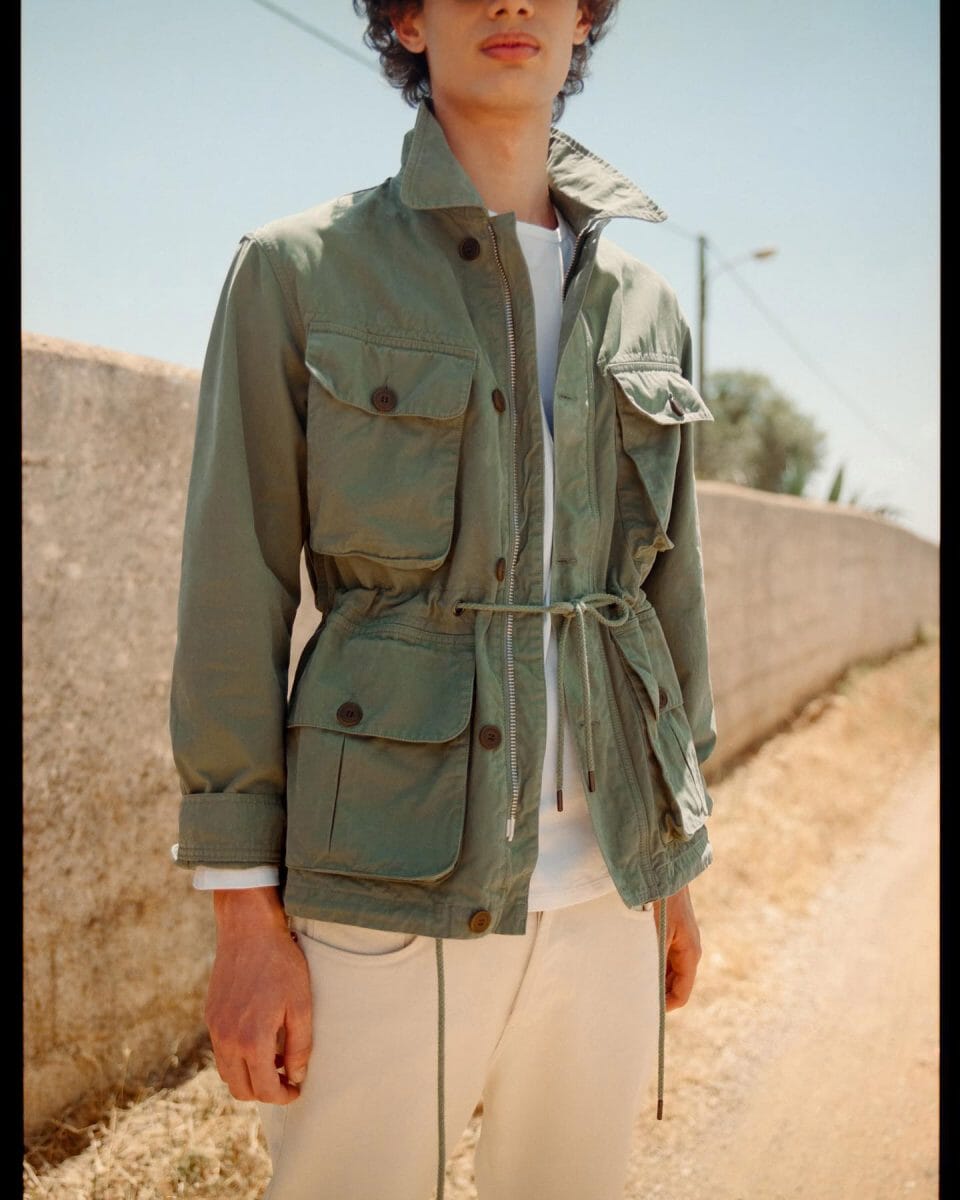 What to look for in a safari jacket?
These days, you're probably not going to be using yours to trek through the jungle. You just want to look good and brands have cottoned on to this. The safari jacket these days is thus put forward in different ways. Some have kept true to the jacket's origins with lightweight cotton and wide collars, others see the safari as an alternative to the outerwear chore jacket and thus heavier materials have been used so that the jacket can be worn as an all-weather outer layer.
Here are some considerations:
Material: Gone are the days when a safari jacket was solely about drill cotton. Brands are experimenting with suede, leather, linen and heavier cottons for that aforementioned outerwear option. Take a risk and go with a material that makes more of a statement.
Pockets: It goes without saying and it's rare you'll come across more than four, but unless you need them, you don't want too many pockets. Granted, they're helpful and are a good substitute for a man bag but don't go overboard. Likewise, don't wear with cargo pants. There's a such thing as too many pockets.
Versatility: The safari jacket has the potential to be dressed up or down depending on its cut. Some jackets may well be too formal for casual wear, creating a strange costume look, so if you're looking for a statement piece that lends itself to a diverse selection of outfits, don't go too smart or too casual. You'll be surprised with how versatile a well-made cotton one is.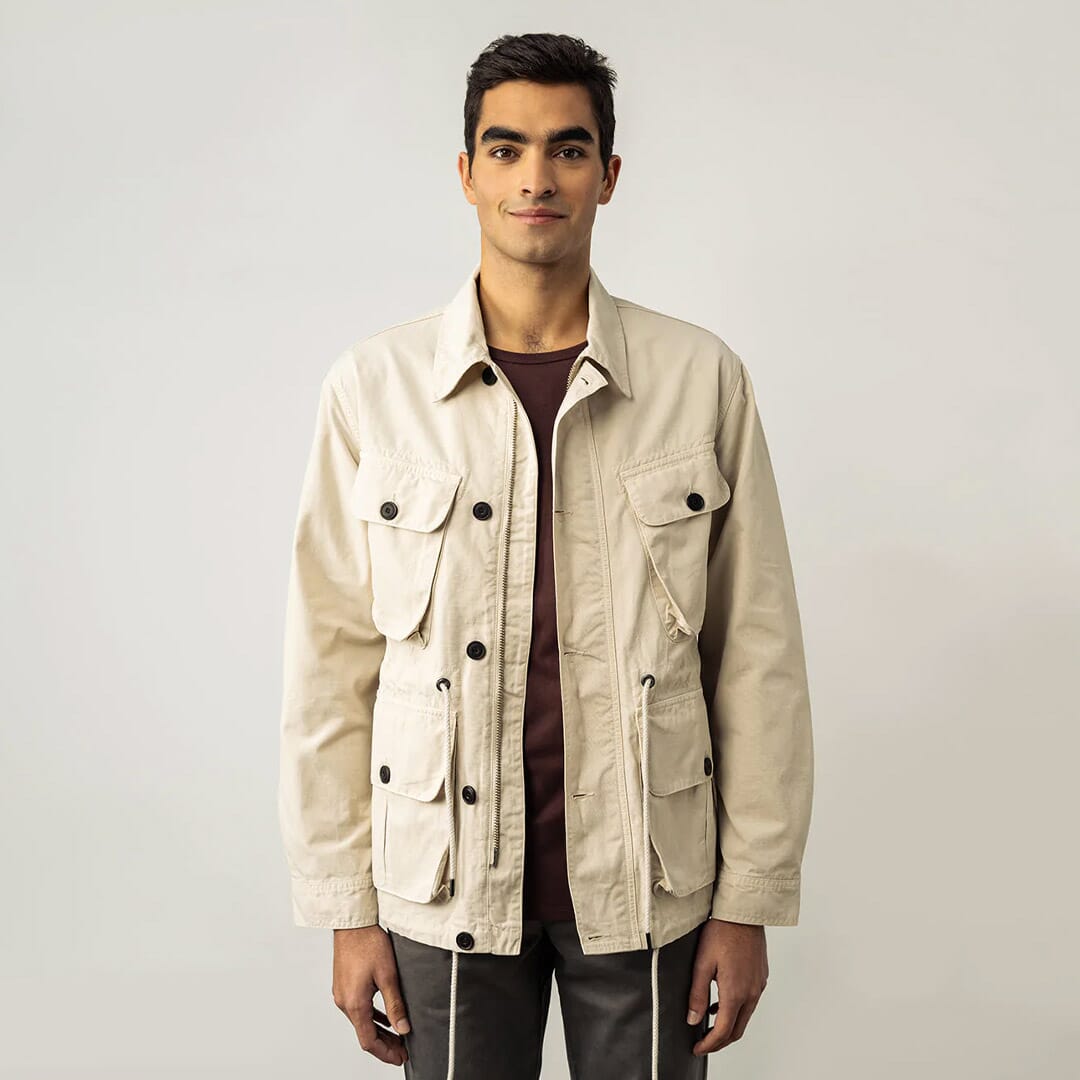 The best brands for men's safari jackets
ISTO.
At ISTO. it's all about refined layers for the modern man. Garments made in Portugal transparently, using ethical practises and premium organic materials. Theirs is an ethos that wants to do away with fast fashion. An ethos that doesn't sacrifice style. No more evident is this than their men's safari jackets, available in ripstop and cotton in a choice of colours. Tailored for a casual outwear look, the pull string waist adjuster does away with the classic belt and buckle. A modern spin on a classic.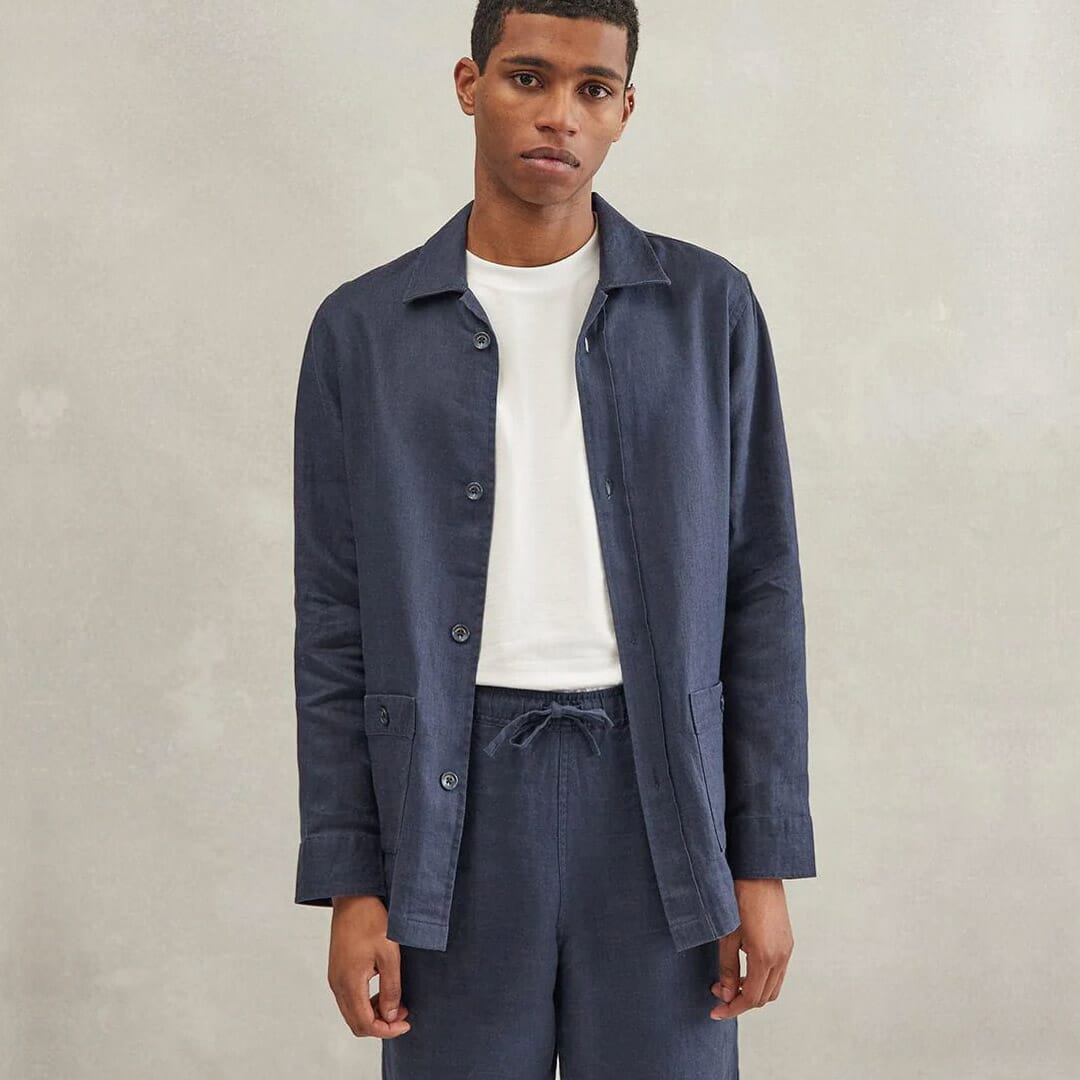 Percival
London menswear brand Percival have taken the traditional safari jacket and twisted it, making for an easy to wear modern piece. Keeping with the large bellows pockets at the waist, whilst removing the ones at the top, the removal of a waist belt almost makes for a more minimal option. Made from lightweight linen it's an ideal summer stable for a hot climate, whilst not sacrificing on a safari jacket's traditional length. Twin with some linen trousers and a vest underneath and head for the coast.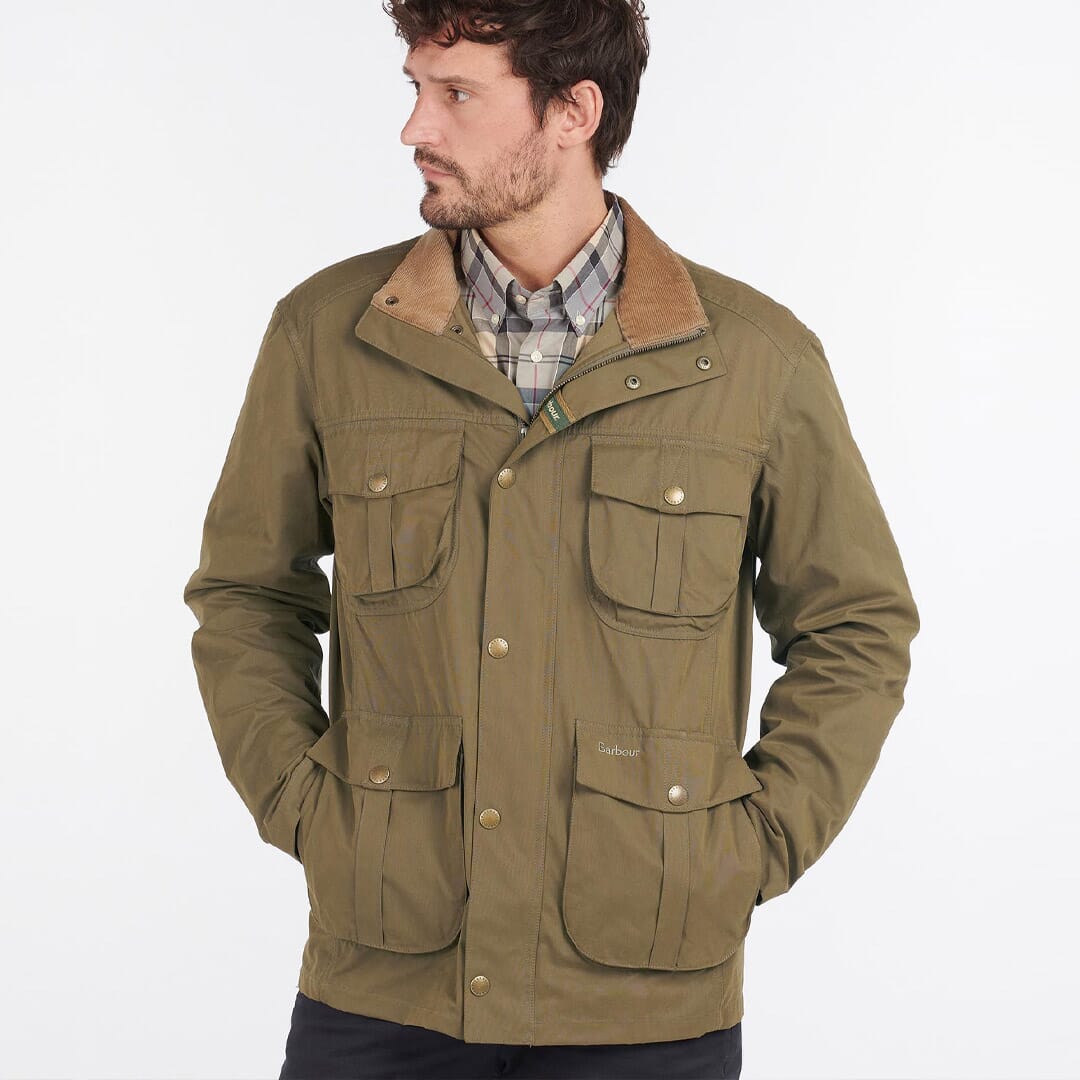 Barbour
A timeless British mainstay on the style scene, Barbour knows a thing or two about jackets. It also knows a thing or two about the main components of a safari jacket. Bellows pockets and wide colours have been a common feature of the Barbour waxed jacket range for decades, as have waist belts. Take your pick when it comes to modern takes on the classic men's safari jacket, be it the Grampian or Corbridge for trademark wax styles or Barbour International staple, the Duke jacket for an up-to-date bike-inspired option.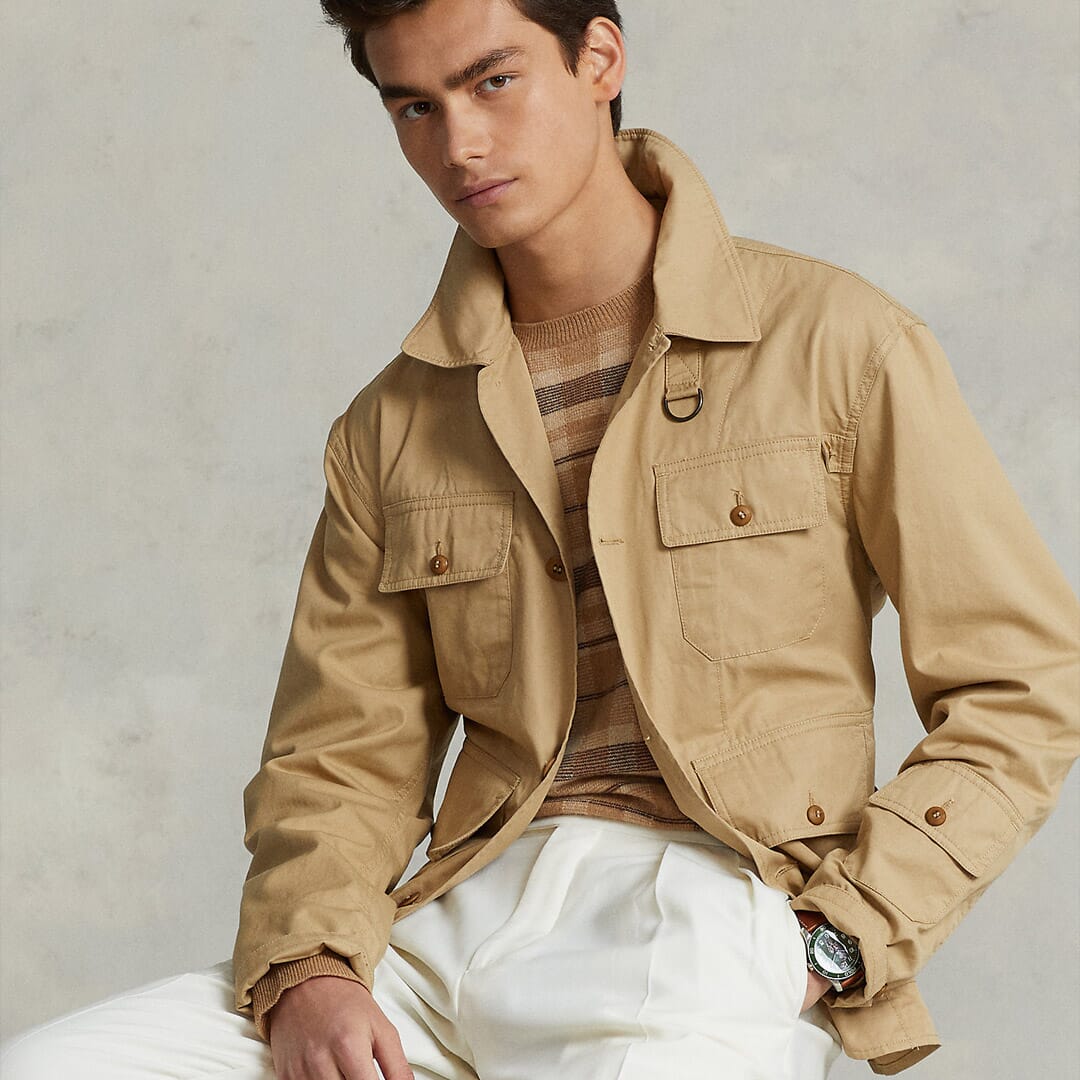 Ralph Lauren
You can count on Ralph Lauren to serve you a classic safari jacket but you can also expect them to have fun with it. Their elevated take in luxuriously soft suede is a true statement piece that lends itself to a t-shirt and chinos as effortlessly as formal tailoring, above shirt and tie. Made in Italy, this smart jacket comprises a classic belted four-pocket design and open collar with button detailing and epaulettes. The ultimate statement jacket, prepare to turn heads.
Discover another timeless men's outerwear staple, the worker jacket.
---
---