Warm evenings in the garden of your favourite gourmet pub. Lush party in the country. Upscale lunch on a seaside weekend away. Just like the effortlessly elegant linen shirt, the natural habitats of linen trousers are many and various. Always classy, never shouty, with cool elegance guaranteed - and all in just the one essential wardrobe piece. Which to choose for your personal style? We've picked out nine of the best men's linen trousers for a cool, stylish summer. And what of those famous wrinkles? We have some thoughts on that, too...
Why linen and not cotton?
You might be thinking that cotton would do the same job as linen. Not quite. Linen not only has an unbeatable look but it also has the lightweight advantage over cotton. Linen has hollow fibres and unlike cotton, which tends to absorb moisture, linen wicks and sheds moisture, so you aren't left with a garment that's uncomfortably damp in the heat. Linen will get softer the more you wear your trousers, making them very much bespoke to you. There are alternatives if you're in doubt: a cotton/linen mix, or even hemp.
How to wear linen trousers
Let's address the "w" word right off. Wrinkles are either the enemy of linen or the whole point, depending on how you view it. One approach is fastidious ironing - a quick press at the hotel before that wedding reception for instance. The less effortful way is simply to embrace the wrinkles: after all they're part of what linen is and your relaxed look can easily reflect that. Linen has a more luxurious image than everyday cotton, so you might say those wrinkles are a status symbol.
As for outfits, you'll find linen trousers are supremely versatile. Key is naturally the weather and you may need to remember that even though rain strengthens linen, it also turns it transparent. A sunny day is linen's friend and will offer you so much more comfort than any other trousers would. Team a t-shirt and linen jacket with your linen trousers and you're set. Add formality with an open-necked cotton shirt or even a lightweight cotton jumper.
Best linen trousers for men in 2023
So, you're convinced. That linen trouser shaped space in your wardrobe needs to be filled. Which to choose? Scroll on for our top choices.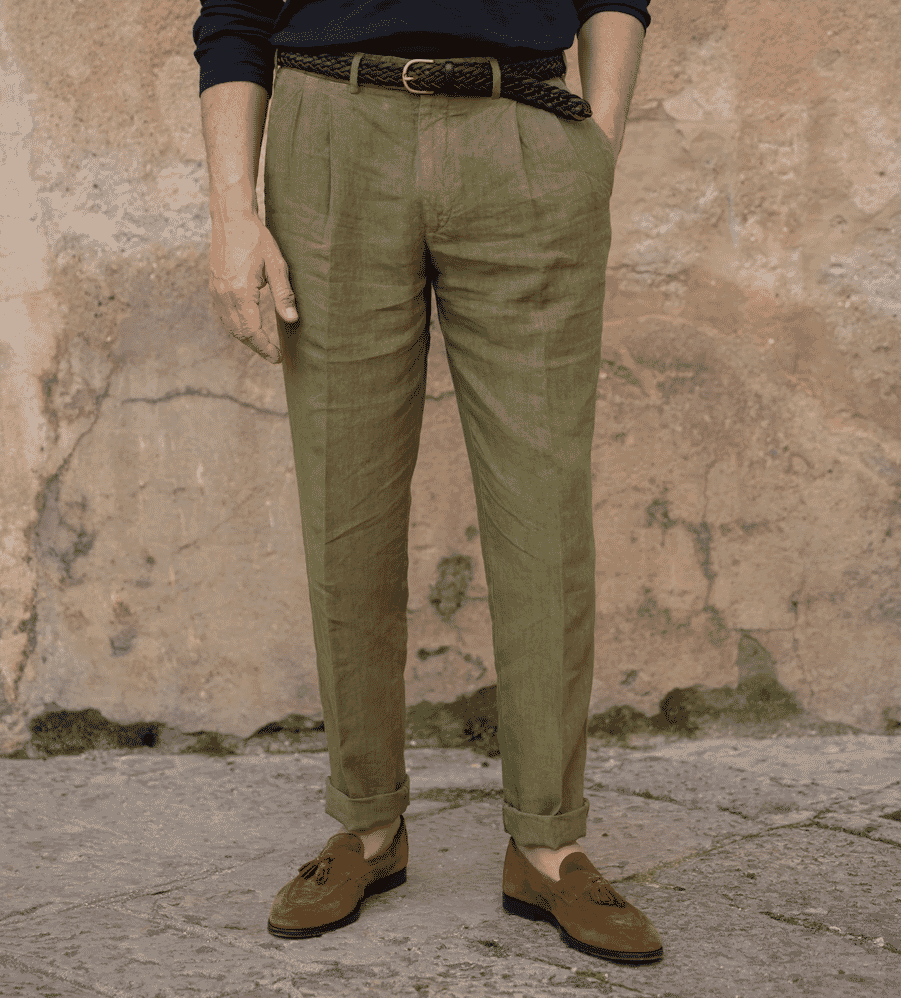 Velsaca Rango Double Pleat Pants
Velasca's Rango trousers epitomise effortless Italian elegance. Made in Italy from 100% linen, they feature a smart pleated carrot-cut design that's slightly wider at the waist and narrows down towards the ankles. Style with suede loafers, a braided leather belt and a knitted polo shirt.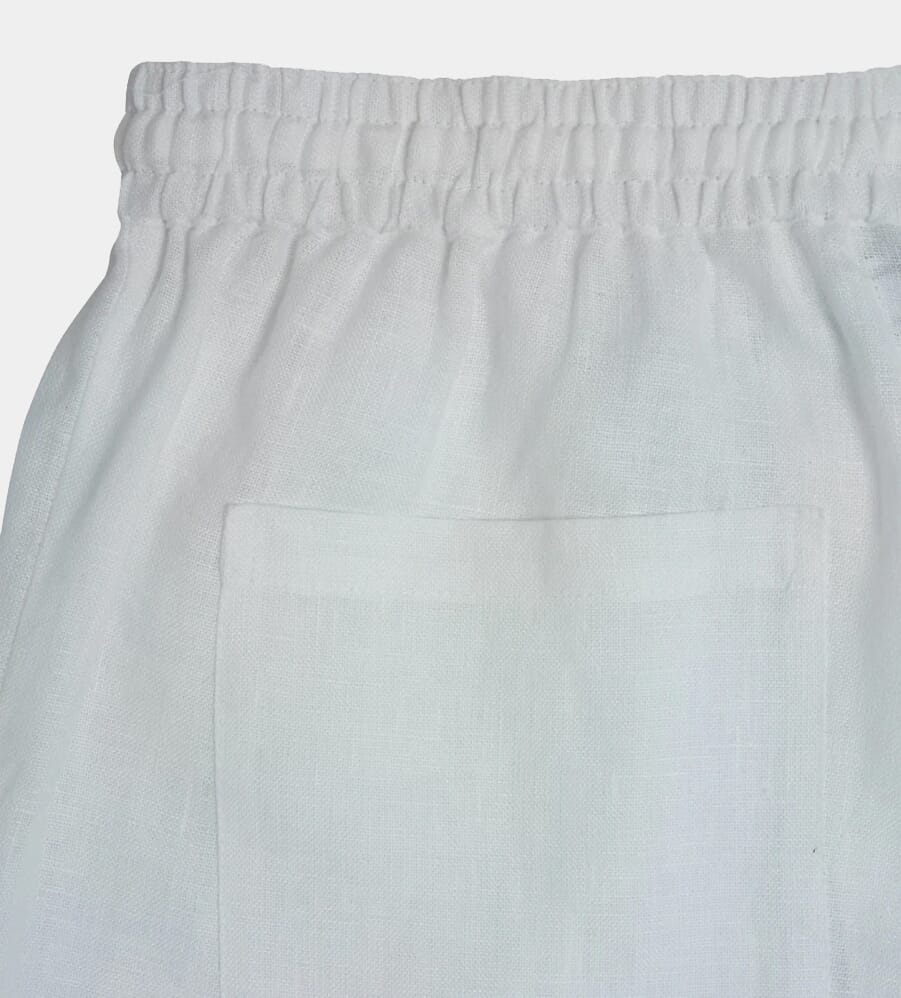 Neutrale Lino Pants
Headed for a stylish escape at the coast? Neutrale, self-described specialists in easy elegance, have just the pair of men's linen trousers to pack in your overnight bag. Loose fitting with a button closure and elasticated waist, they're so adaptable you'll find they're your go-to choice on summer days at home, too.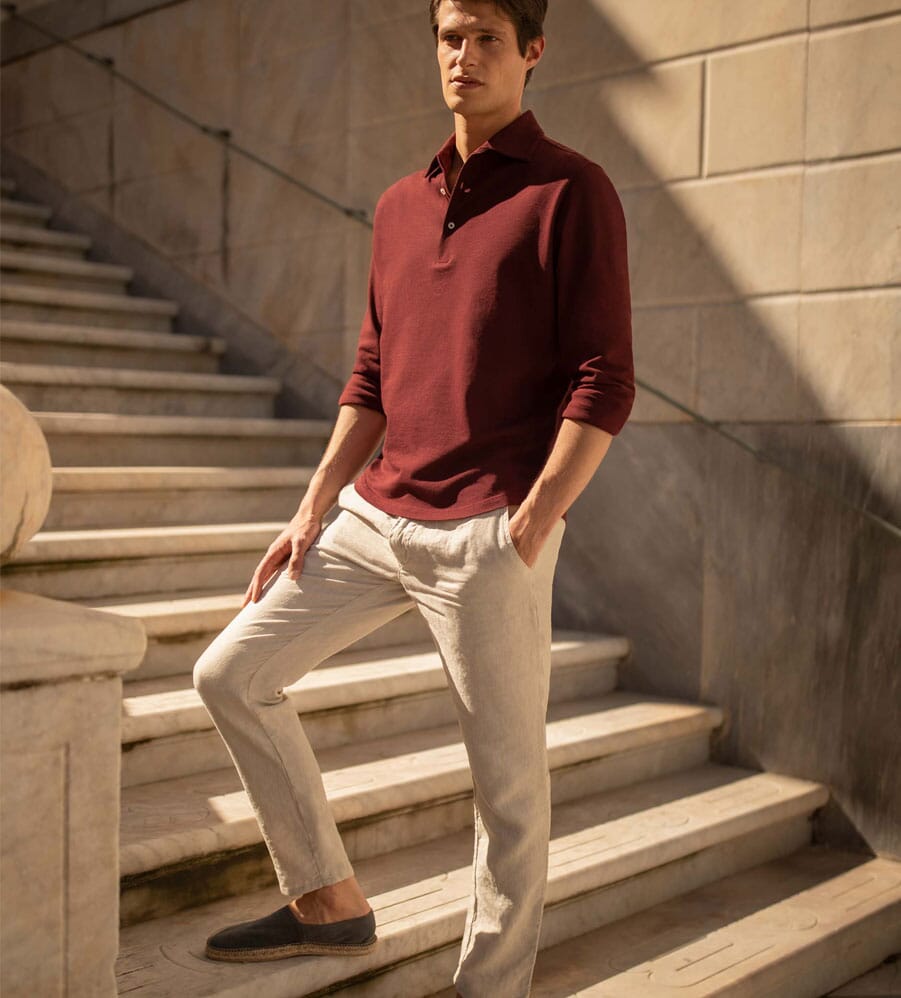 Luca Faloni Lipari Linen Trousers
Luca Faloni know a thing or two about Italian made, artisanal finished clothing. Quality is key in all their linen pieces, and Luca Faloni's men's linen trousers are classically tapered for a chic look. Signature button closure is complemented by an internal drawstring for a perfect fit. Roll them up, style them with espadrilles, and your summer look is set.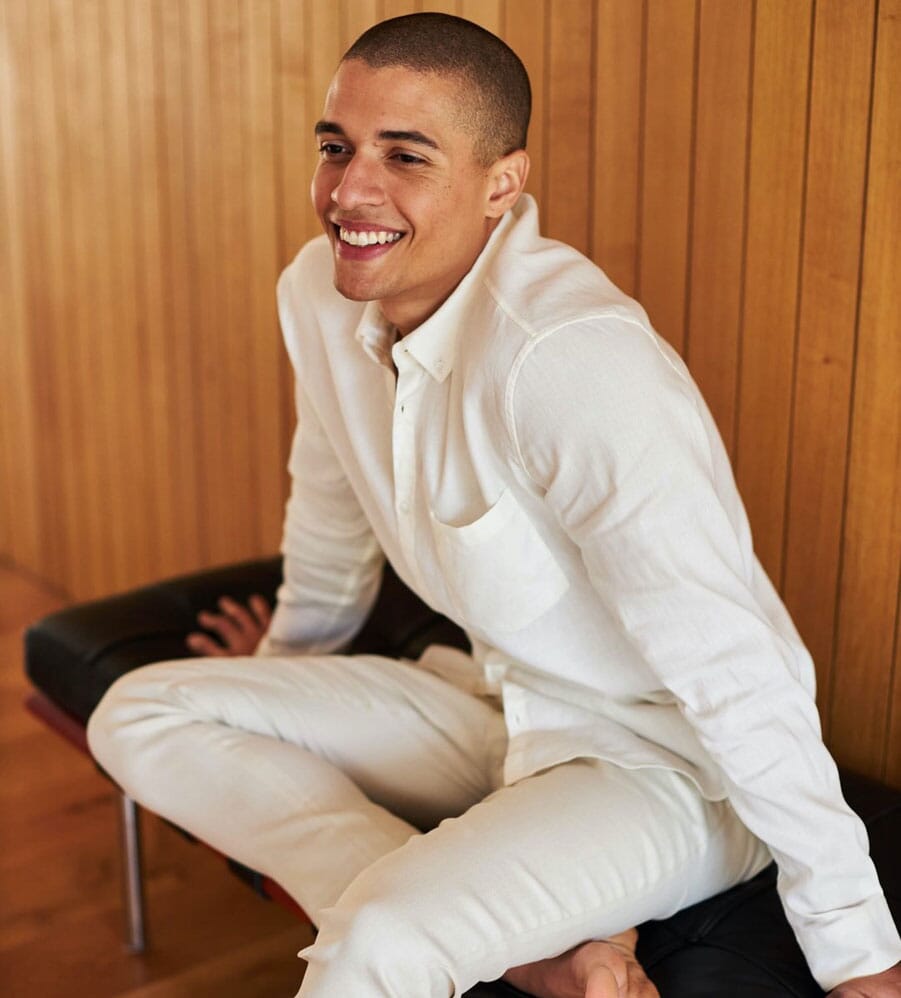 L'Estrange Linen 24 Trouser
London-designed by the sustainability specialists at L'Estrange and expertly crafted in Italy, The 24 Trouser in linen take an innovative approach, exactly what you'd expect from this forward-looking label. Organic linen is blended with cotton and a touch of elastane to produce a softer, crease-resistant piece. Free of care and carefree. Team with white trainers and retro-inspired sunglasses for a fail-safe summer look.
Wax London Midnight Linen Alp Trouser
Wax London suggest dressing down these impeccable linen trousers with a hoodie and we'd say that's a great casual look. Dress them up with a linen jacket and you're off to that garden party or to the Duke's lawn at the Goodwood Festival of Speed. Wax London use European linen and cut here is slim for versatility.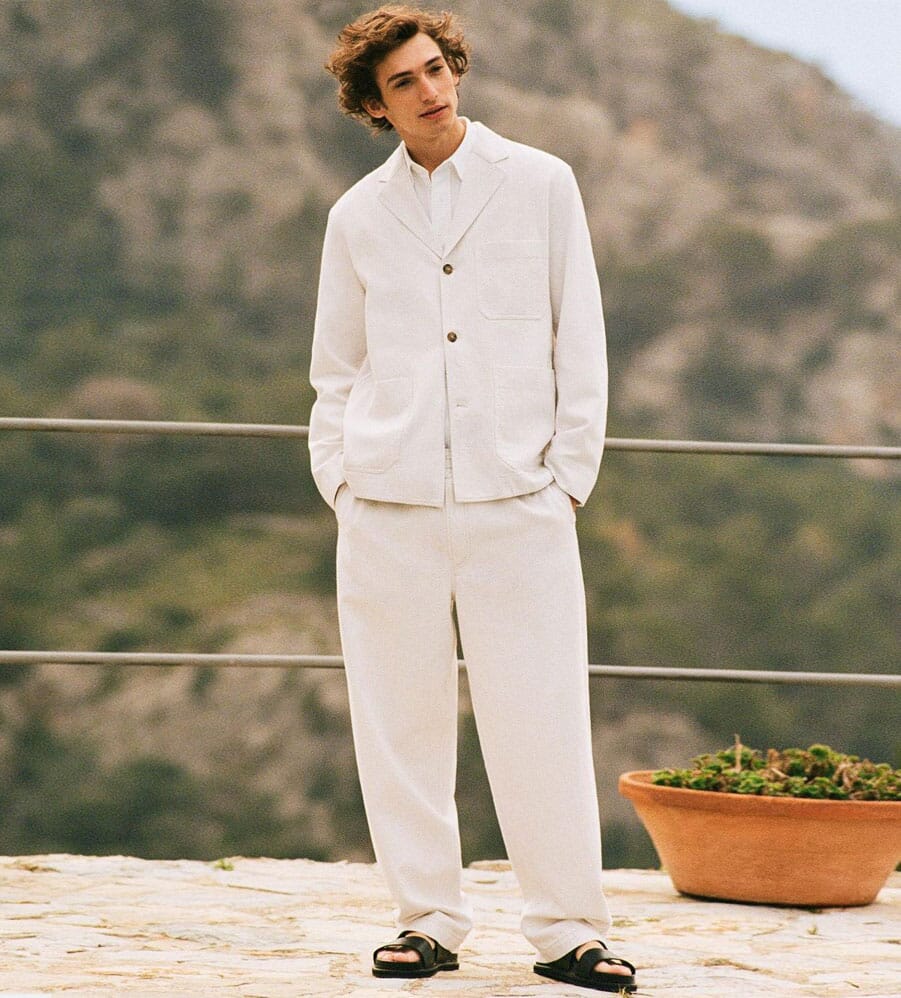 Arket Relaxed Cotton Linen Trousers
Looking for a laid-back linen look? Arket have the ideal answer. Here construction, in Turkey, is from a blend of cotton and linen so they'll be less prone to wrinkles and to creasing. There's 88% cotton to 12% linen so you're getting the look without the maintenance. The waist is equally relaxed elastic for comfort, with pockets to side seams and to the rear. The perfect casual trouser for when temperatures rise, use them in place of your usual chinos.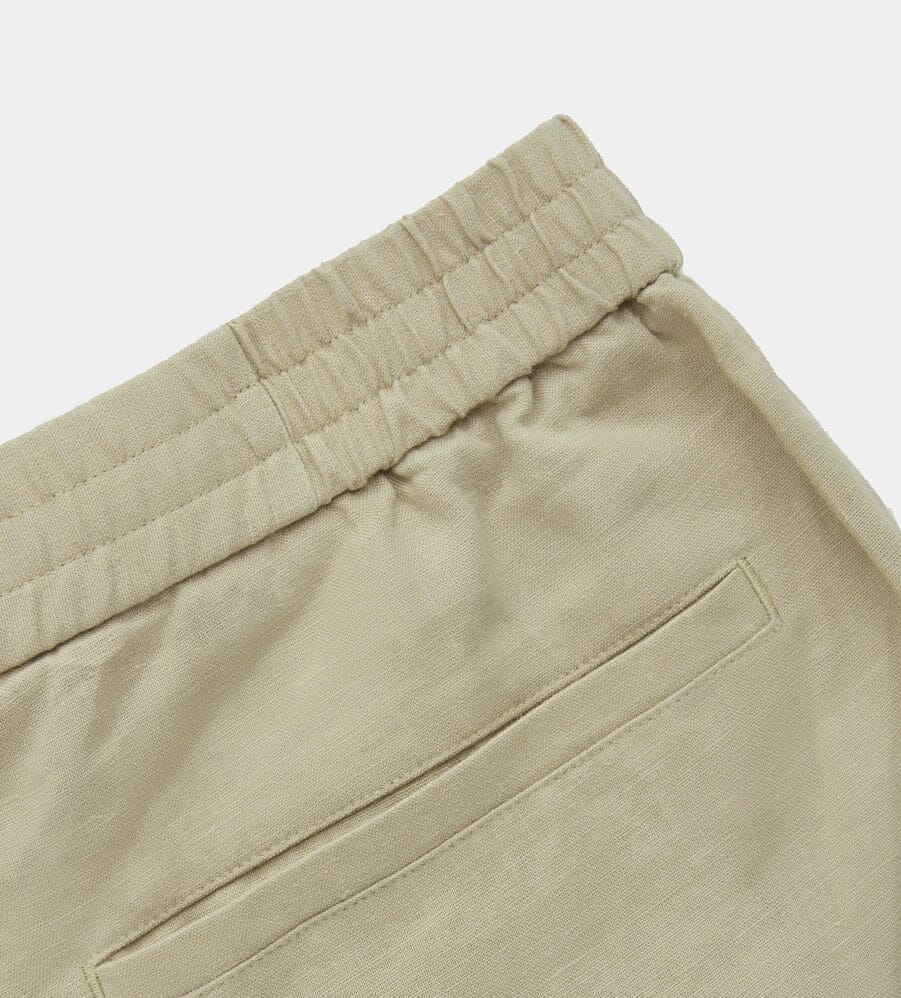 COS Straight-Leg Hemp Trousers
Lightweight, durable and with a linen-like feel, hemp is the cool alternative in these trousers from COS. Hemp fabric is made from the stalks of cannabis plants, revered for centuries for toughness and versatility. Here it very much adds style - and a resistance to creasing that linen can only dream of. Cut is classic, waist is elasticated, fabric choice alone guarantees conversation.
Perfect your summer wardrobe with a pair of effortlessly elegant swim shorts.
---
---