There's an argument today that men's belts are defunct, that if your trousers fit correctly then you shouldn't need one. But in menswear there are many items that could be deemed unnecessary. Why wear a watch when your phone tells the time more accurately? Why bother with jewellery at all, when it doesn't really serve any purpose? 
It's true that a belt shouldn't be needed to hold your trousers up, but like many of the best men's accessories, their value is more than just function. A good quality belt is often the cherry on top of the menswear cake, the finishing touch and an ideal complement to a classic look. But which style should you buy? Should it be leather or canvas? Braided or plain? Read on for the answers, plus our guide to the best men's belts to buy now.
How to wear a belt
While their usage has declined in recent years, perhaps in line with the rise of casualwear, belts are still a modern day menswear essential. Most trousers and jeans are still made with belt loops, after all. And thanks to the sheer abundance of styles on offer today, there's no need to associate belt-wearing with your school days. 
Depending on the look you're going for, a well-chosen belt can smarten up a pair of jeans, dress down a suit or add a mid-century element to a chinos and Oxford shirt combination. And, while a belt shouldn't be keeping your trousers from falling around your ankles, it can provide an element of reassurance, holding them in the exact place you intended to wear them - an especially useful trait for high-rise trousers that sit above the waist. 
If you have a preference for matching your leathers, a belt could be the finishing touch you've been missing. A subtle addition to a smart casual look, a minimalist, matte-leather black belt would perfectly complement a pair of black Chelsea boots for example, while for something more workwear-inspired, a waxed brown leather belt would pair well with brown Red Wing boots and raw denim.
For simple outfit combinations, a belt adds a point of difference with the potential to elevate a look from pedestrian to perfect. But which style should you go for?
Types of men's belts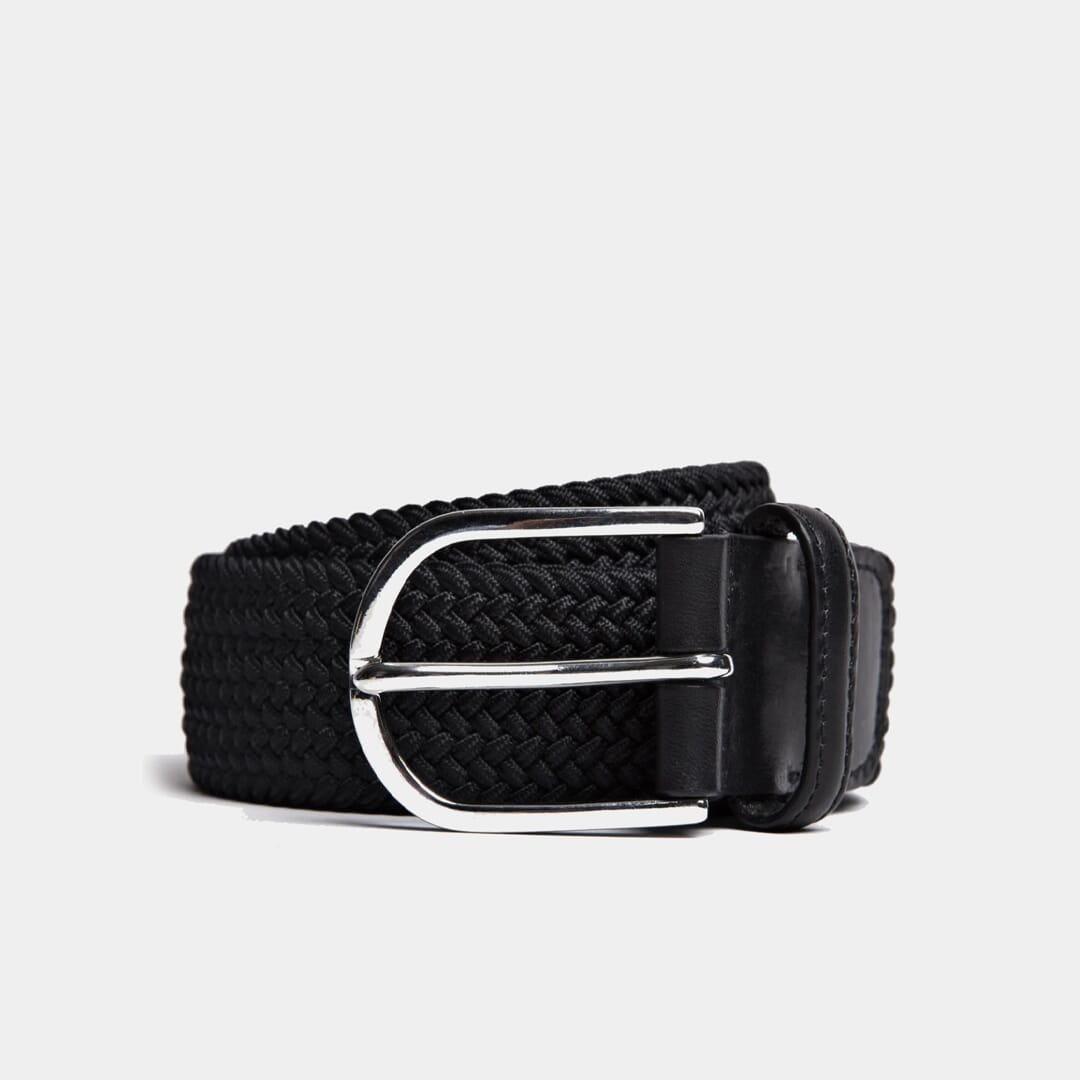 Braided belts
The braided style is The Talented Mr Ripley of belts. Its elegance comes from the interwoven design, which is inherently more casual than plain styles – a braided belt is more riviera than Wall Street, and as such pairs well with laidback garments rather than stiff tailoring. Leather is often used, although braided wool, suede or cotton is sometimes substituted in, increasing its casual feel.
Canvas D-ring belts
Arguably the most laidback of all men's belts, the canvas D-ring style has its roots in military style, but it's just as at home paired with tan chinos today as it was during WWII. Essentially just a long strip of canvas, which is fed through a metal D-ring and looped back on itself, this is a humble design unchanged for decades, although sometimes updated with reinforced leather ends.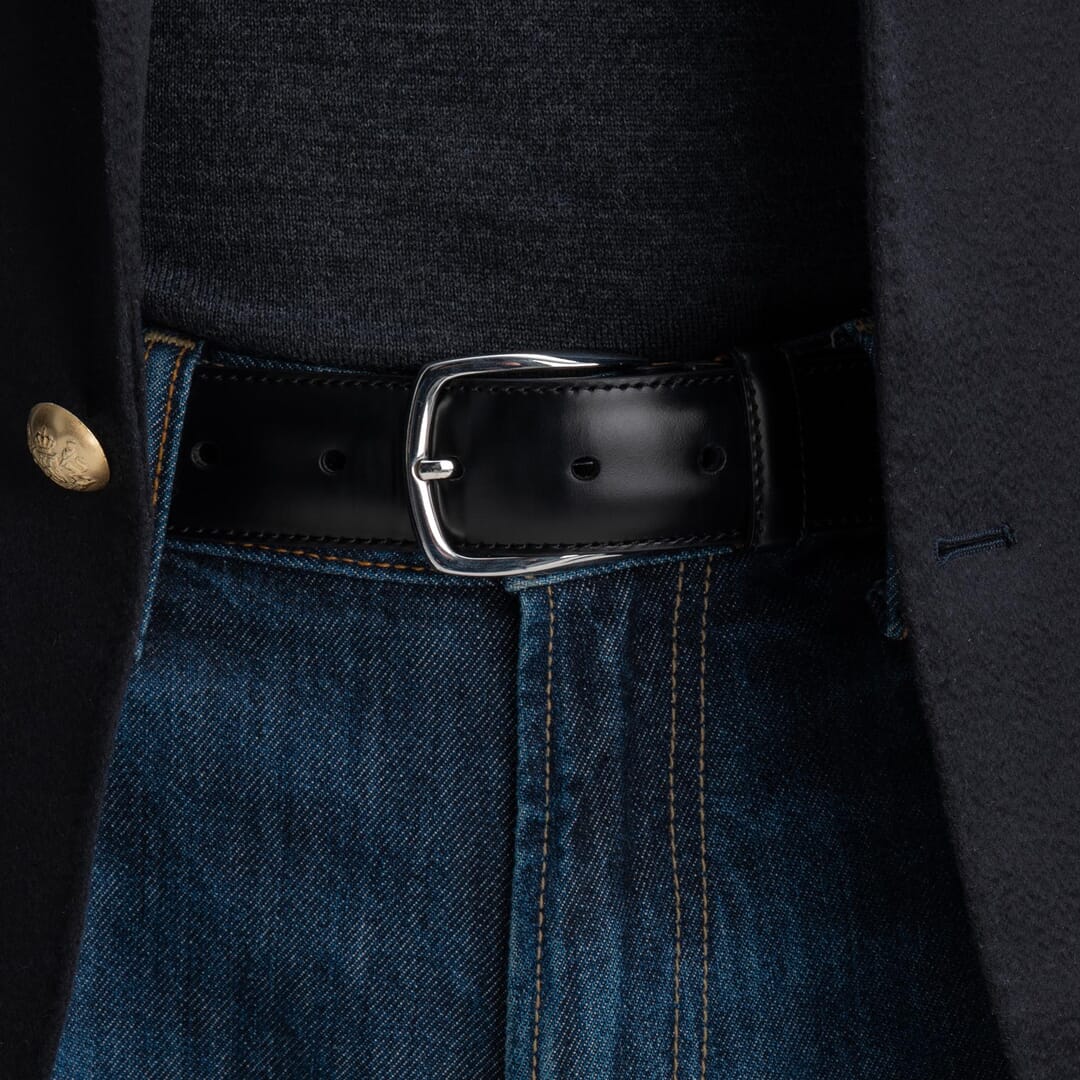 Plain leather belts
A plain leather belt is arguably the most versatile and easy to wear. They can vary in their detailing, from contrasting stitching to different colour metal hardware, but plain belts can be worn with everything from tailoring through to denim jeans and shorts. This is largely due to their minimalist designs – good quality plain leather belts will have no extraneous detailing, and the buckles are usually kept simple, meaning the outfit they are worn with can do the talking.
The main thing to consider here is the colour. Plain black leather belts are usually reserved for tailoring or sharply cut trousers, whereas brown shades and lighter colours work well with denim and more casual outfits.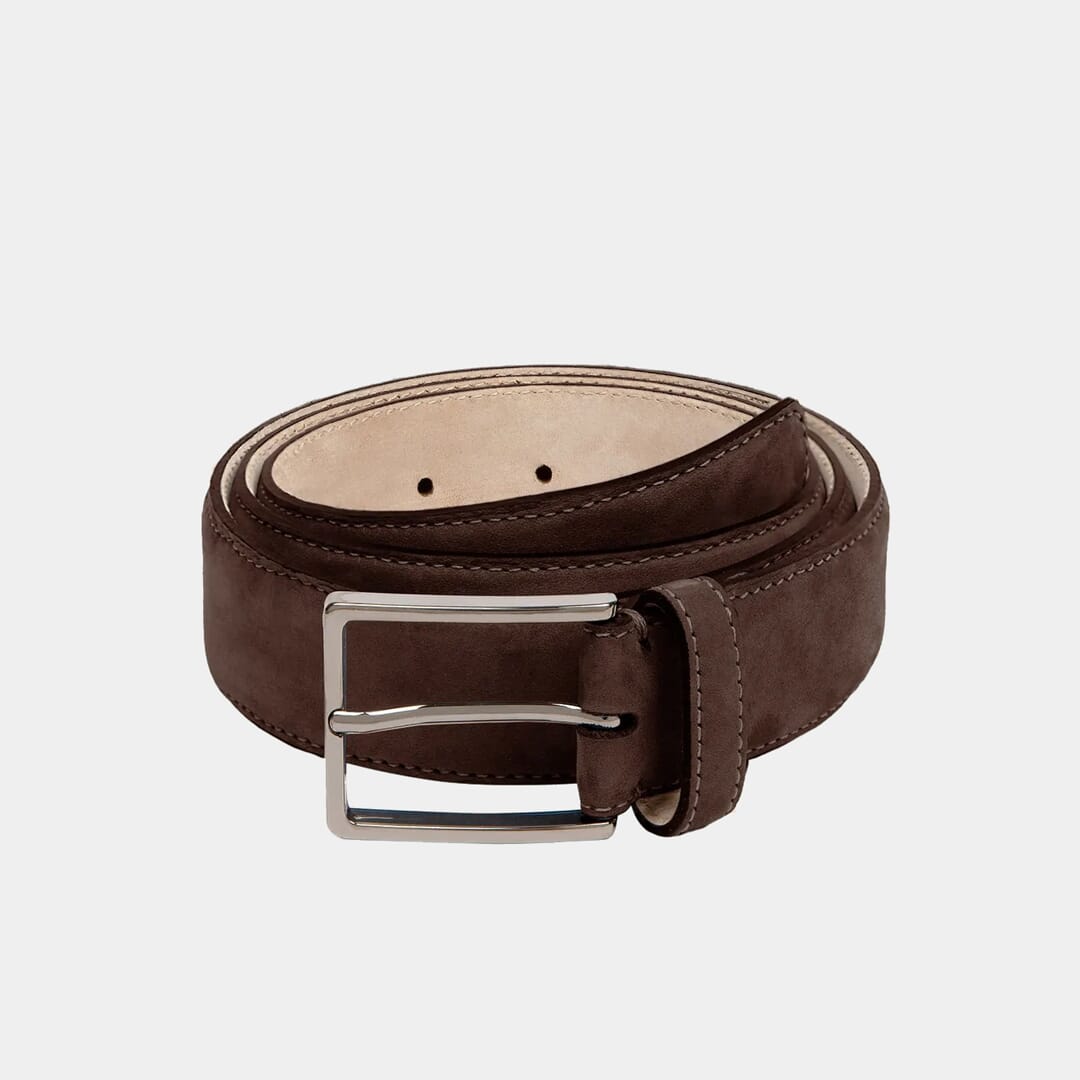 Suede belts
Often trickier to find than plain leather belts, men's suede belts are an ideal alternative to cowhide. Similar to suede shoes, a belt cut from suede is usually more casual than its leather counterpart, and as it's softer it will age more quickly, lending it a unique patina with time.
Look for a suede belt in a muted shade such as stone, light grey or brown, and go for a tonal look by pairing it with similar colours. The unique texture and tactility of suede will add a welcome point of difference to your look, especially if it's worn with similarly textured fabrics the likes of corduroy, brushed cotton or herringbone wool.
Best men's belts in 2023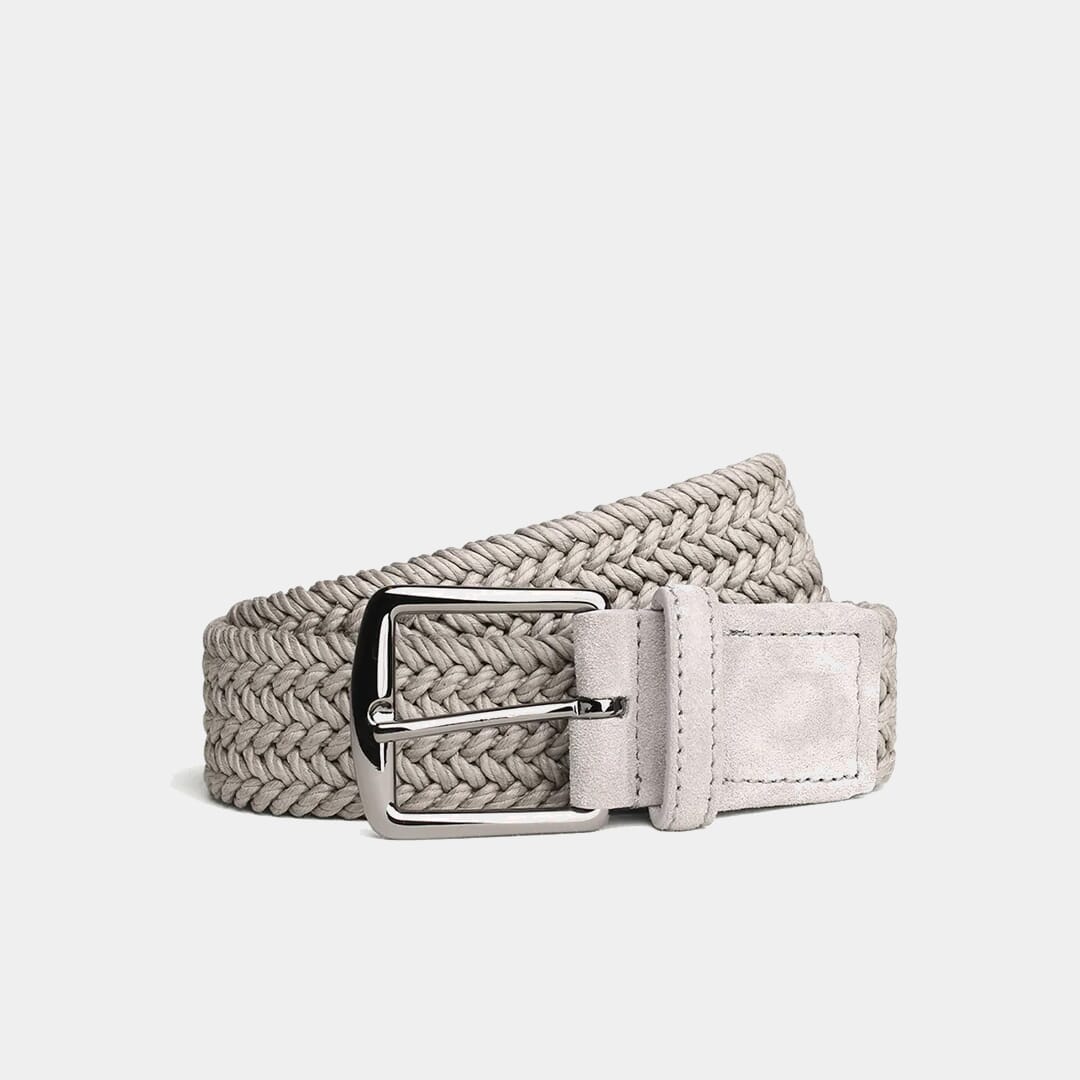 Aurélien Light Grey Waxed Cotton Belt
Try this elegant braided waxed cotton version from specialists in 'smart luxury' Aurélien on your next sunny escape and pair it with pleated shorts, canvas trainers and a knitted polo shirt for an updated take on classic Riviera style. The sturdy waxed cotton is trimmed with soft suede and finished with a gunmetal-tone buckle for a look that will stand the test of time.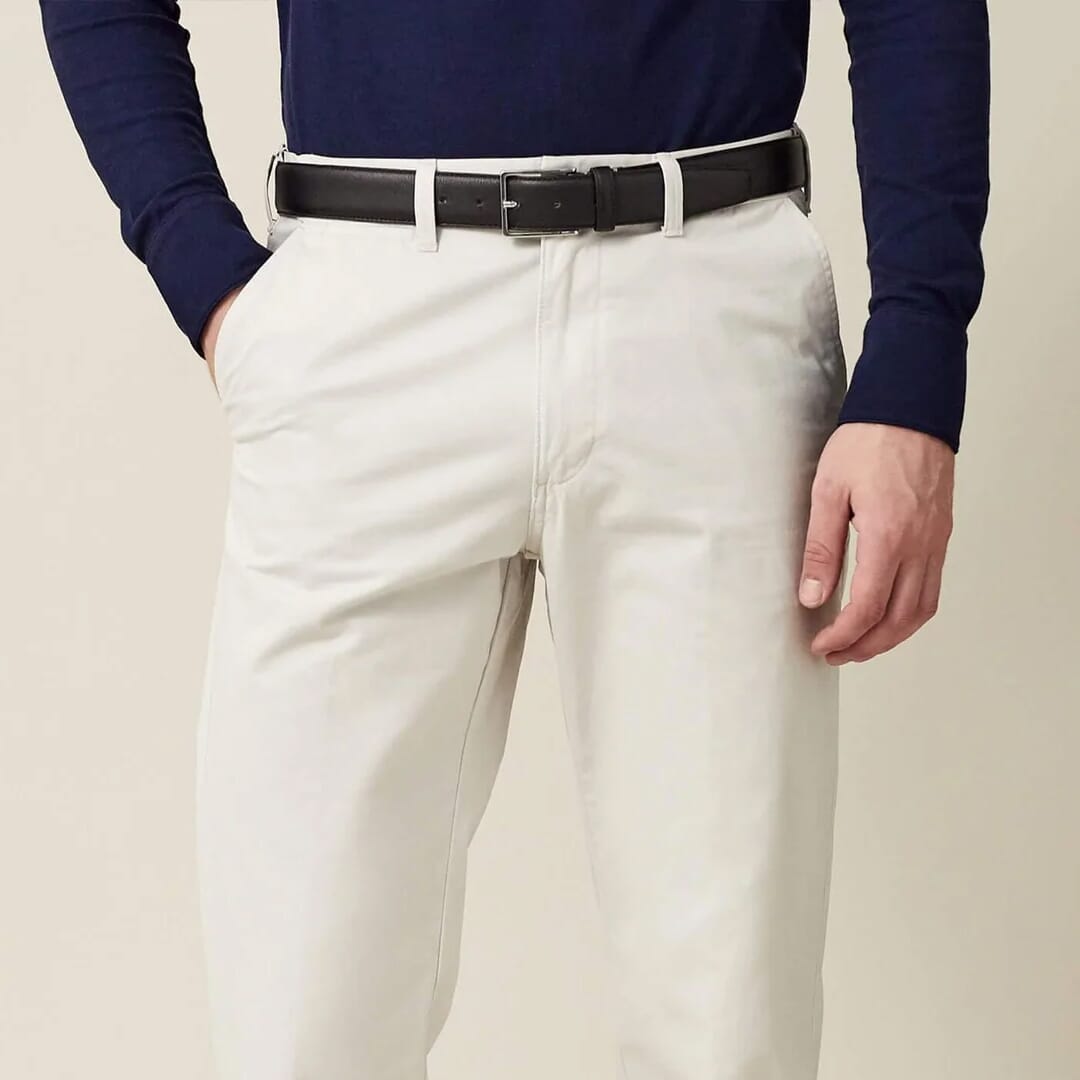 Luca Faloni Calf Leather Belt
This classic black leather belt from Luca Faloni is a timeless choice for any occasion, smart-casual or formal. Handcrafted in Bergamo, Italy using the finest calf leather, it features a buckle that's hand stitched to ensure maximum strength. It's perfect for travelling, as the metal doesn't ring when going through airport security.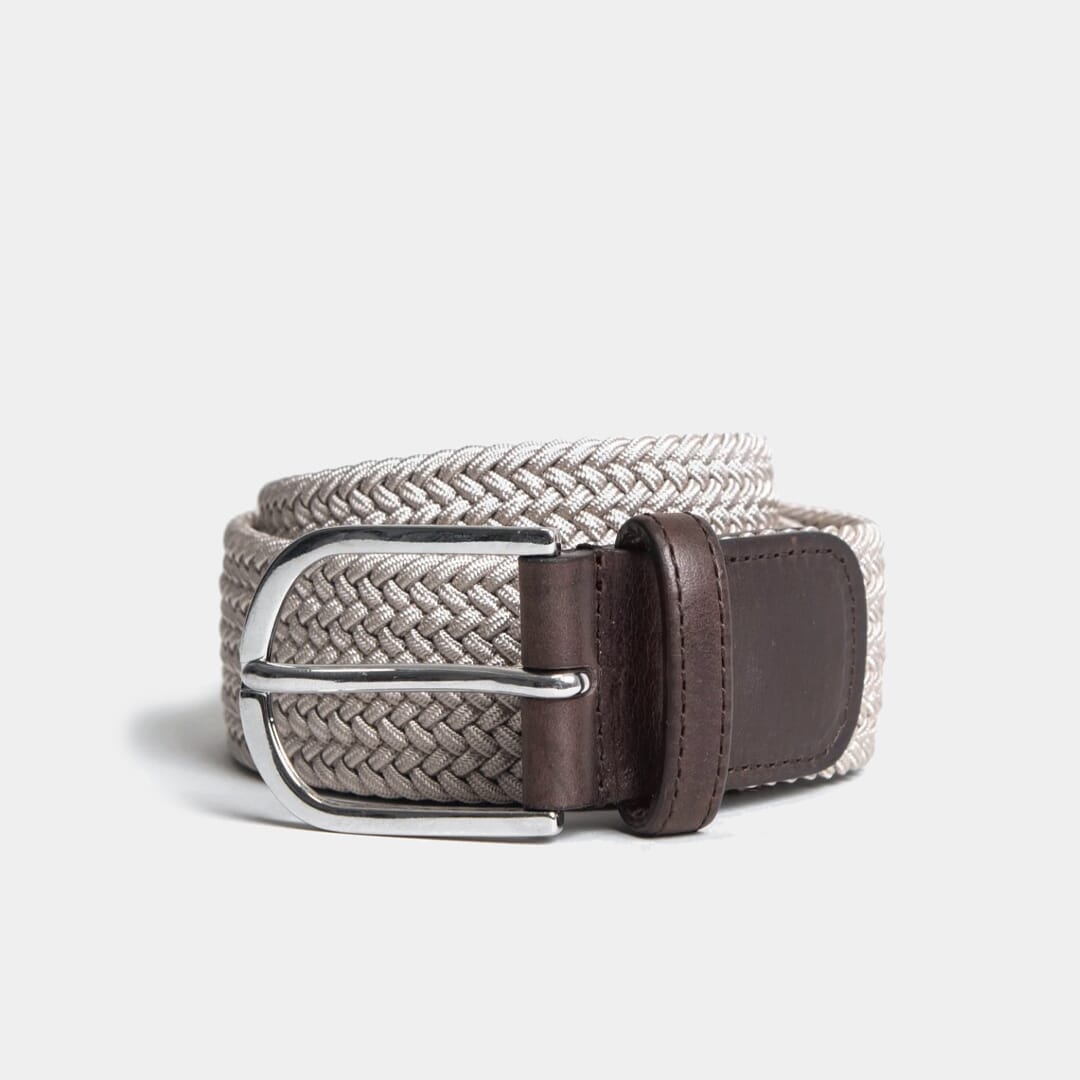 ASKET The Braided Elastic Belt
This braided belt from ASKET is a casual wardrobe hero that you'll reach for time and again. Handcrafted piece by piece, it combines specially treated viscose elastic cords, bio-based vegan leather and a solid zinc alloy buckle and pin.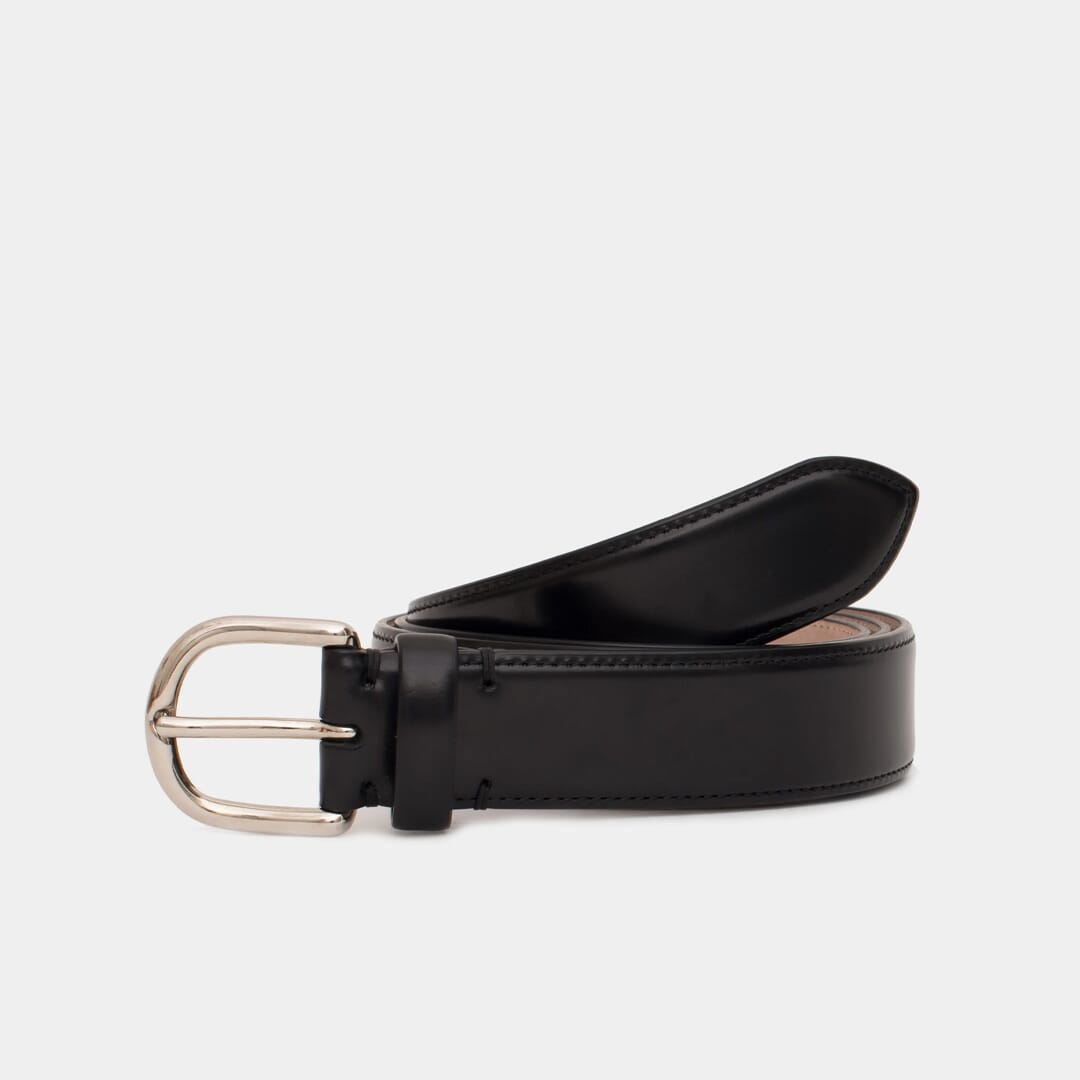 Velasca Ciocch Belt
Velasca's Ciocch belt is simple yet classic. It's crafted from smooth full-grain calfskin leather and brushed to obtain shine. Perfect for teaming with smart-casual ensembles.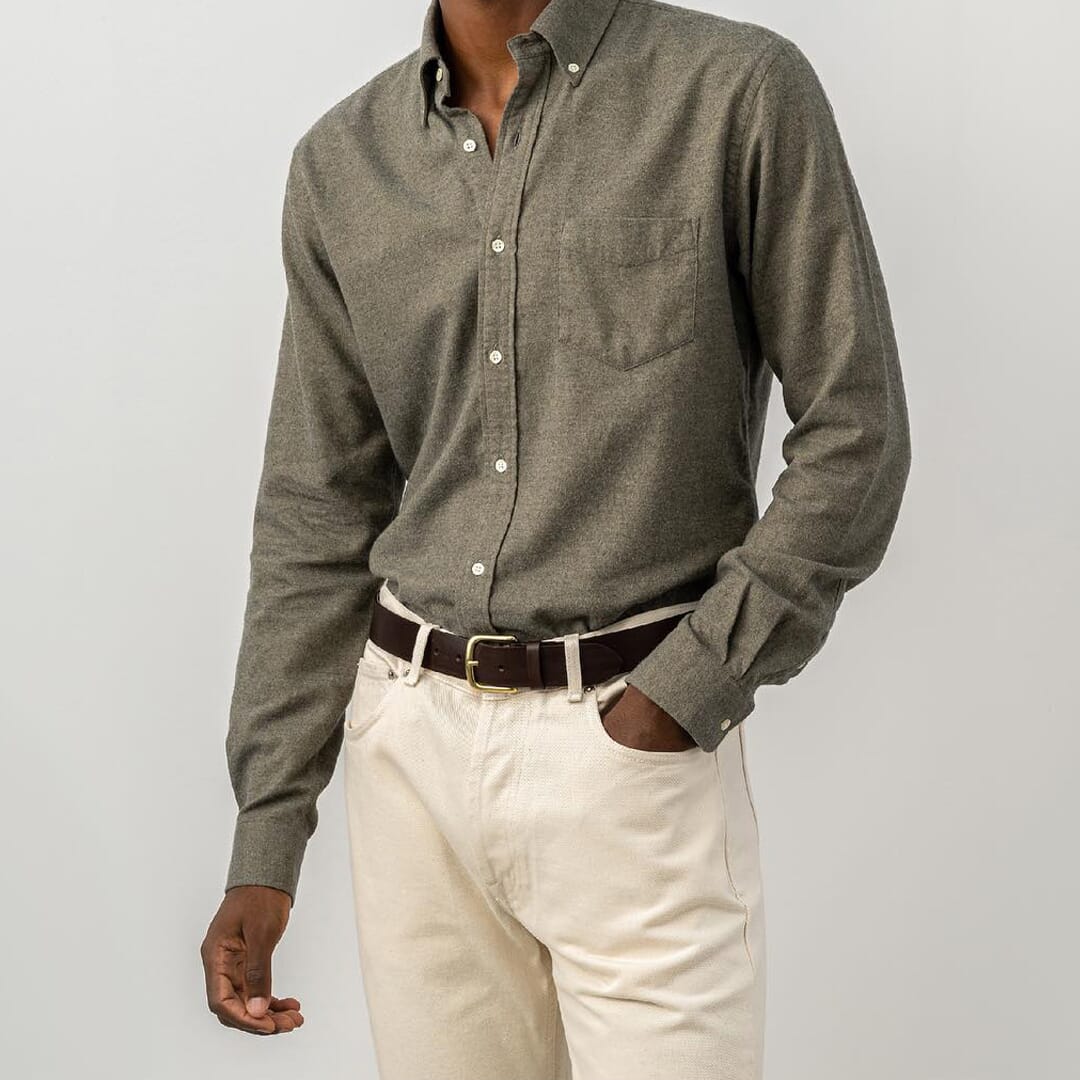 ISTO. Vegetable Tanned Belt
Designed, cut and handcrafted in Portugal from Italian vegetable tanned leather, this simple yet meticulously made belt from ISTO. is a contemporary classic that's made to stand the test of time. Available in classic brown or black.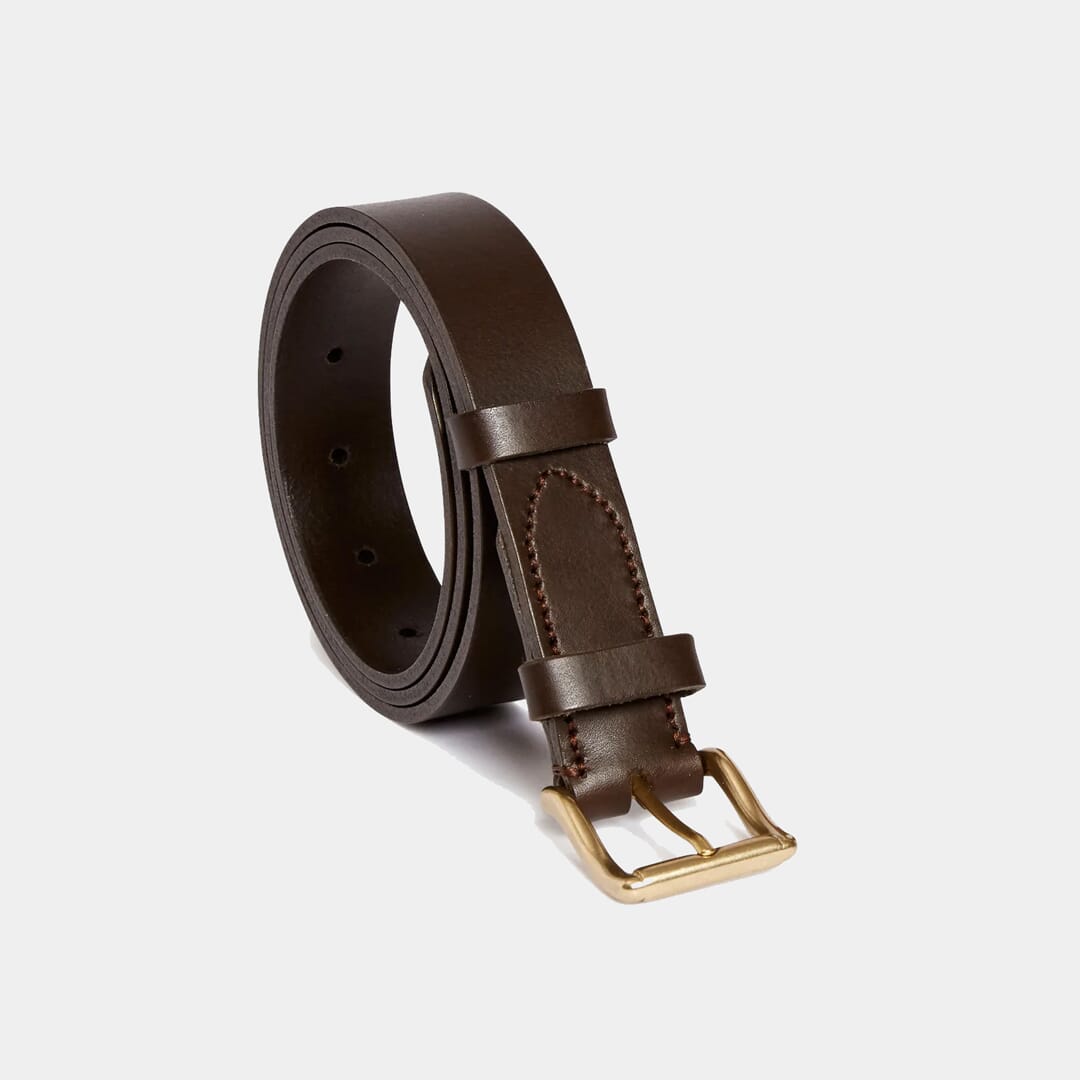 Mismo Classic Belt
For a timeless brown leather belt that you'll reach for constantly, you can't look past this sleek iteration from Scandi accessories specialists Mismo. Crafted from 100% vegetable tanned leather, it's enhanced by a solid brass buckle and hand-stitched details, reinforcing its longevity as an accessory you'll reach for time and again.
If you want to go belt-less, check out our ultimate round-up of drawstring trousers.
---
---