We would dare to say that when you think of foodie cities, Amsterdam isn't top of your list. The popular city break destination, with its glorious pedestrianised street culture, picture perfect canals and intoxicating café culture is a great place to plan a weekend break, made extra sweet by short, affordable flights from Europe. But a foodie destination? Those words probably bring more to mind places like Copenhagen, Lisbon and San Sebastian. Foolish thinking.
Amsterdam is a serious foodie destination, with some of the best restaurants in the world. Peruse the Michelin Guide and the number of bibs, stars, and green stars especially, is striking. Away from the Guide there's a whole host of effortlessly cool eateries, serving casual but no less delicious food and snack options. Add a few long-term neighbourhood favourites to the mix, not to mention a bit of knowledge, and it's almost impossible to eat badly in the Dutch capital. In the best interests of eating well, here's our pick of the best restaurants in Amsterdam.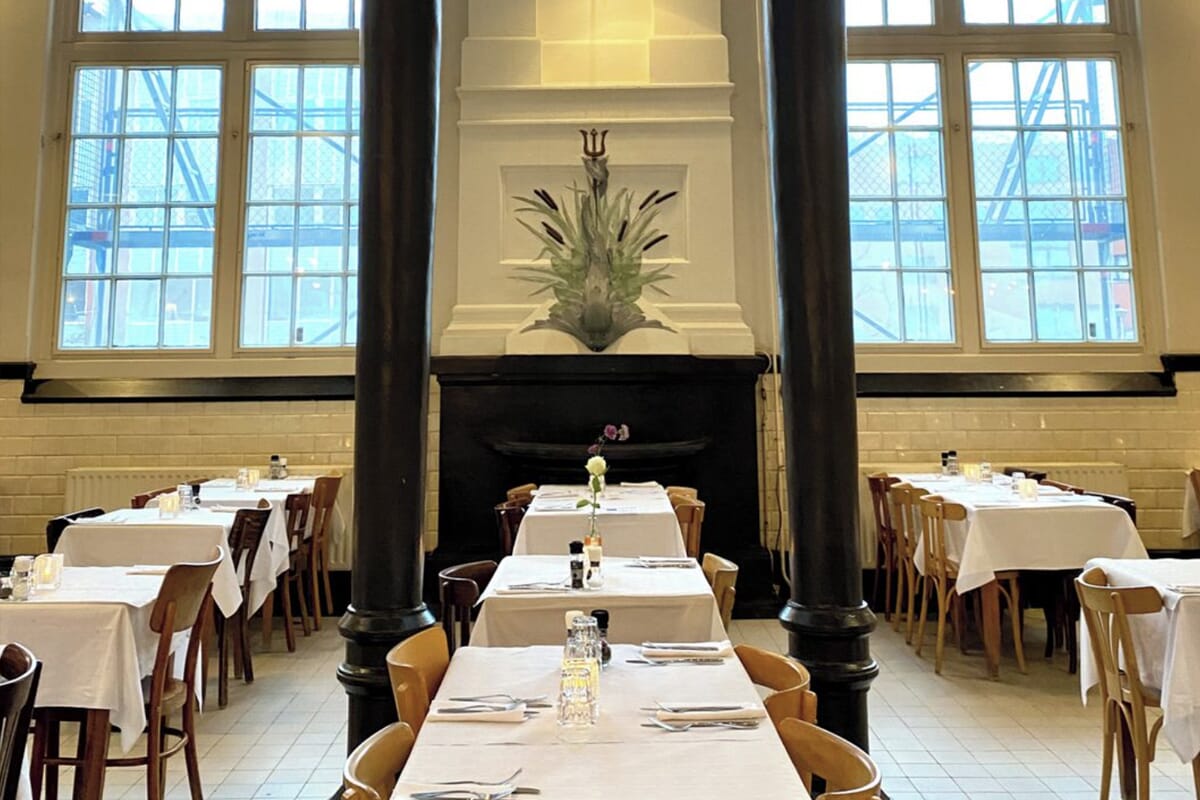 Best restaurants in Amsterdam
Café Restaurant Amsterdam
The site of Café Restaurant Amsterdam comes with a lot of history. Formerly a pumping station, dating back to 1897 and the eve of the city's industrial boom, when Café Restaurant Amsterdam moved into the former engine room of building in 1996, the space had been so well kept that it barely needed a lick of paint with nods to the original machinery throughout. Nowadays, the restaurant is known for its impressive seafood platters, great steaks and bright, airy interior that makes for a welcoming atmosphere. An outdoor terrace provides peaceful views of the city.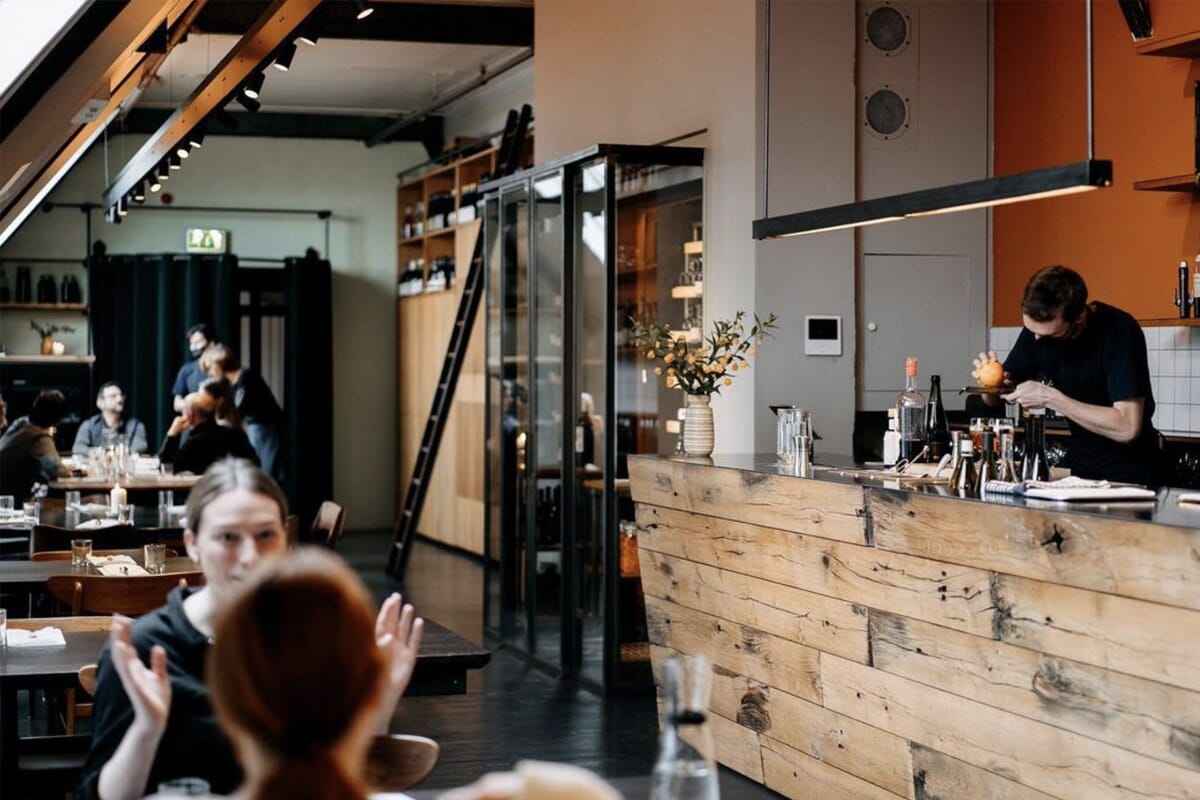 BAK
There's a secret charm to BAK. The restaurant, which opens from Thursdays to Sundays, might require a buzz of the bell on street level, owing to its candid location. Up the three flights of stairs in the Het Veem warehouse building in the Houthaven port area of Amsterdam and you're in for a treat. Innovative and ethical cuisine is on the menu, with five, seven or nine course tasting menu options. Sustainable meat and fish options are at the forefront of the menu and BAK is also a great option for higher-end vegetarian and vegan options.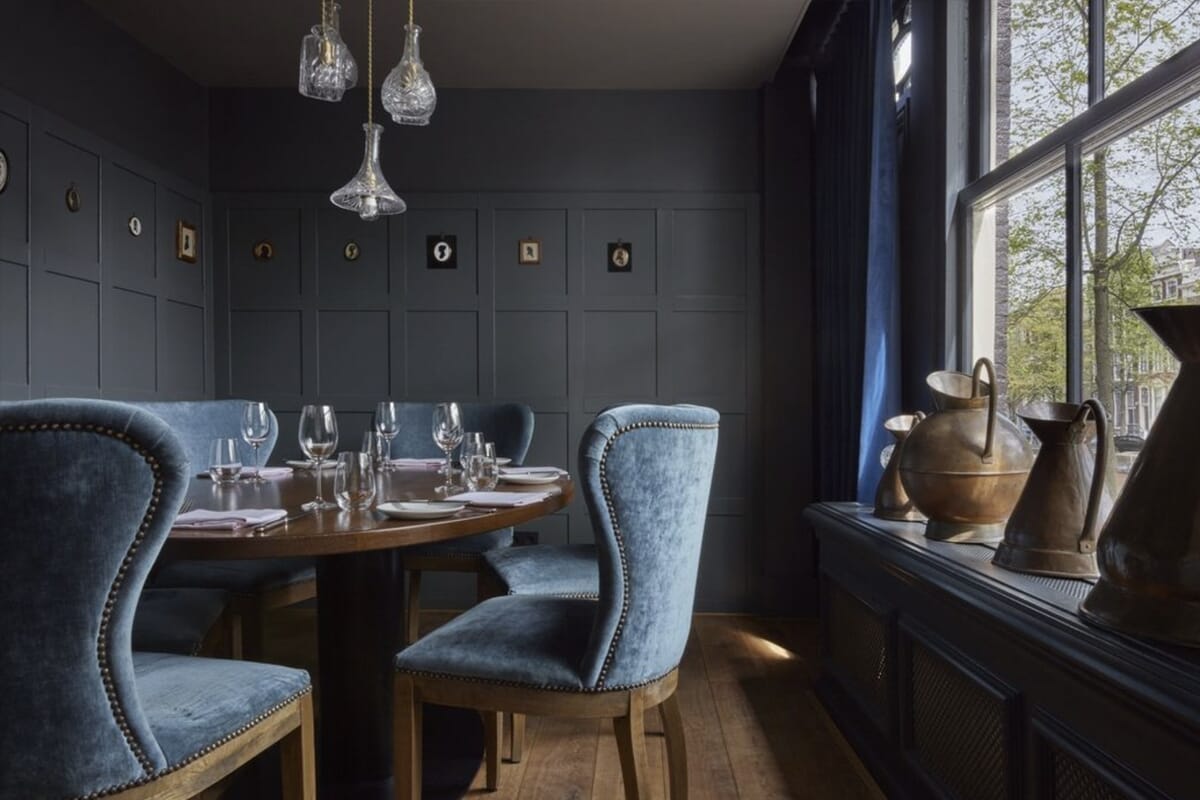 Jansz
An elegant all-day dining option inspired by modern Dutch cuisine, Jansz is a modern classic with a handy nine streets location. A part of the five-star Pulitzer Hotel, a comprehensive lunch menu offers sandwiches, sharers and small plates and impressive vegetable-forward dishes, while a dinner menu is all about the classics. Choose from fish of the day to steamed lobster or ribeye to share. Open beams, classy banquette seating and marble tables provide a nod to old world dining without being stuffy.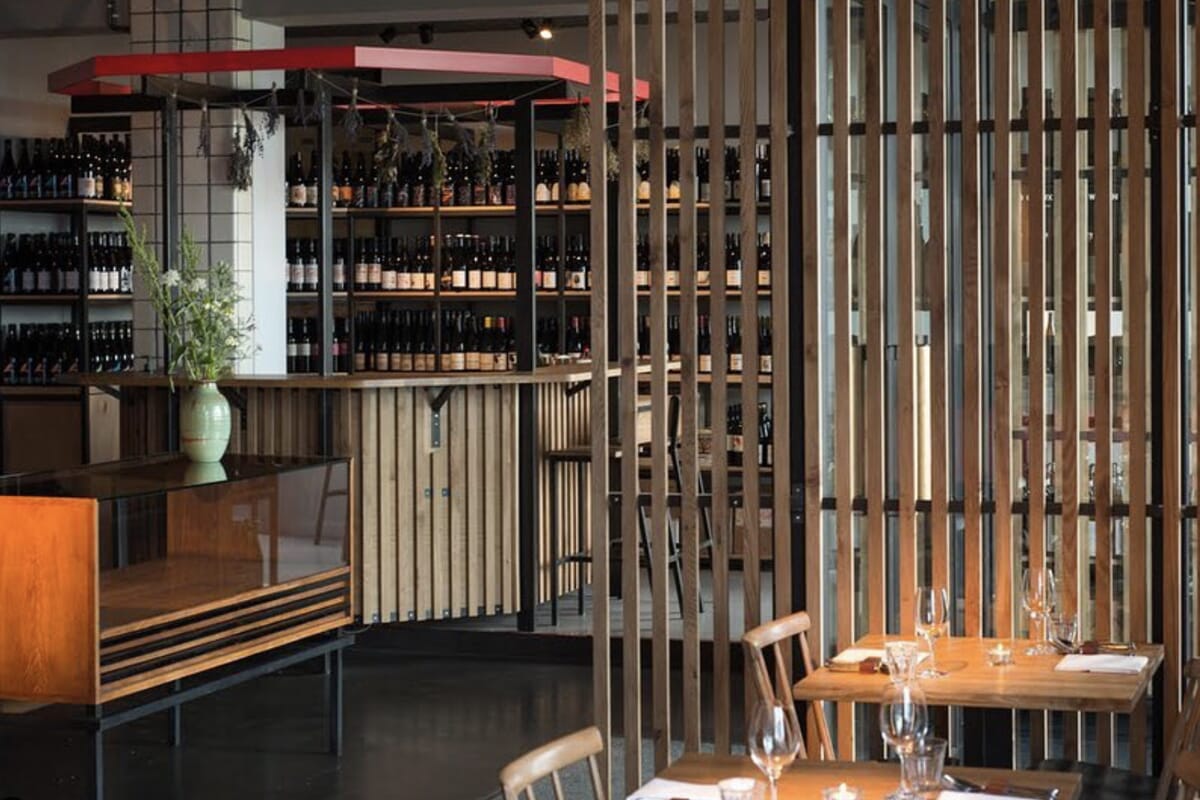 Choux
Trendy, hearty and vegetable-forward is the best way to describe Choux, which is a handy option close to the Muziekgebouw aan 't IJ. Seasonal produce takes centre stage here with fish and meat optional in a supporting role. Tasting menus include beautifully-plated options which change with the seasons, with a delicately-torched broccoli florets and dill paste miso dish catching the eye of late. Interiors are minimal and cool, with a five dish tasting menu coming in affordably.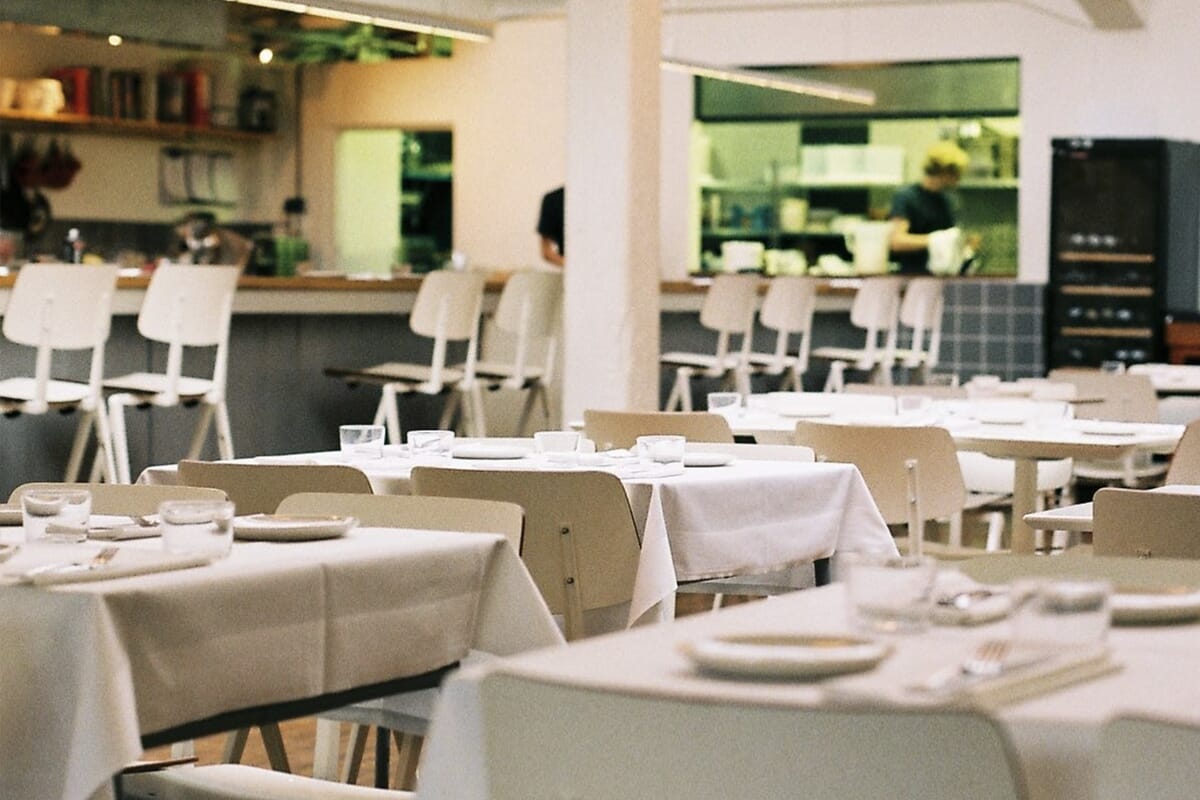 Euro Pizza
Do a few things and do them well. Euro Pizza does pizza and choice small plates with a side of natural wine. There's beer and lemonade too, but you're not getting overwhelmed by choice here. Local ingredients are emphasised and everything coming out of the kitchen is measured and aesthetically-pleasing, just like the spot itself in Amsterdam Noord. The pizzas are classic with a twist, think a mushroom offering (the Leo) with Comté cheese, Szechuan oil, scallions and a generous scattering of mushrooms. Sit in and revel in one of the city's coolest spots.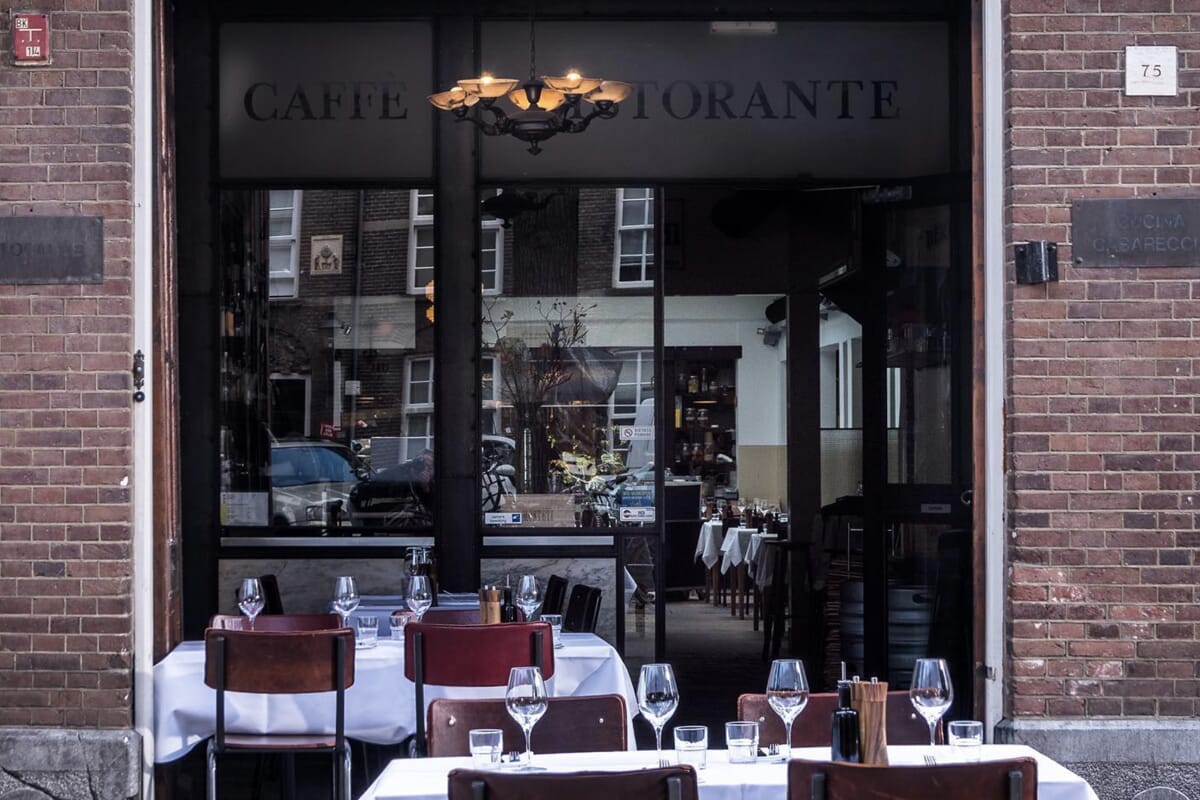 Caffé Toscanini
Situated on the Lindengracht, Caffé Toscanini is a friendly neighbourhood restaurant that's been going since 1985, albeit moving locations in the '90s. The dishes derive from regions across Italy and the restaurant itself channels a little pocket of Italy in Amsterdam. Crisp white tablecloths, an open kitchen and celestial overheard skylight make for a wonderful place to eat with a deli next door providing plenty of options to take fresh pasta and sauces home. Food to be shared among a group, with plenty of meat and vegetable dishes as well as pasta.
Café Binnenviser
Wines, seasonal plates, big tunes. What a mission statement. What more could you possibly need to know? Inside, Café Binnenviser is a beautiful spot, the perfect place to unwind over great wines and picture-perfect servings of consciously-sourced ingredients. Think duck breast, fermented blackcurrant and radicchio or Brussels sprouts, tarragon, goats cheese and almond. All within a glorious setting. People watch or be watched.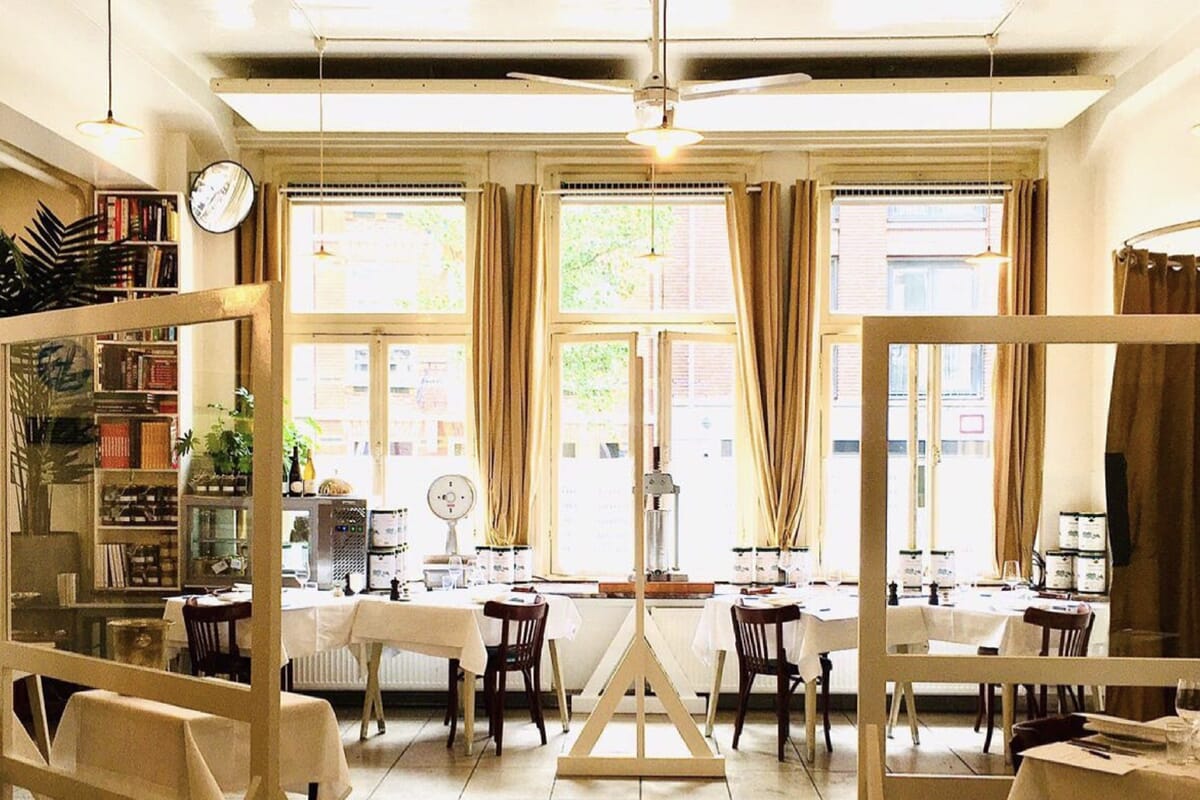 Rijsel
A Michelin Bib Gourmand sets Rijsel apart for its good quality good value cooking. Situated in a former home economics school, the open kitchen nods to a past in education with the current menu all about no messing French cooking with a nod to the classically Flemish. A largely local crowd seeking classics like Russian salad, fish soup or côte de boeuf is a barometer for the quality of the offering. Well worth booking in advance.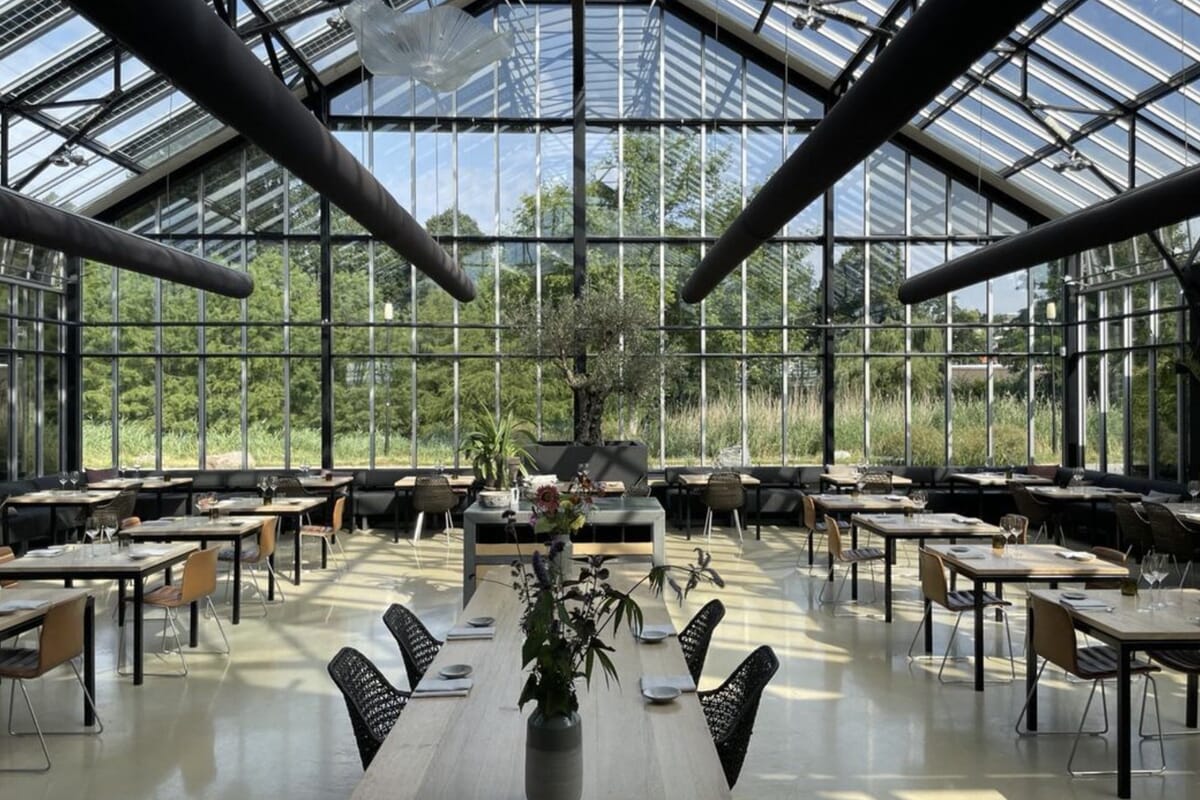 De Kas
Not only does De Kas have one Michelin star, it also has a Michelin green star, a sign of sustainable practise, something the restaurant has long championed. From wines with reduced CO2 emissions to the clothing staff wear, De Kas has built sustainability and farm-to-table ethos into the very core of the project from day one. The glorious, sun-drenched greenhouse setting makes a lot of sense with that in mind. Choose from lunch or dinner tasting menus packed with luscious veg and ethically-sourced meat and fish. The team are masterful with their wine pairings.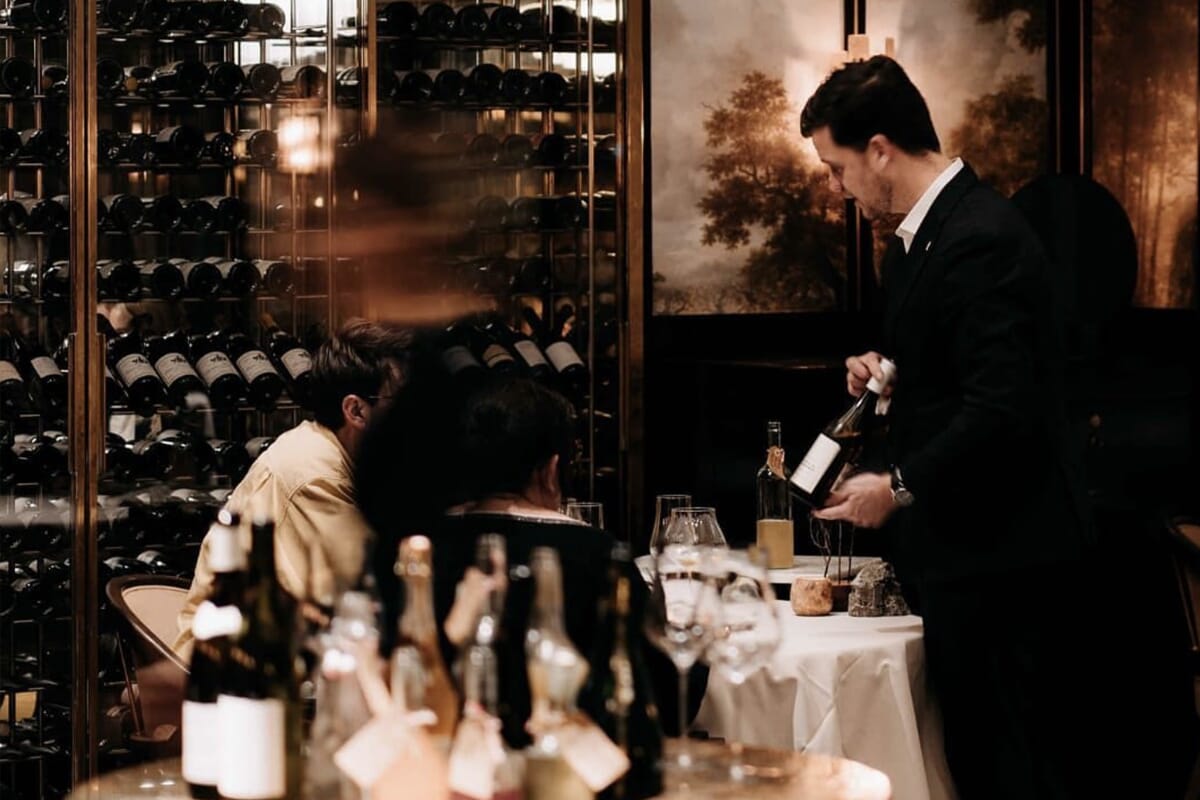 Flore
Serious, serious food. Don't believe us? Check the two Michelin star plaque outside. Not just that but there's a green star to boot. Not many restaurants in the two star bracket are sporting a green one too, it tends to be one or the other. Conscious fine dining is the tagline at Flore and Bas van Kranen is doing all of that with not a single drop of dairy in the kitchen. All of the produce is organic and sourced locally while seafood comes from sustainable suppliers. 'Pure, naked flavour' is what the website says and you can be sure that's what van Kranen's inventive perfectly plated cooking produces.
For more foodie recommendations, check out our pick of the best Japanese restaurants in London.
---
---