Every man's wardrobe needs at least one pair of suede boots. They're not only elegant and timeless but easily bridge the gap between formal and casual footwear. Suede boots are the choice for a summer garden party or that Sunday lunch with friends. They're surprisingly versatile, too, easily taking you from pub lunch to sneaky club dance later. The key is their casual luxury - that and choosing the right style for the right occasion, the right brand for you and in the longer term, understanding how to look after your next pair of suede boots. Luckily, we've been thinking about all of this for you for this essential guide. Scroll on for our ultimate suede boots buying guide, including our pick of the best suede boots for men in 2023.
Which style of suede boot to buy
Key style for suede is the all-time classic: desert boots for men. They're ankle-high with - generally - two sets of eyelets. Name by popular legend comes from British soldiers in Cairo early last century, who discovered the style in local markets and found them perfect for walking on sand in the desert. You may not be doing that, but - equally - of course you never know.
Desert boots have never been out of style, reaching a modern apogee first in the 1960s and then in the late 1970s with the Mod revival that came with groups like The Jam, and again with Britpop where one band even used suede as their name. It's all cemented the desert boot as a true classic of everyday wardrobes. Do you need a pair? We'd suggest you do.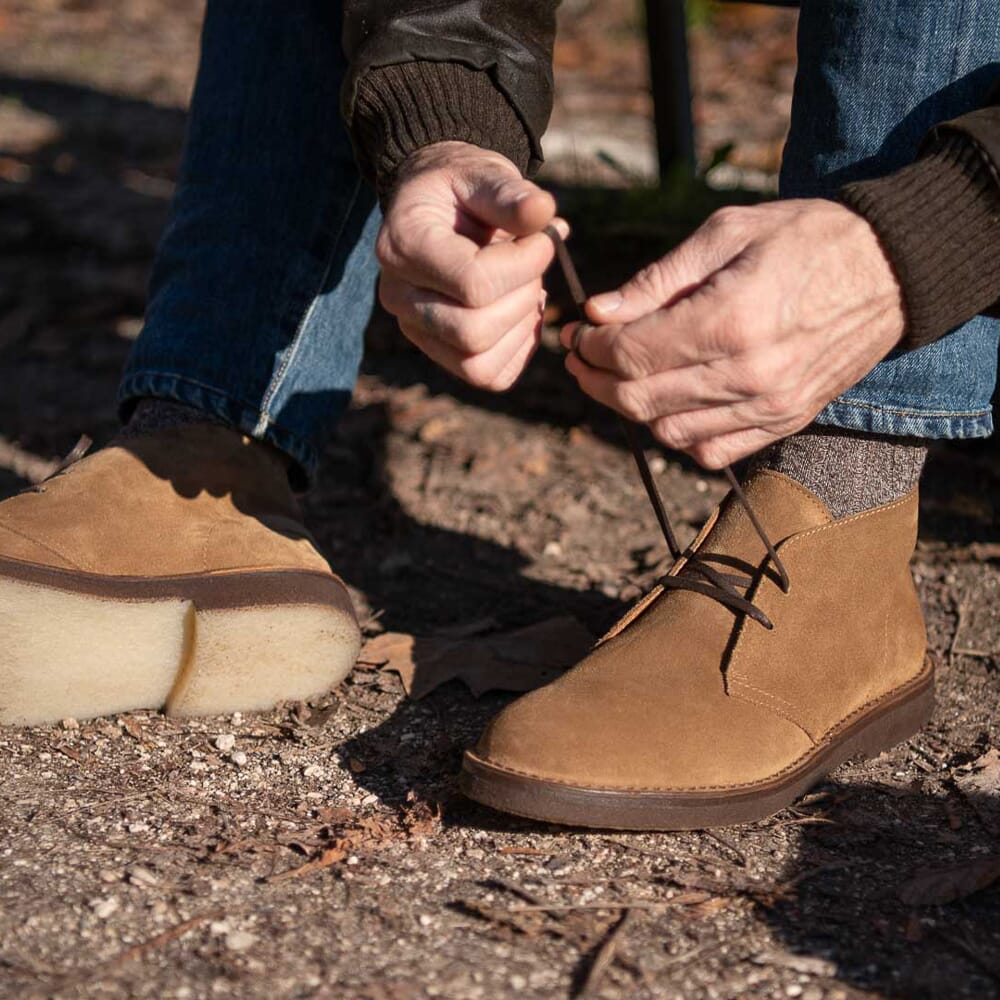 You'll also come across chukka boots - the name comes from the game of polo - that's often slightly flatter than the desert boot, becoming wildly popular in the 1950s and 1960s, and currently enjoying a deluxe revival. Some accounts place the chukka as the inspiration for the desert boot, but we'll leave that argument to the footwear historians.
There's more: for an upscale look, suede Chelsea boots and Derby boots are an excellent shoulder season and winter choice, easily worn with a suit and Oxford shirt or teamed with jeans to add a personal touch to your casual look. Look out for tough Australian takes on the Chelsea boot, usually in robust all-weather suede.
Calf-length suede boots are a big personal statement, and chosen well, a real investment. And because suede is surprisingly tough, suede walking boots are a great option, too, particularly if the suede has been treated and preferably oiled or waxed.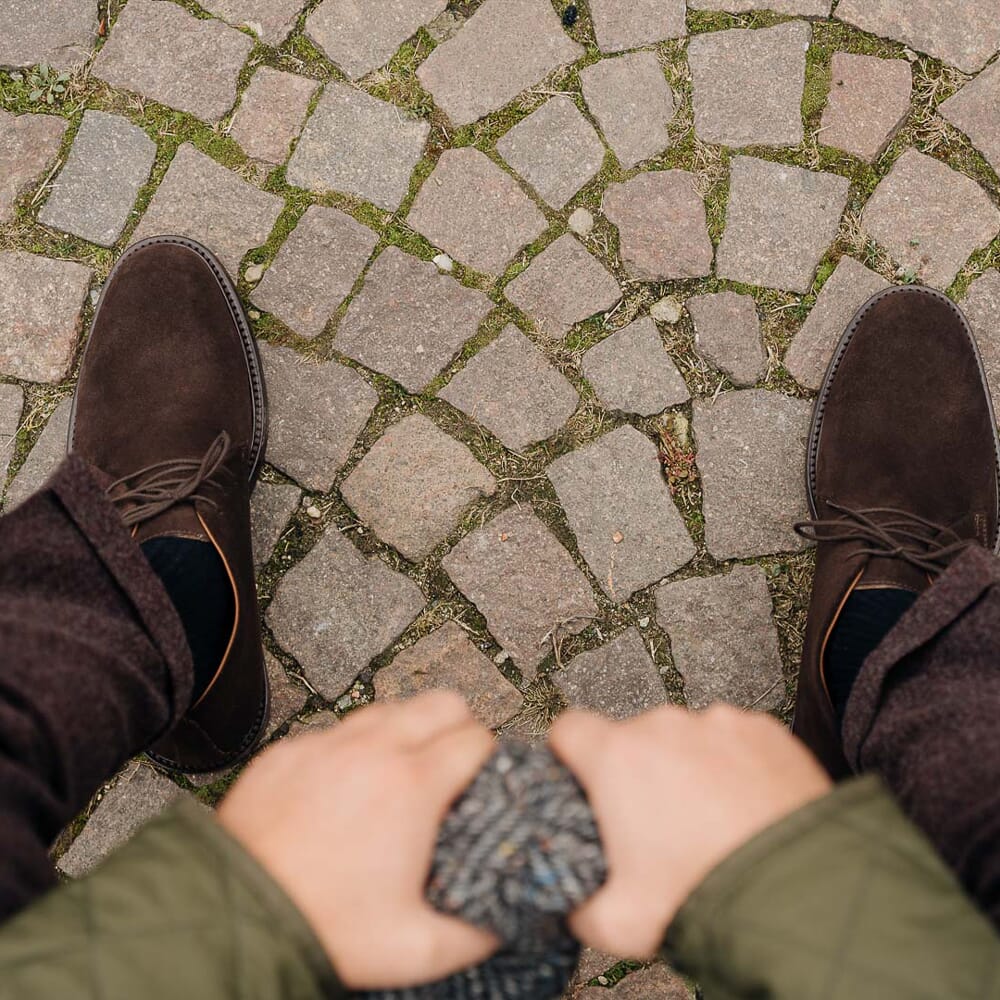 How to wear suede boots
As we've already said, suede is at home on more occasions and with more outfits than you'd imagine. First piece of advice then: try your new suede boots with just about any outfit and see how the combination - and it may be an unexpected one - works for you. The old adage that if you wear something with enough confidence it'll become part of you, easily applies to suede boots.
So, try them for your next afternoon in the pub garden for lunch with friends. They're ideal with a cotton or linen suit at that wedding reception in the country. Perfect too for dress-down Fridays at work and the inevitable rounds of drinks afterwards. But also think of throwing them on with your oldest jeans and a casual overshirt for Saturday morning strolling in town. Crucially, they add just a little edge to your look.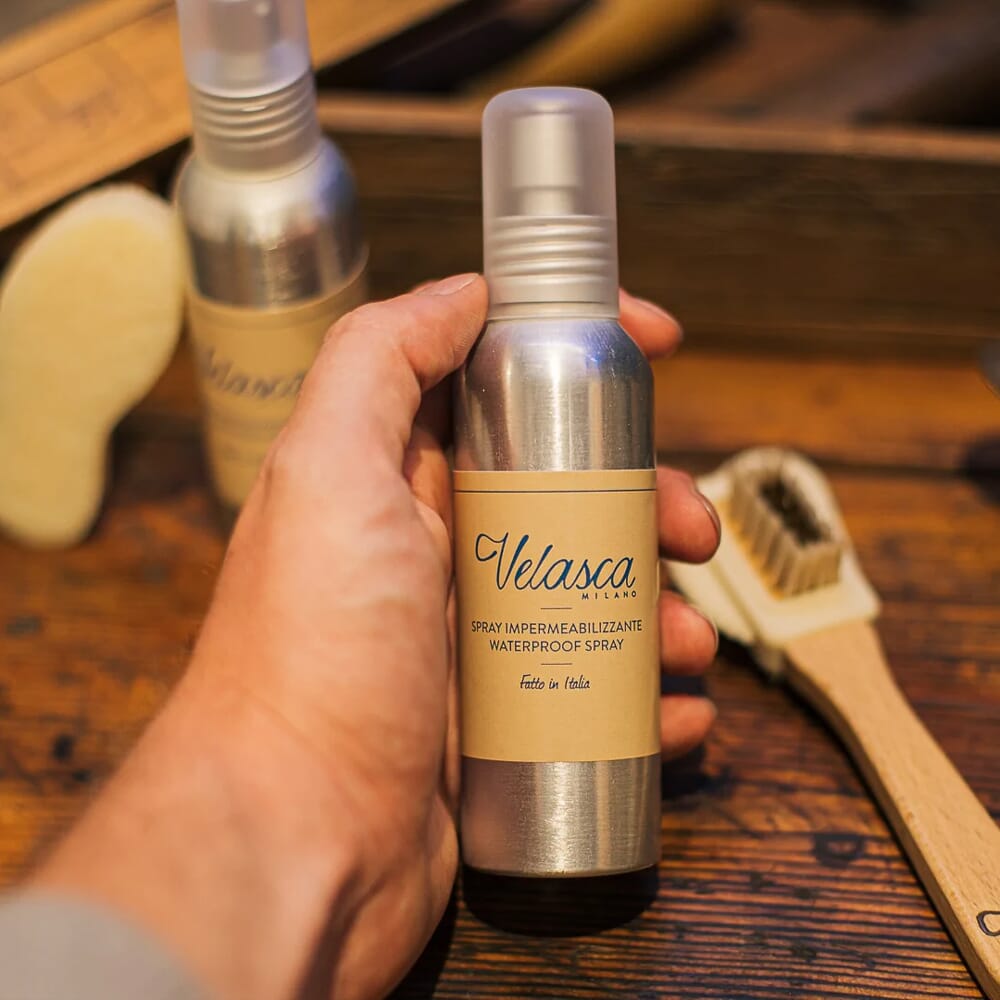 How to clean suede boots
Care may be the most important suede lesson: suede is less forgiving than other shoe leathers, but fear not, a little care goes a long way and your suede boots really will last a lifetime. Older desert boots? Undeniably cool.
First off, care-wise, get yourself a suede brush, one of those with rubber bristles. Get into the habit of giving your suede boots just a gentle brush every time you wear them, and most particularly if they've become a little dusty. Not too hard, remember, just enough to keep the suede fresh for next time.
If there's a stain, try an ordinary pencil rubber - preferably of the gum variety - on the stain to see how that works. If the suede ends up lighter, don't worry. Once it's gone treat the whole boot to a more gentle rubbing.
Our final advice is to consider a suede protector, usually available in spray form and ideal for protecting your suede boots against all that life may throw at them, including damp or rain. Useful in helping with cleaning, too.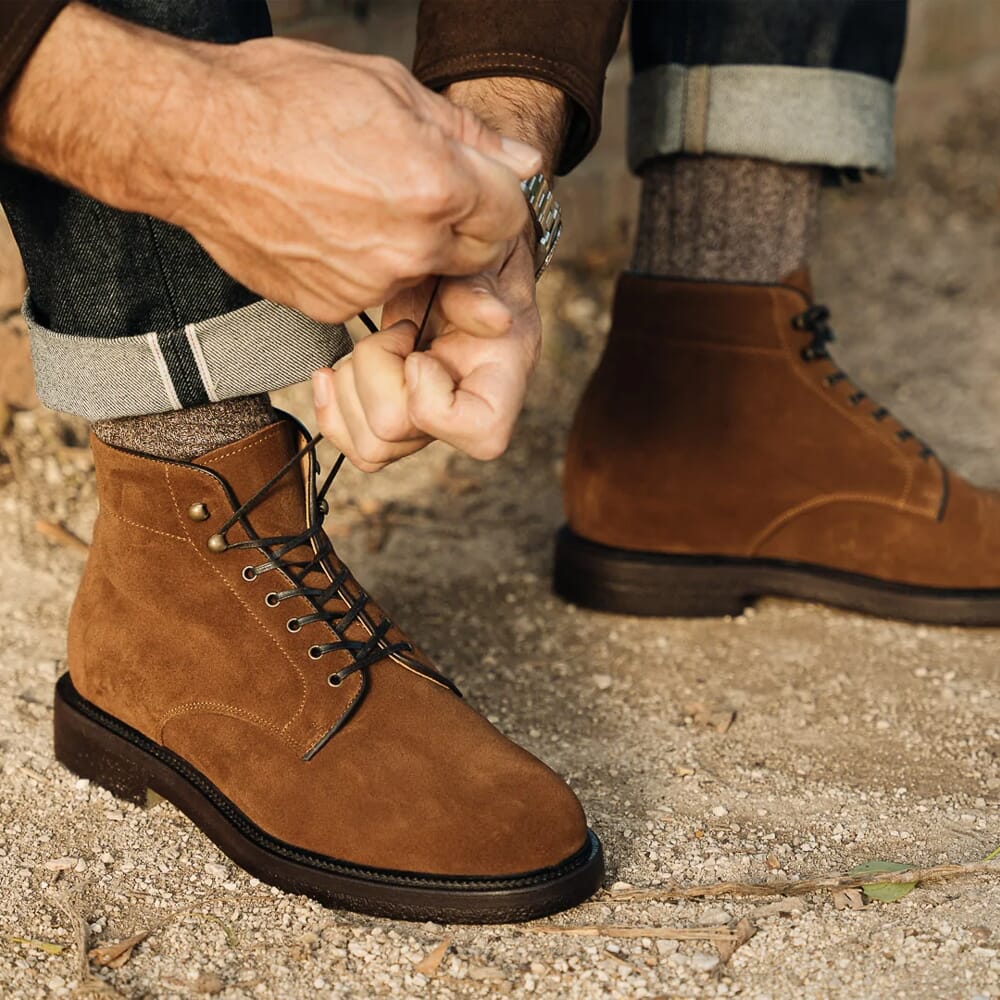 Best men's suede boots
Velasca
Artisanal quality in suede from the Italian footwear specialists at Velasca. Brown suede boots and desert boots for men are available both unlined, in the classic style, or leather-lined for a more luxurious feel. Twist is only using the very best calfskin suede and - of course - the finest Italian shoemakers to craft your suede boots. For a tougher look, Velasca's greased suede walking boots take you off the trails and straight into that upscale village restaurant in real style. Their suede calf-length boots are a real statement.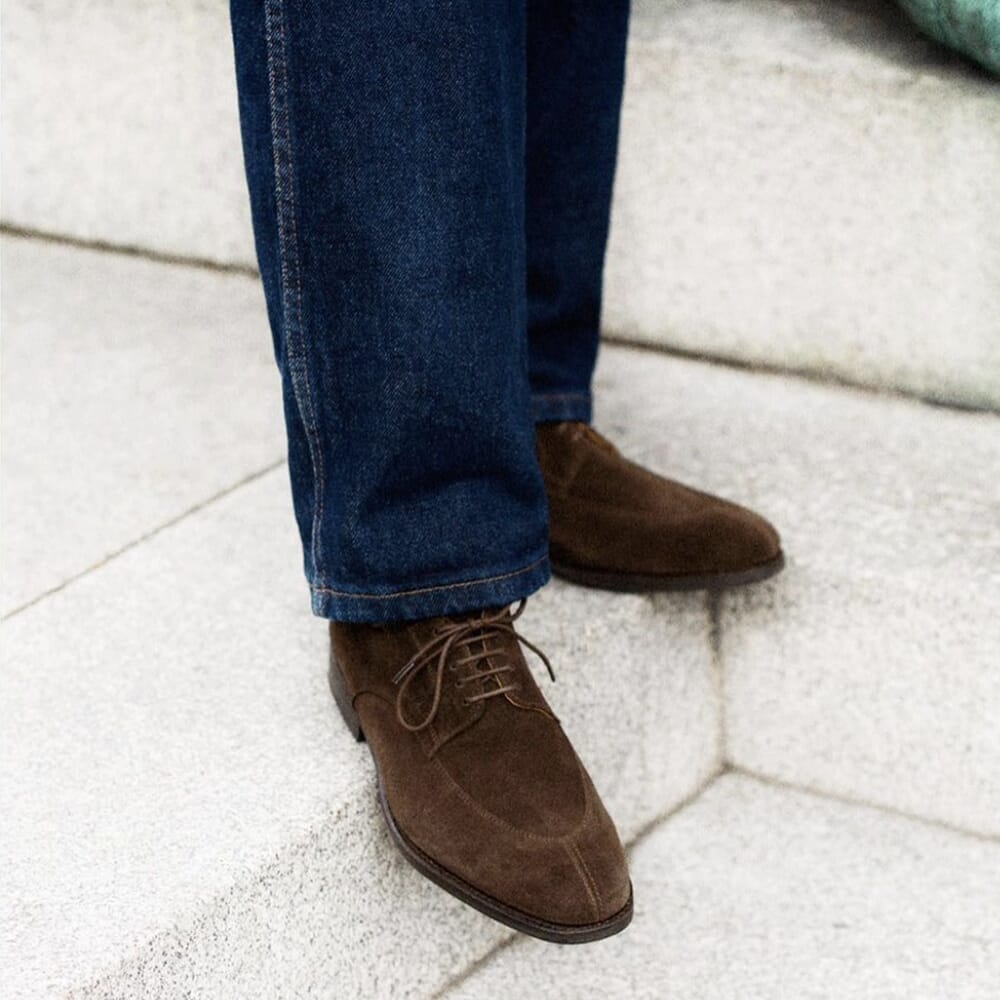 Myrqvist
Swedish minimal style teamed with expert Portuguese construction is the story at form-follows-function obsessives Myrqvist. That and a certain quietly individual style. Suede is sourced from long-established specialists Charles F. Stead, who've been in the business for more than 100 years, so they know a little about what they're doing. Try their super-elegant suede Chelsea boots, a brilliantly minimal take on this classic that will quickly become your personal definitive style.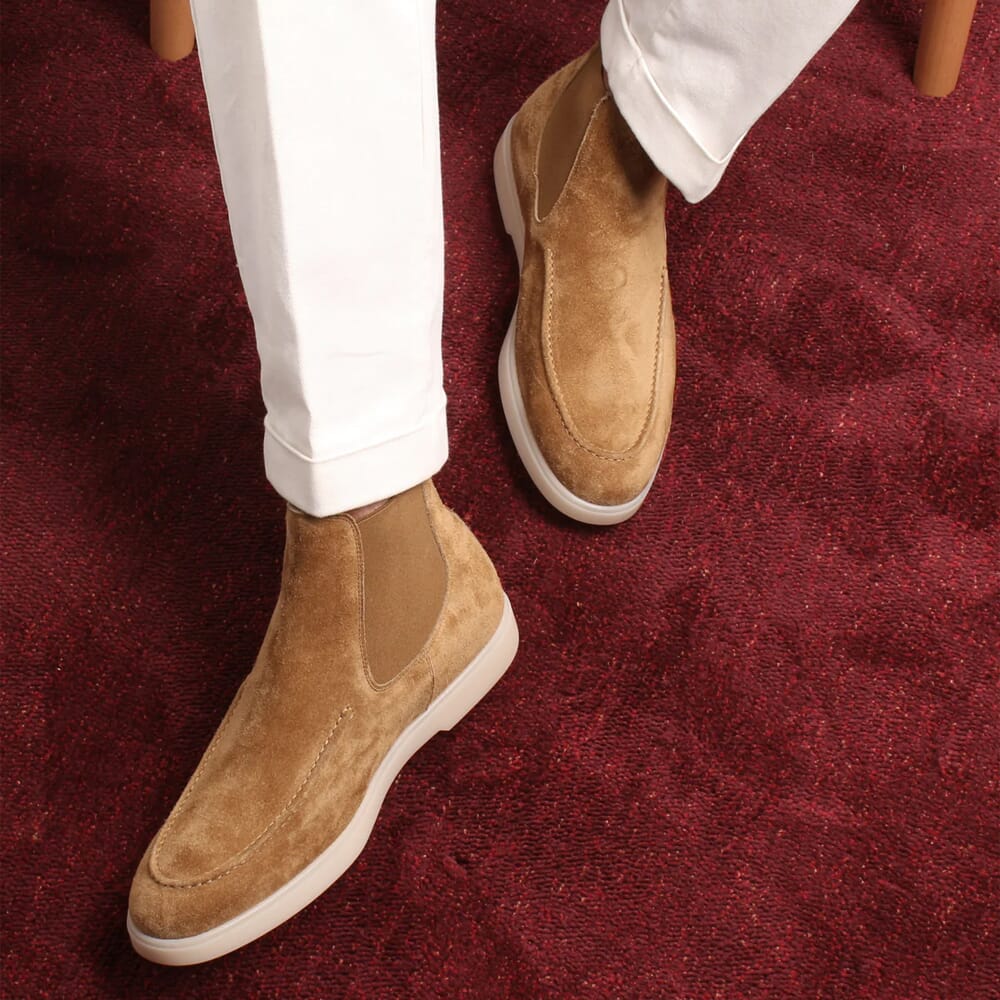 Aurélien
For Mediterranean suede style with Italian construction, look no further than the smart luxury specialists at Aurélien. Suede here is Aurélien's trademarked Softey® variety, a specially treated French calfskin, chosen for intense colour and supersoft touch. Styles include a unique take on desert boots, in a wide range of colours and a style that's a touch more formal than the original, tough winter suede boots and oiled suede Chelsea boots with a highly individual ivory-coloured rubber sole.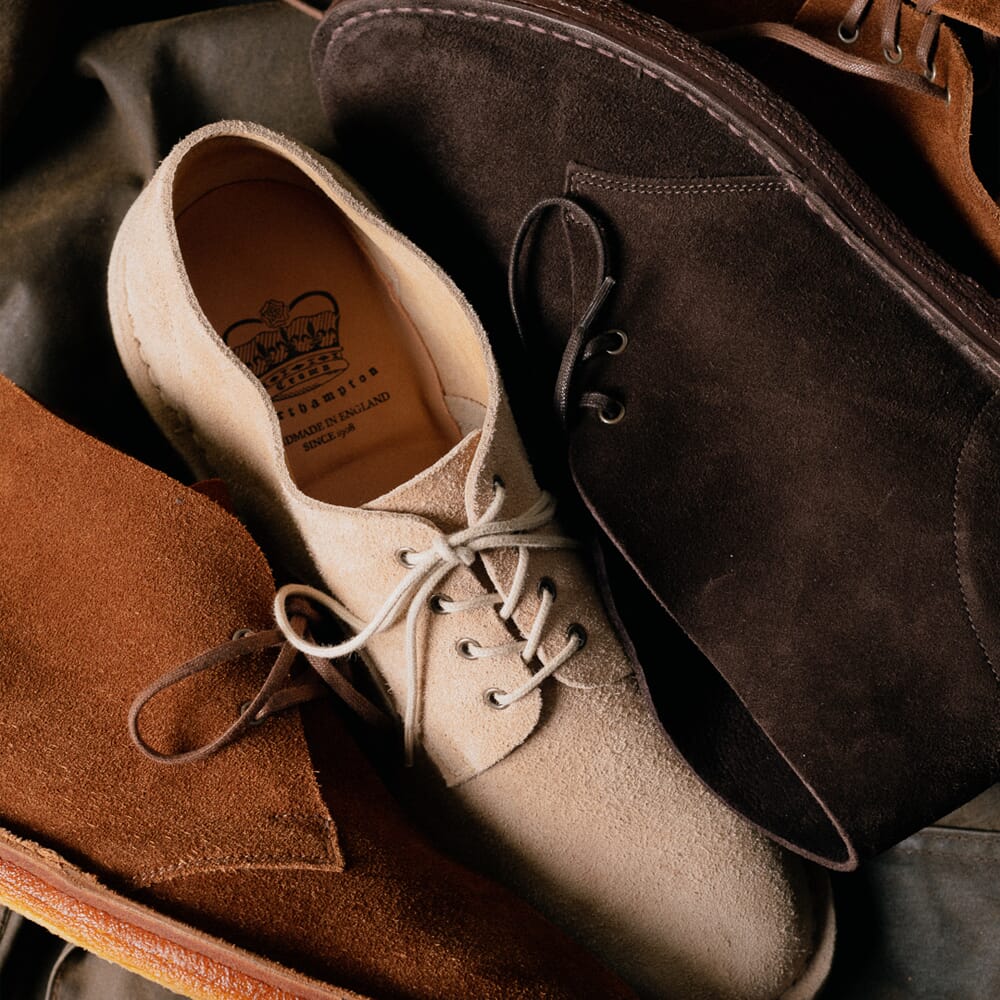 Crown Northampton
For more than 110 years, Crown Northampton have specialised in crafting high quality shoes, at the home of British shoemaking in Northampton. Desert boots are a big part of that story. Their unlined Woodford desert boot has all the hallmarks of the original, with the added benefit of being available in a kudu suede, used for South African velskoene - literally "skin shoes" - that are one of the ancestors of the desert boot.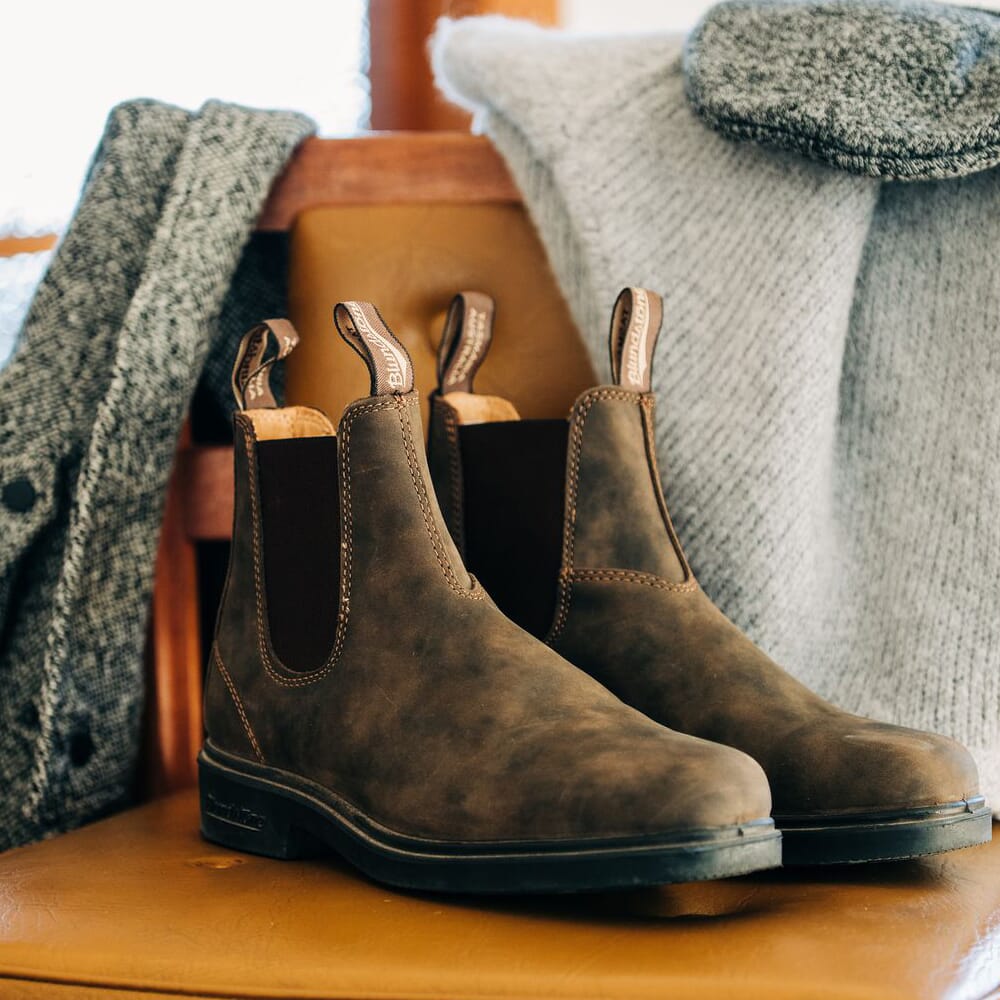 Blundstone
Australian all-weather merchants Blundstone are the go-to for no-nonsense men's black suede boots. Style here is a suede take on that all-time Blundstone great, their 500 Chelsea boot, with distinctive pull-tabs and durable soles. Waxed suedes allow for all-conditions wear, very much in the tough-as-you-like Blundstone tradition. Your suede Blundstones will easily - trust us on this - become a signature shoe, true trusted companions. These classics dress up and dress down with your mood and the occasion.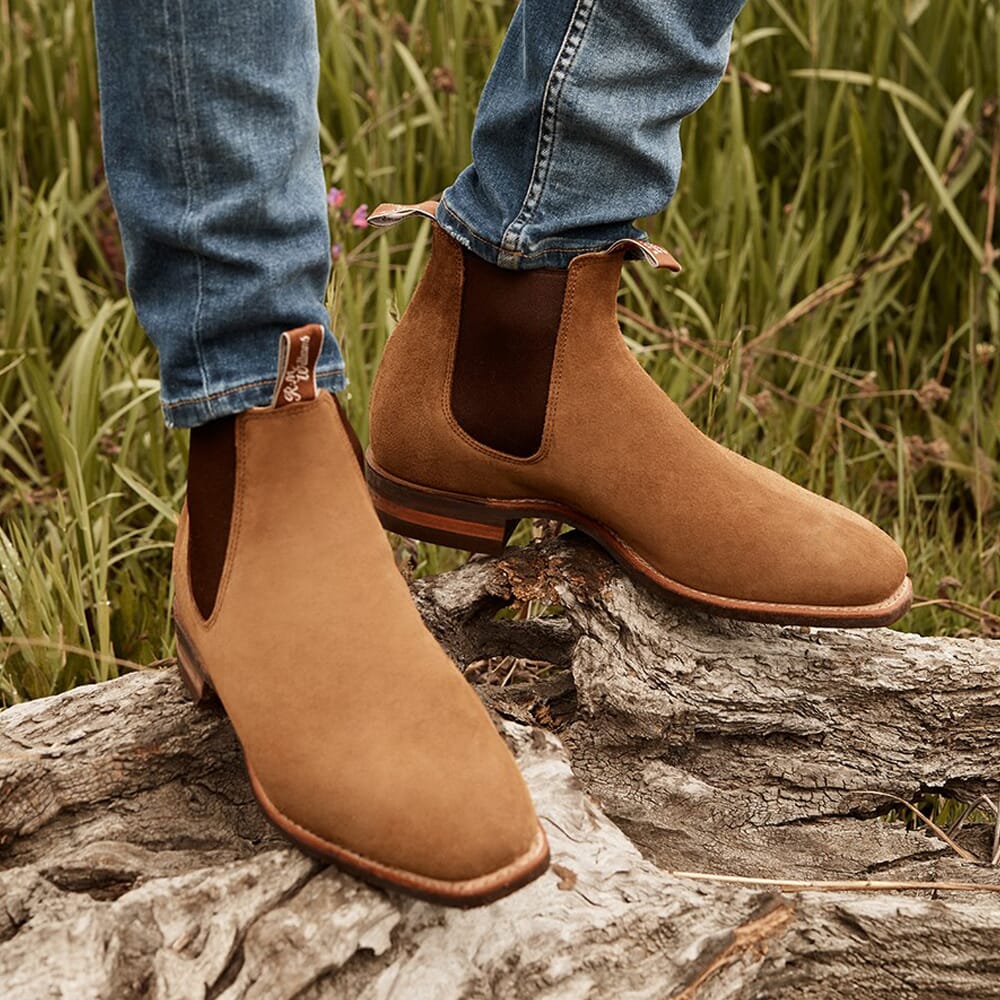 RM Williams
Ninety years experience, founded in the Australian Outback and ready now to deliver on your next pair of suede boots. Their classic rugged take on Chelsea boots are crafted, in the RM Williams tradition, from one piece of suede, with all shoemaking by a small team in Australia. Pull-tabs are both useful and express form-follows-function style. Soles are in rubber, bespoke service is available, too.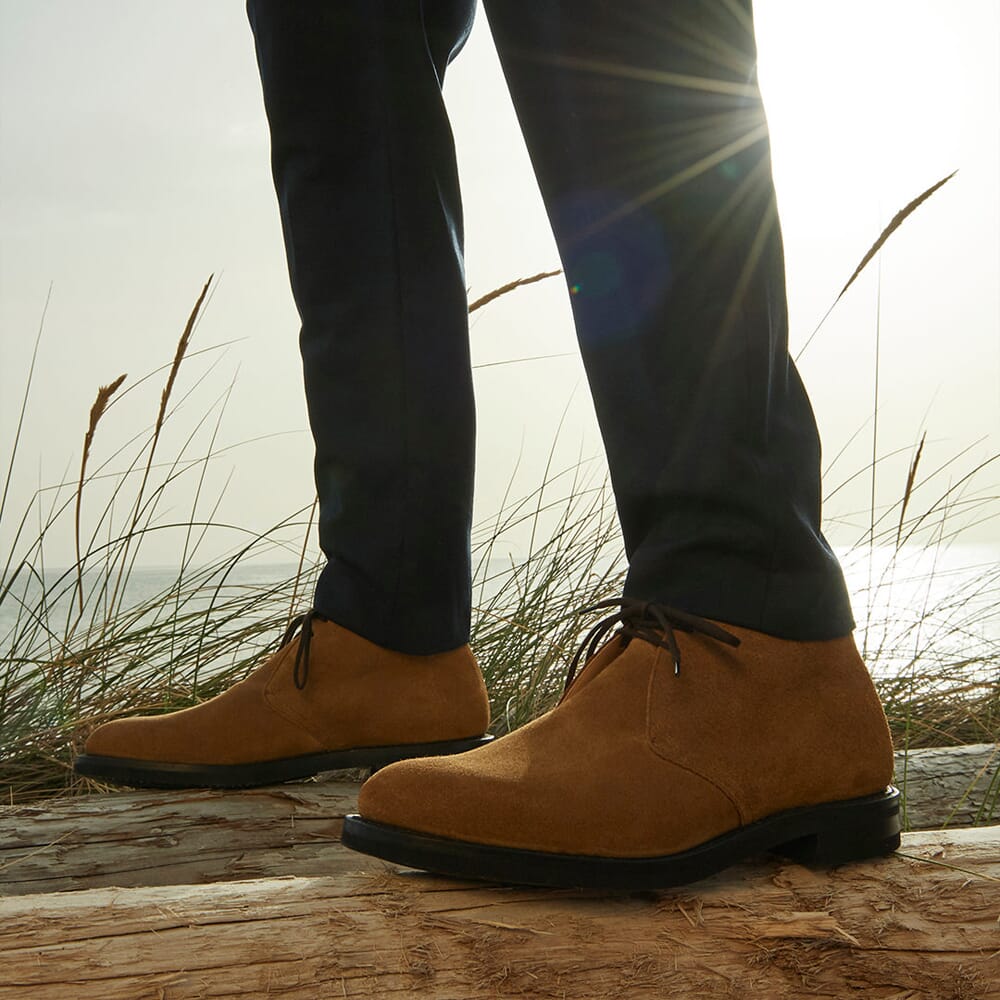 Church's
Church's is quite simply the go-to name for high quality British footwear since the 1880s and still today adding innovation to everything that they do. Desert boots here are predictably brilliant, with Castoro suede, a thick full grain calfskin, used in construction and teamed with super-lightweight soles. Manufacture in Northampton uses traditional techniques in the Church's tradition, as you'd expect. As you'd also expect, their suede Chelsea boots for men really are the most elegant you'll experience.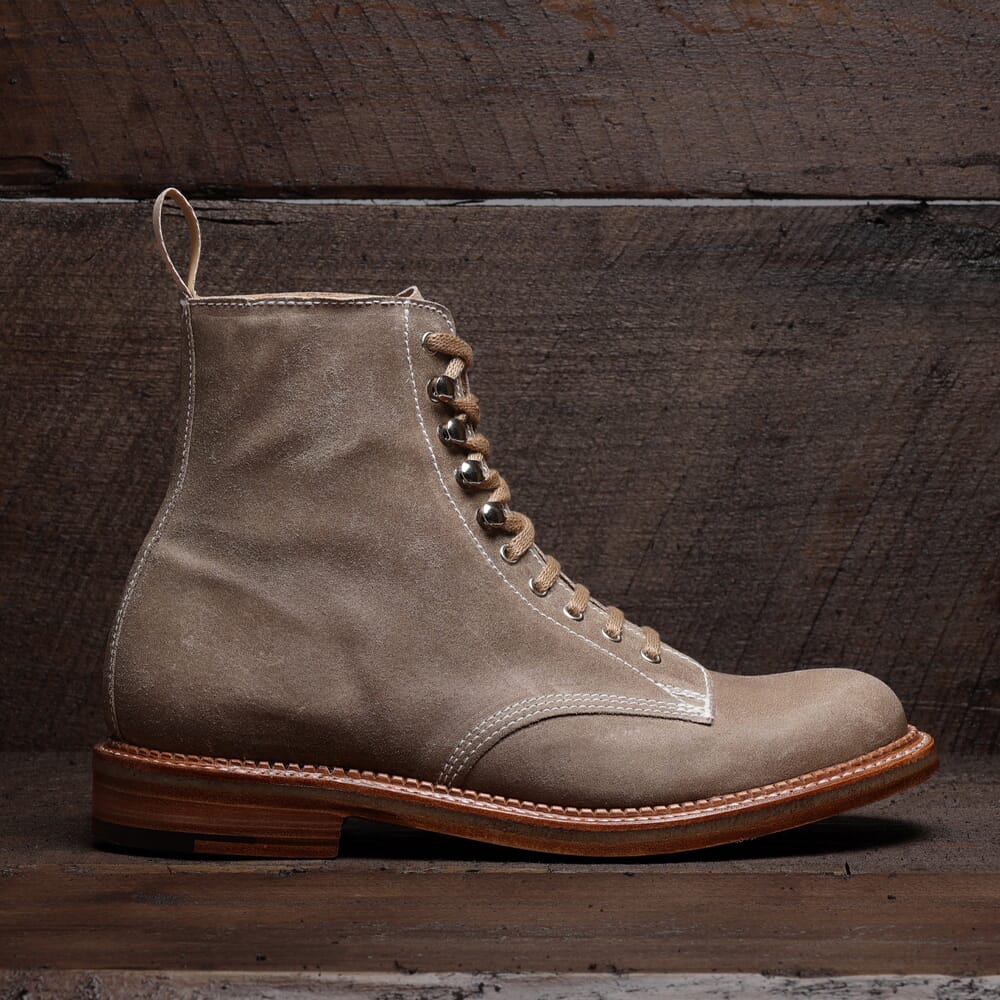 Grenson
You get a 150-year shoemaking tradition built-in to every pair of Grenson's excellent suede boots for men, still proudly British made, all distinctively named. Wide range includes Brady, a statement hiking boot, luxuriously wool-lined; Fred, a full brogue boot in Italian suede; Chester, a preppy leather-soled chukka boot that may well be essential and Colin, a simply styled rubber-soled Chelsea boot. Trust us, you'll love these.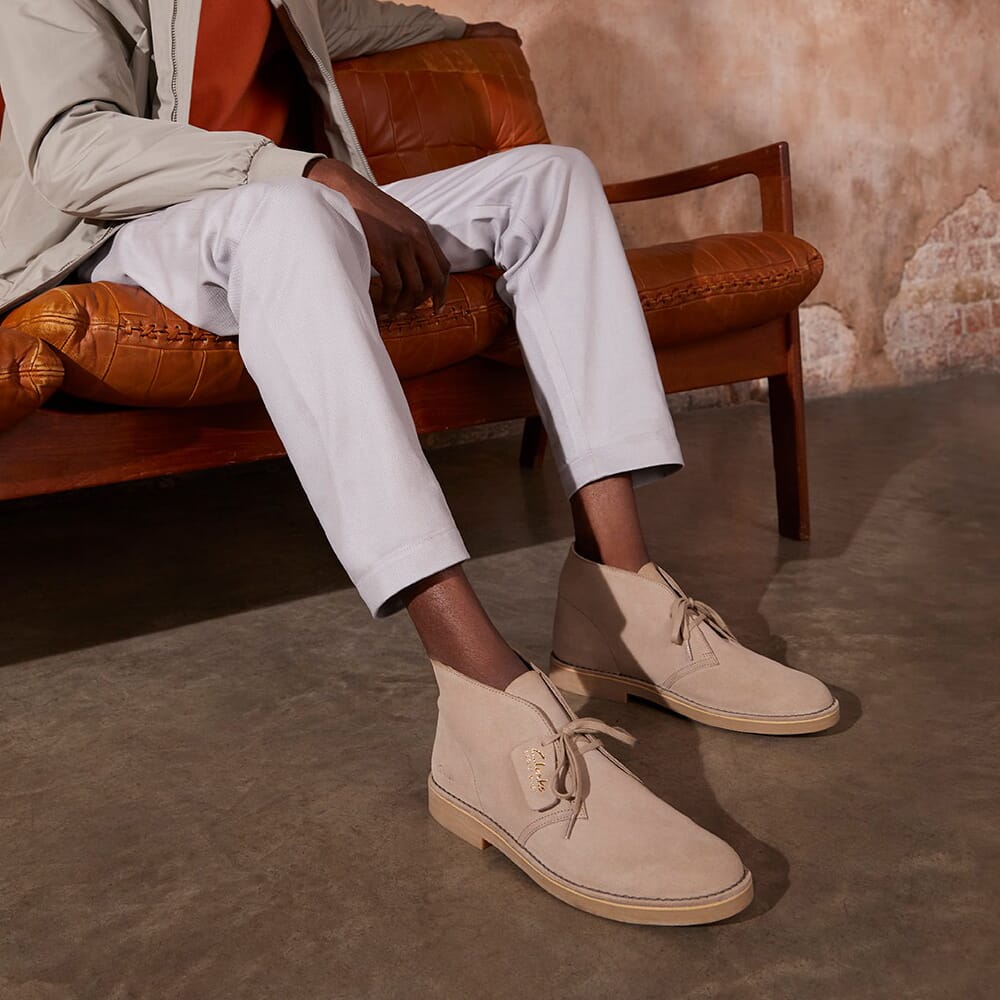 Clark's
Nathan Clark first designed a pair of men's suede desert boots for Clark's in 1950, and that exact style is still there for your wardrobe today, using the same variety of suede from British tanneries Charles F Stead. True British tradition, in a pair of Clark's desert boots with real heritage adopted by everyone from beatniks to Britpop bands. Soles are - of course - crepe. New takes on the desert boot are also offered with subtle restylings and a comfort upgrade. Naturally, the original still rules.
For more essential men's footwear, check out our guide to minimalist trainers.
---
---