It's safe to say that for the large majority of us – unless you've scored a row of empty seats or a first class ticket – managing to get any restful sleep on a long-haul flight is practically impossible. As hard as we may try, all that slouching, slumping, hunching and contorting simply doesn't cut it, and we inevitably arrive at our destination feeling groggy and grumpy – as well as a sore neck. But it doesn't have to be this way. Invest in a high quality travel pillow and you'll notice the difference in your comfort level and quality of sleep.
Before you rush straight to the airport store and grab yourself the first generic travel pillow you see, note that not all travel pillows are created equally. Scroll on for our helpful guide to finding the right travel pillow for you, as well as our pick of the best travel pillows for long-haul flights, train journeys and road trips. You can thank us later.
What to look for in a travel pillow
Shape
There are a range of shapes and sizes to consider when choosing your travel pillow. U-shaped travel pillows that wrap around the back of the neck are the most common. These are great for supporting the neck and preventing any uncomfortable and damaging pinching that occurs when you bend your neck to the side. Other options include a rectangular mini pillow, which is helpful when leaning your head against a window or tray table and is also the best bet for lower back support; a padded helmet-style pillow that you slip on over your head; or a scarf-like pillow that you wrap the full way around your neck.
Filling
The main types of filling that you'll find are memory foam, beads, or air (if they're inflatable). Memory foam and inflatable travel pillows are best if you want medium to firm support, while a travel pillow filled with polystyrene beads — the same ones that they put in bean bags — offers a soft and squishy feel that's less rigid.
Portability
Portability and packability are key considerations when choosing a travel pillow. The best travel pillows are lightweight and easy to carry. Packing light is a challenge enough: you don't need any extra paraphernalia adding weight or taking up space. By far the most packable travel pillows are inflatable, as they take up barely any space when they're deflated and not in use. Memory foam and bead-filled pillows are a bit trickier to carry, but many often come with a clip that you can clip to the outside of your carry-on luggage.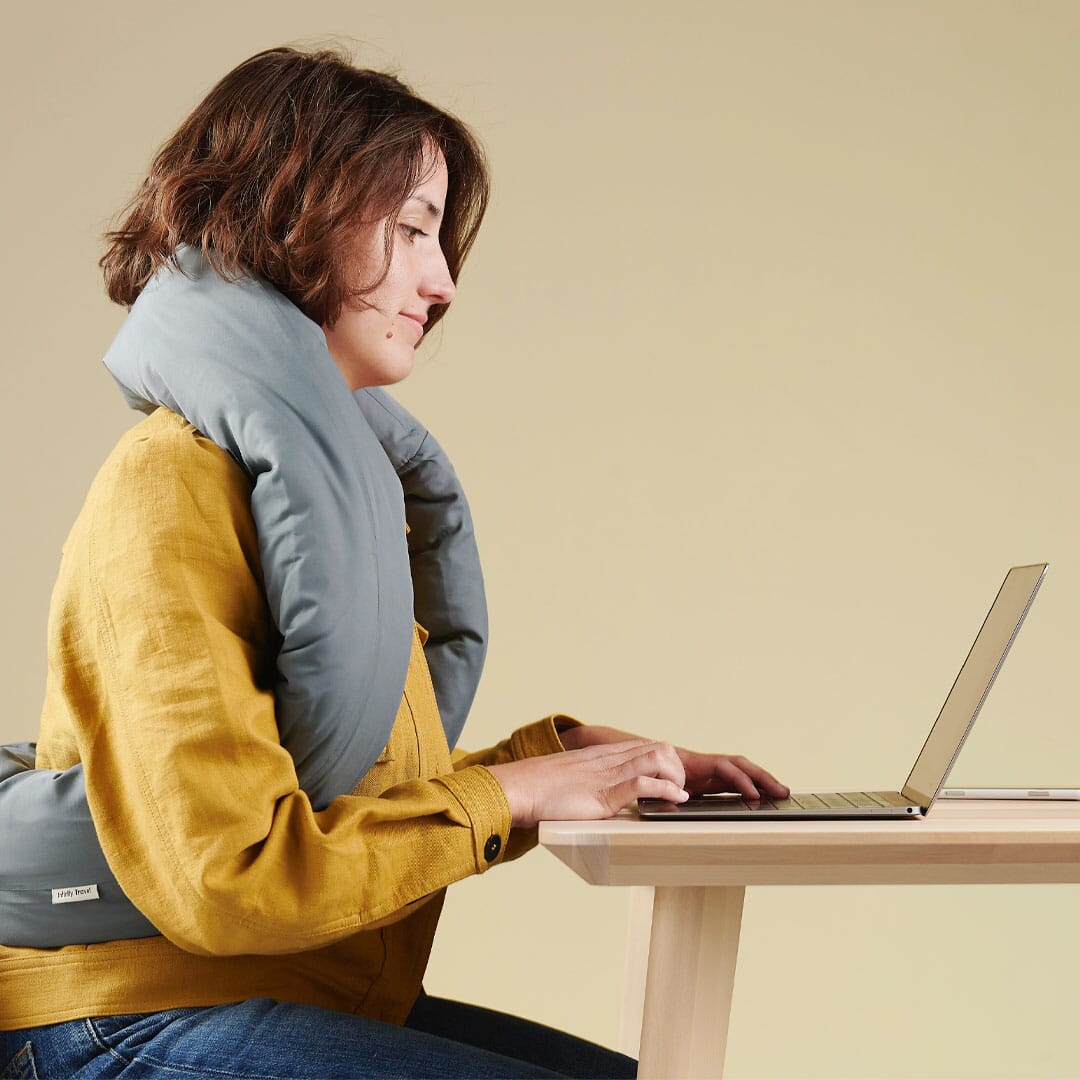 Best travel pillows in 2023
Infinity Pillow
The Infinity Pillow gets top marks for versatility. Designed by Amsterdam based studio BCXSY, it boasts customisable comfort, taking the shape of a twisty ring that you can wind around your neck, head or lower back (or all of the above) to create the perfect position for snoozing. You can even put your arms though it or use it as an eye mask. It's made from a super-soft, anti-bacterial nylon bamboo fabric and stuffed with a plush, lightweight polyester microfibre that bounces back. To carry it, you can simply wear it as a scarf or bundle it up into a ball to stuff into your carry-on bag. Choose from eight colours.
Trtl Pillow Original
This one is perfect for those prone to a stiff neck while travelling. The ergonomically-designed Trtl Pillow takes the form of a padded scarf, with the addition of a soft support panel to rest your head against and to keep your neck and head upright while you're sleeping. Made from snuggly and super-soft hypoallergenic fleece, it's less than half the size and weight of a standard travel pillow and is conveniently machine-washable and fast-drying.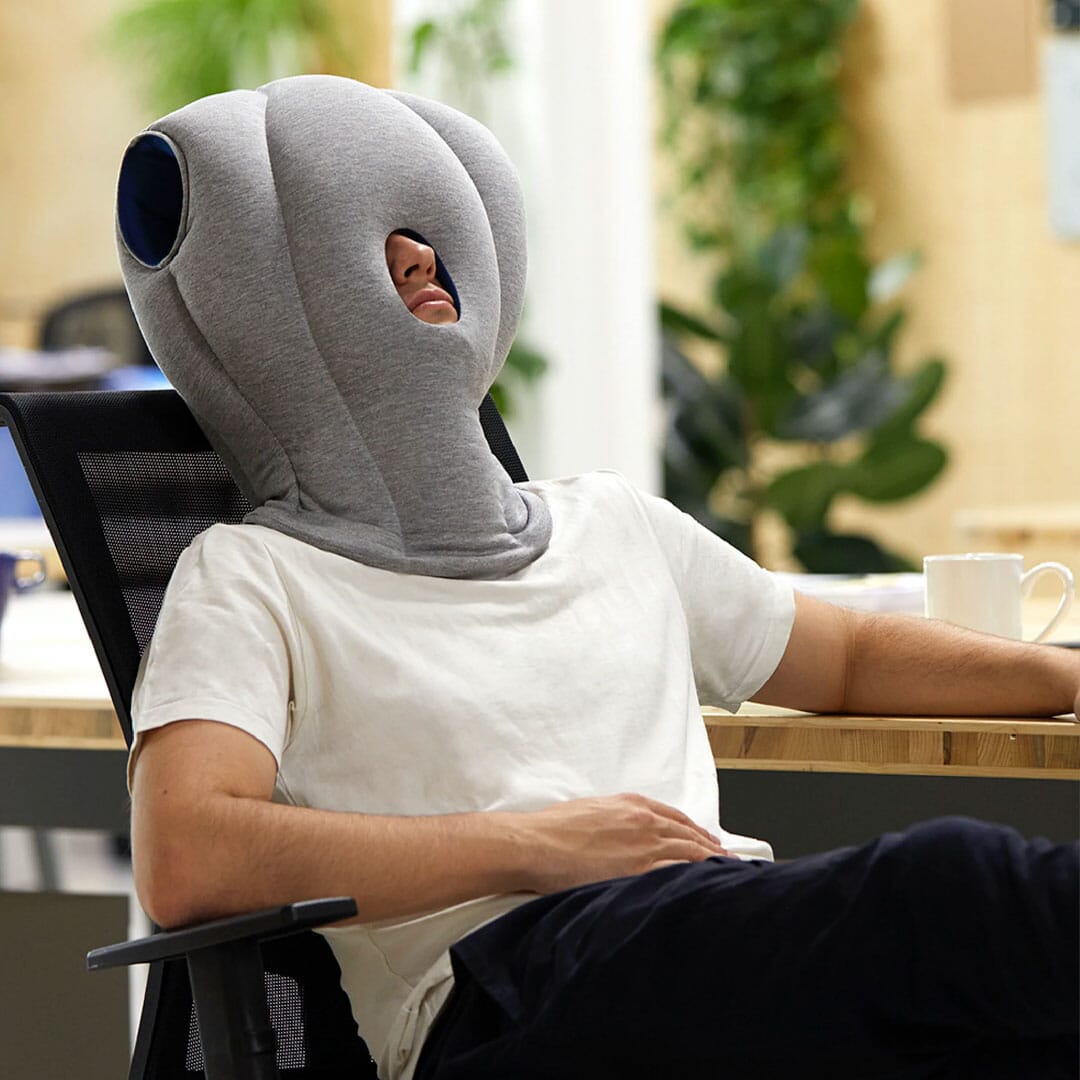 Ostrichpillow Original Napping Pillow
What it lacks in subtlety, Ostrichpillow's Original Napping Pillow more than makes up for in cosiness and comfort. The pillow, which slips on over the head like a helmet, serves as a pillow, eye mask and noise-cancelling headphones all in one. It features a hole for your mouth so you that you can breathe, but otherwise it's a completely immersive cocoon that allows you to completely disconnect from the environment you're in – whether that's on a long-haul flight or even in bed next to a snoring partner.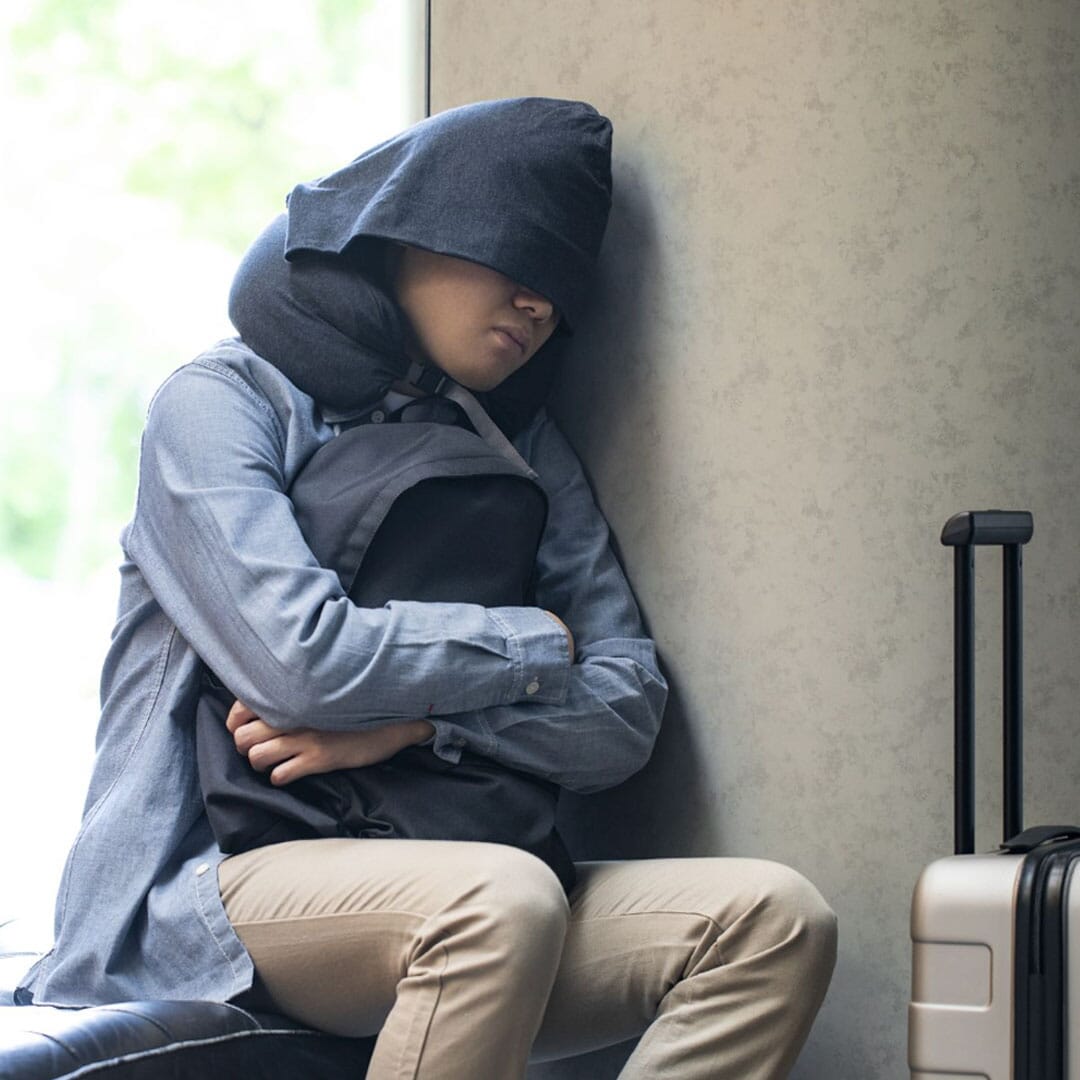 Muji Fitted Neck Cushion with Hood
This low-profile travel neck pillow from the masters of minimalism at Muji is filled with polystyrene beads, making it a good option if you're looking for something a little less rigid that you can sink your head into. Our favourite feature however, is the attached hood, which you can pull down over your face to block out any light.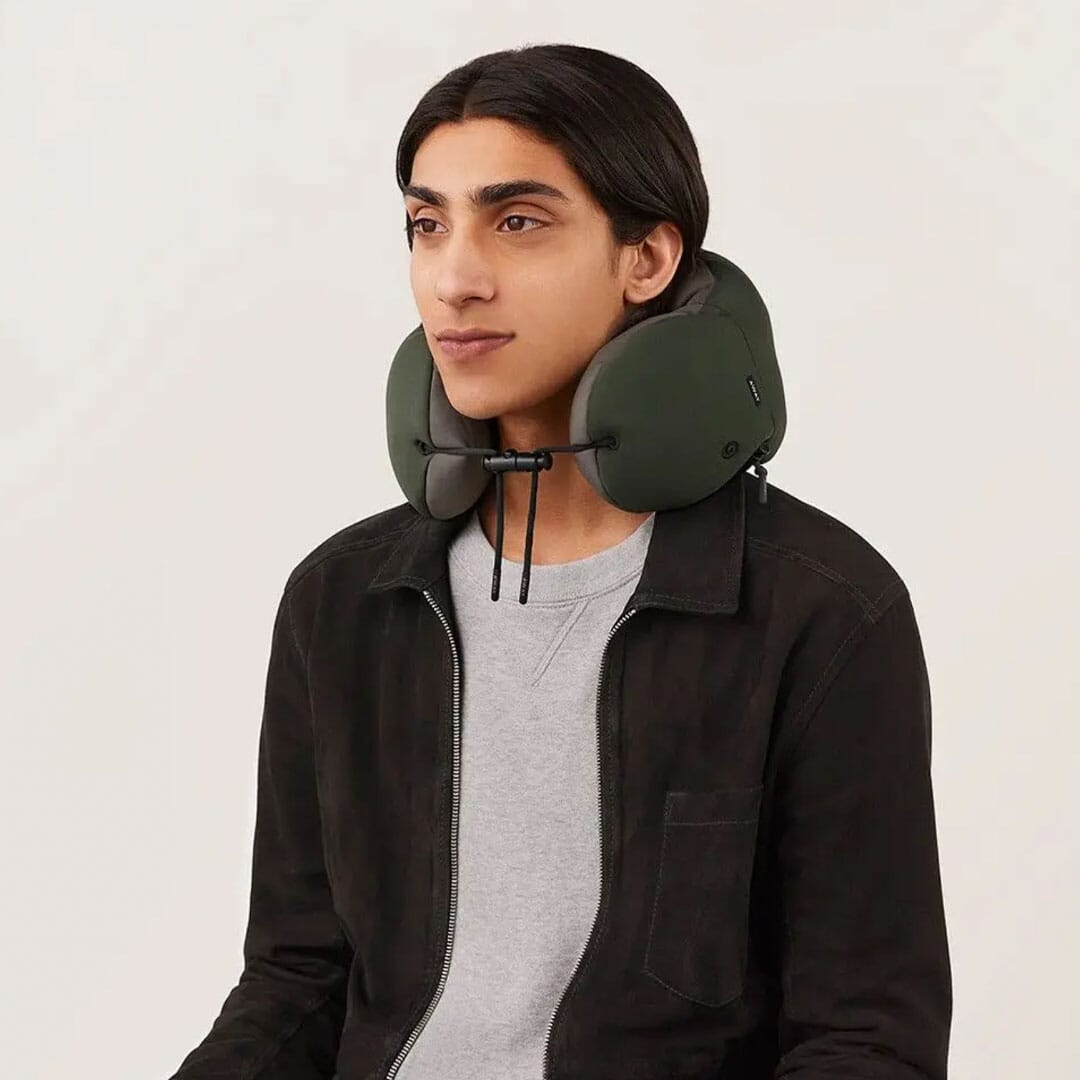 Away Travel Neck Pillow
Away's Travel Neck Pillow is a nifty travel companion that you'll reach for time and again. Its interior is made from a foam pillow core and quilted padding, and it's easily adjustable, with a built-in adjustable strap for optimum comfort levels. Taking things a step further, it also features innovative thermoregulating technology to personalise climate control. Clever, huh?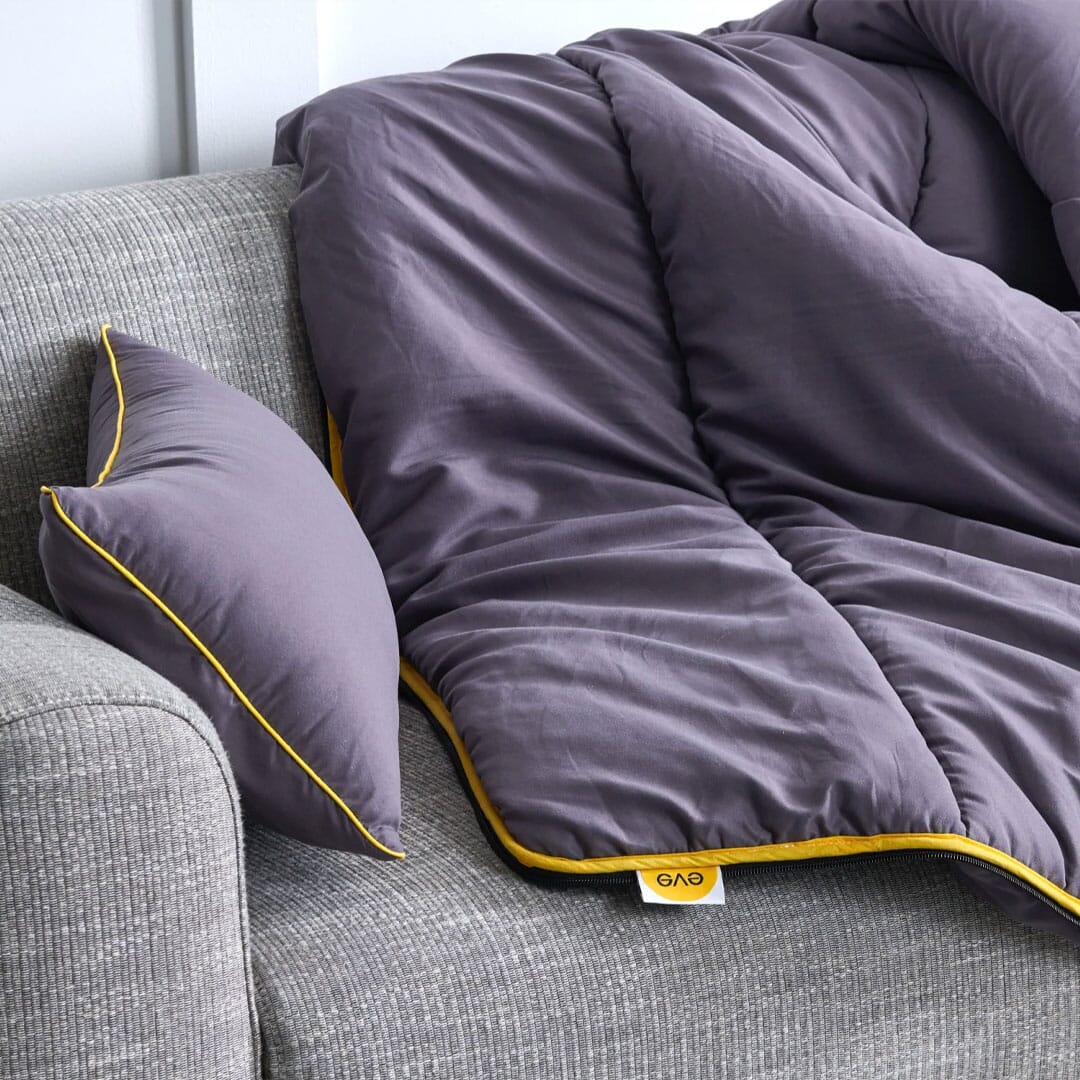 Eve Sleep Away Pillow
Eve is perhaps best known for its ultra-ergonomic mattresses and pillows, but the sleep specialists also make a great line of pillows, including the travel-specific Away Pillow. With its plump, pillowy quality it could pass for a normal pillow, but it's a whole lot easier to carry and store. Simply pop it out of its compact bag and stash it away again when you're on the move. Made from soft microfibre and hollowfibre, it promises a dreamy sleep. Perfect for long-haul journeys as well as camping or backpacking.
Check out our pick of the best luggage brands for smooth and stylish travel.
---
---