London has long been a fashion hotspot. Iconic department stores call the city home, shoppers flock weekly to peruse what trends are available along Oxford Street, and its distinctive skyline boasts the perfect backdrop for campaigns from the world's newest designers. But, there's a new fashion statement sweeping across the capital, and it's putting the future of our planet first.
Savvy shoppers are bidding bye bye to fast fashion in favour of delving into London's suite of second-hand vintage shops. Not only does thrifting increase your chances of finding something truly unique while decreasing the impact on your wallet, it's also an incredible way to reduce your carbon footprint. By purchasing pre-loved, you can be sure that you're helping to reduce further pollution and unnecessary waste.
We've curated 10 of the best vintage shops – aka thrift stores – in London for forward-thinking fashion fans to bag a bargain…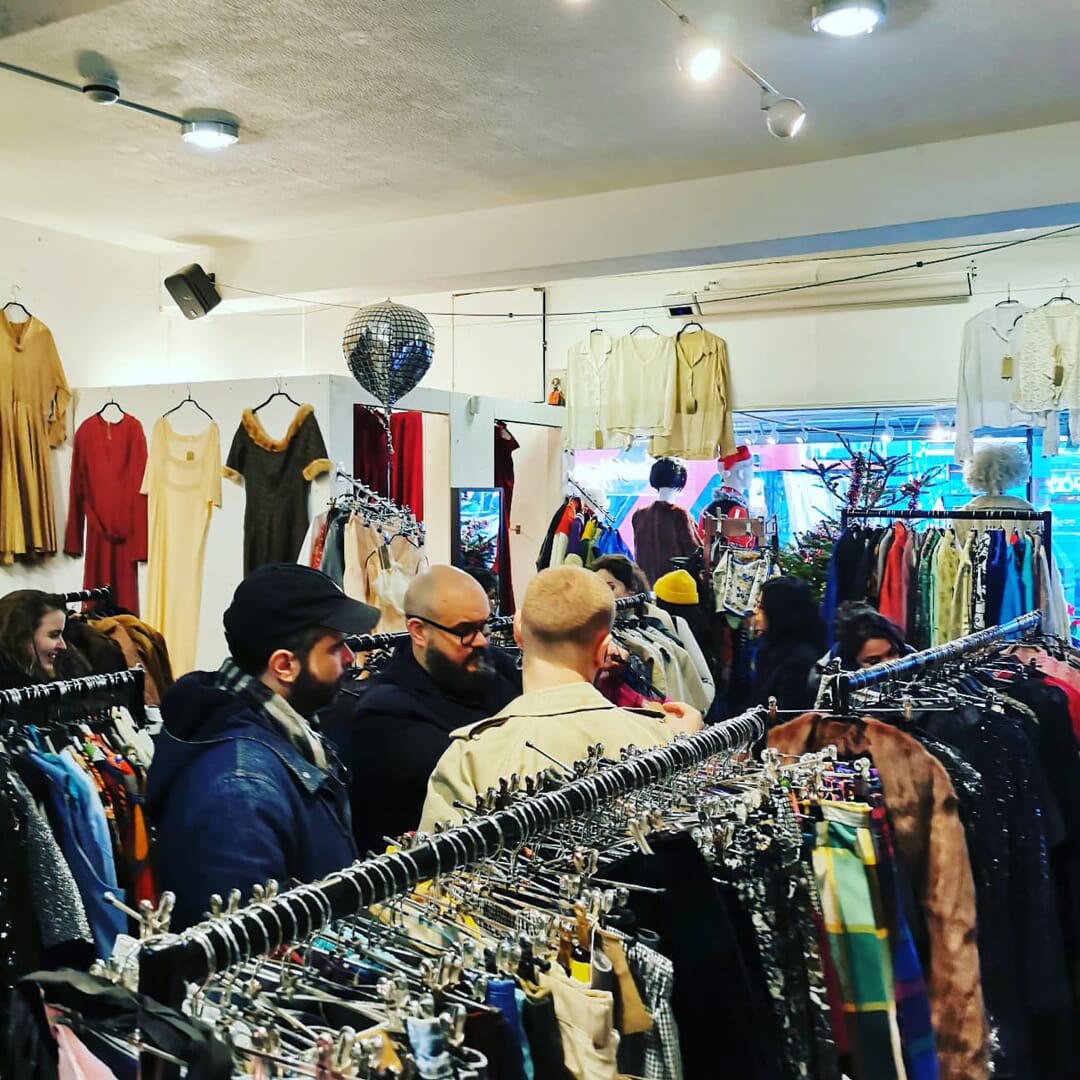 Best vintage shops in London
Paper Dress Vintage
Hackney
Grab a bargain by day, and a drink by night at Hackney-based Paper Dress Vintage. This brilliant boutique offers second-hand shoppers an incredible range of hand-sourced garments, shoes, and accessories, spread across two levels. Found an outfit that's not quite the right fit? The knowledgeable team at Paper Dress Vintage are on hand to help, and even have an experienced taylor available if your fashion find needs a quick nip or tuck.
Much more than just a vintage store, this Hackney hotspot transforms into a live music venue and events space by night – the ideal spot to show off your new clobber!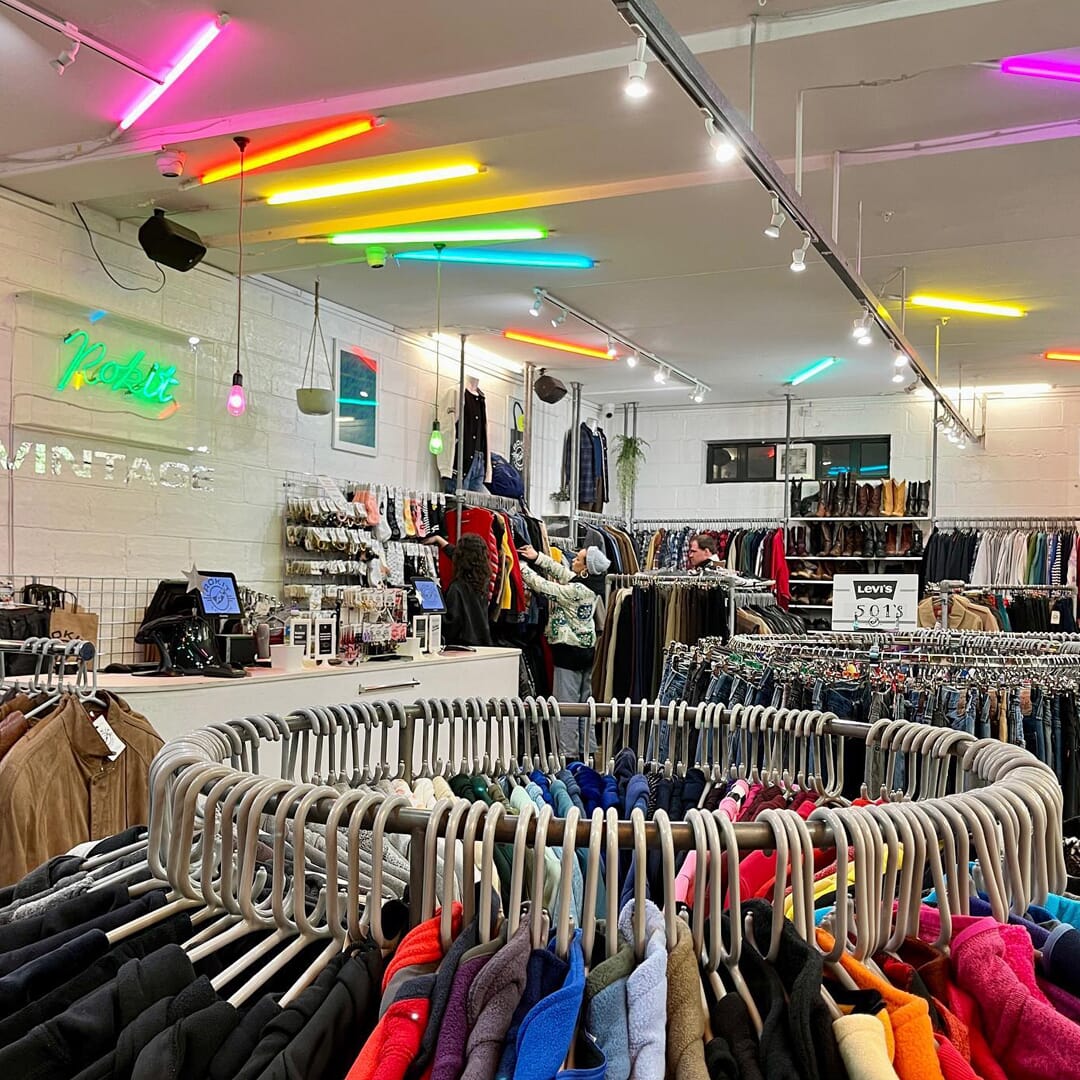 Rokit Vintage
Camden, Brick Lane, Covent Garden
Born in '86, Rokit has been putting second-hand shopping on the map for over 35 years and is still a firm favourite for many today. Starting life as a humble stall in London's iconic Camden Market, demand for pre-owned wears became so strong that the brand has since launched three further London vintage shops in Camden high street, Brick Lane, and Covent Garden.
Rokit is regarded as a truly authentic, pioneering brand. It even boasts its own in-house, sustainable fashion label, Rokit Originals which reworks second-hand vintage clothing and utilises old textiles to create incredible, limited edition pieces.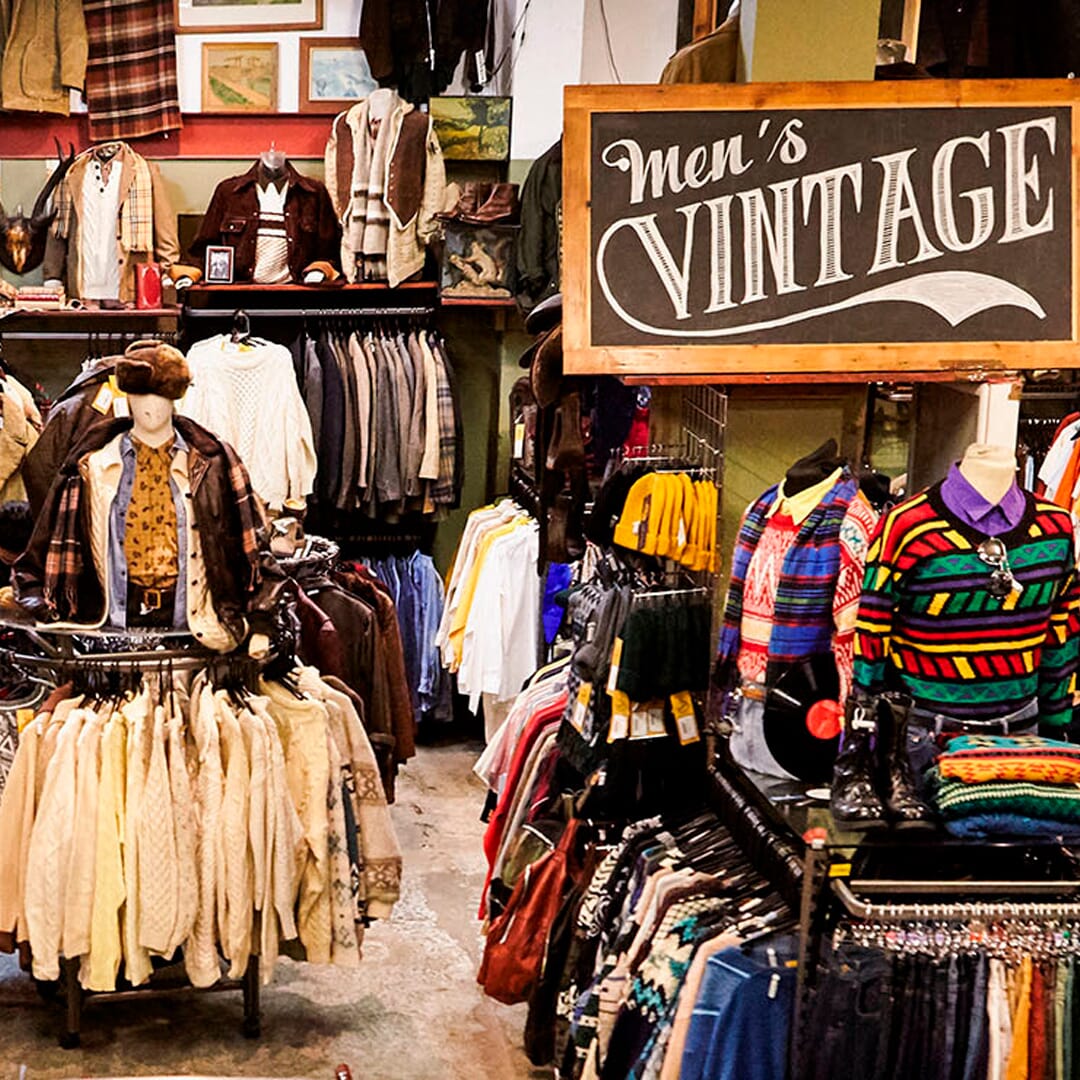 Beyond Retro
Dalston, Oxford Street, Cheshire Street, Westfield White City, Coal Drops Yard
With five stores spread across London – including two new for 2022 at Westfield White City and Coal Drops Yard - there's a Beyond Retro for shoppers in any corner of the city. Describing themselves as a "world of fashion-forward originals", this team scours the globe to source their ever-changing selection of on-trend yet unique vintage.
Launched over 20 years ago, Beyond Retro have saved over 7 million fashion items for men, women, and children, preparing them for a new lease of life. Stocking everything from Levi's to Christian Dior, you're sure to find 'just the thing' within these terrific treasure troves.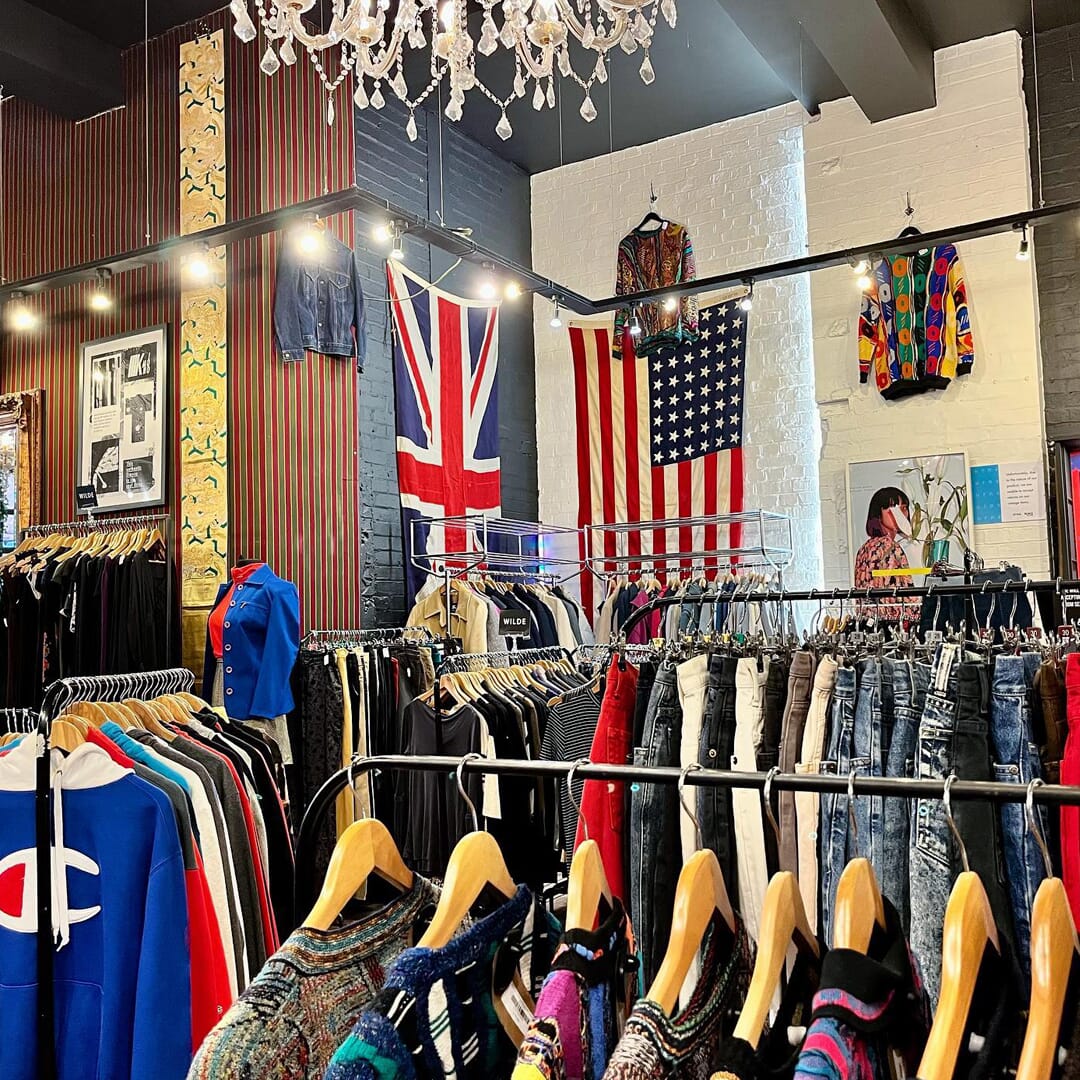 Atika
Shoreditch
Step off the streets of Shoreditch and into this incredible vintage bazaar. Located on Hanbury Street, just a footstep away from the buzz of Brick Lane, Atika delights sustainably-minded thrift shoppers with over 2,000 expertly curated pieces of vintage and reworked fashion.
Not only that, but this 2-Storey Victorian warehouse (worth a visit from an architectural standpoint alone) also stocks the best vintage homeware, art, books, magazines, and more.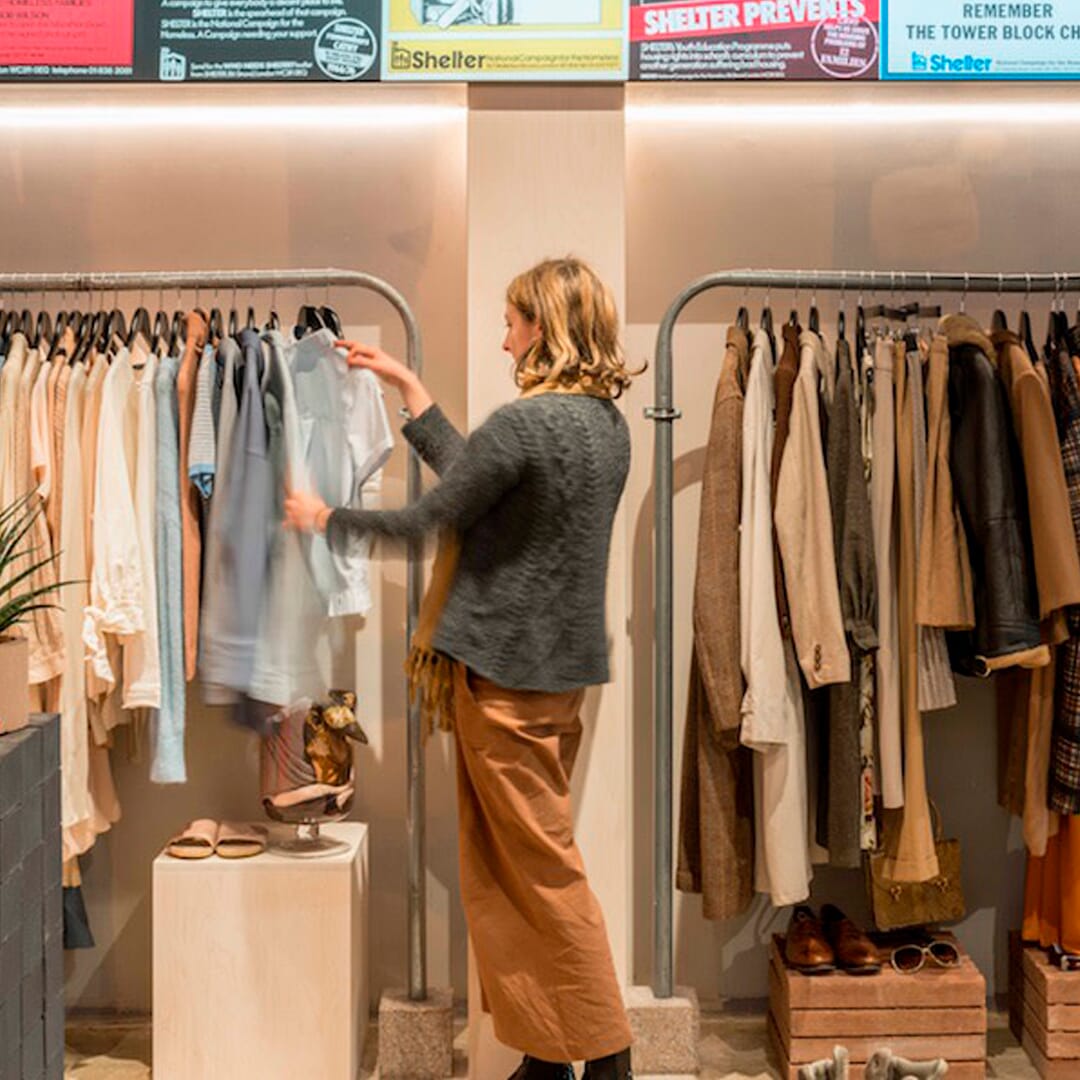 Boutique by Shelter
Coal Drops Yard
Find head-turning pieces at jaw-dropping prices with a visit to Boutique by Shelter, located on the viaduct level at Coal Drops Yard, just minutes from Kings Cross and St Pancras International stations.
A charity shop with a difference, Boutique by Shelter is a community focused shop run by charity Shelter, part of their work to support those affected by homelessness. A fantastic spot to pick up hand-picked vintage and second-hand pieces, you can also do your bit for this important cause by directly donating items that you no longer have use for yourself. With every penny spent raising vital funds to fight homelessness, this is one second-hand shopping experience that simply shouldn't be missed.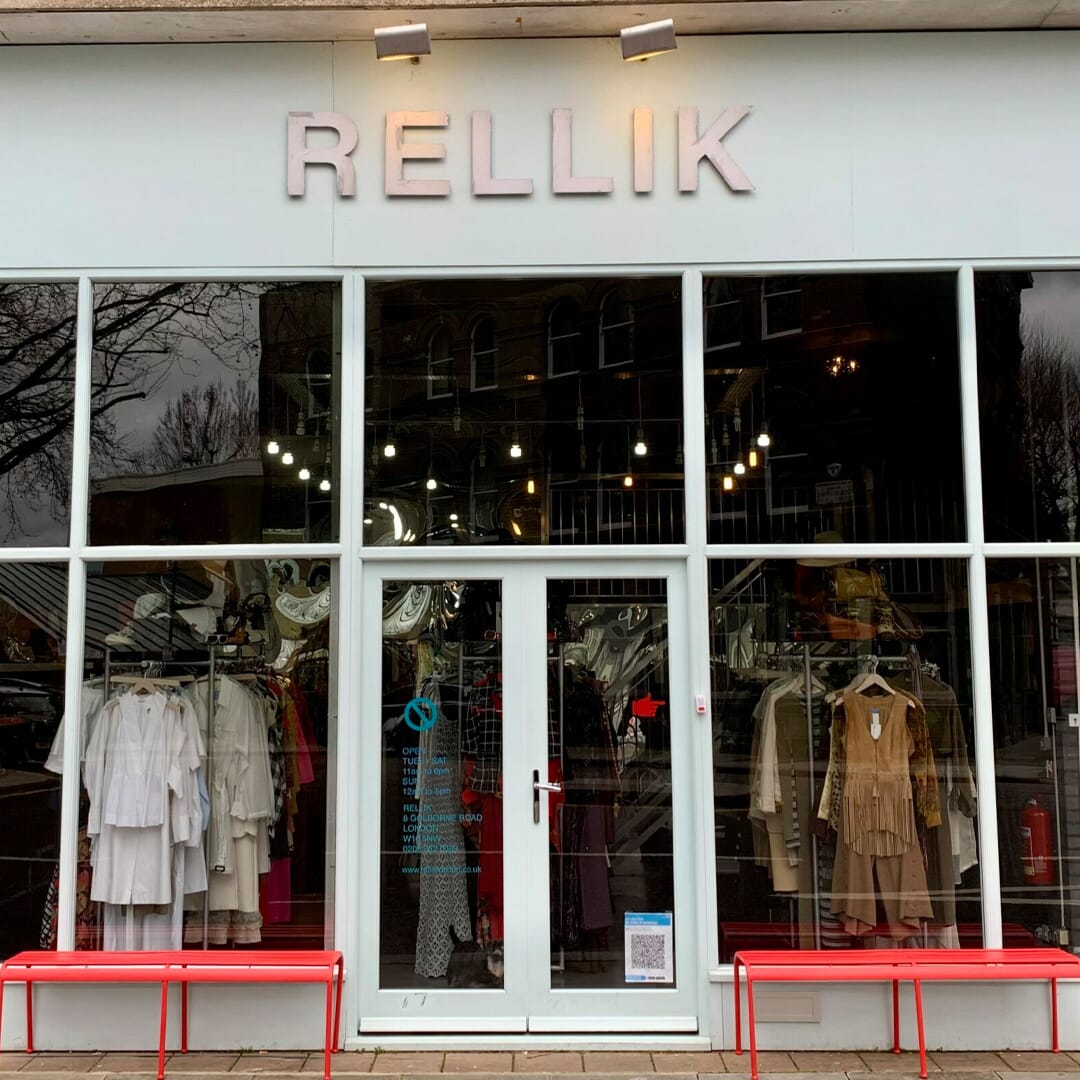 Rellik
Kensington
Situated in Golborne Road, at the end of popular Portobello Road (home of the world's largest antiques market), step through the pastel blue frontage and explore what treasures Rellik has to offer.
Opened in '99, this independent vintage shop specialises in women's pre-owned clothing and accessories. An Aladdin's cave of curated items, shoppers can expect to find unique pieces from iconic designers such as Vivienne Westwood, Celine, and Jean Paul Gaultier, here. With garments ranging from the 1960s to today, you're sure to spy a luxury piece that's impossible to resist…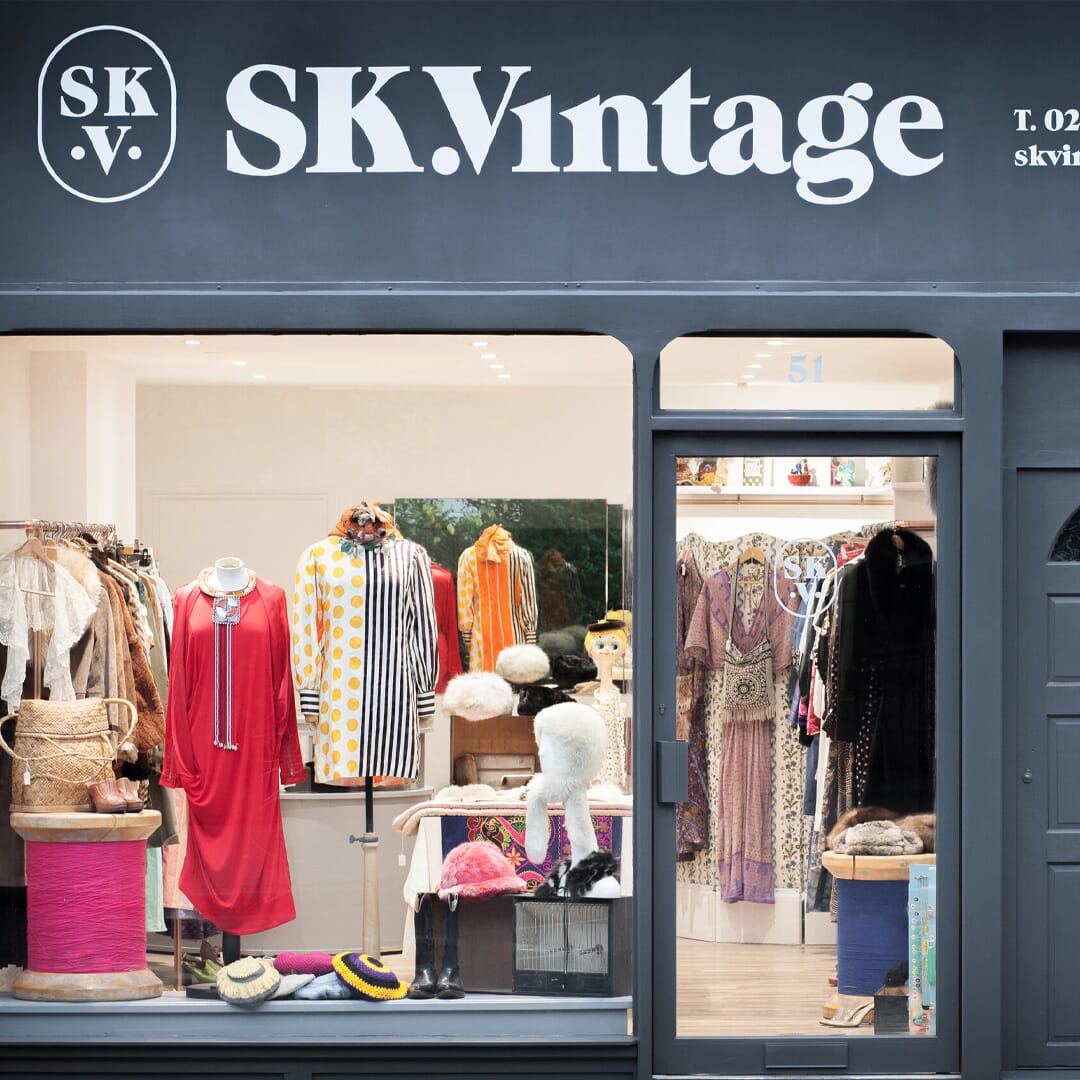 S.K Vintage
Kentish Town
Sarah Khan began selling her personal clothing collection back in 2004 on a stall in Camden Passage Antiques Market. Fast-forward to today, Sarah's passion project has led her into a long career hand-picking vintage pieces for others to enjoy. Now based in a shop in Kentish Town, S.K Vintage provides a wide range of hand-selected prints, textures, styles and eras for fashion lovers.
For those not local to Kentish Town, a curated selection of S.K Vintage pieces can also be found at Fenwick department store on Bond Street. Part of their RECYCLE, RETHINK, RELOVE campaign, this edit is a superb way to showcase sustainable fashion on the high street.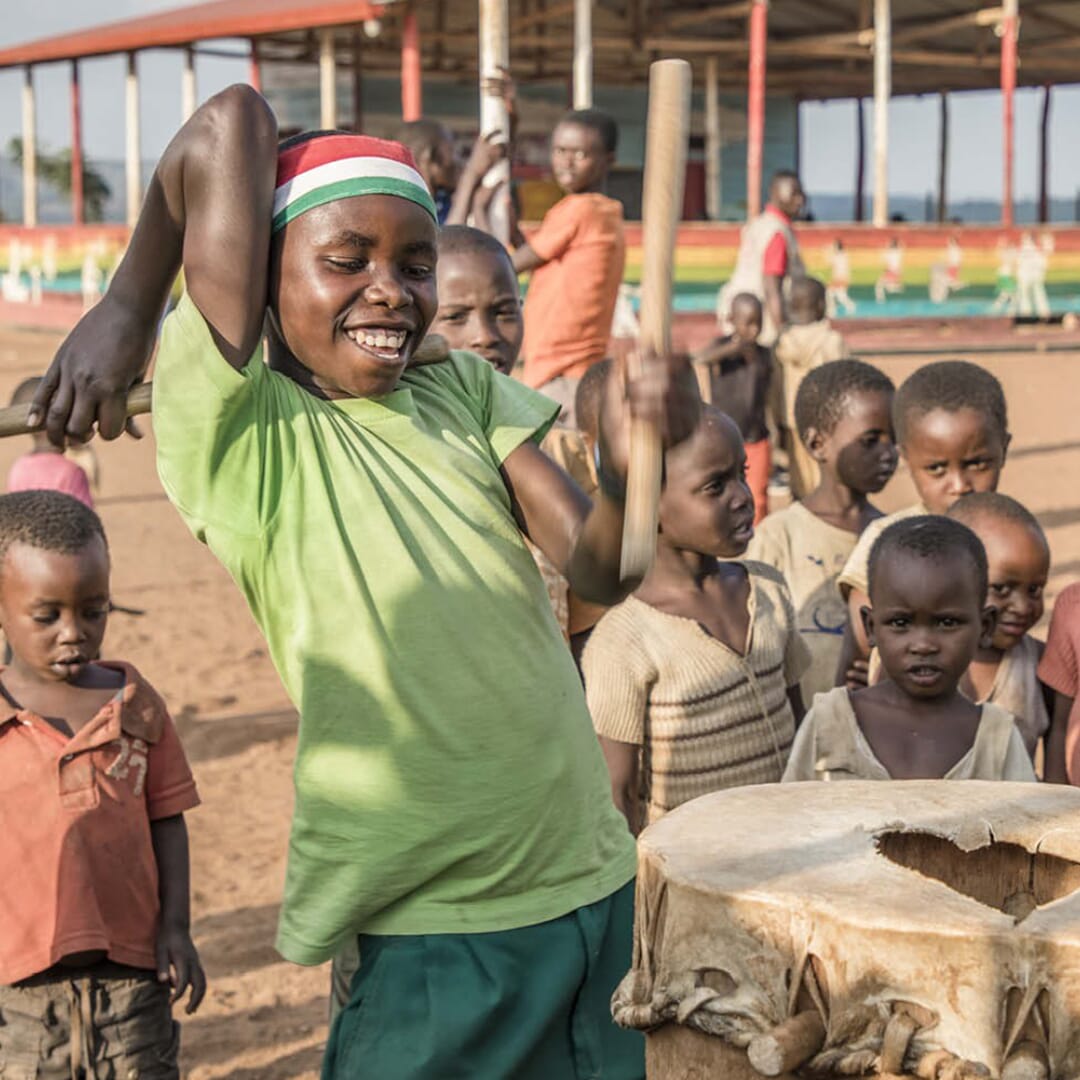 Mary's Living and Giving
Stores across London
Set up as a partnership between leading children's charity Save the Children and retail expert Mary Portas, Mary's Living & Giving offers a range of boutique vintage shops spread across the Capital – from Teddington to Islington and Bermondsey to Kew. A fantastic way to shop sustainably and support a charity, every item donated helps children to reach their full potential.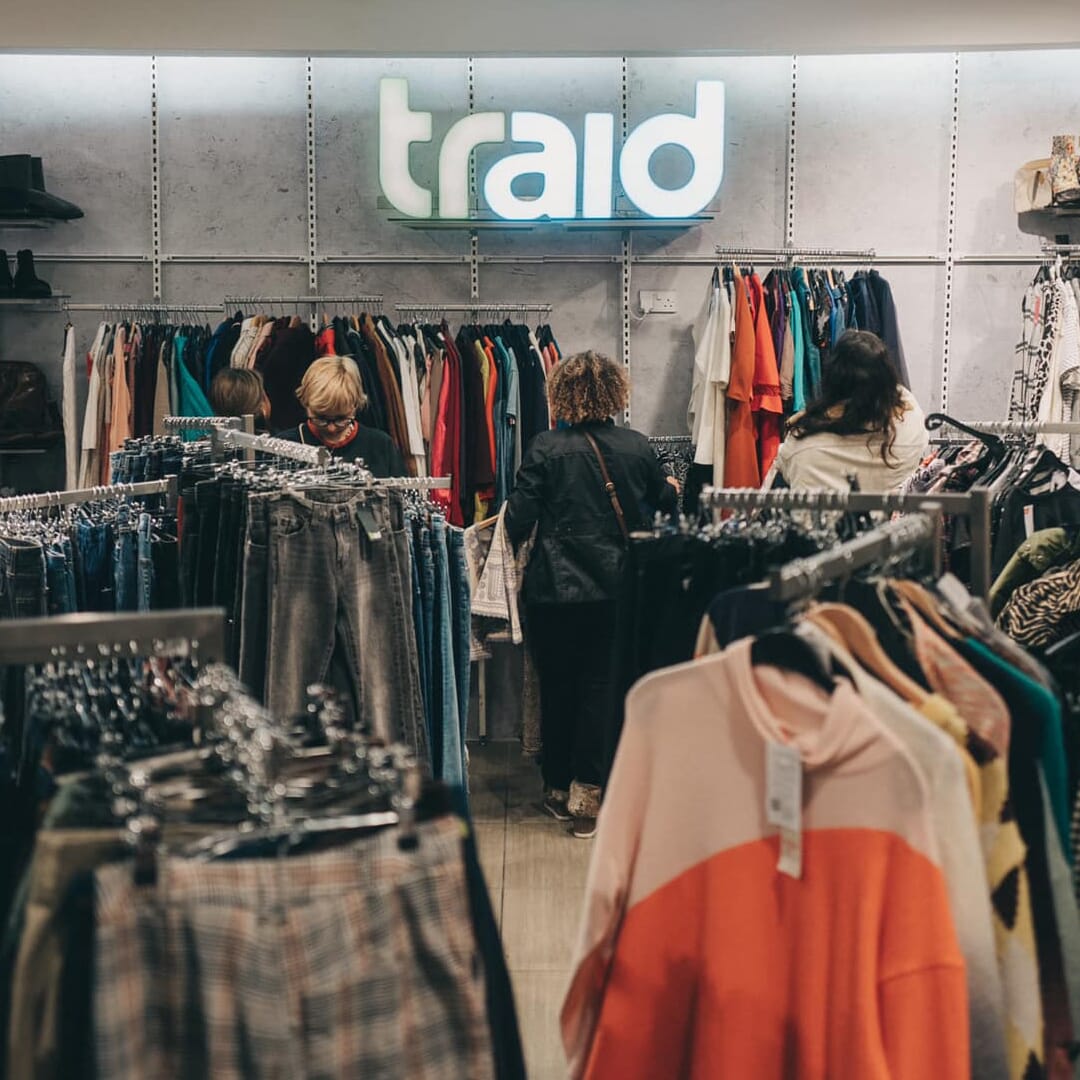 TRAID
12 stores across London
The impressive numbers associated with charity TRAID speak for themselves. A network of over 700 clothes banks, 11,000 garments prepared for resale every week, and 3,000 tonnes of clothes diverted from landfill every year. This charity's mission is simple – to tackle the negative social and environmental impacts of producing, consuming, and wasting clothes.
With 12 stores throughout London, each providing high quality stock that has been given a new lease of life, TRAID offers a circular and sustainable approach to clothes shopping. What's more, all funds raised from the charity's boutiques are committed to global projects improving working practices and conditions in the textiles industry.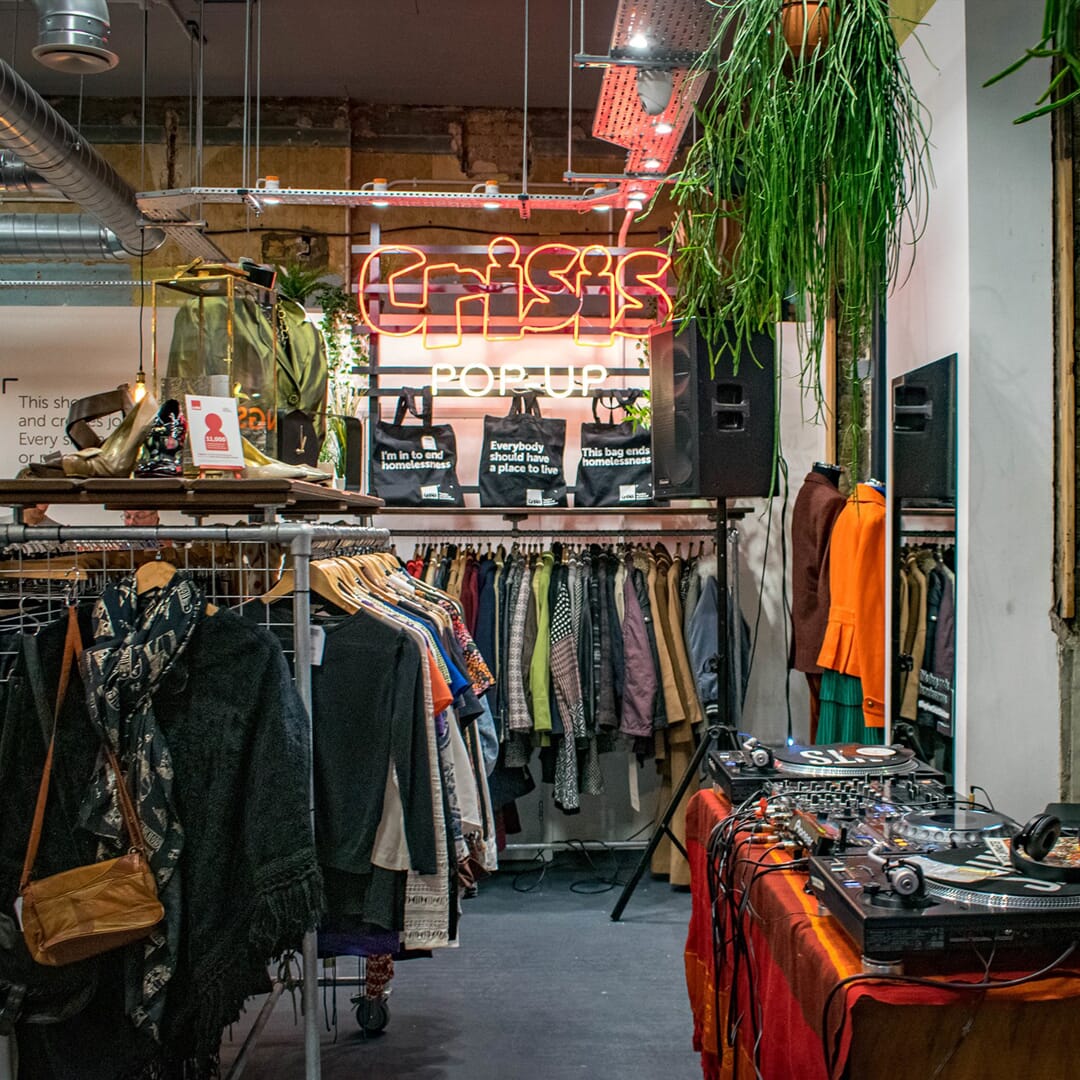 Crisis
11 stores across London
As the national charity for homelessness, Crisis works side by side with people to help them rebuild their lives. Help support this incredible cause, as well as reducing your clothing consumption, by shopping sustainably from one of Crisis' 11 second-hand shops across the city.
Stocking a wide range of pre-loved furniture, jewellery and clothing from high street, independent and vintage brands, every item sold at a Crisis store helps raise vital funds to support those on their journey out of homelessness. So, by giving a second-hand item a new home, you can rest assured that you're also doing your bit towards helping somebody in need find their own place to call home.
Discover the best of London's brutalist architecture.
---
---