It all comes down to a single moment. In the queue for your morning coffee, grabbing a spot of lunch, trying to get your card in hand when you're approaching the train ticket barriers. They are often the moments when you realise your wallet is no longer up to scratch. It might be a bit tatty, might be a bit overused, might be a bit impractical – it doesn't really matter, all you know is you now need a new one. Which is good, as there are few purchases more satisfying than a brand-new wallet. Not only does it upgrade your day-to-day style but it turns you into an exact-change, multi-tasking, budget-observing, miraculously pulling-out-the-right-card-at-the-right-time kind of guy, and everyone will appreciate that.
Because we are massive fans of Campbell Cole it seemed fitting to serve you up some of the best wallets, card holders and leather pouches that the independent British brand has just released. So scroll down to check out some of our favourite seasonless, all-singing-all-dancing premium leather accessories from Campbell Cole.
For a long time, Campbell Cole has been subtly transforming the way we all think towards wallets and small leather accessories. Shifting a lot of our thoughts from a wallet being something of an after-thought, mainly messy and made of mediocre leather, into minimalist goods that will last for decades. This Campbell Cole zipper wallet, for example, incorporates a gusset at one end, which allows the wallet to comfortably accommodate as many as 15-20 cards, or alternatively, it compresses down if you're only carrying a few cards, notes and coins. As a reward for your organisation, the wallet will stay compact and organised no matter what bag you throw it into.
Designed and made in England, the Campbell Cole Slim Wallet is more traditional in terms of its classic silhouette but it has plenty of space for cards, cheques and cash courtesy of its multiple pockets and sleeves. It's a classic design that inspires many of Campbell Cole's accessories and it will soften with use, so cards are easily accessible whilst remaining perfectly safe and secure at the same time. In total, the wallet has 6 card pockets, 2 larger pockets for folded notes and receipts plus 1 zip coin pouch. It has it all, basically.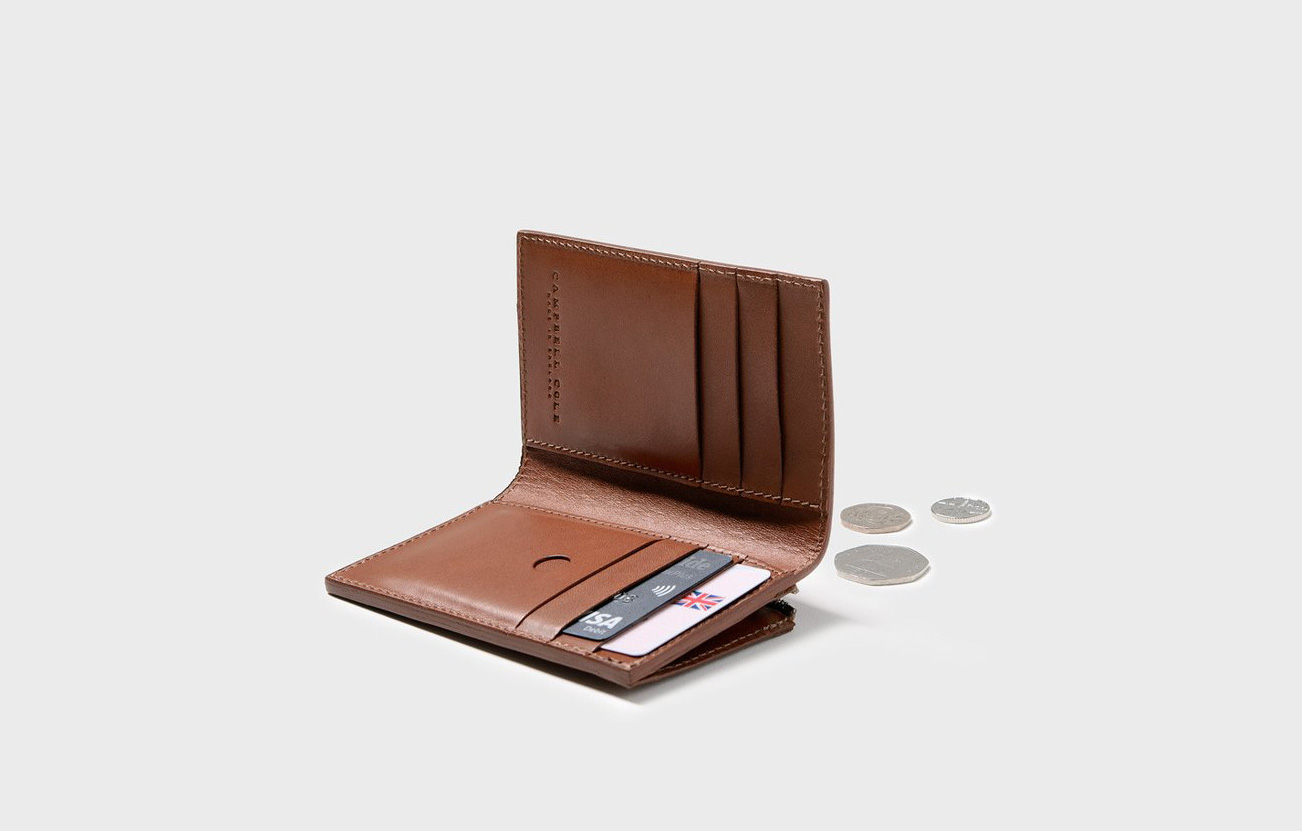 Campbell Cole accessories are cult-loved for a reason. They come in a variety of neutral colours and patterns and this zip-around design is durable and practical – especially if you're looking for something to carry a few more essentials beyond cash and cards. The Slim Coin Pouch is another compact zip wallet which comes in neat, elongated rectangular design, making it a bit more practical and essentially nicer in the hand. Plus, its complete with all the requisite qualities that you've come to expect from Campbell Cole; full-grain Italian vegetable leather, high-quality Swiss-made Riri zip and a hand-knotted paracord zip puller.
In recent years, the card holder has taken over from the card-heavy, chunky wallets that everyone used to carry around for no apparent reason – and it's become a popular coup d'etat. Ideal for those who like to travel light, the Campbell Cole Simple Card Holder is constructed in the Midlands from the finest Italian vegetable tanned leather, which means it will age gracefully over time. Outside, it is embossed with the signature Campbell Cole logo and a precision machine stitch holds the leather in place. Although diminutive and slim, the Card Holder has capacity for 6 cards, with up to 3 snugly fitting in each side.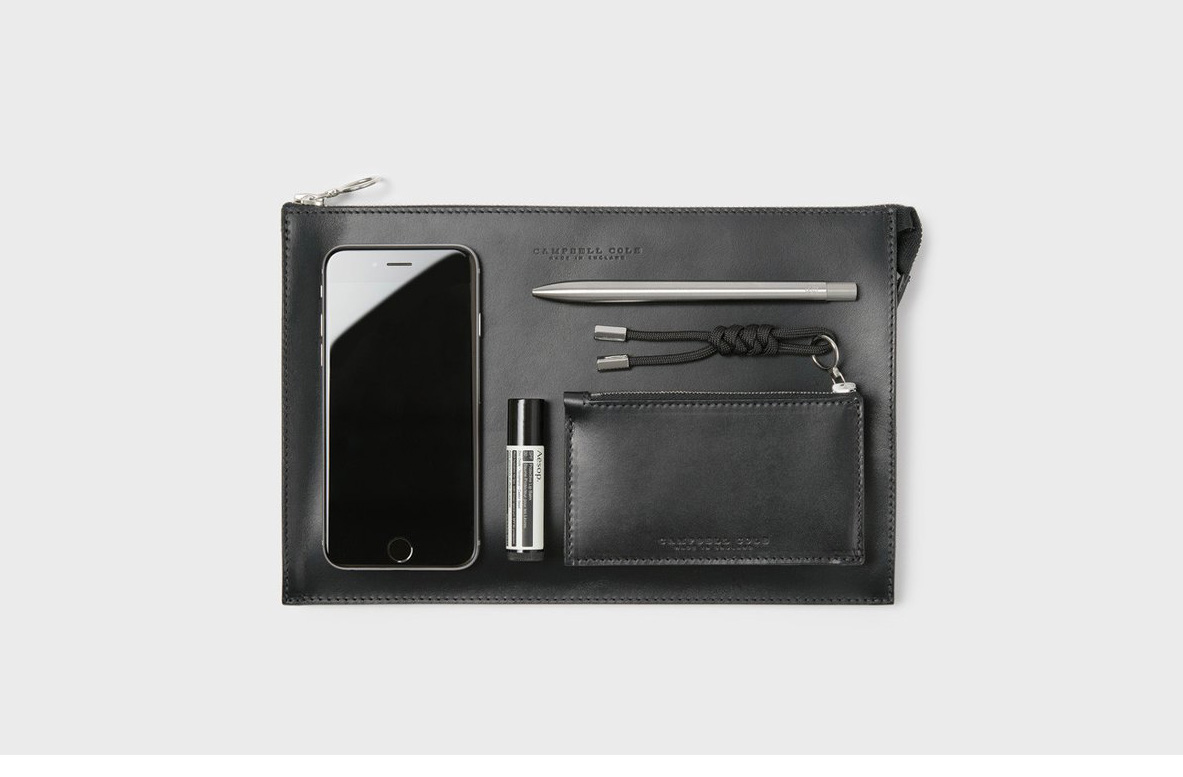 In actual fact, Campbell Cole do a lot more than just wallets. They also stretch out their supremely sophisticated unisex aesthetic into a range of multi-functional travel accessories such as the Simple A5 Pouch. Effectively a cross over between a travel wallet and a mini iPad case, the zip pouch is the carrying-case for your daily essentials. The main zipped compartment fits a mini iPad or A5 notebook with ease, as well as folded documents, tickets and maps. Plus, there is an internal pocket designed to keep your passport safe whilst easily to hand. The guy behind you in the airport queue will appreciate that, too.
Shop the entire Campbell Cole collection at OPUMO.