With many people around the world being forced to work from home, more attention than ever is being placed on the home office. If you're lucky enough to have one, a well curated home office can make the new work from home reality a breeze. In fact, it can make you wonder why it was ever necessary to traipse into an actual office at all. 
But, as you likely are spending more time at home, you're probably wondering how to improve your living space. Or, if you're like us, you might be wondering what other people's work spaces look like. We spoke to three UK-based creative professionals, getting the low-down on their home offices as well as insight into how they stay productive during this time. 
Tom O'Dell
Profession: Stylist | Location: Camberwell, London, UK | IG: @odellsstudios
What's your one key tip to successfully work from home? 
It's tricky to give just one. I haven't worked in an office at a desk for nearly ten years but when I did I always appreciated a cup of tea or coffee. This treat has been introduced into my work from home routine. I would say I'm averaging three teas and two coffees per day. Also, a good office chair can make a difference. This one is my current favourite - it's a 1960's Dutch chair purchased about ten years ago. 
Talk us through your home office set up. How does it work for you?
I'm not one to work on a computer (I use an iPad for emails), so I mainly draw up ideas using paper and pen and find inspiration in old books and magazines. I have shelves full of books, many of which were found over the years at flea markets vintage book stores, including the two on the table. 
I also have a collection of over 4000 vintage photographs, taken between the 1920s and '80s, which I've collected over the past fifteen years. These always provide good inspiration, whether it be a menswear styling job, a photoshoot idea, or an interior project. 
What are you watching/listening/enjoying at the minute? 
I'm listening to the brilliant audio book Wilding by Isabella Tree. Podcasts I'm into include The Modern House (architecture and design), HandCut radio (menswear) and Match of the Day: Top 10 podcast. I'm really missing watching and playing football in these times.
---
---
Matthew Spade
Profession: Content creator | Location: Blackpool, UK | IG: @mat_buckets
What's your one key tip to successfully work from home? 
For me personally, it's about creating a structure that doesn't feel like I'm putting myself under pressure but ultimately keeps me on track and on course for what I'd like to achieve in a day. Writing paper to-do lists seems to be the best way for me to make sense of it all.
Talk us through your home office set up. How does it work for you?
I'm a collector, not of any one type of thing, but I like to keep hold of things I like the look of or things that remind me of an experience. So my office is pretty busy, and that's the way I like it. 
My desk was designed by one of my mates, and on top of that you'll find my laptop, a few notepads and pens, my Vitra toolbox, magazine rack by HAY, clock by Instrmnt and various mementos stuck to my wall or in the sleeves.
I'm a big lover of graphic design and cartoons, so on the opposite side of my desk is a whole load of stuff me and my wife, Hollie, have acquired over the years; from action figures and my favourite beer label designs, to 3D printed versions of me to things we found on our honeymoon.
What are you watching/listening to/enjoying at the minute? 
I'm currently watching the The Imagineering Story on Disney+, I Am Not Okay With This and Hinterland on Netflix and Seinfeld on All 4. 
I'm listening to a lot of shoegaze and dream pop at the moment, when exercising at home and doing the weekly chores. I'm also listening to podcasts by Monocle and Courier Magazine. 
I'm reading more due to having time to. I'm currently enjoying The Tipping Point by Malcolm Gladwell, Fake Love Letters and Forged Telegrams by Annie Atkins, Monocle Magazine and California Captured by Marvin Rand.
---
Justin Hast
Profession: Writer/Photographer | Location: Surrey, UK | IG: @justin_hast_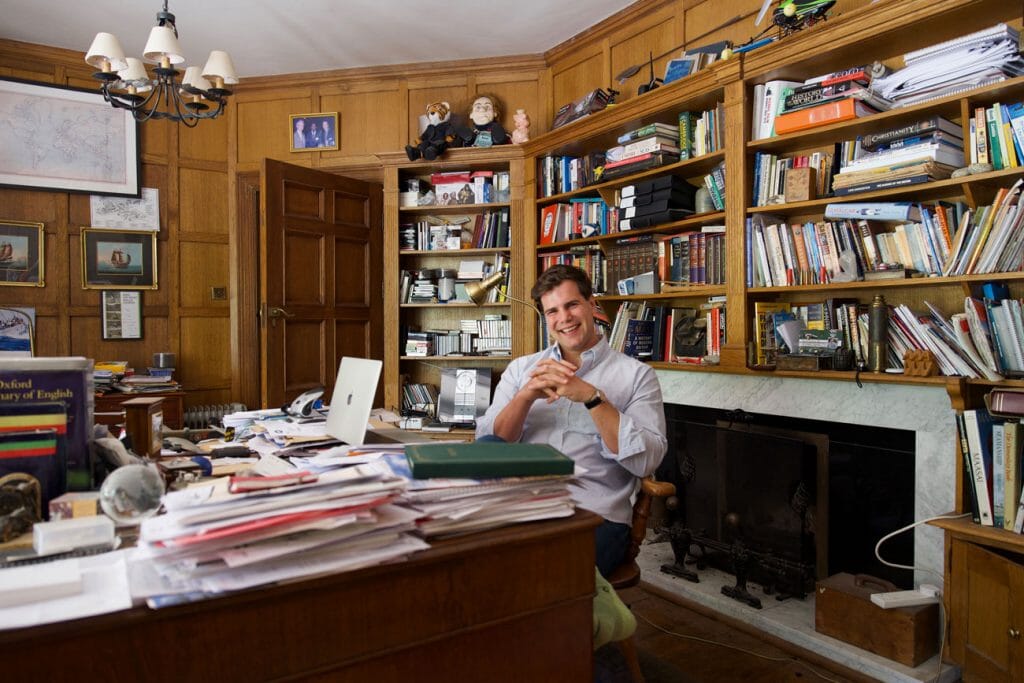 What's your one key tip to successfully work from home? 
You know what, having worked from home for the last few years, it has to be discipline. As the Navy Seal Commander Jocko Willink always says, "discipline = freedom". It's about setting that alarm nice and early, focussing on getting good sleep, getting the gym session done early, and getting that journal out. Be sure to allocate the time. And protect it. 
Talk us through your home office set up. How does it work for you?
I have to confess, this isn't actually my desk. I am self isolating at a very old friend of mine's family home in Surrey. From the moment I saw the office years ago, I was taken back by it. The weight of it, the variety of objects, the history. My mind was blown. So, when I had the opportunity to stay, I knew where I was going to work.
Interestingly though, my chosen aesthetic is always minimalist, mid-century, stripped back - essentially just a desk and a computer, so I am enjoying this switch up.
My cap is an old '47 brand from an NY based hockey team called The Hartford Whalers (with its old logo) that I picked up on eBay. My watch is the Habring2 Felix with copper-ish dial from 2019. They are a small Austrian watchmaker that produces 180-200 watches a year, run by a husband and wife (who happen to be incredibly nice people).
What are you watching/listening to/enjoying at the minute? 
Music-wise I'm listening to the Gregory Porter Essentials playlist on Apple Music. I'm watching NOWNESS' In Residence Series on YouTube, checking in on The Modern House and Hodinkee, and reading Time Tamed by Nicholas Foulkes. I'm also spending hours on end hitting the tennis ball in garden with the hound dog. 
Looking for more office inspiration? Check out this unique concrete house live-in work space.
---
---