We seem to be returning to Mexico an awful lot on the magazine of late and that's because the country's unique and refreshing approach to everyday architectural challenges keeps going from strength to strength. We discussed this concept in great detail in our article on the incredible Cabo House by Dellekamp – a beautiful seaside retreat that intertwines with the horizon of the sea. But now we've got another Mexican escape to marvel over in the form of Zozaya Arquitectos' Casa Z in the Mexican beach town of Zihuatanejo.
"The main concept of the project was to create a minimalist house with rich social spaces where users could enjoy the panoramic views and the climate of the region," Zozaya Arquitectos said in a project description.
It's safe to say they've accomplished that brief pretty emphatically. The home itself sits high above the small town, which is a popular tourist destination on Mexico's Pacific coast due to its warm climate and expansive, picturesque beaches. In order to maximise the views, and combat the steep terrain, the architects opted for a house of three levels composed of two volumes that would be staggered to take advantage and respect the topography.
The middle level is bookend by two concrete walls on the short end, while two sliding glass walls face the ocean and the garden, allowing the slender space to be almost completely open. This level, plays home to the open-plan kitchen, living and dining room that leads out onto a terrace overlooking the water, where an infinity pool creates the illusion of a continuous body of water just outside the home.
Throughout the design, black steel canopies support bamboo lattices that provide shade to certain areas, like the exterior staircase at the back of the house, or the kitchen and part of the terrace at the front. Irregular plaster walls add to the building's handmade and tropical aesthetic.
"This mix of materials and local construction techniques gives the house a strong modern and tropical personality, successfully adapting to its context and being in harmony with nature," said Zozaya Arquitectos.
Photography by Rafael Gamo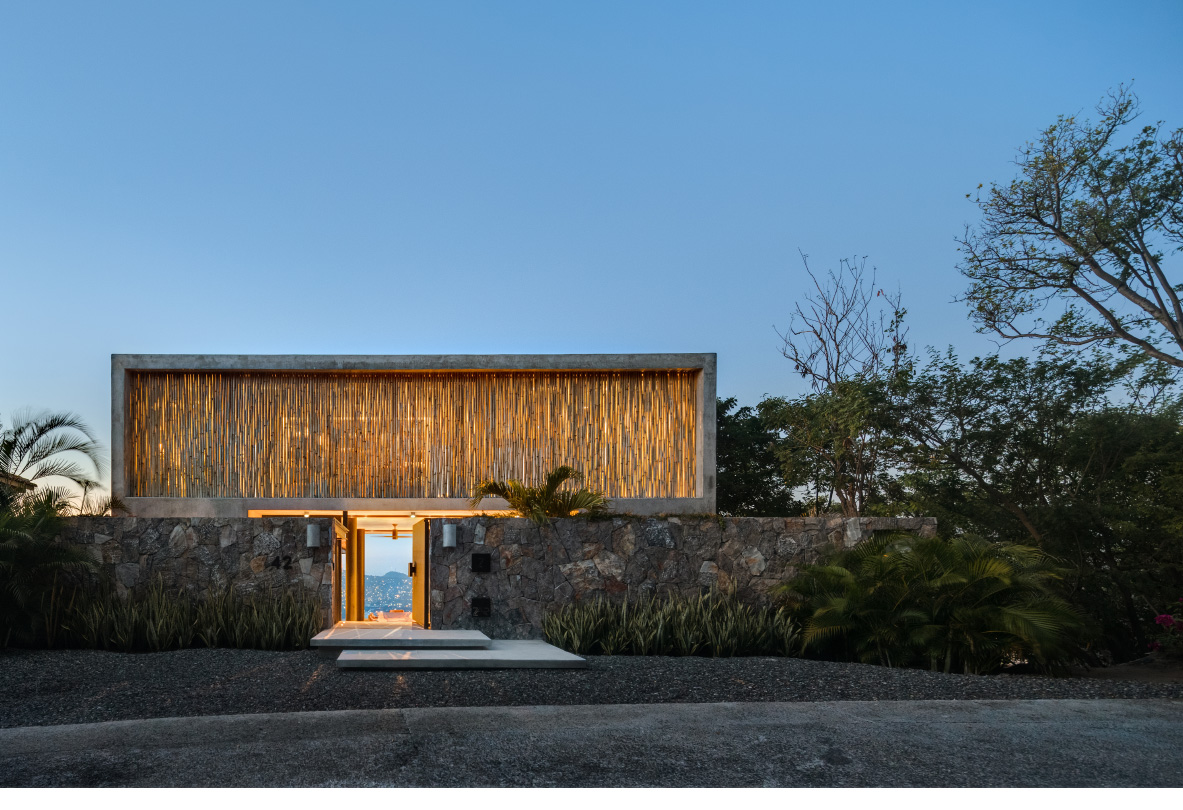 In the mood for even more of the world's finest architecture? Then you're going to want to see Casa Puebla; a family home inspired by a volcano.