Step into architect Olson Kundig's personal retreat and you're in a unique woodland cabin that's grown organically over the decades. Overlooking the shore of Puget Sound in north-west Washington state, this weekend home has a unique reverence for its ancient surroundings.
Olson Kundig's Seattle architectural practice is founded on the principle that "buildings can serve as a bridge between nature, culture and people". Nowhere is that philosophy more in evidence than here. What began in the late 1950s as a small woodland cabin has evolved over four rebuilds into a substantial structure, as if it were a living thing. Nothing has been demolished.
The overall aim was to disturb the age-old firs around it as little as possible. Materials have been kept simple. Steel columns and roof support beams are left exposed. Walls are in plywood or recycled board. Rooms flow comfortably into each other, merging with the forest all around.
Outdoor decks are designed around mature fir trees. Floor-to-ceiling windows put residents at one with the woodland outside. With sliding doors left open, the only sounds throughout the day are of the changing songs of the resident birds. Truly magical.
Architect: Olson Kundig Architects
Project Team: Jim Olson, FAIA, design principal; Ellen Cecil, AIA LEED AP, project manager (2003); Derek Santo, architectural staff (2003)
Interior Design: Olson Kundig Architects, Jim Olson, design principal
Contractor: Tom Harris (1981); Mark Ambler (2003)
Consultants: MCE Structural Consultants, Inc. (Structural Engineering)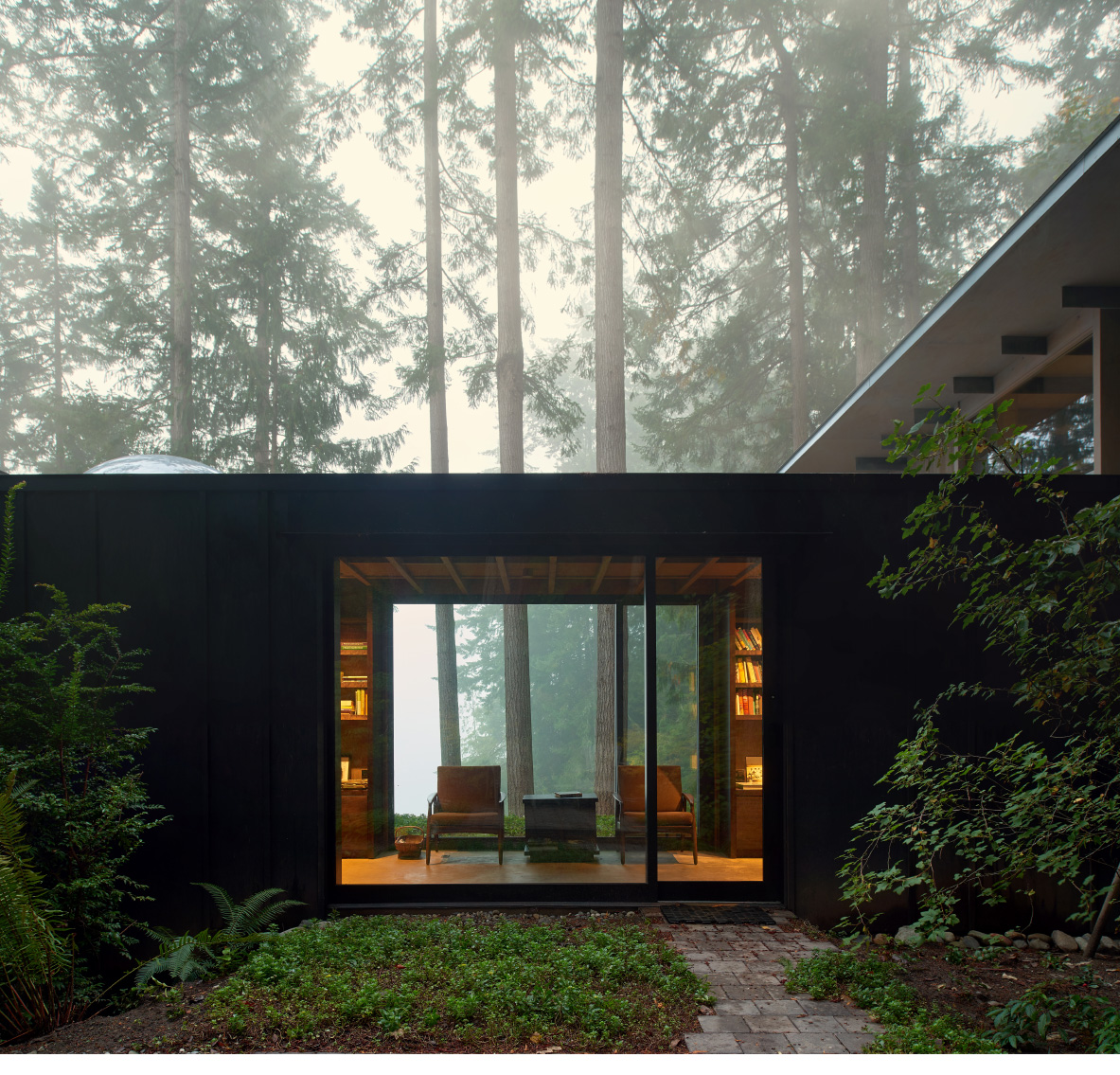 If you're a fan of this then you'll love Olson Kundig's 'Sawmill' – the modern family home turning off-grid into on-trend.