Let's address the obvious right away; it's getting hotter. Yes, okay, London is hardly in the midst of a heatwave but temperatures are promising to stay the right side of 25 degrees in the coming weeks so be prepared for the customary complaints of just how unbearably hot it is. The problem, beyond the complaints, is that the hot weather will still manage to catch most of us off-guard when it comes to what we should be wearing through the week. Thankfully, YMC and their all-new mid-season drop, aptly named the Big Sur, has you covered. It's full of free and easy tees and lightweight layers that pay tribute to the effortless style of California's 'beach bums' with a little bit of London thrown in for good measure.
Basically, it's a limited-edition capsule collection that will see you through summer in its entirety. If you don't believe us, scroll down to discover our top picks from the YMC Big Sur collection.
YMC Navy Bowie Zip Shirt
As we have all come to expect, YMC excel in the realms of producing lightweight and comfortable fit for any occasion, and although this Bowie Zip is not technically a jacket it can be worn as one through summer. That's because the front zip fastening makes it easier to layer than a traditional shirt and the subtle side pockets give the shirt a more cropped jacket finish. Plus, its navy colour hue will go with everything that you're likely to wear this summer, including blue, grey, white, ecru and khaki colour hues.
YMC Malick Shirt
The Malick Shirt is an all-time YMC classic. It's lightweight, has that nice relaxed bowling shirt collar, a comfortably relaxed fit and a simple patch pocket on the chest to boot. Plus, in accordance with the free and easy Californian aesthetic it has been updated in a range of neutral colours and subtle prints. Seeing that we're in the mood of being free and easy, we couldn't choose a particular favourite Malick Shirt so instead have a closer look at them all;  including Ecru, Spice Orange, Indigo Batik, Navy and Bleached Blue.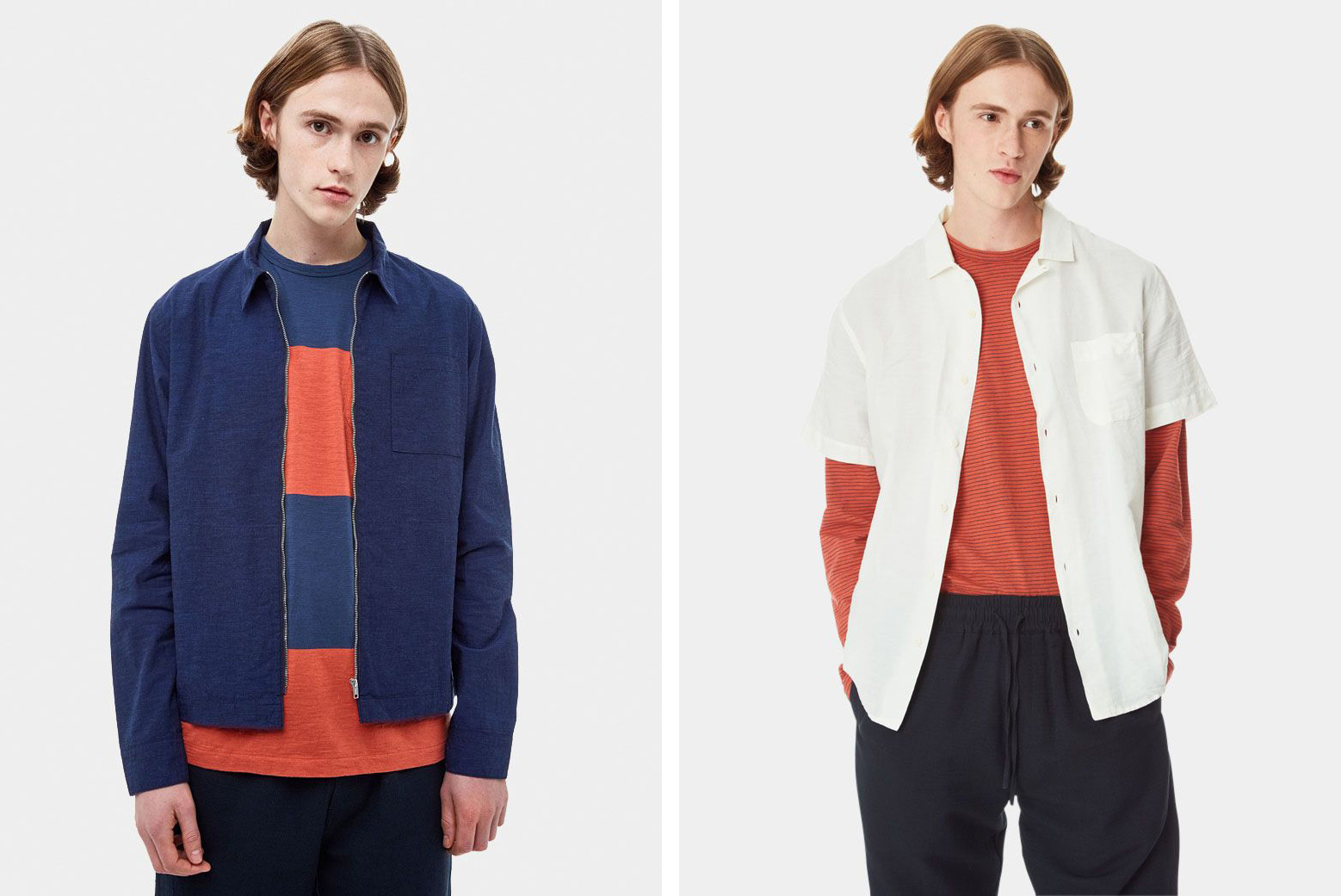 Navy Alva Linen Skate Pants
You don't have to live in shorts through summer. Granted, they're comfortable and easy-to-wear through the weekend, particularly the YMC Linen Shorts, but trousers like these YMC Alva Skate Pants are free-and-easy too. The relaxed fit automatically nudges them above the heavy cottons and denim trousers you've been wearing for some time and then they're pushed even further to the top of your summer ensemble thanks to the textured Italian linen pique construction and drawcord waist.
YMC Navy / Spice X Sweat
Stripes obviously remind YMC of California as The Sur collection is full of them. That's certainly no bad thing, we've been waxing lyrical about stripes for a long time now and we like the diversity of side stripes YMC have on offer. Vertical stripes, block stripes, abstract stripes, the works. This slim-line stripped cotton long sleeve Spice X Sweat is our particular favourite because it's not just navy and white. Plus, the orange and navy colour combination ensures that the lightweight sweat is great worn alone or layered underneath a lightweight jacket.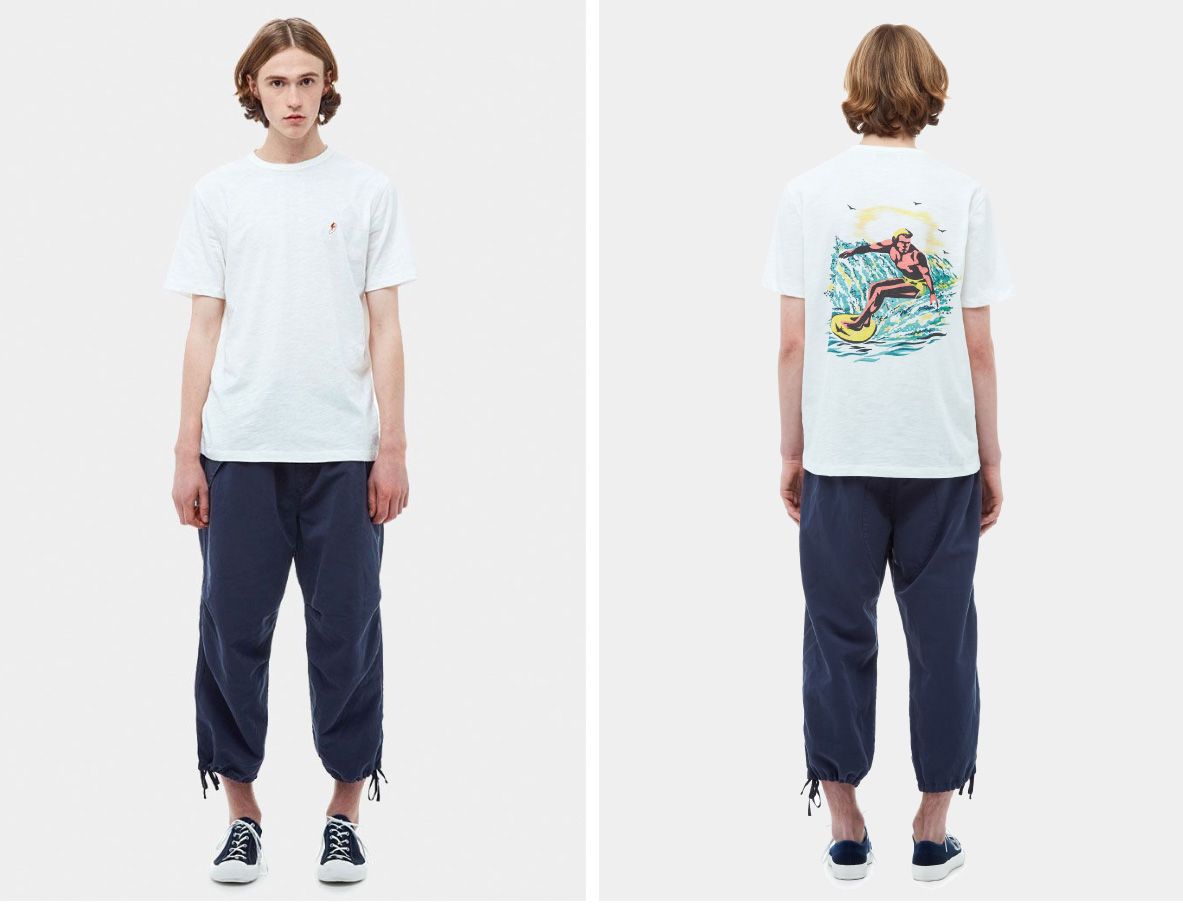 YMC Surfer T-Shirt
This one is easy to explain, really. The YMC Surfer T-Shirt not only looks good – in the way all reverse graphic tees do – but it also feels great courtesy of its soft slub cotton jersey construction. It's the type of t-shirt that looks good without even trying and it's the type of t-shirt that you'll grow to love for that very reason.
Shop and explore the entire YMC Big Sur drop at OPUMO.