In terms of interior design, we've come so far in a century. We've welcomed and (rightfully) left behind gaudy wallpaper, net curtains, and even lava lamps. In 2020 we've reached a point where our homes balance functionality and style evenly, but there's one aspect that hasn't changed – home heating systems. We faithfully build our homes around old-fashioned central heating systems which are inefficient, ugly and often completely ineffective. Why? Is it tradition? It could be lack of choice? Well, with the arrival of the KOLEDA Solus+ at OPUMO, we say break tradition because there's a new heater in town.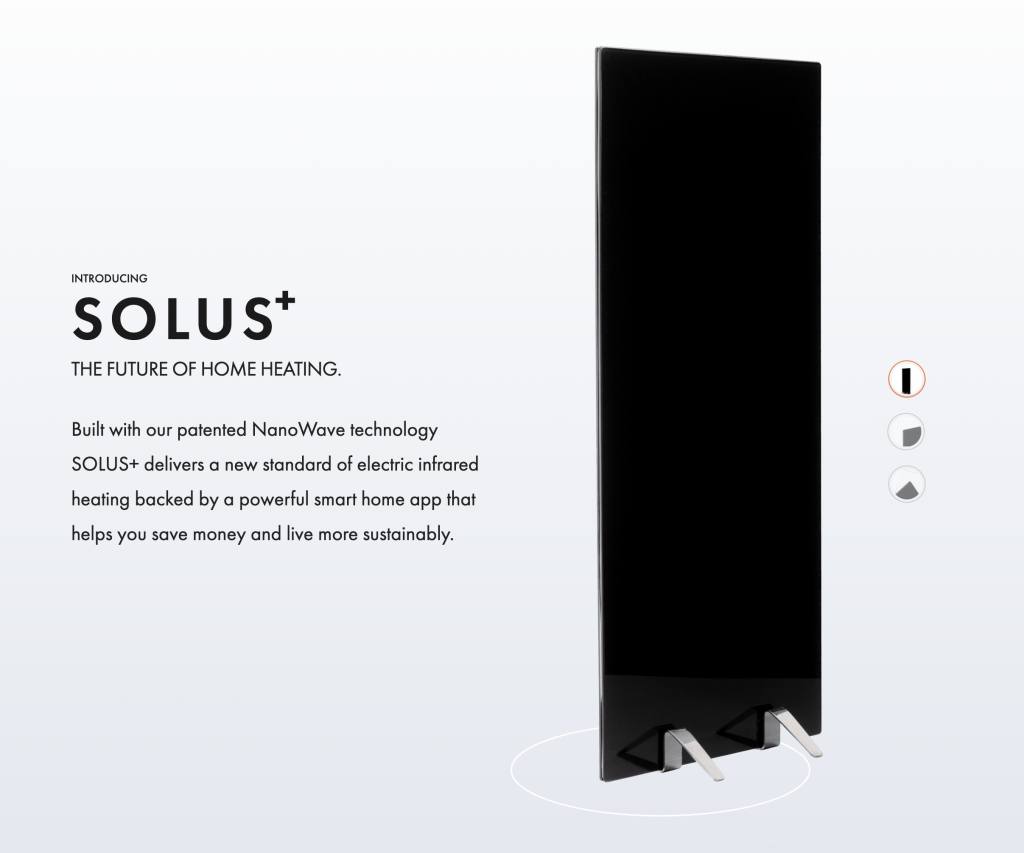 Who is KOLEDA?
KOLEDA is a new type of heating specialist. The studio's key piece is the Solus+, a radiator that rejects the inefficiency and ineffectiveness of traditional home heating systems in favour of a sleek, streamlined approach. Since successful crowdfunding in April 2019, The KOLEDA Solus+ has been on a path of constant improvement, and it's now impossible to ignore.
What makes Solus+ so effective?
Most traditional central heating systems use convection heaters, meaning that they use convection currents to spread heat. While in theory this sounds good, in practice it means that your room heats up from the ceiling downwards because heat rises. That's not so good when you realise that 50% or more of the heat that you're paying for is useless, it's also not great for the environment. KOLEDA's Solus+ works along the lines of the brand's motto: Heat your home, not the planet. How? Solus+ is an infrared heater. This means that it heats your room directly, making it 30% more cost-efficient than traditional radiators. 
KOLEDA's small radiators are all manufactured in-house, which means that the electronic heaters can be fixed and updated faster so that there's no need to call the plumber. 
KOLEDA Solus+ app
Download the KOLEDA Solus+ smart app to control your home's heating remotely. This is never more important than in winter because nobody likes arriving home to a cold house. Simply fire up your Solus+ smart infrared radiator when you leave work, or switch it off if you forgot to before you left the house. This easy-to-use interface means that you only use your mini radiators when you need them, saving money and energy. 
Design
We'd be remiss to not discuss the cutting-edge design of KOLEDA Solus+. Not only is this modern radiator a cost-efficient and highly effective alternative to traditional central heating, it looks amazing too. Forget about the ugly steel radiator that hangs on your walls, lowering the tone of your carefully curated interiors. Solus+ is slick and slimline, fitting in smoothly with minimalist Scandinavian interior design. KOLEDA's electric infrared heater is such a departure from the clunky old-fashioned radiators we're used to that most won't even recognise that it's a heater. 
Our verdict
The KOLEDA Solus+ is undoubtedly revolutionising the home heating industry, and we're completely on board. In an age of increasing concerns around climate change, its innovative eco-friendly approach is refreshing to say the least. Plus, it saves us money and manages to look great all at the same time. What's not to love?
---
---
Shop KOLEDA at OPUMO.
---
---