Travelling is a central part of modern life. The ease with which we can book a ticket, jump on a plane and explore a new city should not be taken for granted. While most steps in the travelling process have been streamlined to near perfection, one that remains nicely rugged is the world of city guides. The big names continue to outline the main attractions to a satisfying level but the local gems remain virtually uncovered and, to an extent, we think this is a good thing. A local gem is only a local gem when it's a local gem, right?
With that said, we trust our reader with the responsibility of upholding local standards, so we're asking some of our favourite brands to fly the flag for their cities. We'll be privy to a local's-only tour of some of the world's most visitable places and if you're lucky you might even see your favourite designer there when you take your trip.
First up is Tim Hancock. Tim has founded both Han Kjobenhavn and Kamo International, two labels based around Scandinavian simplicity but with a uniquely contemporary, raw take on the style. Kamo International, Hancock's newest venture, offers sunglasses inspired by vintage styles that are updated using sustainable acetate and Carl Zeiss lenses. We caught up with Tim to find out that, luckily, the man behind the brands lives a life that reflects both of his creations. Here's Made In Copenhagen with Tim Hancock.
"I think that this is the perfect breakfast spot in Copenhagen. I've always thought of it as a mini version of Le Marais in Paris. It's definitely mostly used by locals but feels global, relaxed and very French. Værnedamsvej is a small, busy shopping street situated between Vesterbro and Frederiksberg."
My favourite building: The Marble Church
"The church is a peaceful oasis in the city, and with the characteristic copper green dome it has to be one of the most impressive buildings in Copenhagen. The church lies beautifully in line with Amalienborg Castle and The Opera in the middle of the elegant area of Frederiksstaden."
"In Danish "Lumskebugten" is an odd word, but if you look at the surroundings of the restaurant in Frederiksstaden, it actually makes sense. In the bay off the coast of the old custom house in Frederiksstaden which sits next to Restaurant Lumskebugten, there are very strong currents which form sand banks. There interior of this restaurant is designed to pay homage to this maritime connection. It's a great spot for  traditional Danish dishes like open sandwiches and, of course, herring."
When I need inspiration: Kamo International HQ
"My office is located in Frederiksstaden, in an old Victorian building KBH K. Bredgade was originally a country road that ran outside the old Østerport. The street was commonly called "the wide street", probably because there were very few buildings along the road. The name Bredgade is thought to have originated all the way back in 1620. I love the history of the location in contrast to the business of our modern Kamo International offices."
Favourite store: Frama Studio Store Copenhagen
On a quiet street in the royal quarter around Nyboder, Frama Studio Store lies nestled in the old space of St. Pauls Apotek, dating back to 1878. Frama operates in various creative fields and produces beautiful designs in furniture, lighting, kitchens, books and apparel. Frama Studio Store in Copenhagen is Frama's creative headquarters. The store showcases the brand's timeless, modern and simple designs in beautiful contrast to the classic interiors of the old pharmacy. Being in the old pharmacy goes well with Frama's creative line of combining the classic with the contemporary."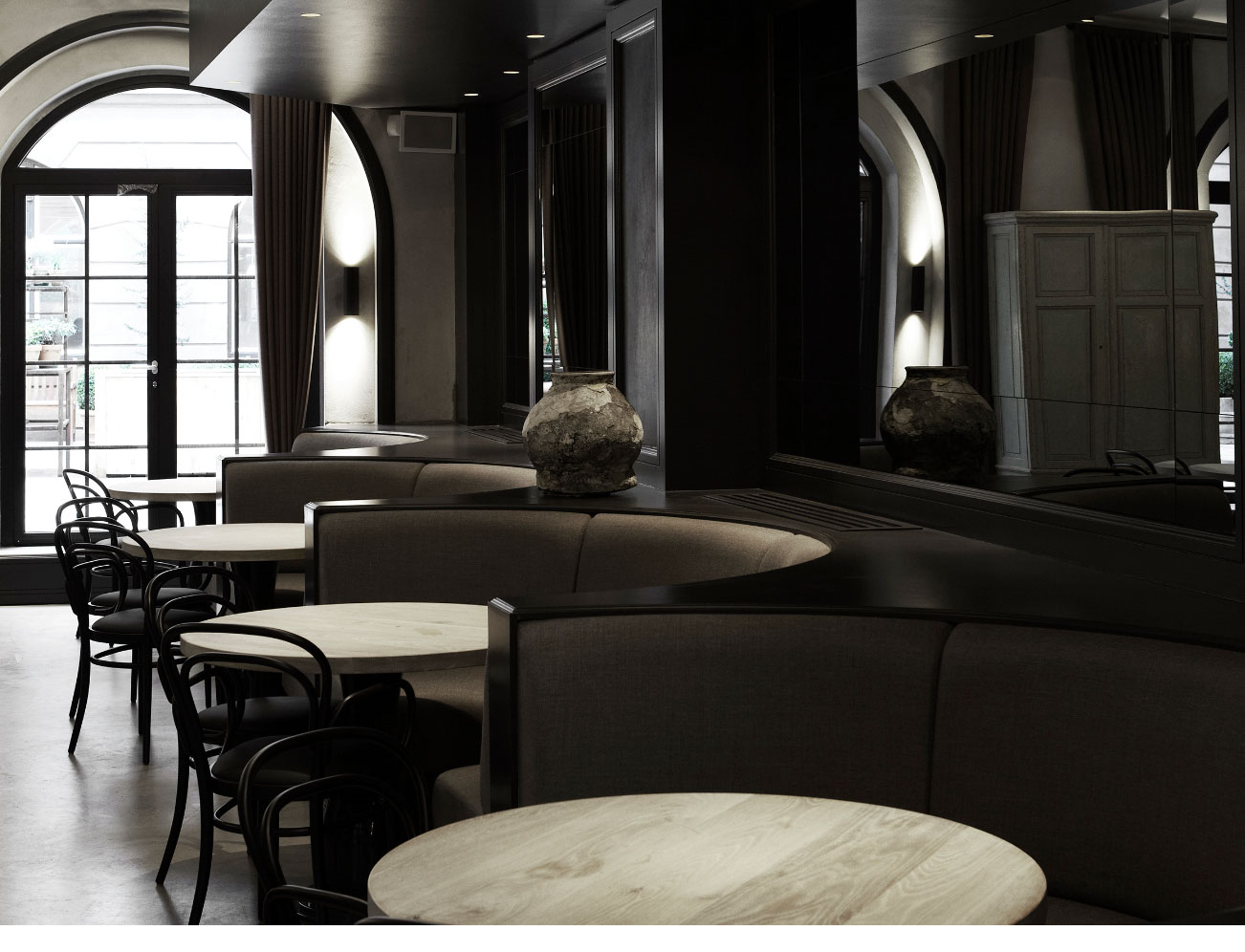 To finish off the day: Geist
The best way to finish off a day in Copenhagen is to eat dinner and drink a few cocktails with a group of friends at Geist.
Shop Kamo International and Han Kjobenhavn at OPUMO.
Keep up to date with travel tips in The Lifestyle magazine category.