The clash of the titans. A contest for the ages. Once in a lifetime, two greats go head to head to see who will come out victorious. We're here to facilitate this fierce battle. Who's in the ring? Suede and leather. Some gents swear by suede shoes while others won't be seen without full grain leather shoes. Is there a right answer? We're not sure, but we're going to find it if there is one.
Men's leather shoes are durable and look great. Suede shoes for men may not have the stamina or endurance associated with casual leather shoes, but make up for it with looks and versatility. This one might go 12 rounds.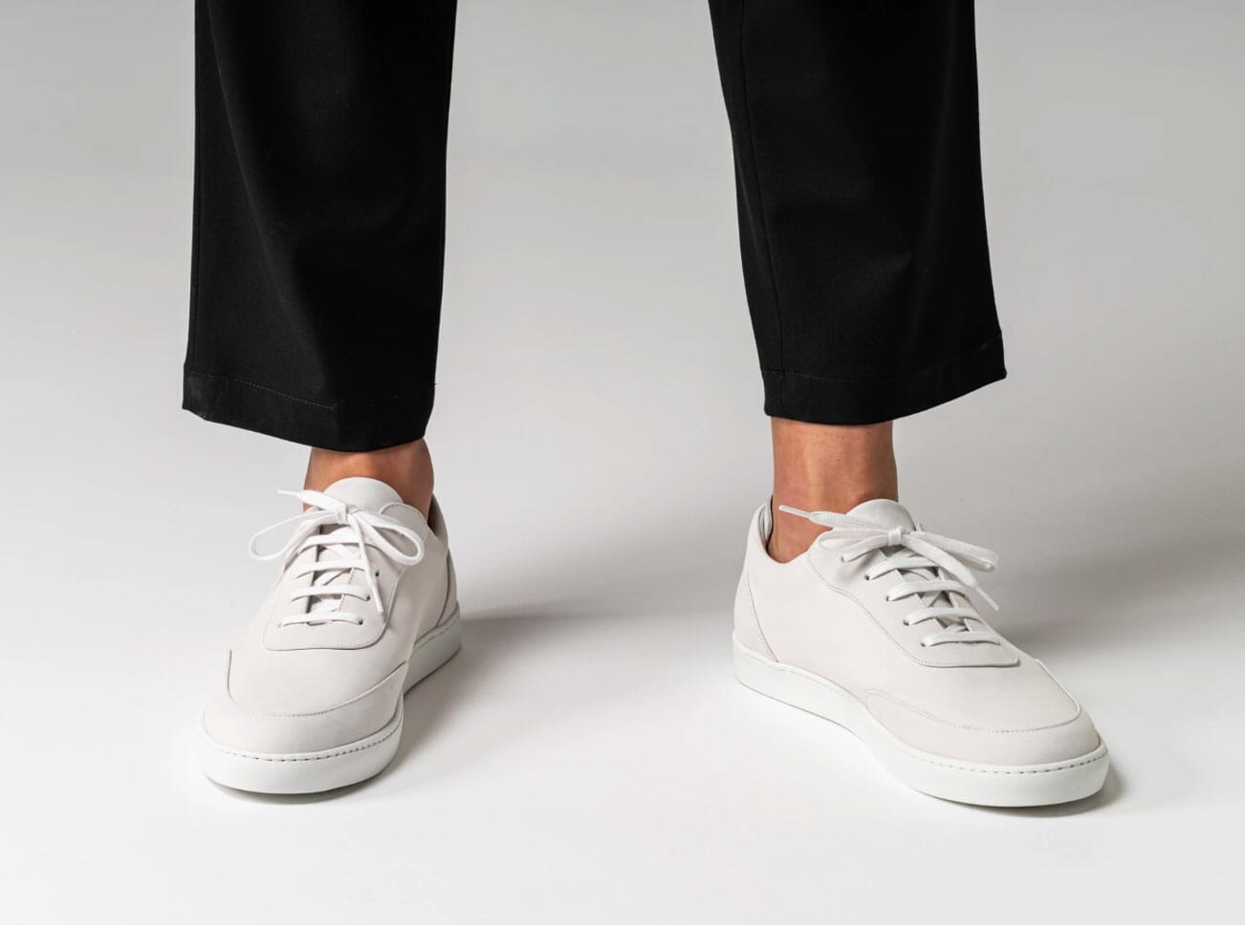 How to style leather shoes
The past century has seen a huge diversification in footwear options for men. In the past, leather shoes were the only choice because they were hardier, but we'll get to that later. In 2020 there is a wealth of different styles and materials to choose from. Men's shoes range from lightweight running trainers that focus on breathability and support to luxury trainers for men that are centred around making a stylish statement. Men's leather shoes have also diversified. Now you can choose from formal men's leather shoes like Derby shoes or Oxford shoes as well as premium leather trainers for men.
The constant growth of the genre of leather shoes for men means that styling leather shoes has never been easier. What's more, modern styling pays less and less attention to tradition. Wearing a suit with minimal trainers like those made by CQP is as acceptable as loafers with jeans – be sure to read how to style loafers. However, we would advise a conservative approach to styling if you're not sure.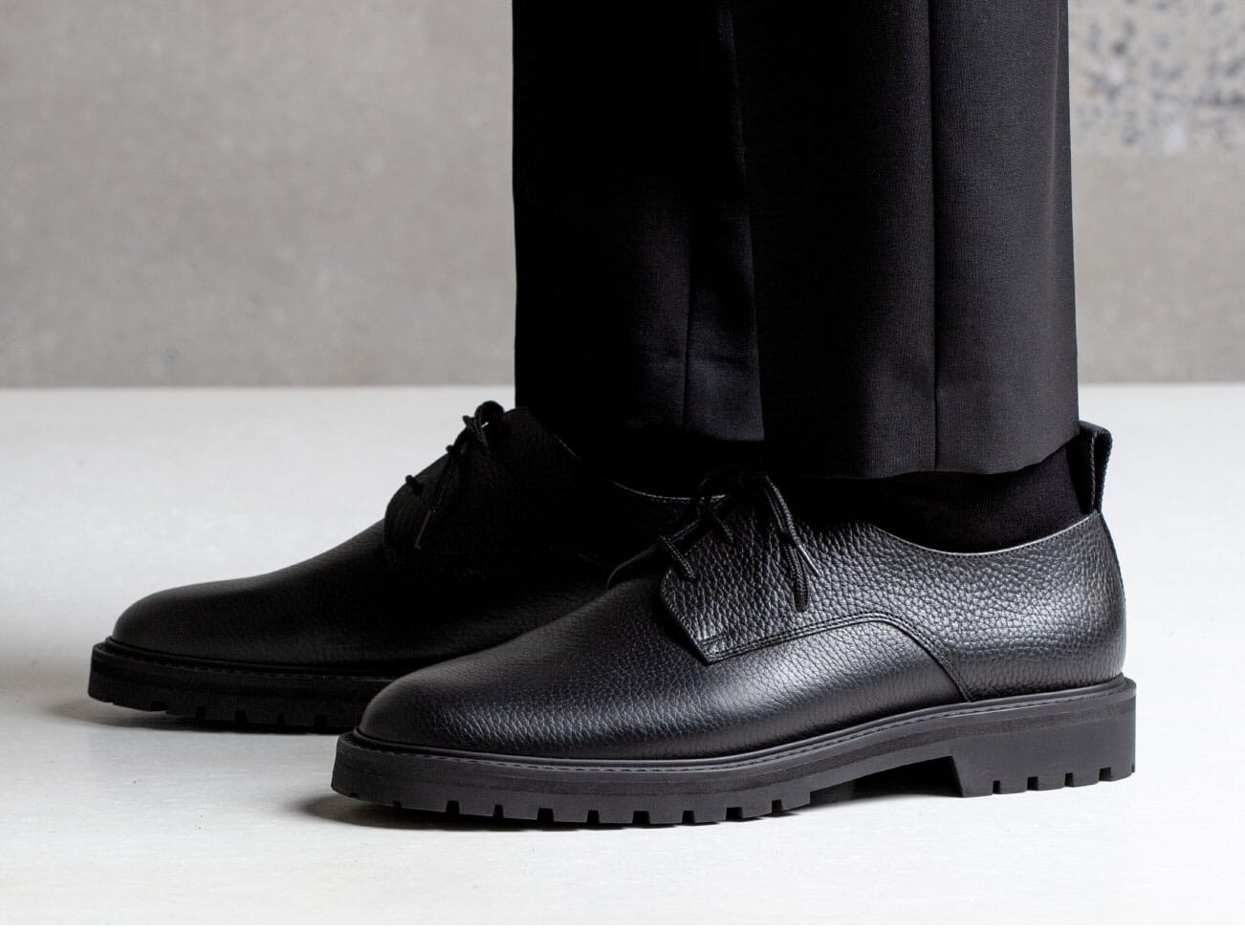 Less is more, start slowly and learn what works and what doesn't. Begin by keeping classic leather shoes with smarter outfits. Styling leather Oxford shoes or leather loafers with tailored trousers will never not look good. On the flip side, reserve men's leather sneakers for casual outfits involving jeans and chinos. Most importantly, how does the styling make you feel? If you feel uncomfortable, it's probably not right. Look to time-tested brands like Grenson or G.H. Bass & Co. for surefire leather success.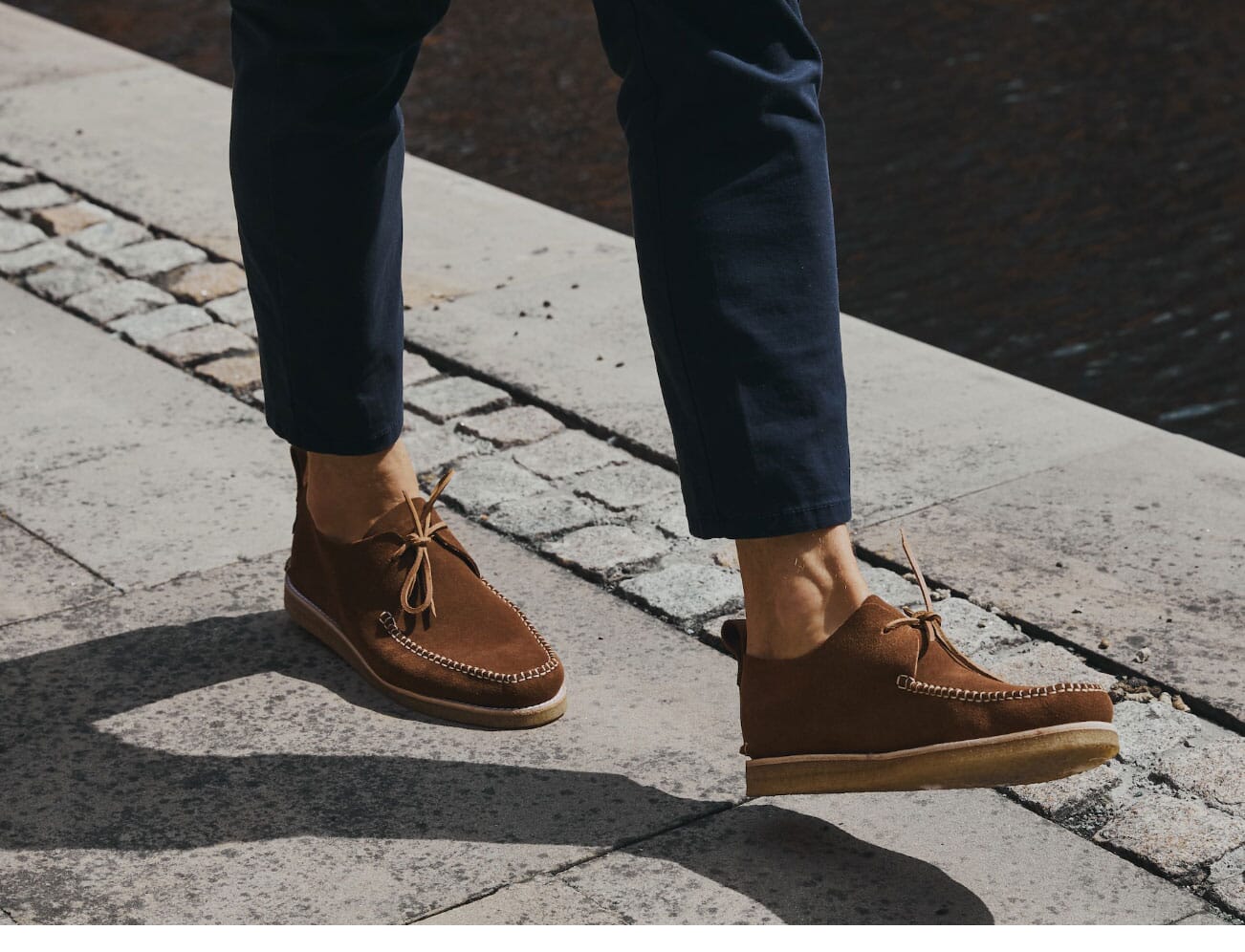 How to style suede shoes
Much the same as leather shoes, suede shoes for men come in all shapes, sizes and styles. Suede is a less common material to use on shoes, but is becoming more popular by the season. The luxurious material boasts a texture that leather generally can't match which adds an element of intrigue to footwear. Whether you're looking for formal suede shoes for men or casual men's shoes, you'll find everything you need at OPUMO. From suede trainers by Filling Pieces to  suede loafers by Sons of London, it's all here.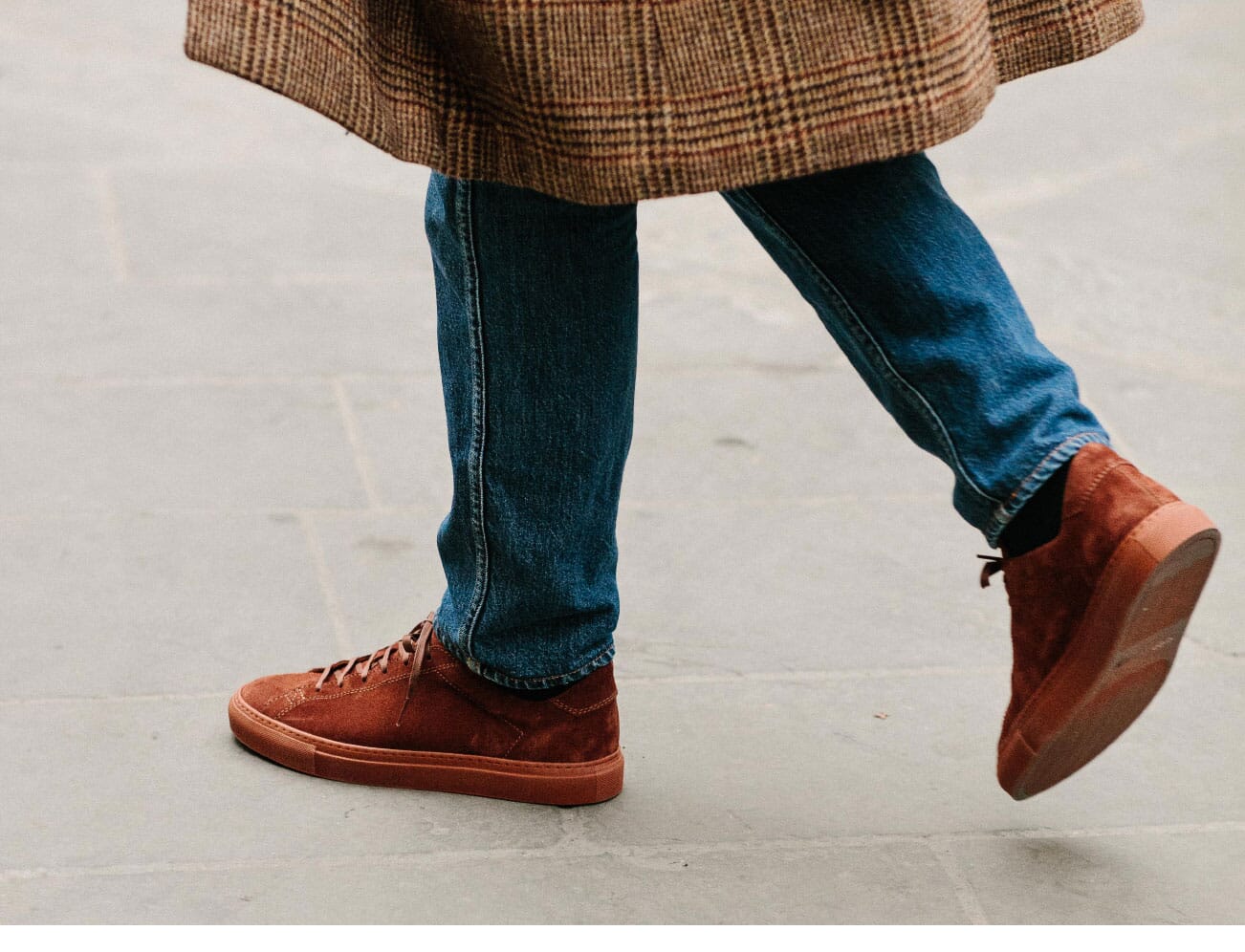 While formal leather shoes are usually polished and therefore very noticeable, choosing suede Oxford shoes can add a casual edge to a formal outfit. It's this slightly less formal aesthetic that makes suede shoes so versatile. Formal suede footwear styles are ideal when it comes to business-casual style. Style suede shoes with chinos for a guaranteed win, even with the trickiest of dress codes.
As for suede trainers for men, it's much the same game – completely versatile and super stylish. Do remember to protect your suede shoes. While it's important to protect leather shoes and suede shoes, suede is more susceptible to damage. Wet weather is never good for suede and dirt can be difficult to remove without harming the material. If you're unsure, make sure to read up on our guide on how to protect suede shoes.
How long do suede and leather shoes last?
This brings us neatly on to the next section. An important consideration when buying a new pair of high-quality men's shoes is durability. Luckily, both suede and leather are extremely durable at their core. You'd have to put your footwear through some real trials to rip through suede or leather.
This said, on an aesthetic level, leather takes the durability win. While leather can comfortably see out a rainy winter day and even the odd puddle splash, suede is best left bone dry. Regardless of whether your new shoes are suede or leather, they should be cleaned and protected regularly.
Really, there's no solid answer to how long your shoes will last. It all rests on how well you take care of them, but in general leather requires less TLC.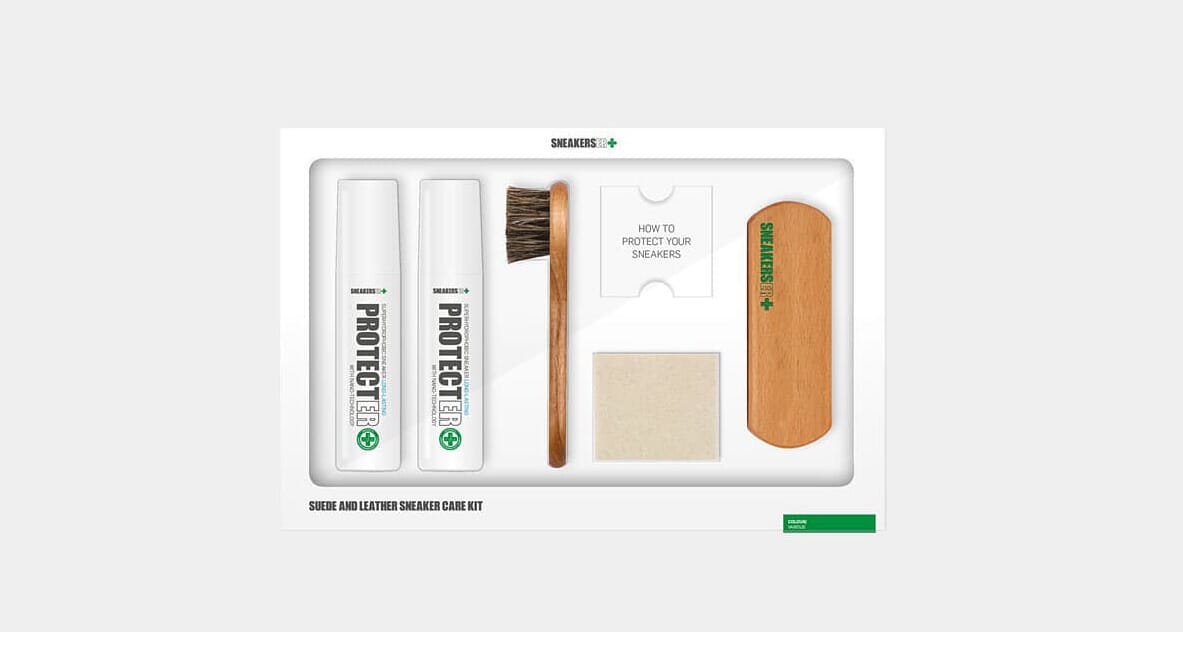 Suede or leather
We promised a winner. We can't give you a clear winner, but we can give an answer. The answer begins on your shoe rack. Take a look at your current footwear options. In general, those who have just started a love affair with men's shoes and own only a few pairs will own leather shoes, while more developed collections will incorporate suede. This shows that suede isn't as popular as leather and it boils down to durability.
We love leather and suede equally, but it all rests on context. If you're already satisfied that you have a staple leather shoe, diversify with suede. If you think you need something built for heavy duty activities, head straight for leather.
Shop all men's shoes at OPUMO.
Be sure to check out our ultimate guide to men's shoes.