Words by Lucy Thomas
Australia has an array of unique and tailored hotel spaces and this phenomenon has spread through to the veins of Sydney. Meet the newest boutique hotel; The Paramount House Hotel.
The Paramount House Hotel is located in the trendy Surry Hills suburb, set within the former headquarters of Paramount Pictures film studio. Teaming up the Breathe Architecture, owners Mark Dundon, Russell Beard and Ping Jin Ng had a vision of which "architects should use the imperfect former warehouse as a raw rich backdrop and create an impressive variety of suite types to ensure an engaging visit every time"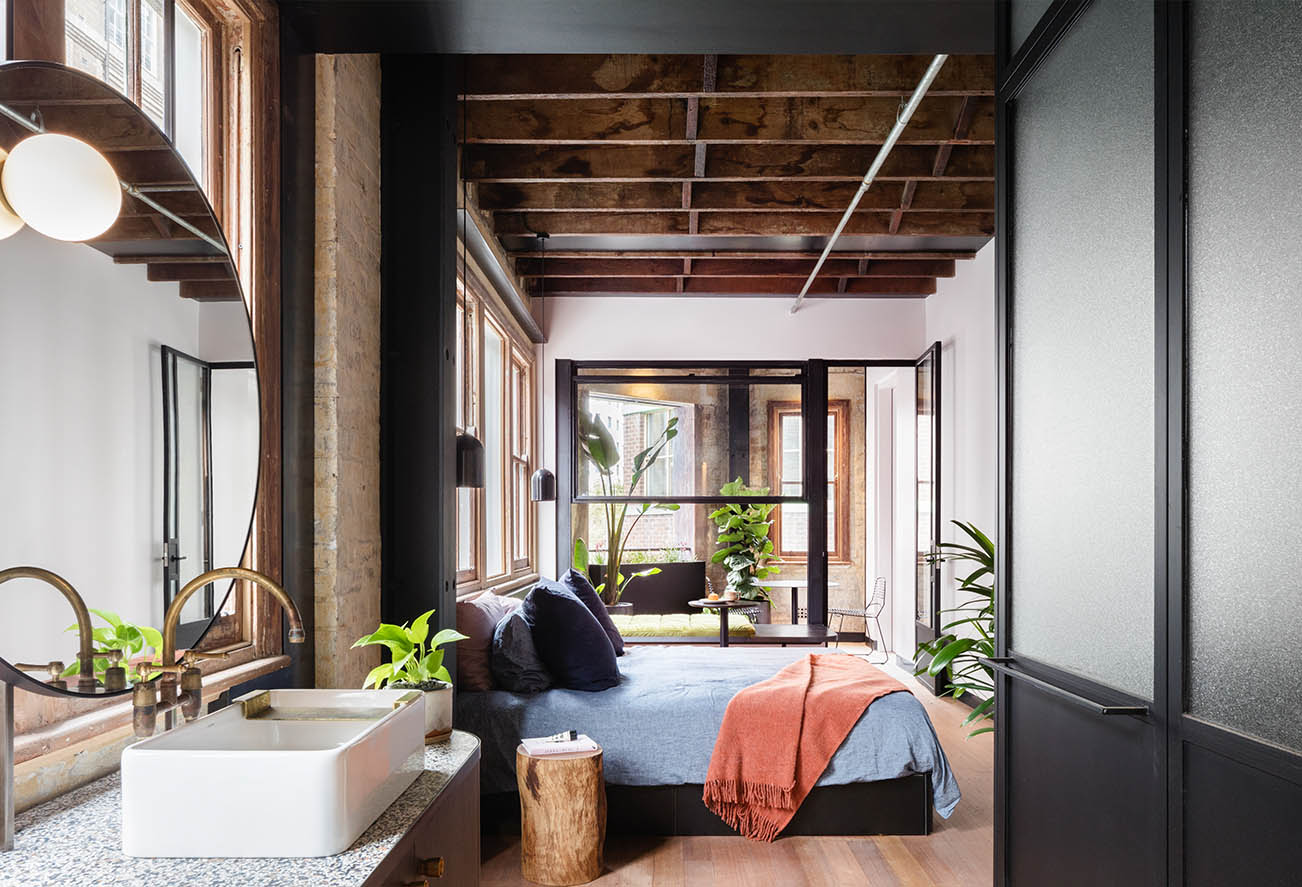 The site has 29 guest suites; each simplistic and minimal by design that blend original and contemporary details. Bathrooms have been completed with terrazzo tiles and wooden baths meant to resemble those traditionally seen in Japan. The 'Mack Daddy' and 'Sunny' suites come with plant filled terraces and sunny alcoves for basking in the golden hour sun.
Breathe Architecture commented that "rather than having specific features or themes for each room, the emphasis is instead on comfort, adaptability and robust tactility" and that is reflected in the splashes of colour provided by the soft furnishings and bed linens; the colour palette being burnt oranges, muted blues and forest greens which juxtapose against the industrial worn brick walls, timber floors and exposed concrete ceilings.
The architectural head turner of this project is the copper chevron-shaped tiles that encase the buildings extension and act like a delicate jewel-like crown intended to capture the spirit and excitement of the golden era of film. While this acts as abstract design from the outside, from the inside it lets in strips of sunlight creating an ambient glow and warm atmosphere to the indoor-outdoor terraces.
Despite the challenges when working intimately with an existing building fabric Breathe made sure they harnessed these quirks as opportunities to make "this building so tactile, unconventional and intriguing for guests."
Housed within the premises of the hotel is the owners previous venture: Paramount Coffee Project that redefines the attitude and integrity of coffee with a focus on education and objectivity. Dundon, Beard and Ng's ethos are reflected in the atmosphere of both PCP and the Paramount House Hotel. The projects both compliment and align themselves making the whole space a well-rounded and pleasant guest experience.
Book your stay now via the Paramount House Hotel website. Or, if you're looking for more of Australia's finest architecture, then check out the expansive Headland House in the countryside of New South Wales.