In our modern, connected world, we expect bags to do far more than just carrying our stuff. Think about it, when shopping for a bag we often have an exact idea of what we want; whether its big or small, for business or pleasure, we all have our own tastes and preferences in what we see as fit for purpose. So, when it comes to discovering the best gym bag for men, the finest travel bags or even the biggest weekend bags for a trip away, it pays to do a little bit of research. Which is why we've put together our latest edit of the best bags to buy right now from the leading names in the world of men's luggage. So expect straightforward, functional and durable designs that showcase only what is necessary – nothing more, nothing less.
What Are The Best Men's Shoulder Bag & Totes
The classic tote bag with its long carry handles and abundance of carry space has seemingly taken over from the men's shoulder bag as the more functional and easy-to-carry everyday bag. Light, roomy and refined, this type of two-handled men's bag treads the line between smart and casual – which is why it's one of the best designer bags out there.
This Olive Ruben Tote Bag from Ucon Acrobatics – a leading name when it comes to men's shoulder bags and backpacks – combines all the necessary functions, including adjustable carry handles, a dirt and water repellent finish and multiple pockets – without looking like its packed full. If you want to indulge in some prints or bright colours, especially if you're fan of the latest collection of Gucci bags – then look to the finest men's messenger bags and totes from the likes of Mismo and Ally Capellino.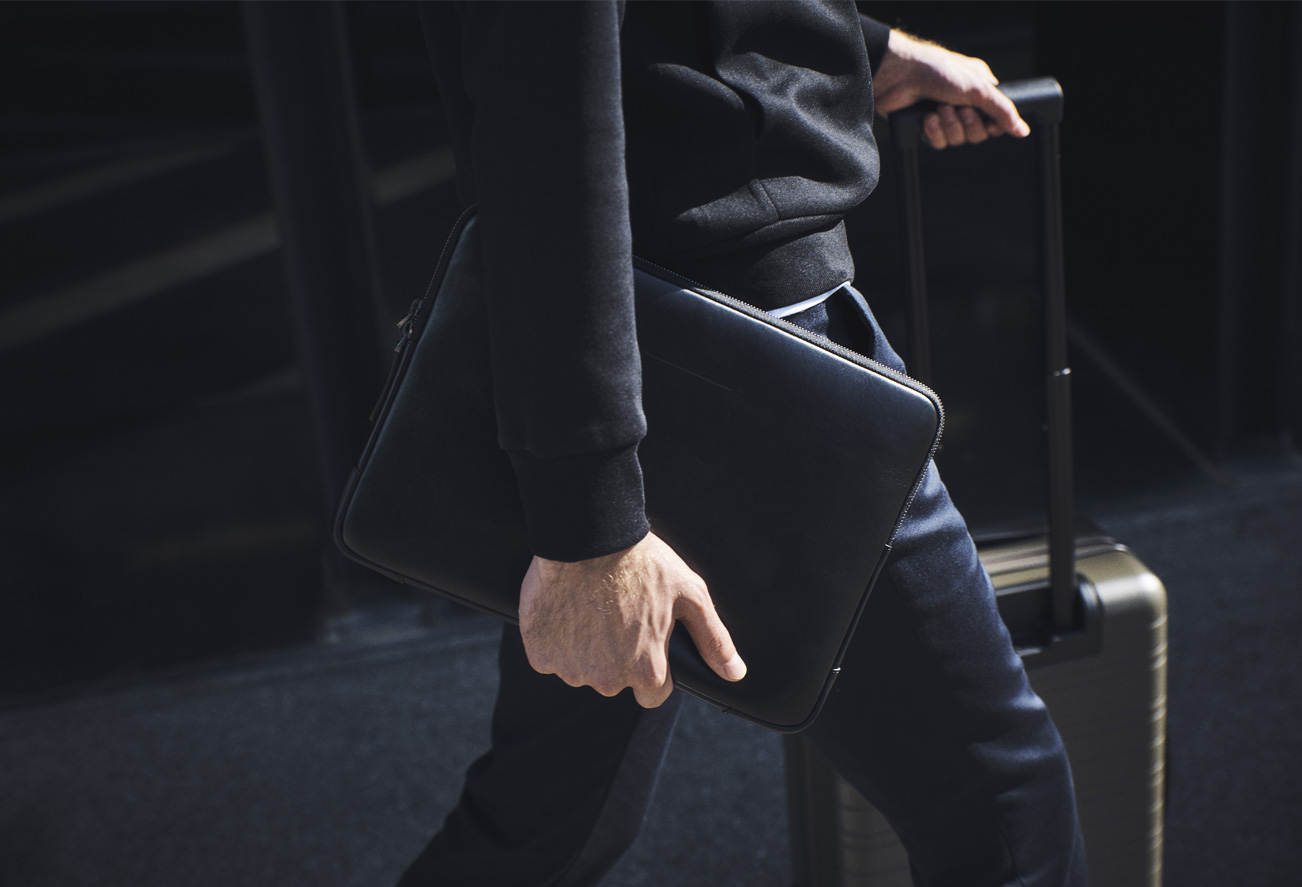 What Are The Best Travel Bags?
When it comes to travel bags it all depends on where you going, how long for and how much you're wanting to pack. Which is why we're not just pointing you in the direction of one travel bag but three featuring the finest men's backpacks, weekend bags and holdalls.
Le Feuillet's Night Blue Backpack is an indispensable ally in your travels. It allows you to carry a multitude of essentials from a laptop, charger, files and toiletries which make it the perfect overnight bag. Plus, with its beautiful natural leather construction, defined by its thick durable feel, ensures that its elegance and modernity will be a key accessory in any adventure.
When it comes to weekend bags for a trip away, you need a high and wide bag to provide a wealth of space to comfortably fit all your belongings. Mismo is leading the way when it comes to contemporary, well-sized weekend bags with its aptly named MS Weekend Bag and the MS Everything Bag. The MS Everything will allow you to travel around the world whether your mean of transportation calls for a boat, train or plane – as its soft structured body allows for light or heavy packing as the size gently follows your needs.
It's not just the holdall that has become more flexible, the same can be said for the traditional travel bag, the suitcase. Take Mismo's MS Suitcase, for example. It's sleeker, slimmer and softer silhouette is crafted from Mismo's signature blend of durable Italian cotton and nylon and is finished in a smaller, diminutive size for easy transportation. It also represents a new wave of lightweight suitcases that are easy to carry and perfect as travel luggage too.
What Are The Best Men's Work Bags?
Men's work bags are not always the easiest bags to get right. The traditional briefcase may be a little too formal for most offices while a lot of the laptop bags for men out there are too one-dimensional. In today's world, with even more things to lug around for work – wallets, iPhones, iPads, umbrellas etc. – a work bag has never been more essential.
Horizn Studio's 15' Briefcase – forget the name briefcase as it operates more like a leather portfolio or a sophisticated laptop bag – is the perfect work bag because it is so simple. The natural tan leather construction ensures the bag will age beautifully over time – which means if you invest in it now, it will be your beloved work bag for a long time – and it features everything you need. A 15" padded laptop sleeve, two smart pockets for a mobile and smart charger and a single large pocket for A4-sized documents.
However, if you're looking for more technical laptop bags dedicated specifically for your work, then check out the latest offerings from Troubadour, Ateliers Auguste and Ally Capellino.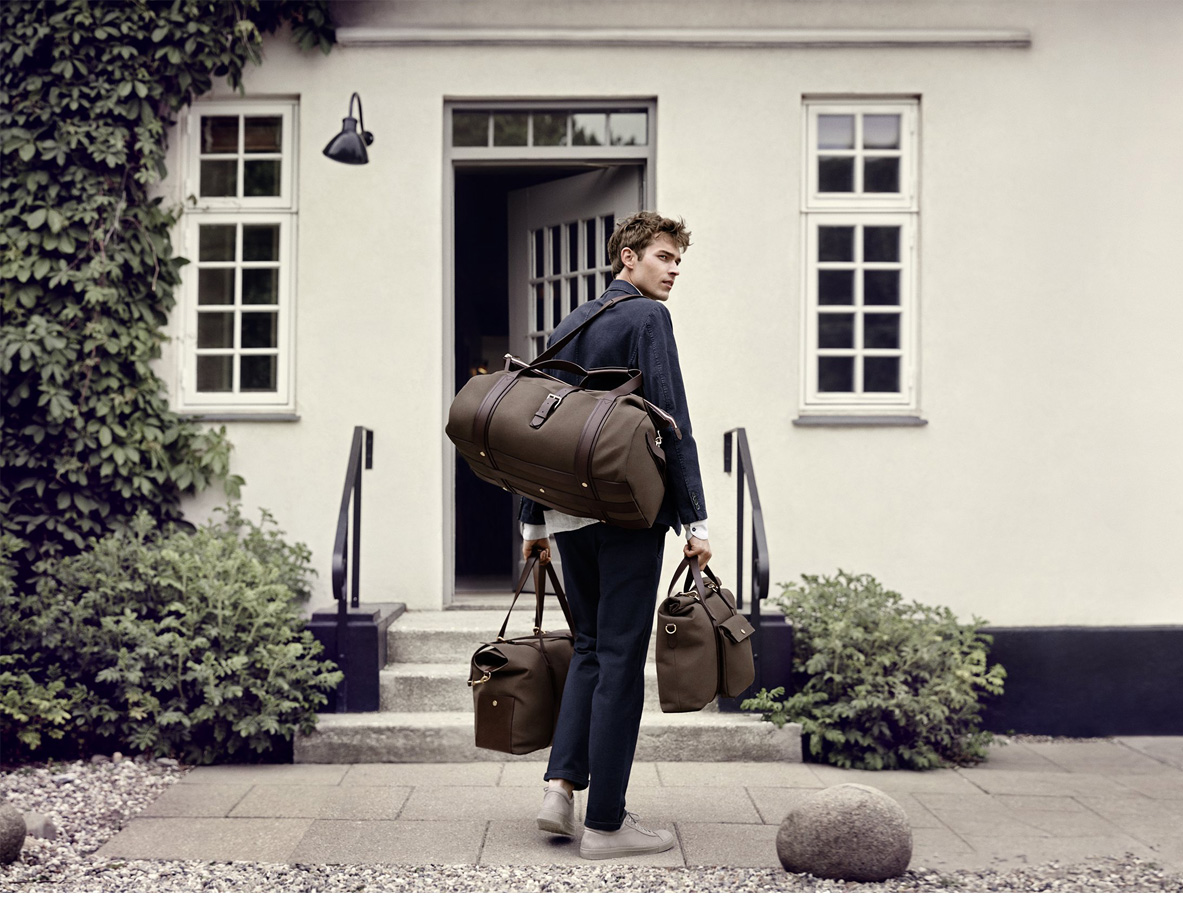 What Are The Best Bags For The Gym?
Still using that tired old tote bag for the gym? You're going to want something a little better than that. You'll need a bag that delivers when it comes to storage, durability and the power to withstand the elements – and the mistreatment you're likely going to give it through excessive use. There are plenty of gym bags for men out there, but we've narrowed down what you need to be looking for.
If you like the ease of the tote bag but also appreciate the space of a duffel bag, then this Rolltop Backpack from GUD is the ideal gym bag for you. Getting the obvious out the way, it has ample space for all your equipment – clothes, shoes, protein and the likes – but it also crafted from a durable water-resistant 100D Cordura exterior. Which means it's a lot more dependable than other gym bags. Plus, it has a durable water resistant padded base, a range of interior pockets for exterior storage. It's the type of fully functional gym bag that will stand the test of time – regardless of whether your relationship with the does.
If you're looking for a little bit more space, brands like GUD, QWSTION and Steele & Borough all have a range of gym holdalls and duffel bags that all come with a little extra room and functionality.
Now you've been presented with the best men's bags for work, travel and the gym you need something to fill them with. Check out the OPUMO Essentials, featuring a weekly selection of indispensable clothing, sneakers and accessories.