Everyone has their favourites, and although some of us identify more with the classic White Original Achilles Low or the ever-versatile Chelsea Boot, there is a hunger for a new pair of Common Projects sneakers growing inside us all. But it's not all about minimal, clean lined leather sneakers or the classic tonal colours associated with Common Projects, as the brand's latest selection of summer sneakers shows that there is a whole other dimension to Common Projects for you to explore. To illustrate our point, and to also help you out when it comes to upgrading your summer footwear selection, we have picked a few of our favourite pairs from the Common Projects sale that launched online this week at OPUMO.
Common Projects Grey Premium Achilles Low Sneakers
Common Projects and sneaker fans will recognise the Achilles Low silhouette as one of the stand out sneakers of the last five years – and the Achilles, a masterclass in Common Projects' stripped-back simplicity – is now recognised as a definitive wardrobe staple. This premium limited-edition version breaks down the tried and tested all-white Achilles low colour scheme to introduce a textured grey leather upper and a contrasting rubber sole; blasphemy to Common Projects purists, but a stylish choice for anyone looking to introduce a bit of neutral colouring and texture into their footwear rotation.
Common Projects Black Track Sneakers
This summer, Common Projects have moved ever so slightly away from their clean-lined aesthetic with this luxurious revision of a track sneaker. Made in Italy from a blend of suede uppers and leather details, the Black Track Sneakers adopt a fully tonal upper that is defined by its soft leather overlay and contrasting white rubber sole. The innovative sports silhouette is finished with an individualised gold serial number which symbolises the brand's continuing commitment to impeccable craftsmanship and understated styling.
Common Projects Sky Blue Summer Edition Achilles Low Sneakers
So often summer brings a flurry of exclusive new silhouettes – and this season Common Projects have introduced plenty; the aforementioned Black Track Sneaker, the athletic-inspired Common Projects Bball Sneaker and one of our favourites, the Common Projects Summer Edition Achilles Low Sneaker. The new Sky Blue Summer Edition Sneakers introduce a 1990's-inspired pastel colour hue that will work especially well with any tonal grey look during the summer days. The light blue sneakers will balance the overall look and maintain that cool, airy colour palette that has been seen across a number of runways with its butter-soft suede uppers and perforated panelling.
Common Projects Suede Cadet Derby Shoes
Much like the way sneakers have crept into more formal outfits, a pair of traditionally formal shoes, such as a pair of Derby's, can easily be worked into a more casual outfit. Take this pair of Suede Cadet Derby Shoes for instance; made from the softest green Italian suede and contrasting crepe soles. Incredibly clean, minimal and versatile, the shoes' simple two-tone design is representative of Common Projects' precise styling and unique craftsmanship – making them a pillar in any summer collection. You can work these Derbys into any look when it comes to a cool summer evening, but we suggest a pair of slim grey turn-up trousers and a simple white tee from Asket.
Common Projects Black Suede Chukka Boots
Inspired by the utilitarian suede boots that were built with crepe soles and worn by army officers based in Cairo during WWII, the desert boot has since symbolised everything from a hard-working rough everyday shoe, to an understated and elegant formal silhouette. Best of all, desert boots are designed to handle anything; from dusty summer terrains to cool summer evenings. These Common Projects Chukka Boots – designed as a more laid back alternative to the traditional desert boot – are a great way to take the formal edge off any summer wardrobe ensemble as the strong black tone will pair particularly well with a classic linen shirt and a smart, slim-line black trouser to ensure you look sophisticated, not severe.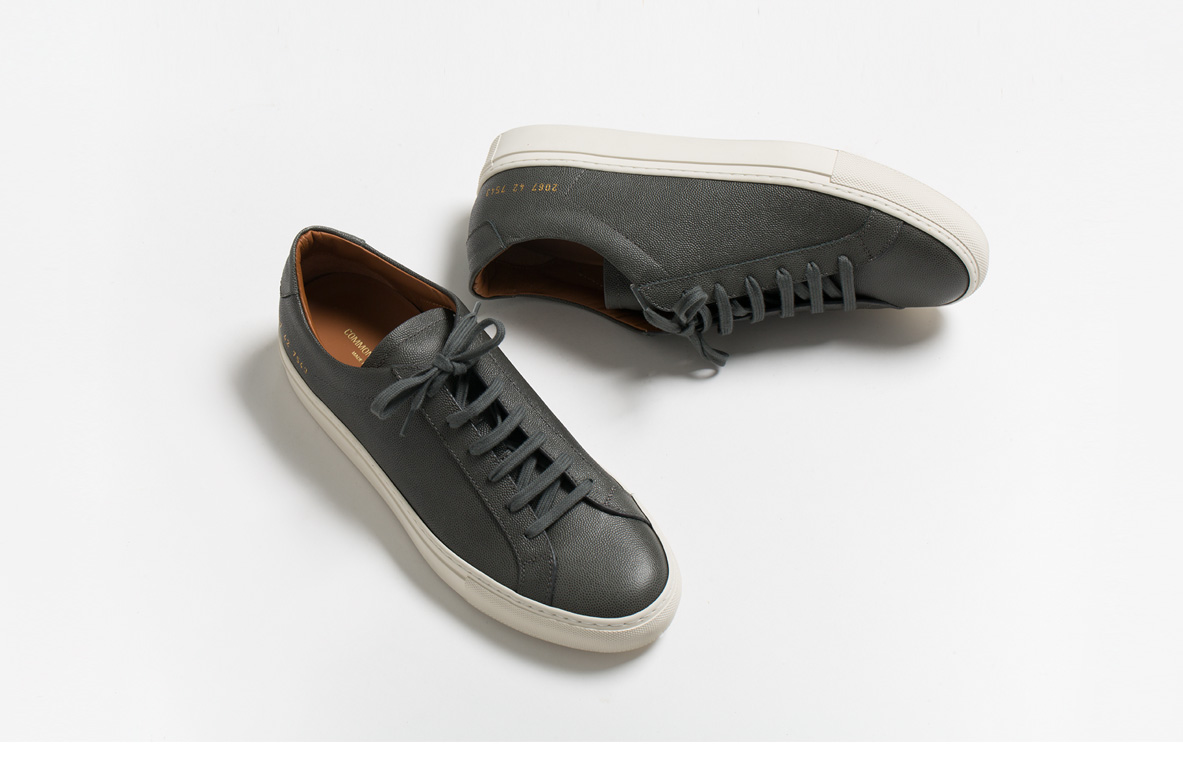 Shop the latest Common Projects collection at OPUMO.