Imagine a world in which men's trainers didn't exist. It would be an uncomfortable, almost always impractical place, right? Well, apparently, around a century ago this was a reality. Training shoes used to be heavy leather plimsolls which didn't even have a distinct left and right side. This was until an American inventor called Charles Goodyear discovered a new process called vulcanisation. Vulcanisation used heat to melt rubber and cloth together. With the help of Goodyear's vulcanisation process, trainers became more lightweight and much more comfortable.
At the beginning of the 20th century, sneakers were produced mainly by rubber companies. These companies specialised in making car and bicycle tyres. In 1916 the first athletic shoes hit the mass market. From this point, the world of trainers has arguably grown faster than any other part of modern clothing. Nowadays, we have an almost unimaginably wide range of choice, from low-top and high-top trainers to slip-on trainers and a never-ending list of  materials perfect for winter trainers. Most importantly, trainers are no longer a purely functional addition to the modern wardrobe: a scroll through the collection of men's sneakers at OPUMO will show that premium leather trainers are a viable option for smarter wear, see our guide to pulling off sneakers at a wedding.
Low-top men's trainers
You're probably here to find a simple answer to the question of the best low top sneakers for men. We'll try our best, but the world of low-top trainers is one with many facets. The lack of ankle support means that low-top trainers are comfortable for everyday wear. High-top footwear, on the other hand, may be more effective in a sporting situation. That said, recent trends have seen men's sneakers take a decidedly functional route, making use of technical materials, techniques and sportswear styles. This means that low-top sneakers inspired by hiking trainers, basketball trainers, skating shoes and more are available at OPUMO.
For men's leather sneakers in masterful minimal style, look no further than ETQ Amsterdam. The Dutch label produces premium leather sneakers for men that are all timeless. You'll never have to wonder which men's sneakers are in style. The signature low-top style – ETQ Amsterdam LT01 – takes the form of retro men's trainers used for tennis. 
In a similar vein, Filling Pieces offers a collection of leather and suede sneakers for men that returns each season with familiar core styles. High-quality materials and unique designs set Filling Pieces apart from the crowded market of men's casual sneakers.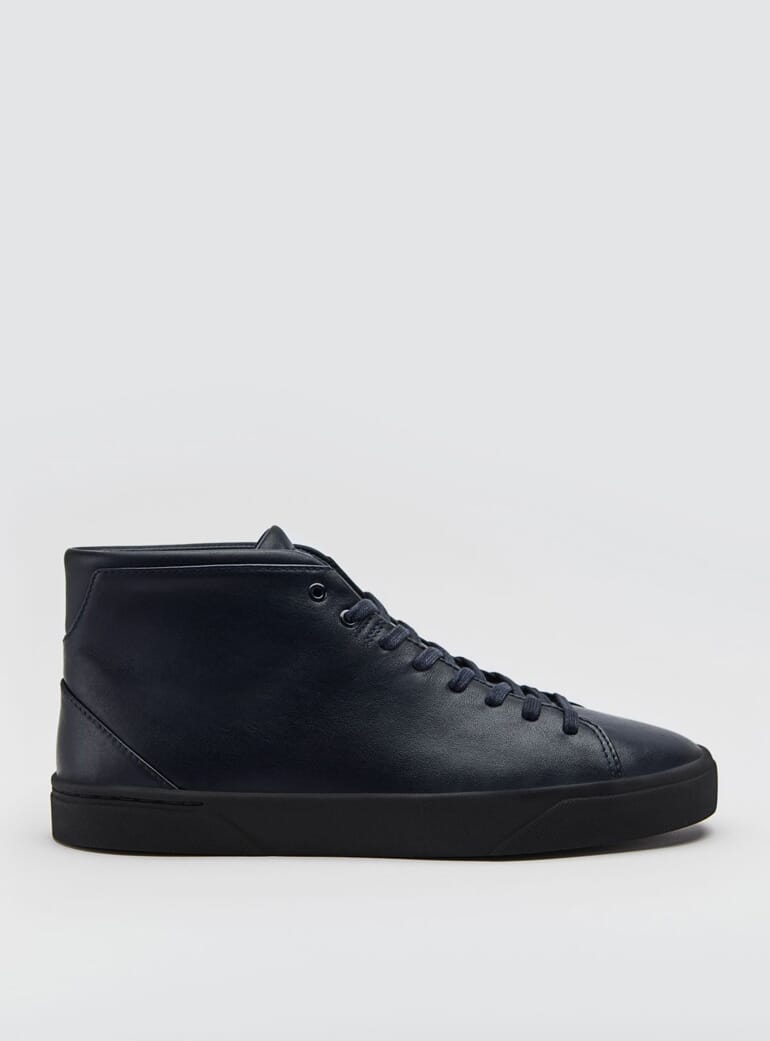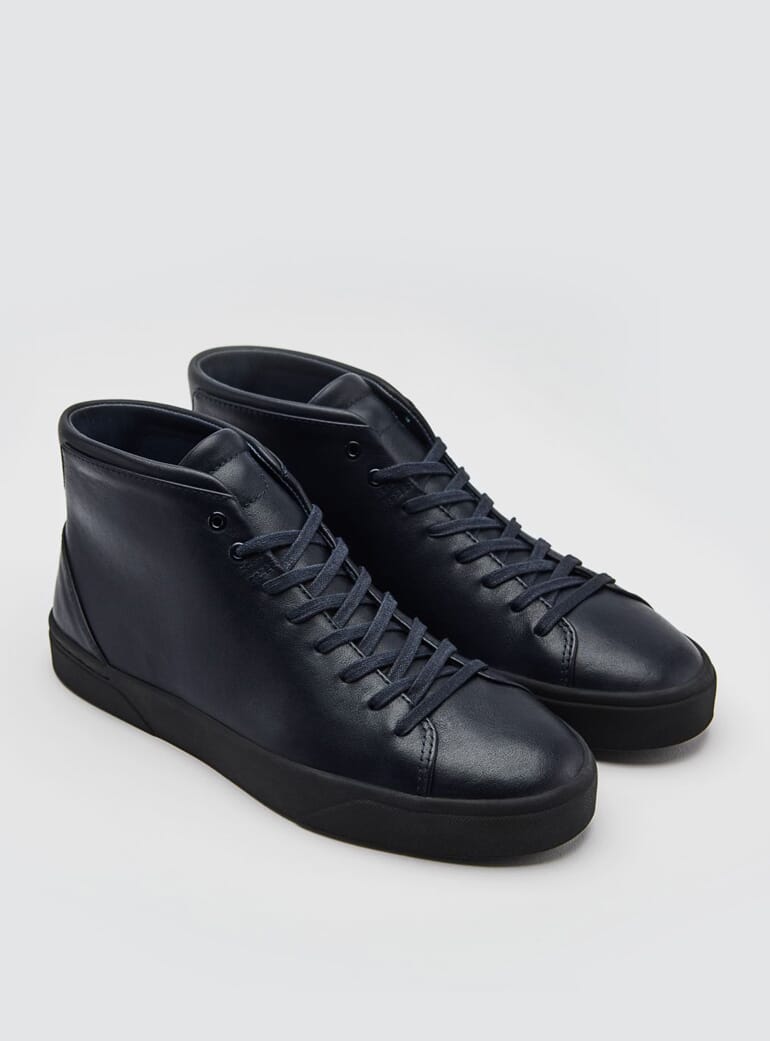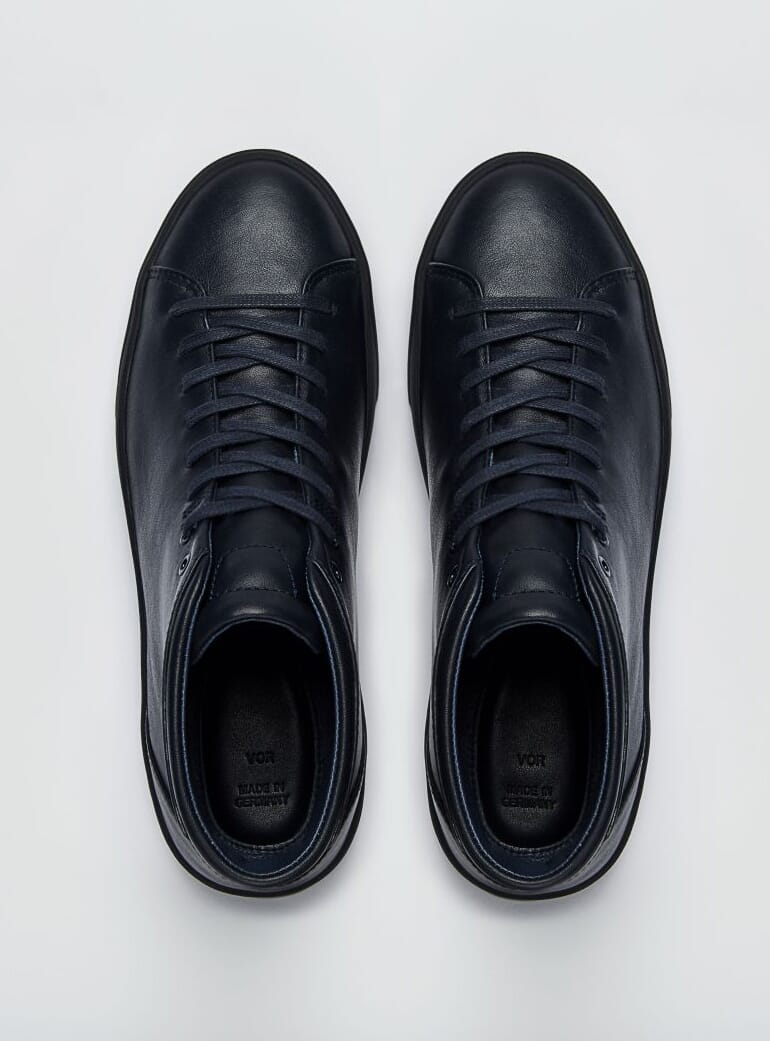 1B Nacht Blue Sneakers
High-top sneakers
Originating in the game of basketball, the high-top trainer was invented by Marquis Mills Converse in 1917. These canvas high-top sneakers have remained almost unchanged since their invention although popular modern designs provide better support. Having set the precedent for modern high-top sneakers for men, Marquis Mills Converse's contribution to the world of men's footwear should not be underestimated. While techniques and materials have become more effective and more efficient, the high-top style is still alive and kicking.
One of the greatest strengths of Filling Pieces' new collection is that form and function are brought together seamlessly. Casual men's high-top silhouettes feature heavy-duty soles, ankle padding and foot support. Filling Pieces succeeds in bridging the gap between the function of men's work boots and the style of high-top sneakers, and if you need further proof, read our Filling Pieces review.
Suede men's trainers
We can thank the stylish Swedish population for suede. The swedes originally used the material for luxurious women's gloves. Suede and leather are opposite sides of animal skin and therefore have many of the same characteristics. Although suede is softer, it's not as durable as leather so has traditionally been seen as a luxury material. The superior softness and pliability of suede make it an extremely comfortable material for footwear so long as you don't mind taking a little more care of your shoes – read our guide on how to take care of your shoes. Along with your new pair of men's suede trainers, consider purchasing suede shoe cleaner because autumn and winter can be hard on a pair of suede sneakers. 
CQP is a brand that's well known for its high-quality suede trainers. For a first-time suede trainer purchase, we'd recommend opting for a darker hue or black suede trainer to show fewer signs of wear. CQP's high-top men's sneakers and low-top sneakers boast minimalist design that shifts the focus from unnecessary detailing to the high quality materials and sharp silhouette. Get to know Adam Lewenhaupt in our interview with the founder of CQP.
Slip-on sneakers
Slip-on trainers have always been a practical variation of the standard lace-up sneaker construction but, until recently, few brands could find the golden mean between style and practicality. For many years, slip-on skating shoes were the only option for those seeking style and functionality. At OPUMO, we have a range of labels offering slip-on sneakers for men that feature premium material uppers. Find casual slip-on trainers alongside smarter options to wear with more elevated outfits.
While slip-on sneakers for men are still not as popular as lace-up styles, CQP flies the flag for men's slip-on shoes. Top-quality suede uppers mean that the label's casual slip-on shoes can also be worn with tailored trousers for a laid-back style.
Neutrale's unisex slip-on style is another great go-to. Made in Portugal from premium suede and featuring a recycled sole, its minimalist silhouette lends it ultimate versatility, perfect for everyday wear.