Every week we search through a number of new releases to bring you a bite-sized selection of the latest and greatest in menswear, sneakers, lifestyle, art and audio – and here's the latest. Enjoy.
It's normal at this time of year for us to present you with a breakdown of all the coming season's trends, alongside a few suggestions of which type of coat we think you ought to invest in and why. However, this year we're struggling to come to a solid consensus, as there is simply too much choice out there for us to consider on a single style – including the YMC Turf Jacket, the A.P.C Auster Mac and the Soulland Meng Jacket. But we thought a good place to start is with this Blue Night Park Jacket from Ontour. Ontour is a brand known for its originality and distinctive detailing, as they focus on combining durability with clothing that is timeless, wearable and comfortable. And the Park is just the latest multi-functional piece to catch our attention this week. A minimal look with maximum features, the Park is a double-layered jacket with a removable padded inner that can also be worn on its own.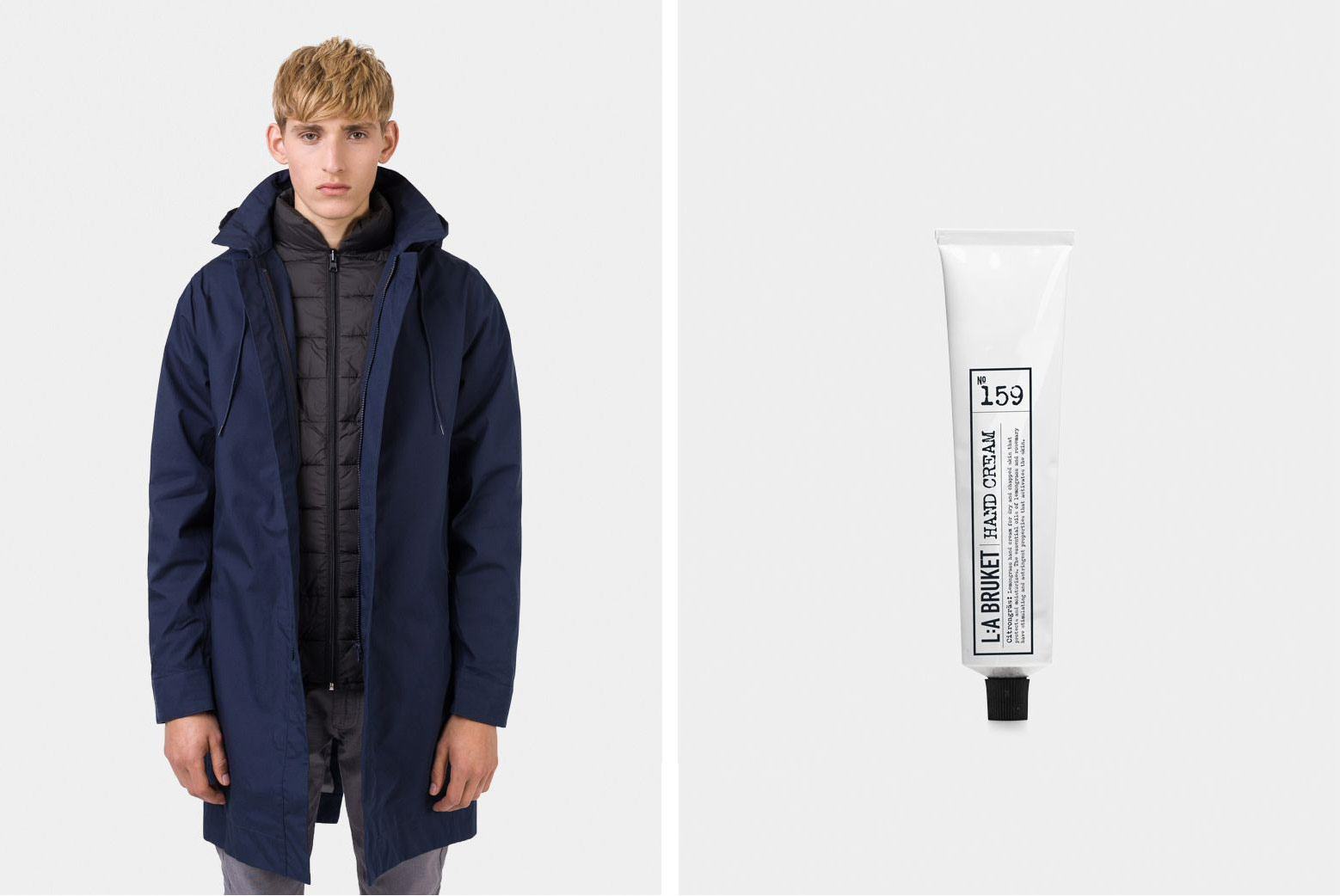 A.P.C (Atelier de Production et de Creation) – whose latest collection is online now at OPUMO – was created as a reaction to the excesses of the 1980s, and the minimalist designs of founder Jean Touitou now have a huge cult following. This compelling new book published by Phaidon on the occasion of A.P.C's 30th anniversary carries the same minimal aesthetic, yet it's packed with never-before-seen illustrations and ephemera. Part retrospective of the brand and part personal scrapbook and visual diary, the expansive book includes invitations, postcards, ad campaign and images of the brand's iconic designs, stores and collaborations.
Mismo Concrete / Cuoio MS Shopper
Behind every Mismo bag is the philosophy that luxury and functionality should co-exist, and the MS Shopper Tote is a testament to the brand's ideology. The lightweight MS Shopper is, in fact, Mismo's contemporary take on the traditional tote bag, constructed from a smooth, woven cotton canvas that is both durable and luxurious. The Shopper is better than your average tote courtesy of its versatility, as it comes complete with removable and adjustable shoulder straps and a small interior pocket that is the perfect size to hold all the essentials.

Vuarnet Grey / Silver Glacier Sunglasses
Practically speaking sunglasses make for the perfect accessory in winter months. In northern climes the winter sun sits lower in the sky, making eyewear an essential for driving, walking, skiing etc. But beyond their pragmatic appeal sunglasses are the one item that can drastically alter your persona and style too. Yet there is a difference between a pair the sunglasses that you'll wear in summer and the ones that will see you through winter. Take the Glacier model from Vuarnet, for example. The pilot-shaped frames feature a unique high-tech design that was originally designed for the French Alps but has recently made the switch off the slopes to even seduce the most famous secret agent, James Bond in Spectre.