We are well aware that no one would like to be reading this article at this very moment in time, but it has importance, as it signifies where we're at right now in terms of the weather. We're at that point of summer – we're of course referring to the British summertime – where the weather simply cannot make up its mind. It's mid-summer, creeping into August in fact, but it's trying extremely hard not to be. One day: its sunshine and you're wearing shorts to the office. The next: the temperature has dropped and the thunderstorms and rain clouds are appearing, forcing you to dig out a lightweight jacket that you thought you saw the back of a few weeks ago. With the weather in mind, we need to think well-ahead when we leave in the morning as the situation can often change over the course of an afternoon. Which is where this Edit comes in. These new jackets – from the latest name to arrive at OPUMO, The Arrivals – will be your saviour throughout summer. Light enough to wear in warm weather, and easy to slip a layer underneath should it become cooler too. To illustrate our point, here are three of our favourite summer jackets that you can wear all season long.
Just one glance at the latest collection from New York-based brand The Arrivals and it's easy to see why they have stormed through the fashion world to ignite men's outerwear. At launch, back in 2014, The Arrivals represented a total of 0 years of fashion industry experience, but that hasn't stopped them becoming one of the most respected names in menswear for not only their individuality but for their care, craft and ingenuity, too. Most importantly of all, every piece in The Arrivals collection is designed to work with the unpredictable nature of the changing seasons, and each piece merges urban necessity with the architectural foundations of modularity, functionality and movement. Which is precisely why we're introducing you to them right now.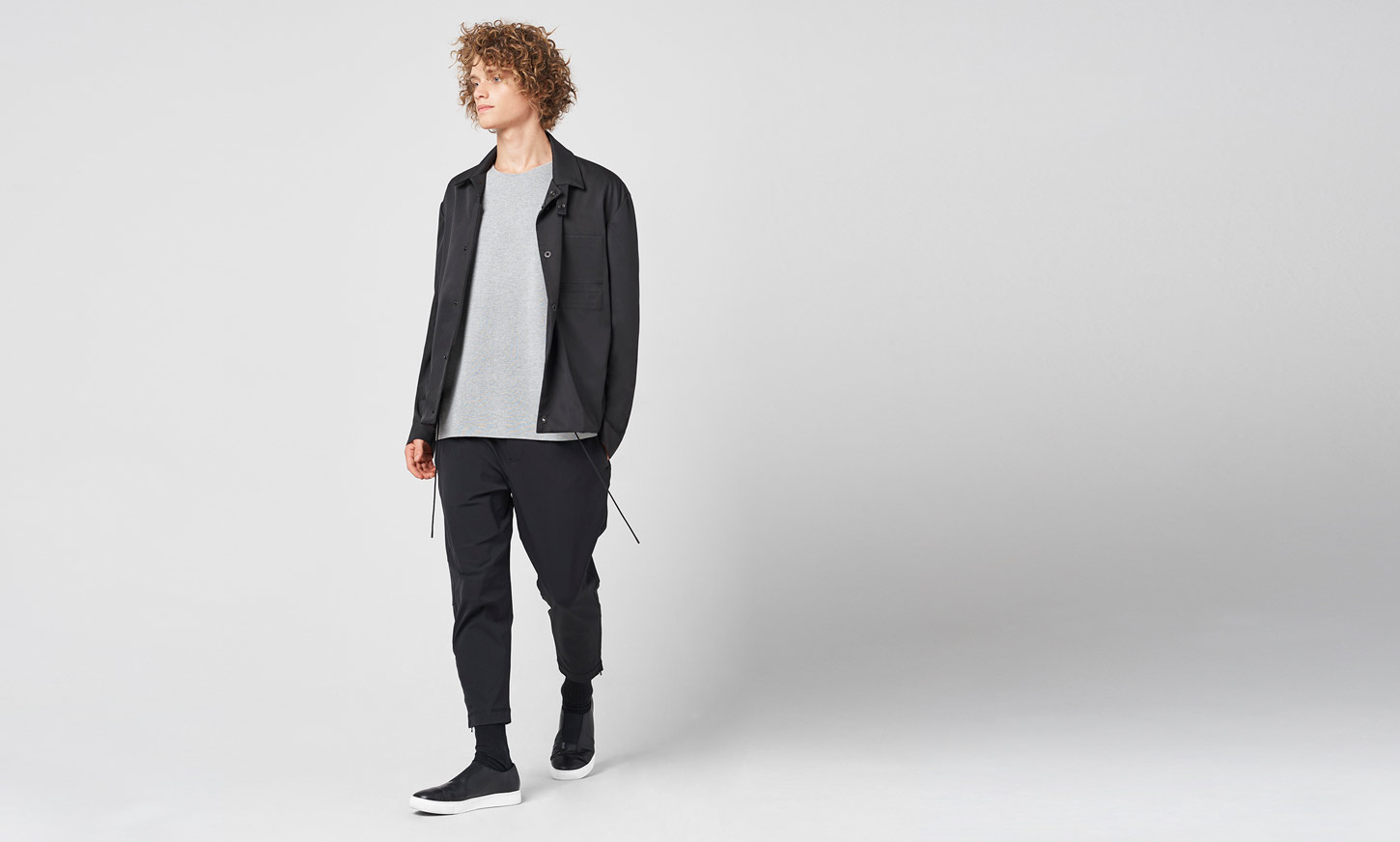 Take this Nolan Mechanic Jacket for instance. Made with breathable, American-made cotton twill, and available black and blue, this workwear-inspired jacket is an easy, laidback piece to wear at this time of year. And best of all, it can look summer-appropriate in almost any scenario. Throw it over a lightweight sweater if the weather isn't feeling too warm – or over a white tee if you're feeling a little bit more optimistic. And if things are really exotic, it's lightweight enough to be carried over the shoulder and will complement any lightweight trouser and white sneaker combination.
This Axel Jacket has more a utility feel to it and it offers a refreshing interpretation of the bomber, influenced by The Arrivals' contemporary adaptations of classic aviator styles. Defined by its oversized proportions and tactile streetwear details, the Axel Bomber focusses on performance and protection courtesy of its referential bomber details and it's silky, lightweight satin construction that features aerodynamic, boomerang-like lines.  The high-shine orange colour hue not only elevates the bomber above the ordinary but it will also compliment any colour palette from blacks, greys, white and cream hues.
Don't be distracted by the dizzying array of options out there when it comes to the denim jacket this summer – stay clear of the Japanese-inspired patchwork and the embroidered jackets if you're unsure – and opt for something a little understated. The Arrivals' White Max Redux Denim Jacket, for example, is a perfect choice. The neutral-coloured denim jacket not only offers a summer-appropriate alternative to other heavy-tailored styles, but it offers a little-added texture too courtesy of its subtle-hand finished accents. Match yours with a dark coloured jean and a pop coloured tee – in a caramel or orange hue, or a variation thereof – to anchor the outfit.
But if you're just looking for a jacket that will keep you looking good in the rain – then, here is a couple of added bonuses. The Element LMTD Poncho, for example, features a minimalist exterior that is balanced by a highly-articulated interior system of laser-cut pockets and details. While the waterproof A-line design of the poncho means it is wearable beyond the confines of a festival. Alternatively, The Arrivals' Modular Rain Jacket – available in our favourite two colours of Sage Green and Black – acts as a lightweight and breathable compatriot to the more progressive poncho. As the waterproof ripstop construction, the modular hood design, adjustable sleeve lengths and ventilating mudflap back panel makes it a useful layering piece through summer and it's the sort of style that can be worn all-year-long – any excuse to see the sage green colour hue again, to be honest.
Shop the latest The Arrivals collection at OPUMO.
Be sure to read our ultimate guide to men's coats and jackets.