When it comes to minimalism and motorbikes there are two routes to take; one path means to strip off much as possible to ensure that the bike looks good, but doesn't perform at its best. The higher path, one that uses complex solutions to achieve maximum simplicity and functionality, is naturally the most effective. It is also the philosophy behind Austrian-based garage Vagabund Moto who have just revealed their latest project – a fully renovated BMW R100R.
Hailing from Graz, Austria, Paul Brauchart and Mechanical Engineer Phillip Rabl have only been operating as Vagabund for two years – but they have already grabbed headlines in the custom-bike world, having already featured on the OPUMO Magazine for their BMW R100R concept and their adaptation of the Honda CB450 K5.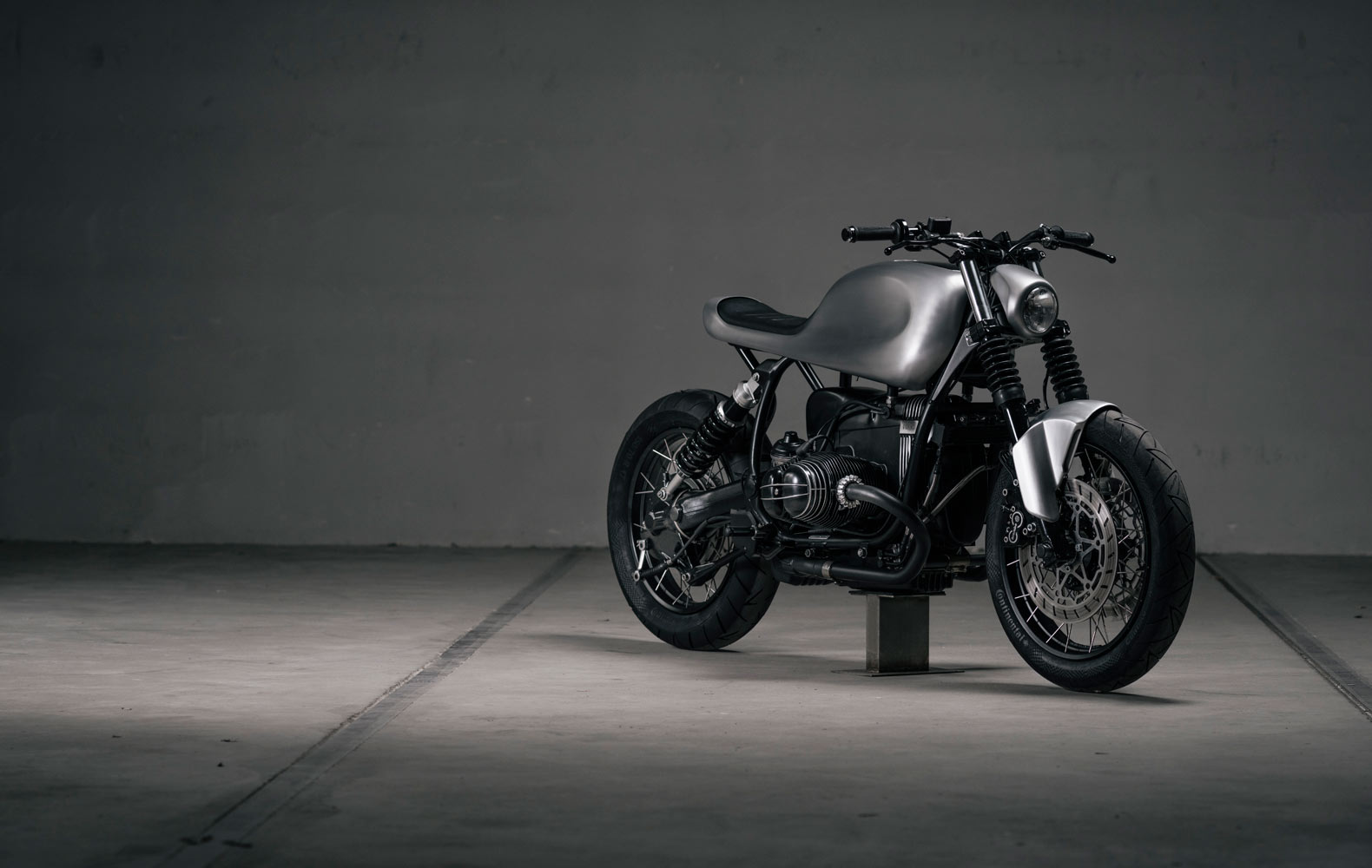 The commission for the new BMW came from a client who has seen the Vagabund R80 'V05' and pretty much wanted the same thing. "I was sure that we'd be able to build something outstanding," says Paul. "So I proposed sketching something really different. After the first sketch, he was in love, and we started planning. He was totally trusting in us and gave us no guidelines."
Paul and Phillip began the project by sourcing a suitable donor – a 1993 BMW R100R in this instance – and they began to strip the bike bake to its bare bones to reveal a streamlined and shadowy-coloured V07 café racer – that was first unveiled at Vienna's 2017 Moto Circus Festival.
Affectionately dubbed "The Whale", the bike's original set and tank have been replaced by a new bespoke monocoque unit – including sleek acrylic panelling in front of the classic pop-up gas cap. Despite The Whale's minimalist frame, the bike also has a few hidden tricks, including a leather valet tray accessed by a cable release system at the tail-end and a slim-line lithium-ion battery.
Check out the intricacies of the all-new Vagabund BMW R100R in the image gallery above and head to the Vagabund website for further information.