Underneath Harry Spain's – or @Mr.Fits, as he is more commonly known - name on Instagram it reads, 'form, fit and function'. Although all of those words do accurately describe Mr.Fits' distinctive aesthetic, they do not do him justice, nor do they really tell his story. He has a few more strings to his bow than just being an ordinary menswear influencer. Plus, he knows an awful lot about where are the best places to go to in Dublin. We discuss all that and more in the latest edition of 'Who We're Following' below.
How Has Your Personal Style Evolved Since You Started Instagramming?
When I started Instagramming I was into a clean Scandinavian aesthetic with more of a tailored fit. Over the last two years my fits have definitely started to become more relaxed. I am heavily influenced by Japanese street style and workwear which has transitioned me to a wider leg and given me a greater appreciation for the functionality and construction of garments. Going forward I'm trying to be less influenced by trends and invest more in timeless pieces that will shape my personal style for years to come.
Has Instagram Changed How You Get Dressed In The Morning?
I don't think so! I enjoy putting my outfits together and wear whatever I'm feeling on a particular day. It's important to me that what I show on my Instagram is actually what I wear day to day and not just something thrown on for a photo.
What One Item In Your Wardrobe Do You Wear More Than Anything Else?
As boring as it sounds I wear a plain cotton crew neck t-shirt almost every day - I have 5 black & 5 white, to be precise. It's a staple that will never go out of style and can be worn a number of different ways. I'll wear it tucked into a nice pair of trousers to give off a more classic vibe, whereas I'll size up to wear it as part of a more relaxed, slouchy outfit.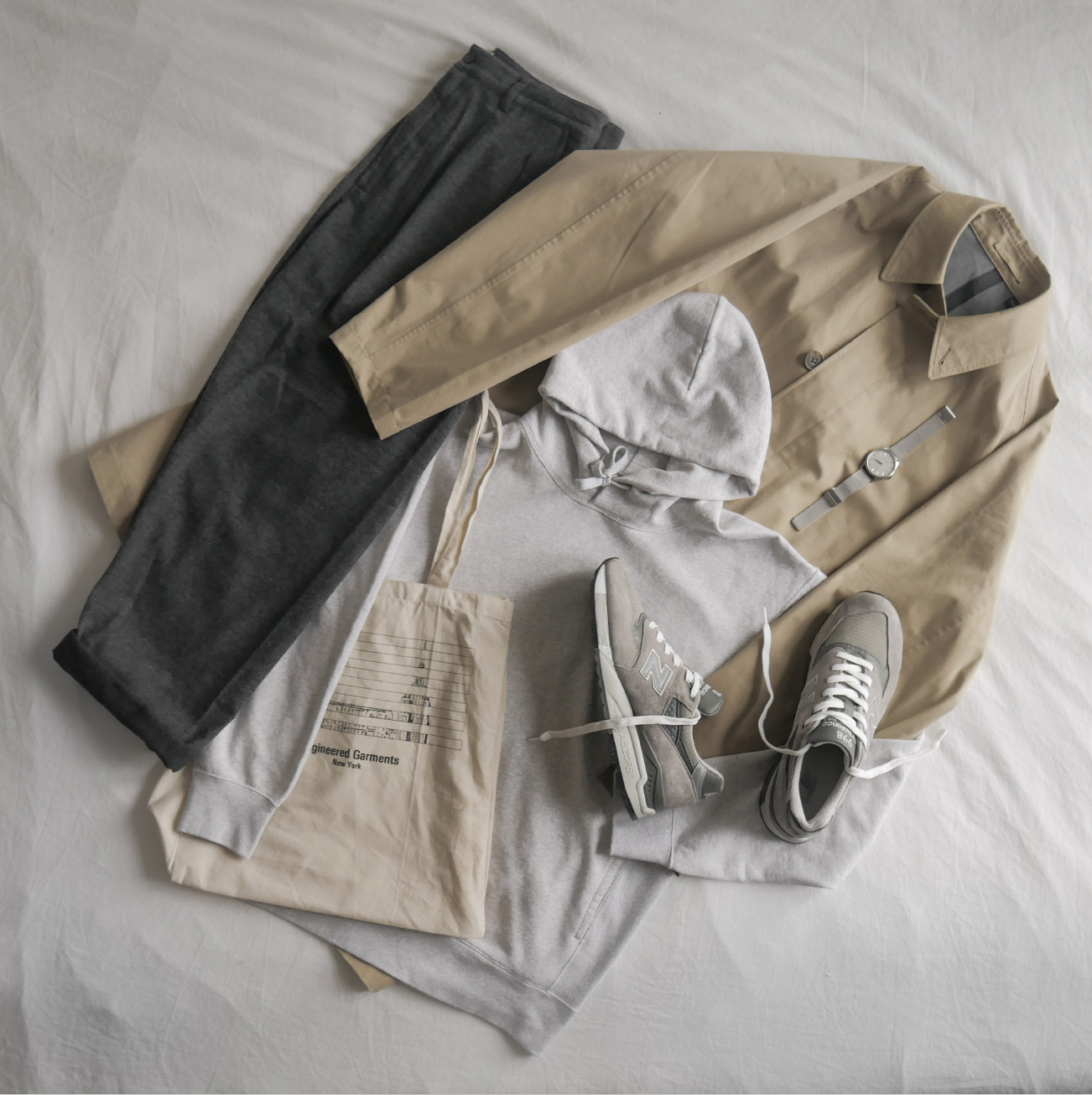 What's Your Go-To Outfit When You're Tight On Time Or Low On Inspiration?
My go to formula lately has been a Cotton Tee shirt, a shirt jacket from A Days March, wide leg chinos from Universal Works, New Balance 998 sneakers and a canvas tote for my everyday carry.
What's The Eternal Style Tip You Always Share With People?
Dress for you. Wear what makes you happy and care less about what other people think.
What Was The Piece Of Clothing That Made You Fall In Love With Menswear?
I wouldn't say one particular piece or brand did it for me. My mum is a fashion designer so growing up I always thought about clothes in a different way to many of my peers. I guess I have gradually gotten more and more into menswear as the years have gone on.
My Favourite Brands At The Moment Are…
I'll preface this by confessing my favourite brands don't quite align with my budget at this stage in life… so they are often a source of inspiration as opposed to the pieces filling my wardrobe.
Right now I love : Engineered Garments, Universal Works, Beams, Mfpen, Our Legacy, Prospective Flow, Norse Projects, Common Projects, Garrett Leight… to name a few.
I Think Menswear Should Be…
Simple, functional and timeless.
You're Based In Dublin, so let's learn a little bit more about the city:
Best Place For Brunch In The Capital?
Two Boys Brew in Phibsborough – It serves brunch all day on the weekend. Amazing food, coffee and interior.
Best Place To Go For A Bike Ride?
Phoenix park – Its the largest park in any capital city in Europe and beautiful on a sunny day (which are few and far between in Ireland).
Best Place To Grab Coffee?
Kaph – An independent, contemporary, speciality coffee shop on Drury Street. It does great pour over and makes a mean flat white.
Best Place To Get A Picture?
For sure Trinity College Dublin. Right in the heart of the city, it's filled with a great mix of blossom trees, modern structures and buildings dating back hundreds of years. Whatever you're into, you'll find it here.
Best Place For A Drink?
It's no surprise there's a lot of places to find a good drink in Dublin:
The Bernard Shaw is a hipster heaven and has all kinds of drinks as well as a double decker bus that serves great pizza out back.
The Market Bar for tapas, wine and pints in an incredible old remodelled industrial space
Kehoes is the best traditional pub and my favourite spot for a pint of Guinness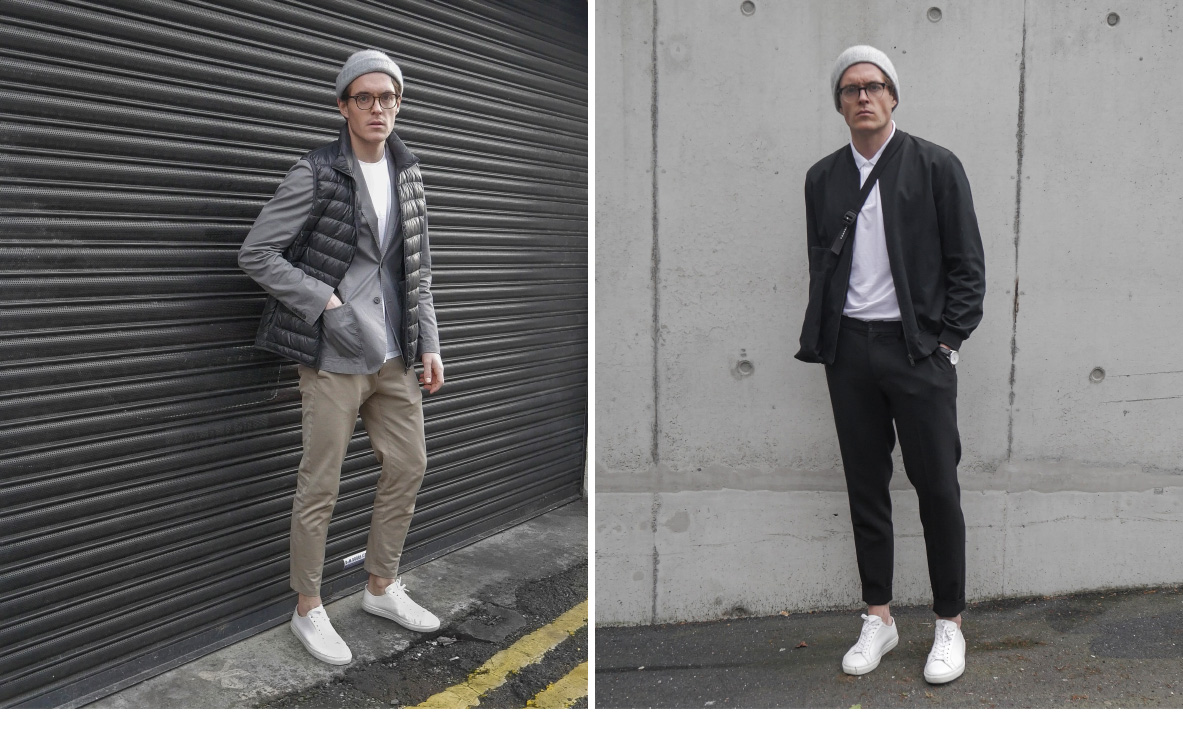 Three Of Your Favourite Instagram Accounts:
Luke is based in London and is an endless source of travel and style inspiration.
A Scandinavian interior stylist who posts the most beautiful interior shots.
For Menswear/Lifestyle:  @Shaunyess
A fellow Irish man (but living in Liverpool) Shaun posts a mix of outfits, interiors and coffee.
Follow Mr.Fits on Instagram, @Mr.Fits
Want to see more in the 'Who We're Following' series? Check out our exclusive interview with one of our favourite contemporary photographers, @TheSoggyBlanket.