The short-sleeve printed shirt has been looked down on for a long time now – a bit too long, we reckon. Yes, there is a delicately fine line between a lightweight short sleeve shirt for summer and looking like a number of suspect TV personalities – you know who we're referring to. Jim Carrey as the gaudy Ace Ventura for example, Michael Douglas as the unemployed engineer in Falling Down or Richard Ayoade in his array of beige short sleeve shirts as Maurice Moss in IT Crowd – for those of you who prefer a more cult-comedic reference to underpin your choice of shirt. Anyway, we can see why many of you may shy away from the short sleeve printed shirt, but if you get it right it can be one of the best styles to wear this summer.
An explosion of short sleeve printed shirts have crept into collections in the last few seasons, but there is still a lot to be said for keeping things simple, too. Which, thankfully is where most SS19 printed shirts lean towards. So, rather than continuing to point out the pitfalls of the printed shirt, we're embracing it with a help of a few of this week's latest arrivals. Below are five of our favourite short-sleeved printed shirts, and how to wear them.
Nikben La Cucaracha Shirt
The Cuban collar, camp collar, bowling shirt, call it what you like; the relaxed shirt offers the best of both worlds. It can act as a neat, considered layer under a lightweight jacket when it comes to a summer evening and better still, it can offer a bit of pattern and personality when worn on its own. This La Cucuaracha pattern shirt from Nikben – the Swedish brand best known for its signature range of statement swim shorts – has a slim-fit profile and a relatively low-key Mexican-inspired design that keeps things interesting without going overboard.
NN07 Blue Print Miyagi Shirt
The inner child in you wants to buy this shirt because it's called Miyagi while the level-headed, menswear-orientated, fit-obsessed lobe in your adult brain is telling you to buy it because it looks that good. Whatever voice you listen to equates to the same answer. So we needn't go any further. What we will tell you though is this NN07 printed summer shirt is a modern take on the 'pyjama style' which means its Tencel construction gives the shirt a relaxed, drapy feel.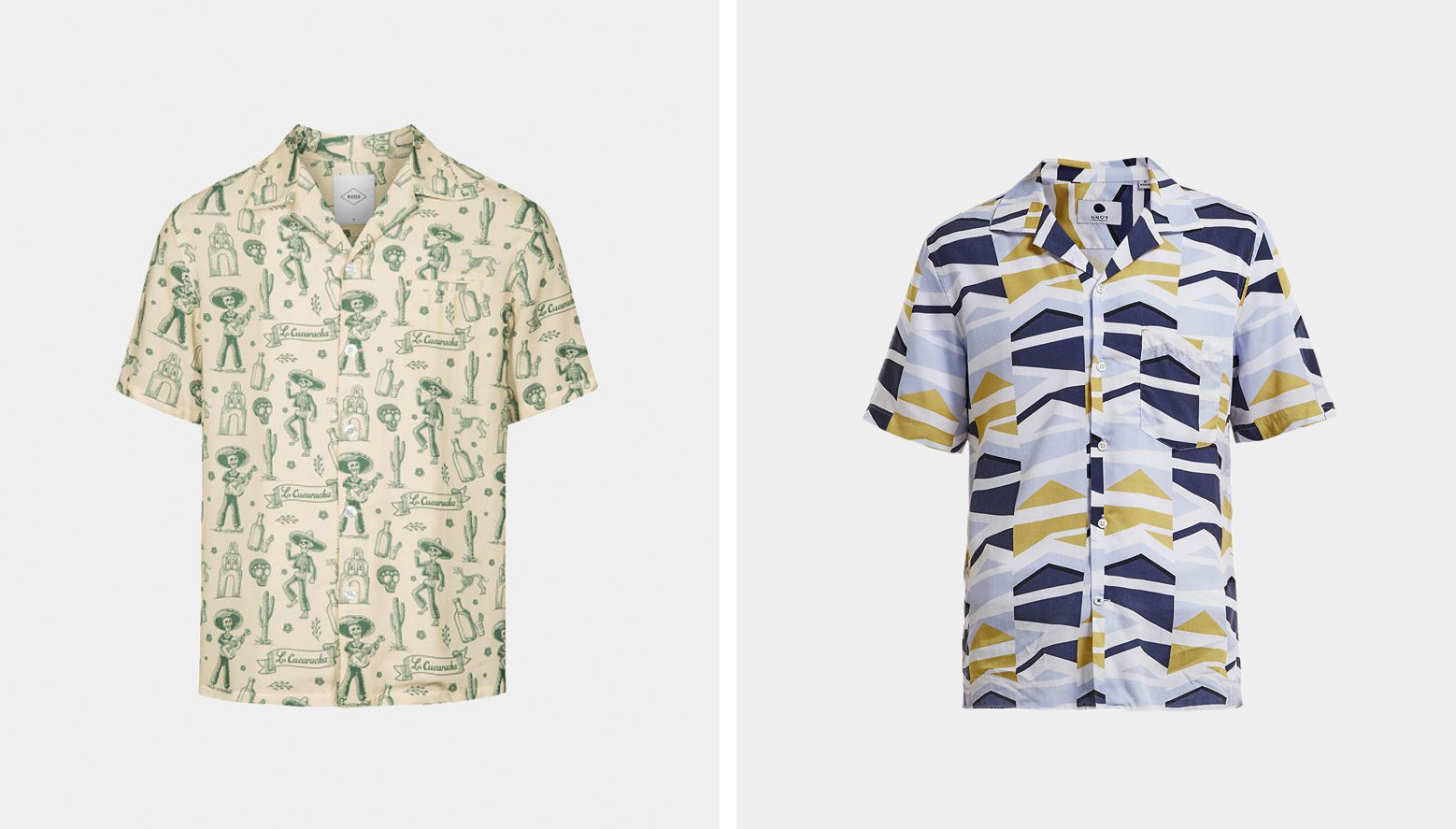 YMC Indigo Malick Shirt
The Malick Shirt has been a sure-found favourite in YMC's last few collections because it relays the brand's message of carefree, contemporary menswear better than any other piece. Although it's the same shape as the Pink Malick Shirt above, this indigo variation features a hand block print that has been garment washed to give the shirt a relaxed finish. The perfect gateway shirt for not taking yourself too seriously and not looking like you've been consumed by the full frivolities of summer too.
Soulland Blue / White Ersa Shirt
The greatest complement we can pay the Soulland Esra Shirt is that it looks exactly like a men's summer shirt should. What we mean by that is that its blue for starters – a lot of us have a strong and unbinding allegiance with any shade of blue for some reason – and it's incredibly versatile. The understated white fan design, French jacquard cotton construction and simple chest pocket means it leans towards the smarter side of printed shirts and it looks at its best worn with a coordinating pair of dark navy shorts and a statement pair of Nude Common Projects Achilles Low Sneakers.
YMC Pink Malick Shirt
YMC are always good for a printed summer shirt. We could've picked from a number of different shirts to be honest, but we plumped for this pink one because, well, just look at it. It's another refined take on the camp collar shirt with contrasting cork buttons, a simple chest pocket and a blissfully laid-back white and green palm print that operates well in calming down the pink colour hue. Plus, its crafted from a unique cotton-linen blend which makes it particularly lightweight and comfortable.