We know what you're thinking. You thought you weren't allowed to wear loud shirts. They're too Miami Vice you thought. They're not part of a traditional capsule wardrobe and they don't fall into the stylish colour safe spaces of navy, olive, grey and white. Well, forget everything you've been told about men's printed shirts. You are allowed to wear them, you just have to wear them correctly.
Now, disclaimer: you can still look a fool if you wear a printed shirt wrong. Pick the wrong one and you're the sartorial clown and not in an endearing way. Too bright, too loud, too much going on, any kind of novelty and you're that guy. You never want to be that guy.
Rock a printed shirt well however and the world is your oyster. You'll be seen as stylishly accomplished. Unafraid to express yourself. Fun. The cool guy at the party. The sartorially brave one with an understanding of what it means to mix colour and pattern. All of the above is literally one shirt away. Let us guide you through the process with some style tips and a pick of the best printed shirts for men on the market.
How to style a printed shirt
It's all about balance when it comes to printed shirts for men. Like a bunch of flowers you need to think of your trousers as the stems and the shirt as the flowers. One supports, the other attracts the attention. If you start messing around with the support then you're going to divert attention away from the main event. This goes for wearing a jacket on top too. Clashing patterns are dangerous and you seriously need to know what you're doing.
So what does this mean? Plain, neutral block colours at the bottom, vibrant printed shirt on top. If you're thinking of wearing an overshirt or chore jacket, again, keep it neutral and frame the print. A pair of dark wash jeans works well with a dark print, a pair of light wash or dare we say it white, wide-leg trousers, be they denim or drill fabric will work well with a light or floral print.
The same applies for up top. A printed shirt is great for breaking up a suit for a more casual look as long as the suit itself isn't too busy. Try not to contrast light and dark too much but otherwise, have some fun with it. Let printed shirts sit beneath sweatshirts, collars giving ample glimpse of what's underneath or wear them underneath casual overshirts.
Going back to the introduction, it's important not to go overboard. Nothing about a solid printed shirt screams novelty. Match tones or colours in the shirt, don't opt for anything too loud and please, please don't choose anything you might see Guy Fieri wearing.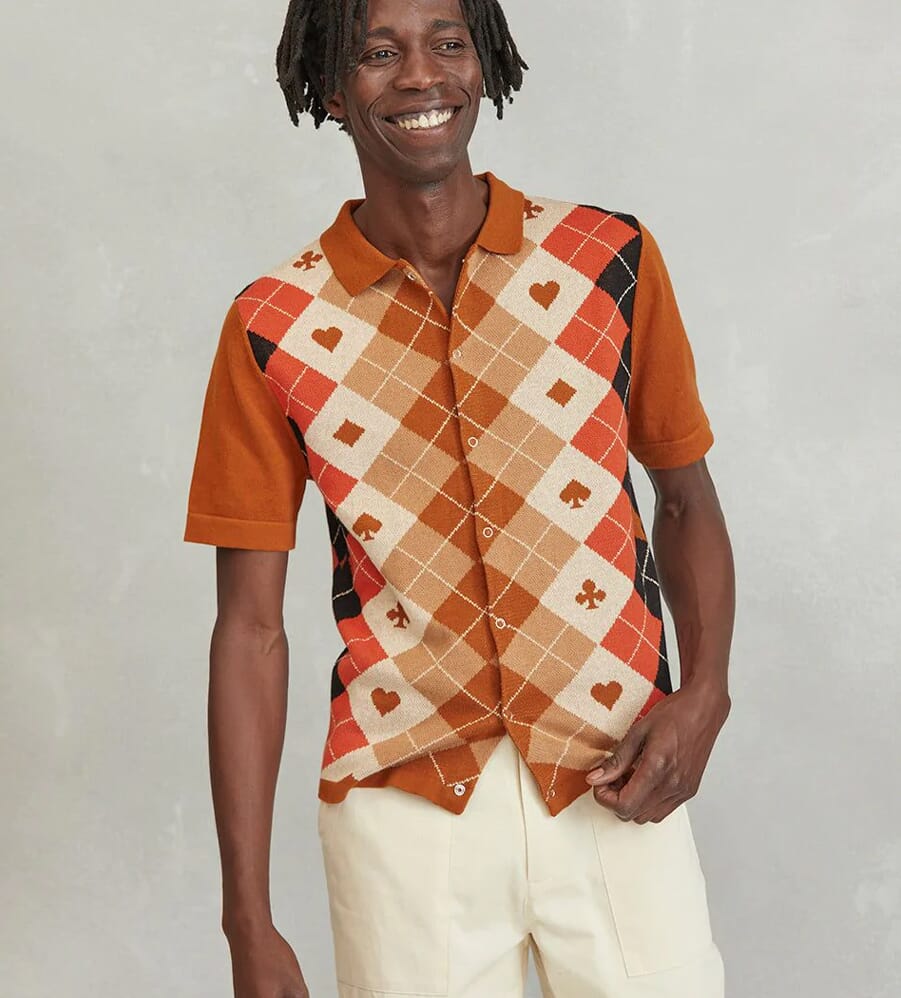 Best printed shirts for men in 2023
Percival Argyle Deck Knit
This little number from Percival is a great example of keeping it tonal. The Argyle Deck knit brings card deck inspired design with a full button down front and short sleeves. Available in blue and rust, the lighter shades in the shirt lend it to being worn with a pair of cream or white chinos whilst the darker tones work great with a pair of black or navy trousers, depending on the colour of shirt you choose. Made from 100% cotton, it's a comfy one too.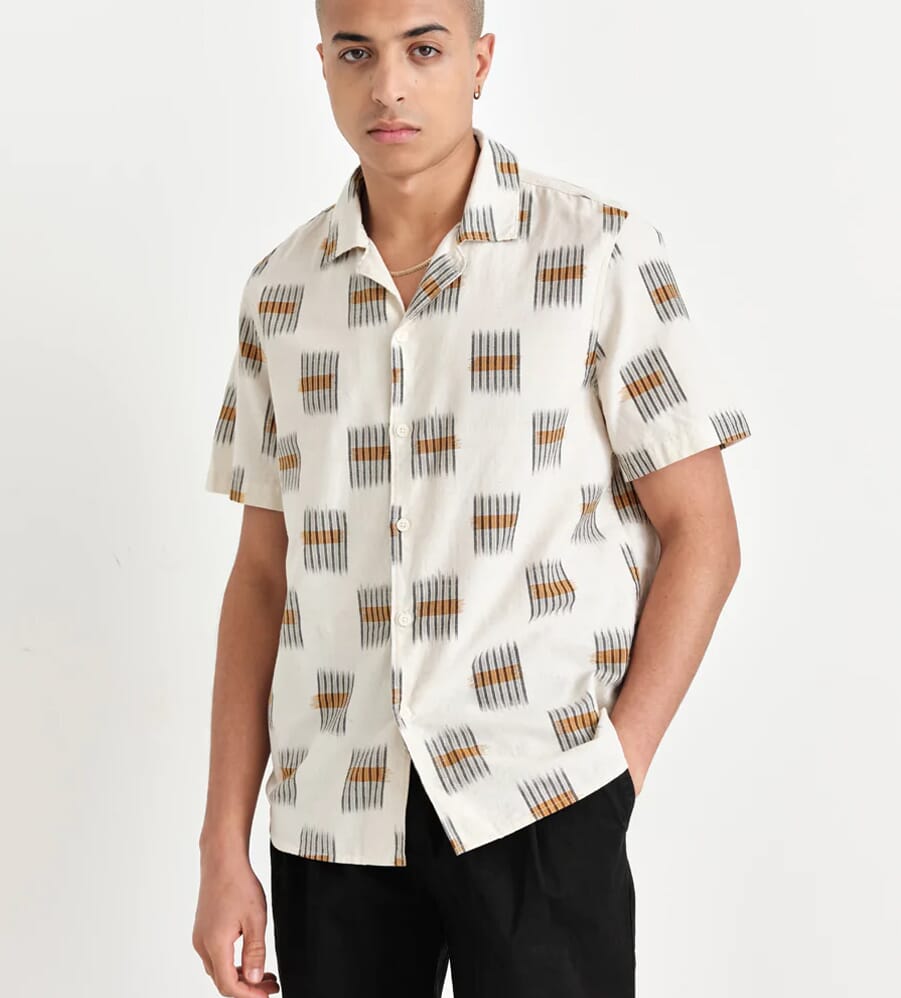 Wax London Didcot Shirt
See how this one is intriguing but not offensively loud? Wax London's Didcot printed shirt is available in ecru and black and is a certified summer essential. The ancient Indonesian Ikat dying technique dyes the yarns one by one, giving what are extremely aesthetically pleasing and mesmeric striped patterns. Cut in a relaxed fit, in lightweight 100% organic cotton, it's an ideal go-to shorts weather shirt. Super breathable too. Dress it up with linen trousers and espadrilles or just wear it over a pair of shorts with canvas trainers. It even features eco-friendly Corozo nut buttons. Is there anything this shirt doesn't do?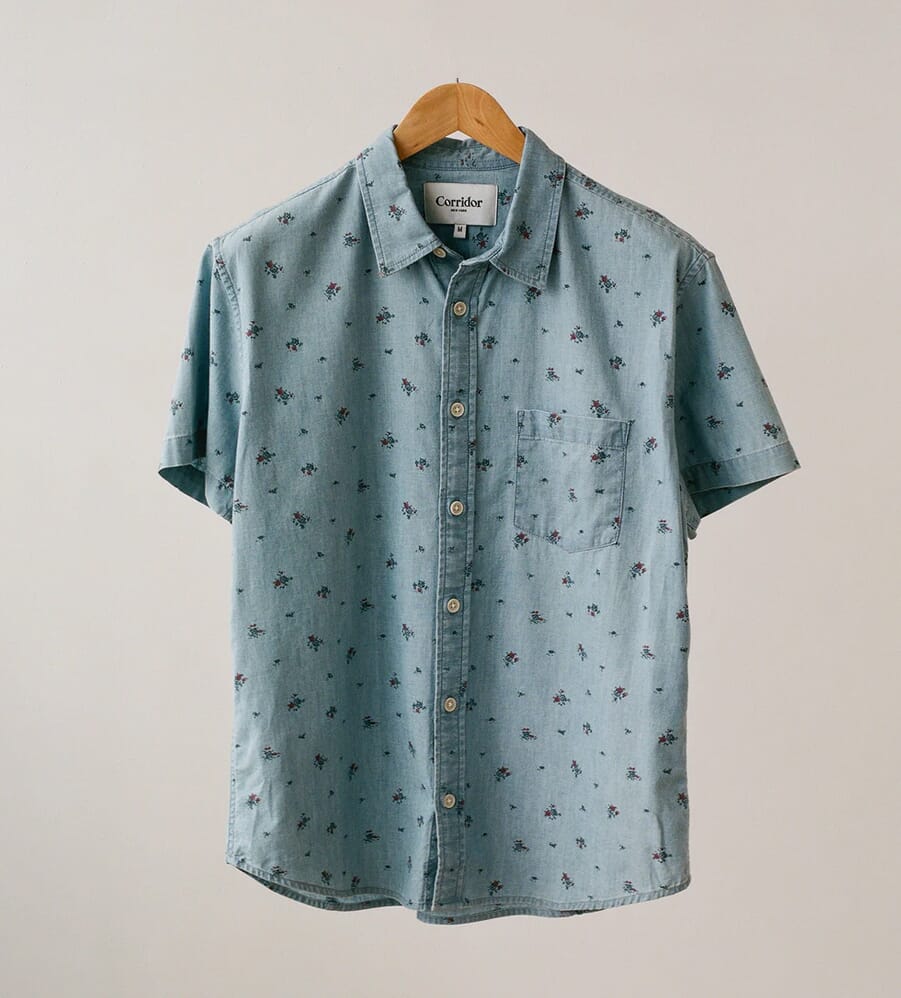 Corridor Chambray Short Sleeve Shirt
For a more substantial short-sleeve printed shirt, Corridor have just the thing. The independent New York brand is inspired by colour, nature, music, spirituality and New York life so you can bet they're going to hook you up with garments that drip personality. There's also an emphasis on sustainability. The brand's floral chambray short sleeve shirt is available in regular fit and made form 100% cotton chambray giving it a more robust and substantial feel. A heavier garment compared to a lot of lighter shirts on the list.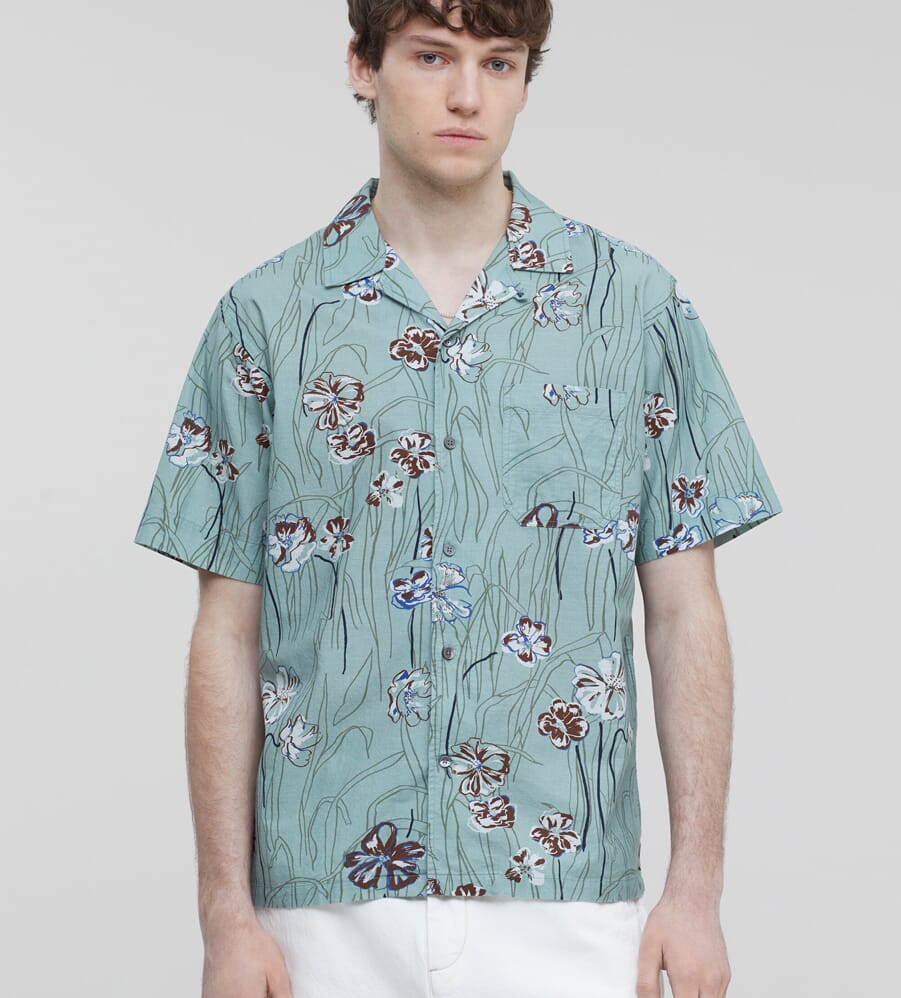 Closed Half-Sleeved Shirt with Print
Now we're digging into patterns. Closed's half-sleeved printed shirt is a sight to behold with that all important Cuban collar. Available in black (safer) and dried basil (riskier but worth it) colourways, the shirt is made in a light Italian quality 100% cotton with pearl buttons, a straight hem and side slits. A breezy number for Riviera fits, the black version is gagging to be styled with a stark, light linen two piece whilst the dried basil edition lends itself to a pleated trouser and white trainer.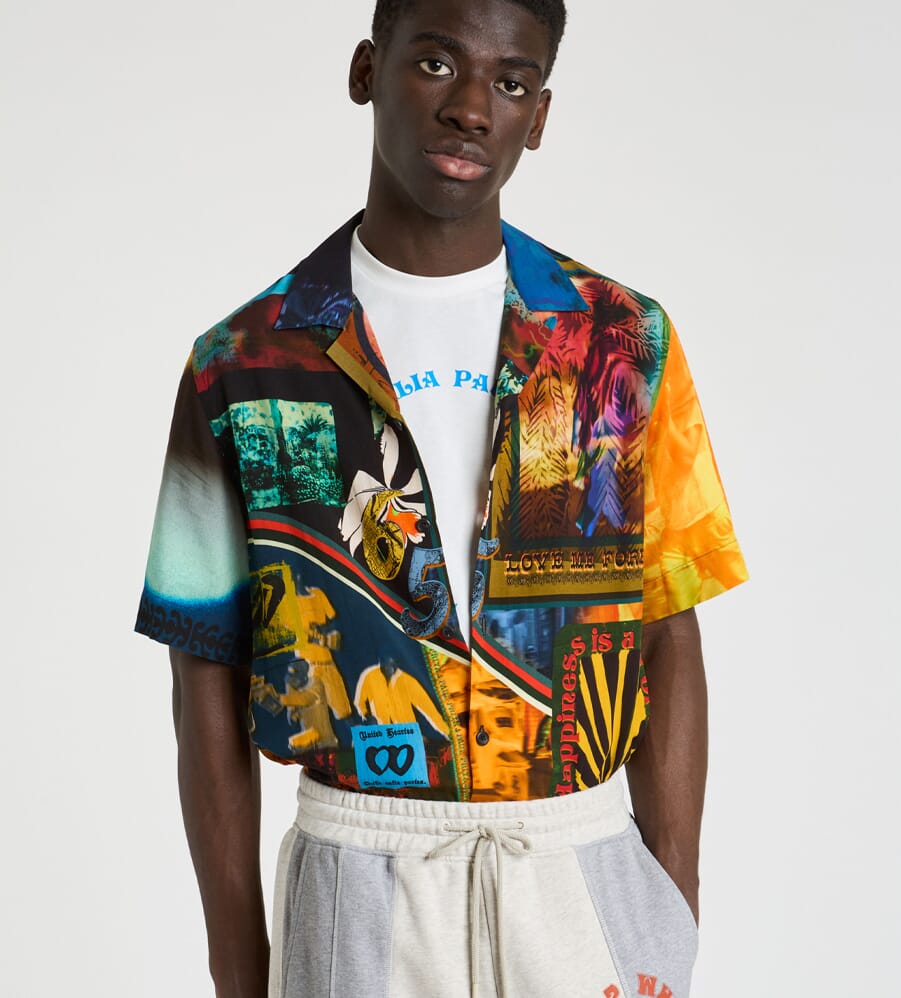 Paul Smith Printed Viscose Shirt
Anyone that knows anything about Sir Paul Smith knows that he's not afraid to experiment with colour and the shirts in his collections have always been a prominent canvas for experimentation. This vibrant printed viscose shirt is no different. Made in Italy, the patterned short-sleeve shirt is cut in a tailored fit with a relaxed collar and loop button fastening. The viscose used is from certified renewable wood sources. You'll be seeing a lot of it going forward and it doesn't sacrifice on comfort.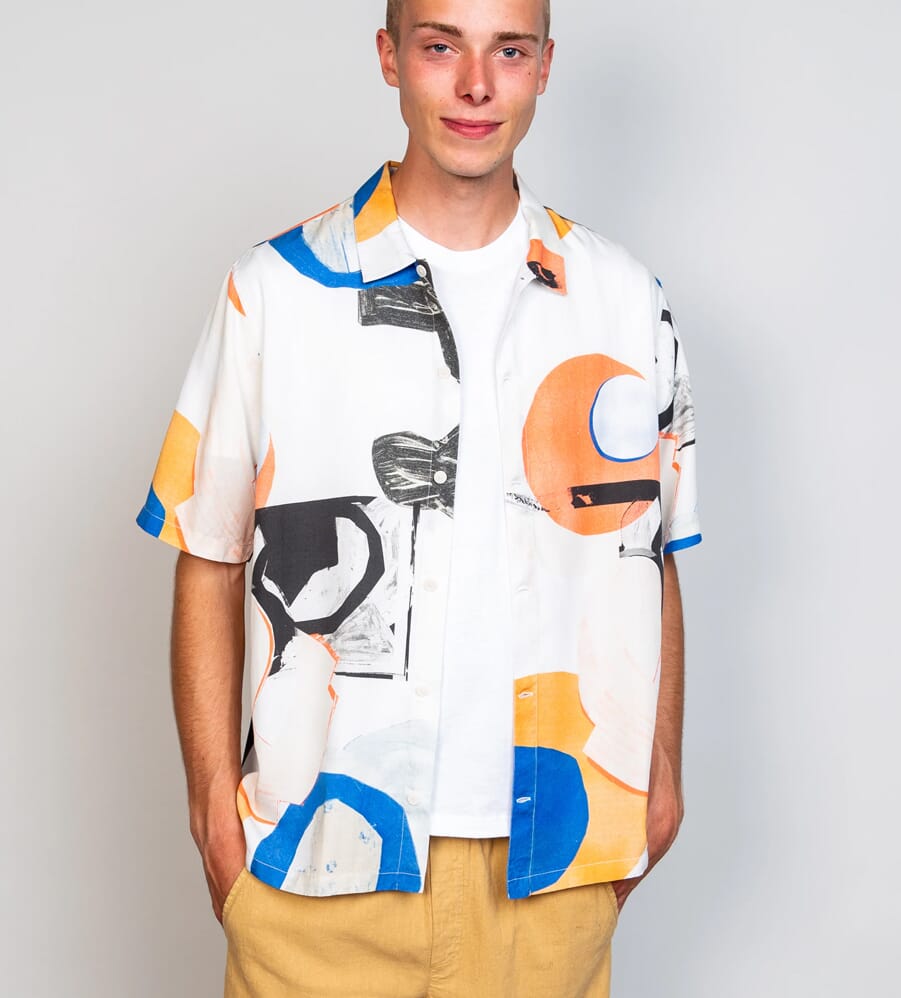 Folk Gabe Shirt
Go big or go home. But don't worry, Folk can always be trusted. What a pattern, what a shirt. Folk's Gabe shirt in ecru multidot is a sight to behold. Straight hem, half moon collar and a vented side seam make for a boxy, casual fit with the 100% Tencel material nice and comfortable. Soft to the touch too. Wear it over a white t-shirt and let it pop over neutral coloured shorts or try and pick out one of the colours and go from there.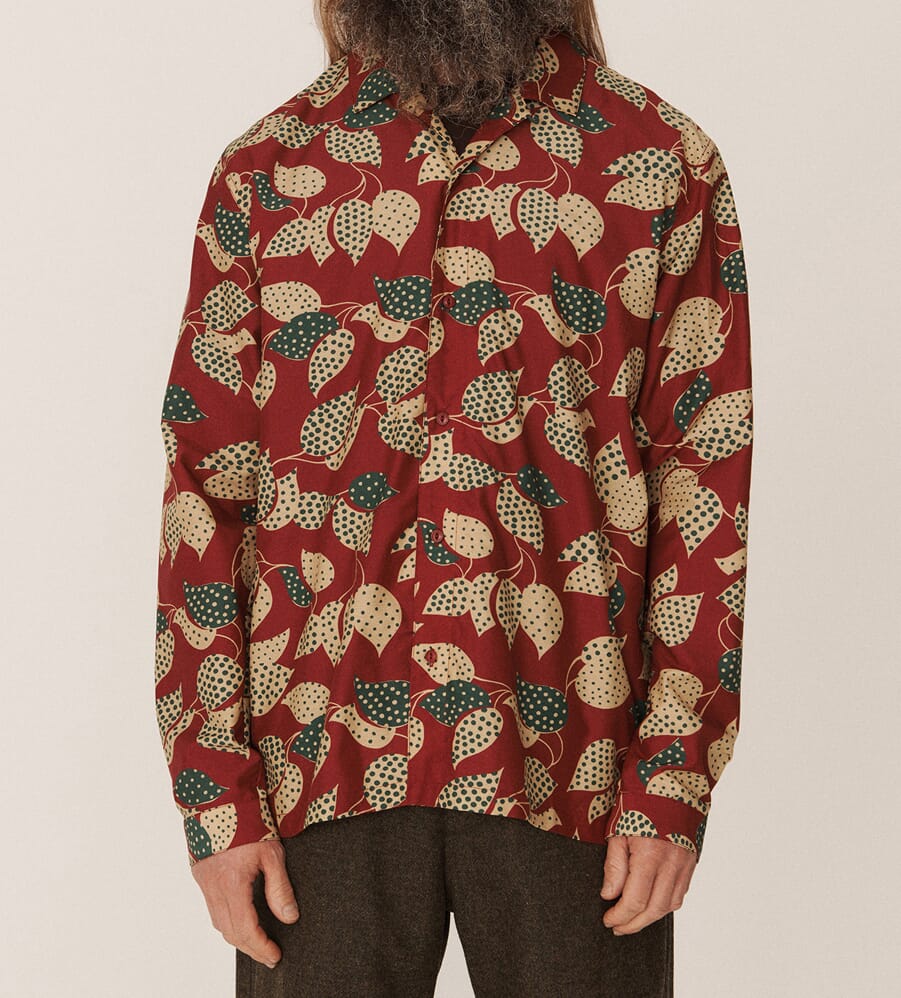 YMC Feathers Leaf Print Shirt
YMC's ability to do extremely fun yet wonderfully stylish casual garments is unrivalled. This shirt is a showstopper too with the brand's trademark passion for design and inspiration shining through. Featuring a 1940s-inpired leaf pattern, the feathers cotton silk leaf print shirt in pomegranate is a real statement piece. Cotton silk gives a luxurious feel whilst the camp collar and Corozo buttons add subtle eye catching detail. Wear with dark trousers and let it pop.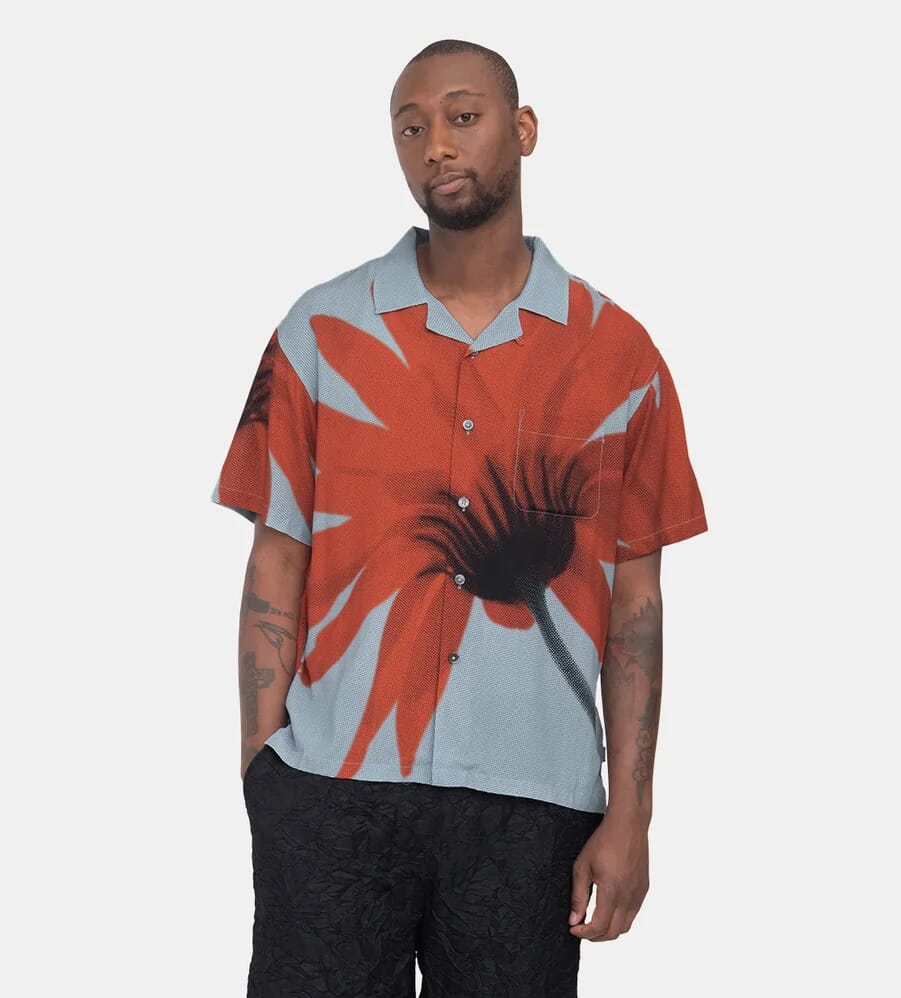 Stüssy Halfstone Flower Shirt
If you're in the market for a baggier, more relaxed fit with a big statement print, US streetwear brand Stüssy have got you. With a relaxed fit, the brand's lightweight halftone flower shirt is a big one to pull off that needs to be matched with a baggy pant and chunky sneaker. Made from 100% viscose and construction featuring a flat hem, back shoulder pleats and left chest pocket, it's certainly a daring but totally achievable style move.
You've stocked up on printed shirts, now find your perfect white short-sleeved shirt.
---
---