Sun's out and that means it's time to add a dash of colour to your daily casual look. You'll know that floral shirts are by a country mile the easiest way of doing that - and simplicity as we all know is the key to a great look. Question is which floral shirts should you be buying now? We've done all the hard work for you to pick out our seven favourite men's floral shirts this season, so all you have to do is choose a favourite, or even two. We'll leave you to book the holiday destination, but first: a few words about this new wardrobe essential.
Why you need a floral shirt
Frankly, the question should be why don't you have a floral shirt already? Every capsule wardrobe needs a least one, and - if we're being picky - two floral shirts: one long sleeved and another short sleeved. At this fashion moment, they really are that essential.
Floral shirts are a simple way of transforming a regular outfit - with classic white t-shirt and jeans for instance - into a summer look with no effort whatsoever. That would be reason enough to invest in a floral shirt, but there is of course more.
Choose well - no fast fashion, please - and your floral shirt will be there for you summer season upon summer season for that exact moment when the sun demands a touch of personal flair. Truth is, when you have a floral shirt in your wardrobe, you'll wonder just how you managed without it.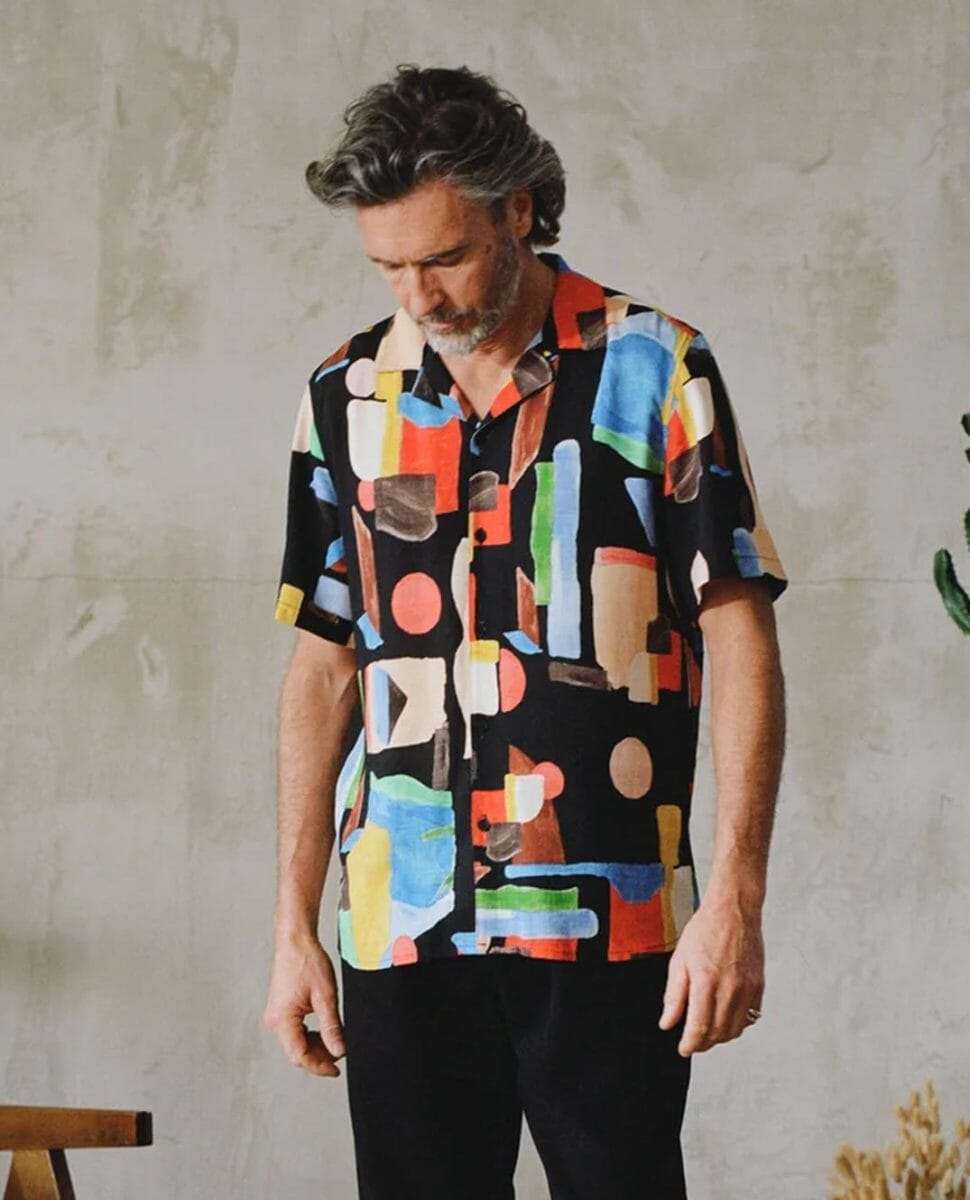 How to wear a floral shirt
Easy answer: with great care. You're foregrounding the flair with the shirt, so strictly no more florals on whatever else you're wearing. It's a summery look, so match your floral shirt with a smart pair of chinos and loafers for long evenings in a country pub garden. It's a look that can easily take you out to dinner later.
A floral shirt is about freedom so dress it down for the beach too. Fling over a t-shirt and tailored swim shorts - no pattern please - for beachside prawns at a favourite eatery. Later, tucked in or tucked out of your linen shorts, your floral shirt is exactly what you need for cooler evenings, too.
Men's floral shirts are so much more versatile than you'd think. Try yours up with a lightweight cotton jacket and jeans for smart-casual occasions. Oh, and did we mention that at that boutique music festival, your floral shirt will become your signature piece?
Best men's floral shirts to buy in 2023
Sunspel Charlotte Gosch Camp Collar Shirt
British heritage brand Sunspel has joined forces with artist Charlotte Gosch to create this playful printed camp collar shirt. Made using a lightweight cotton poplin from an Italian mill, it's a breezy holiday staple that's best paired with linen drawstring shorts and espadrilles.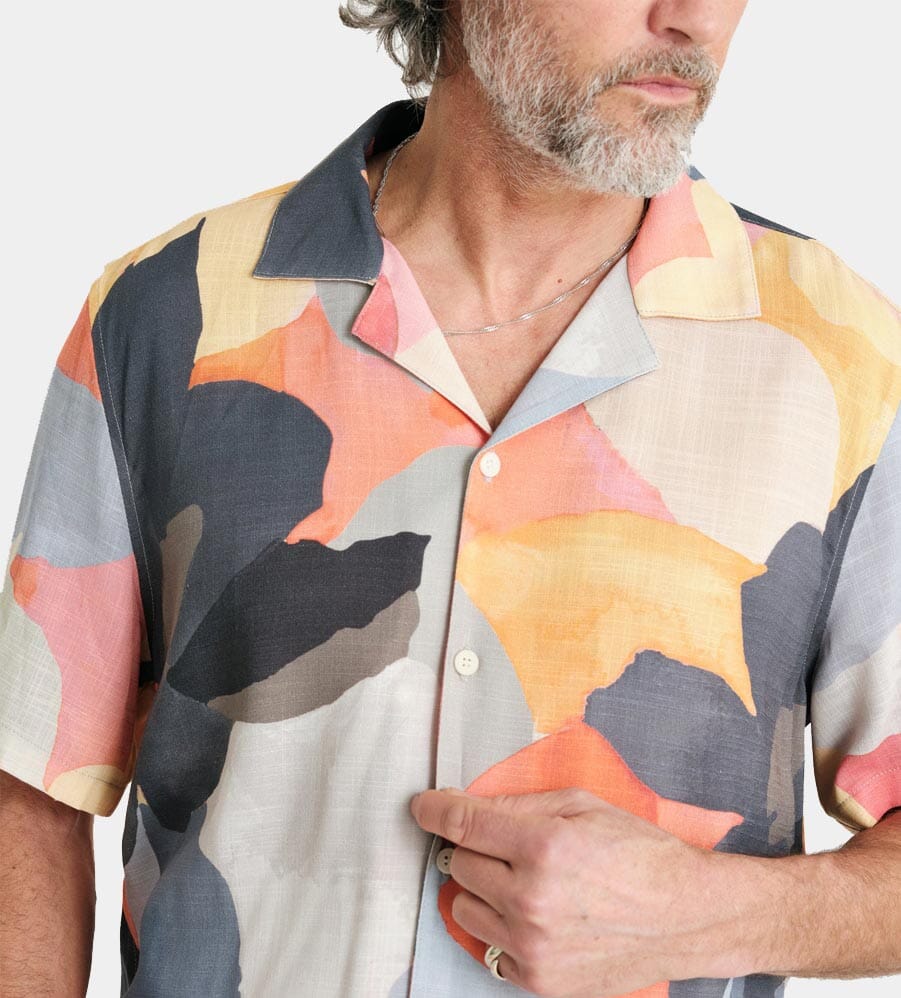 Wax London Pastel Blossom Didcot Shirt
Wax London take inspiration from the world around them, reflecting the moods of their travels in all that this family-owned business create and release. Their Didcot Shirt in Pastel Blossom is a dynamic case in point. Pattern here is inspired by trips along the sunny Italian coast, fabric is lightweight viscose, chosen for its sustainability and breathability. Fit is as relaxed as you are, buttons are corozo nut.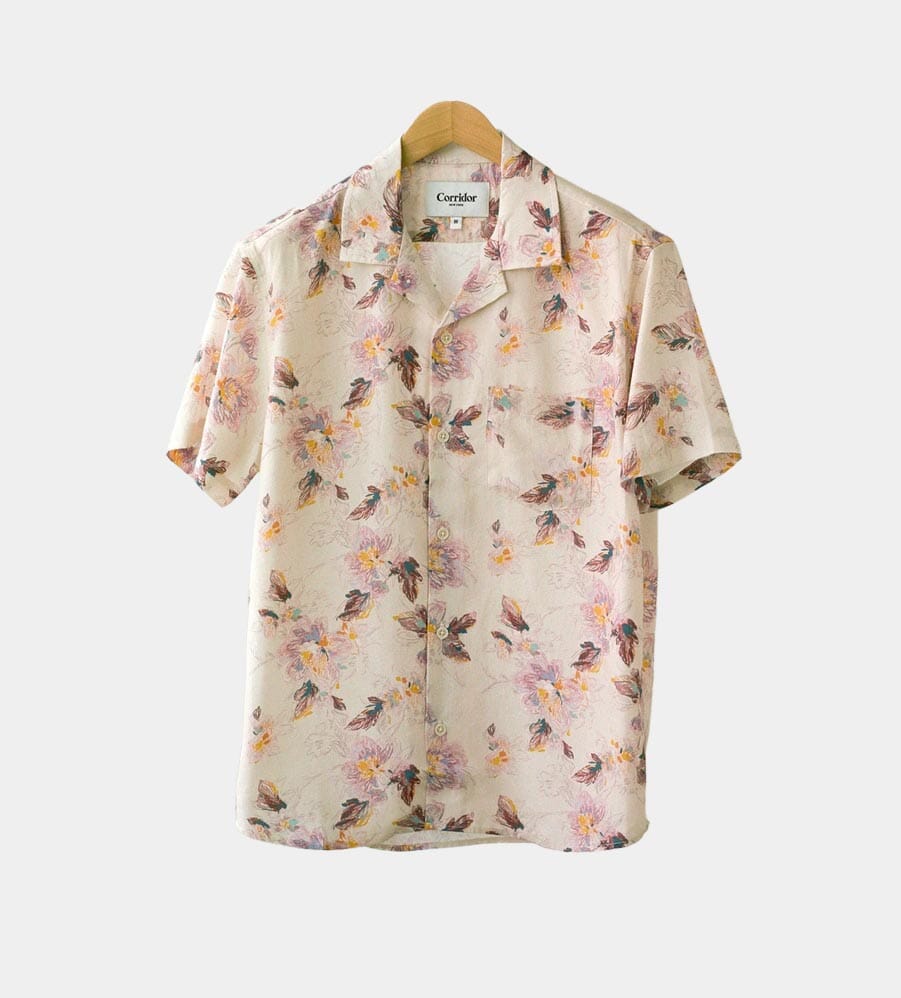 Corridor Novella Florals Shirt
More than a touch of 1970s hippie here, recalling a time when flower power was to change and save the world from itself. Express that vision all over again with Corridor's luxuriant take on floral abundance. New York-based Corridor say their focus is on "positive energy and raising vibrations". Feel that vibe in this printed shirt cut from soft and silk-like lyocell, in a regular fit, crafted ethically in family-run factories in India.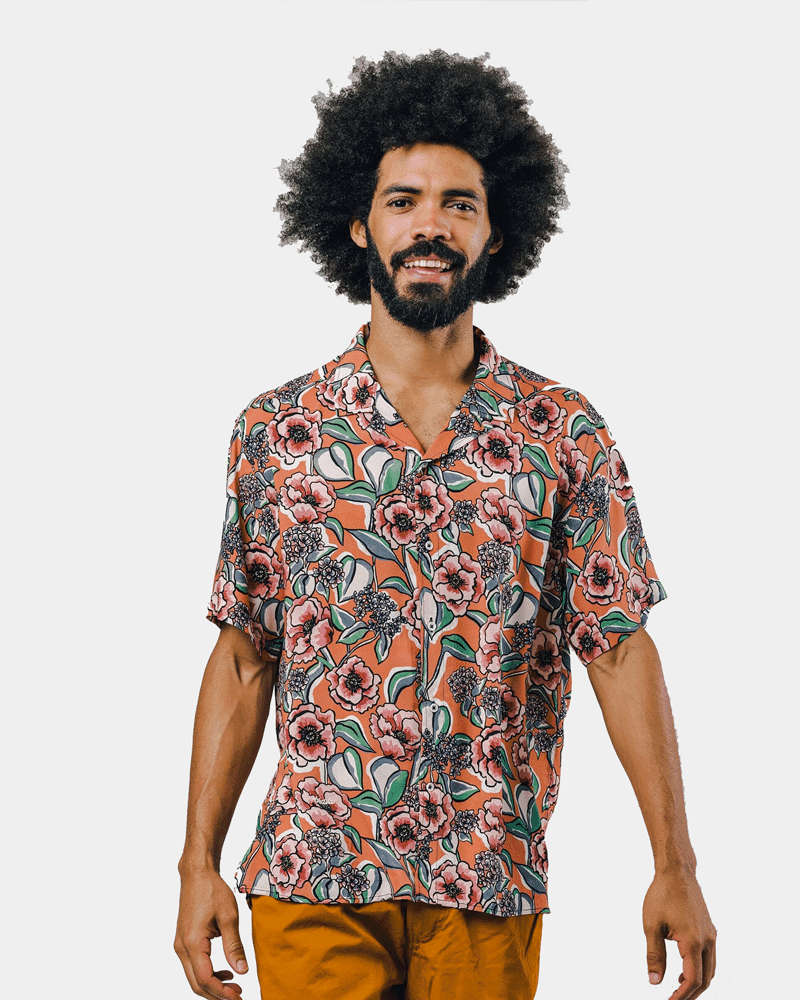 Brava Fabrics Sorrento Aloha Shirt
Barcelona-based Brava Fabrics has created the ultimate holiday shirt, a fun and breezy warm weather wardrobe addition that will elevate any casual ensemble. It's ethically made under fair conditions in Portugal using 100% Ecovero viscose, so you can feel good about your guilt-free purchase.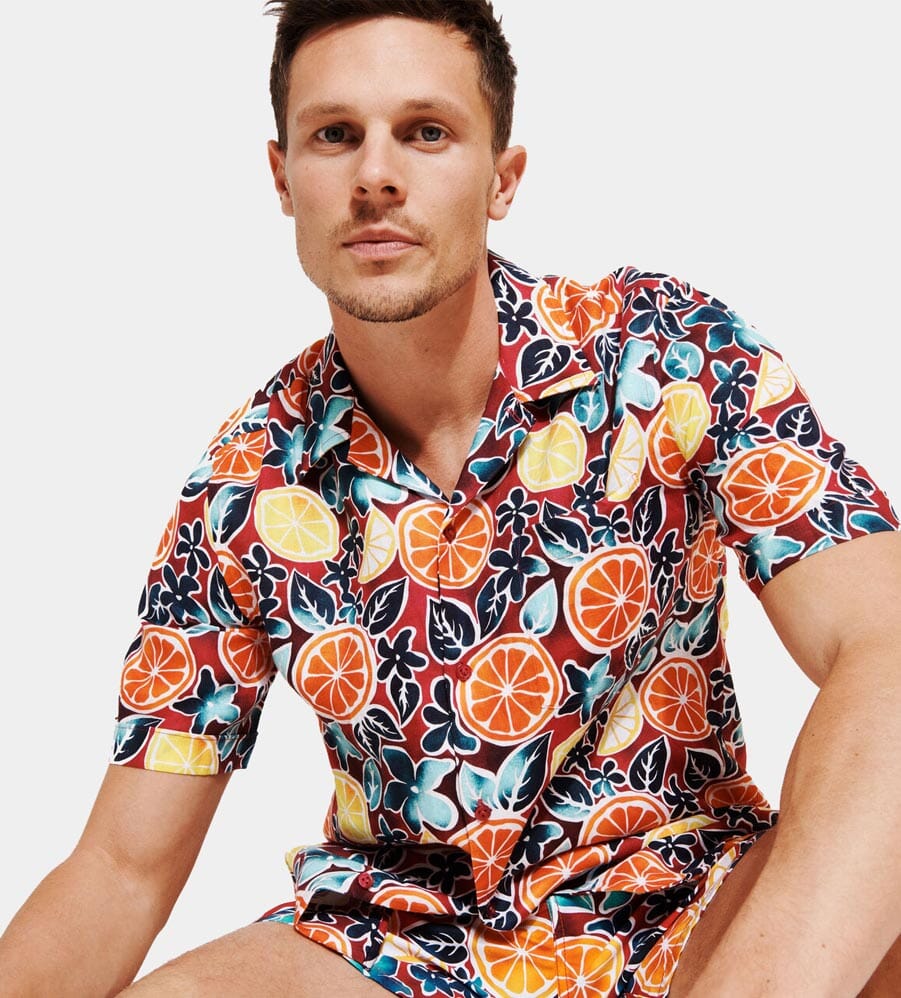 Vilebrequin Bowling Linen Shirt
This bold and bright bowling shirt from French resortwear label Vilebrequin is guaranteed to make a statement. Crafted from 100% linen, it's breezy and breathable, perfect for those scorching summer days. Pair with understated chino shorts to balance out the vibrant print.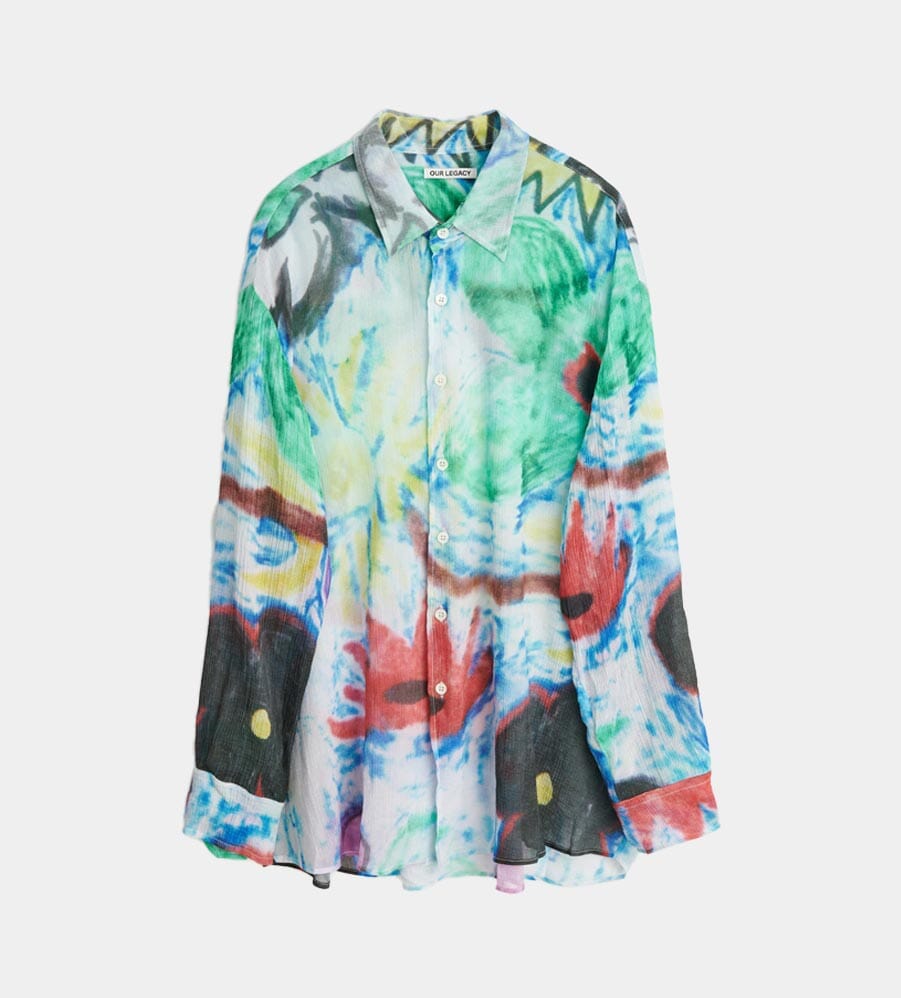 Our Legacy Above Shirt in Chalk Flower Print
Groovy, man. Stockholm's Our Legacy aim to span the gap "between familiar and irregular", here expressed in a dreamy long-sleeved take on the floral shirt. It's as impeccably executed as you'd expect from this Swedish cult label. The look is as if you've just stepped in from a 1960s "happening", a time when floral revolution was in the air. Chalk floral fabric is cotton beefed up with technical fabric to provide structure, expertly-tailored fit is super-relaxed.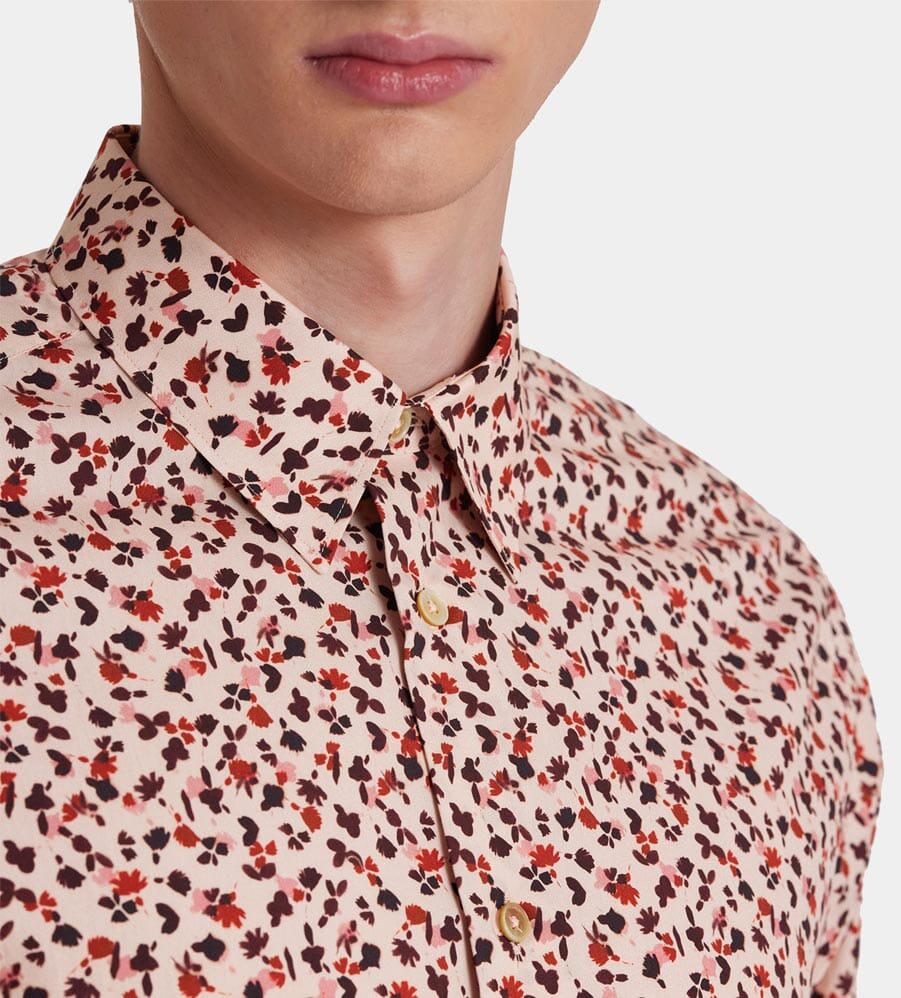 Paul Smith City Garden Long-Sleeve Shirt
Trust Paul Smith's trademark "classic with a twist" approach to come up with your signature long-sleeved shirt, not only for the summer, but the cooler shoulder seasons too. The City Garden print makes just the right amount of statement. It's Paul Smith, so naturally it's as elegant as you are, crafted from 100% organic cotton for a relaxed fit, finished with contrasting cuff lining.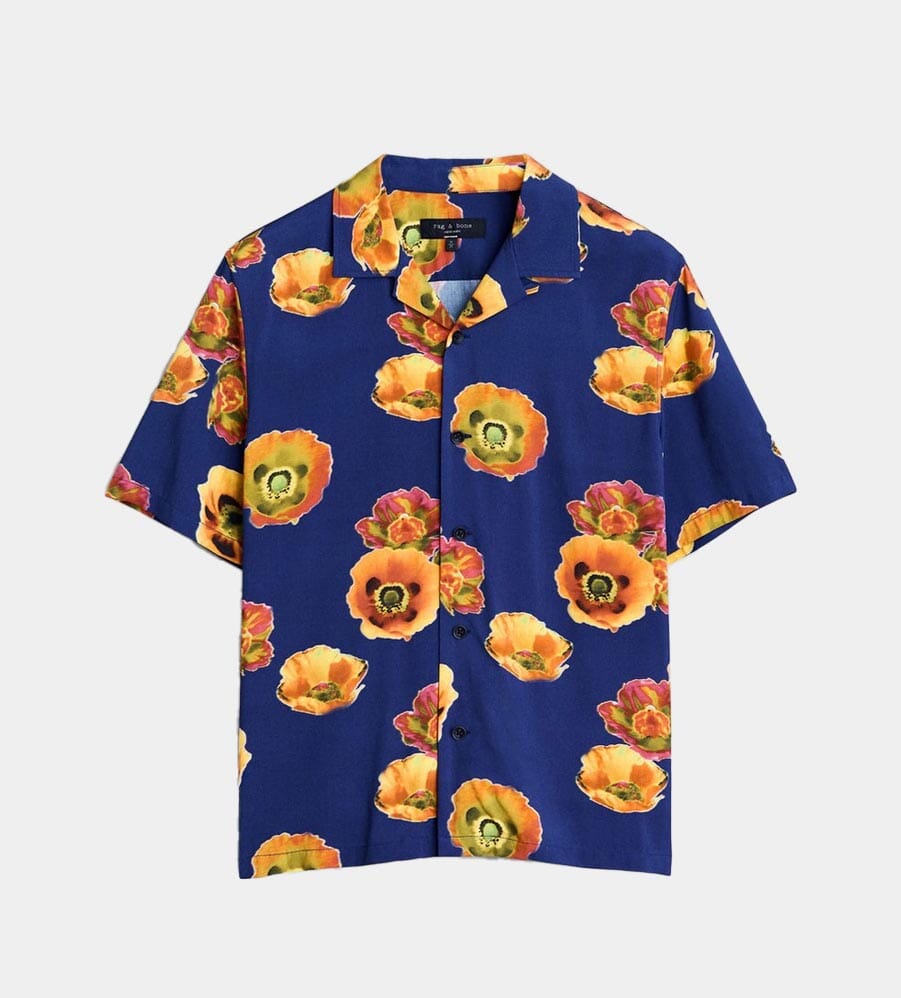 Rag & Bone Avery Print Shirt
Classic British tailoring meets American workwear style and New York's street authenticity, all in just the one Hawaiian shirt. Rag & Bone specialise in "timeless, original and well-made" so this cheerful classic will be summer wardrobe go-to for sunny seasons to come. Construction is 100% easycare, lightweight viscose, buttons are distressed metal, straight hem, Cuban-style collar. Cocktails on you.
What to team with your floral shirt? Try one of these pairs of shorts.
---
---