They may have been around for the best part of a century, but penny loafers are more relevant today than they've ever been. If you're after a classic, versatile shoe that's just-smart-enough, then look no further. 
Penny loafers are an easy-to-wear style that can be worn for a wide range of social occasions and dress codes, and are well worth a spot in your shoe rotation. But what exactly are they and how should you wear them? Scroll on for our ultimate guide to men's penny loafers, including our pick of the best pairs out there.
What are penny loafers?
A slip-on style shoe, penny loafers are defined by a small detail located on the vamp. Across it, on the top of the shoe you'll find an additional stylised piece of leather with a small cut-out, which gives the shoe its name. In the '40s and '50s American college students took to the style, putting pennies in the cut-out, partly as a way to stand out, but mostly so they had change to pay for phone calls home. Penny loafers were born.
A simple style, they're often slim in profile and as a result don't look out of place worn with tailoring. A laceless design ensures pennies don't stray too far into formal territory though, meaning they combine well with denim and workwear.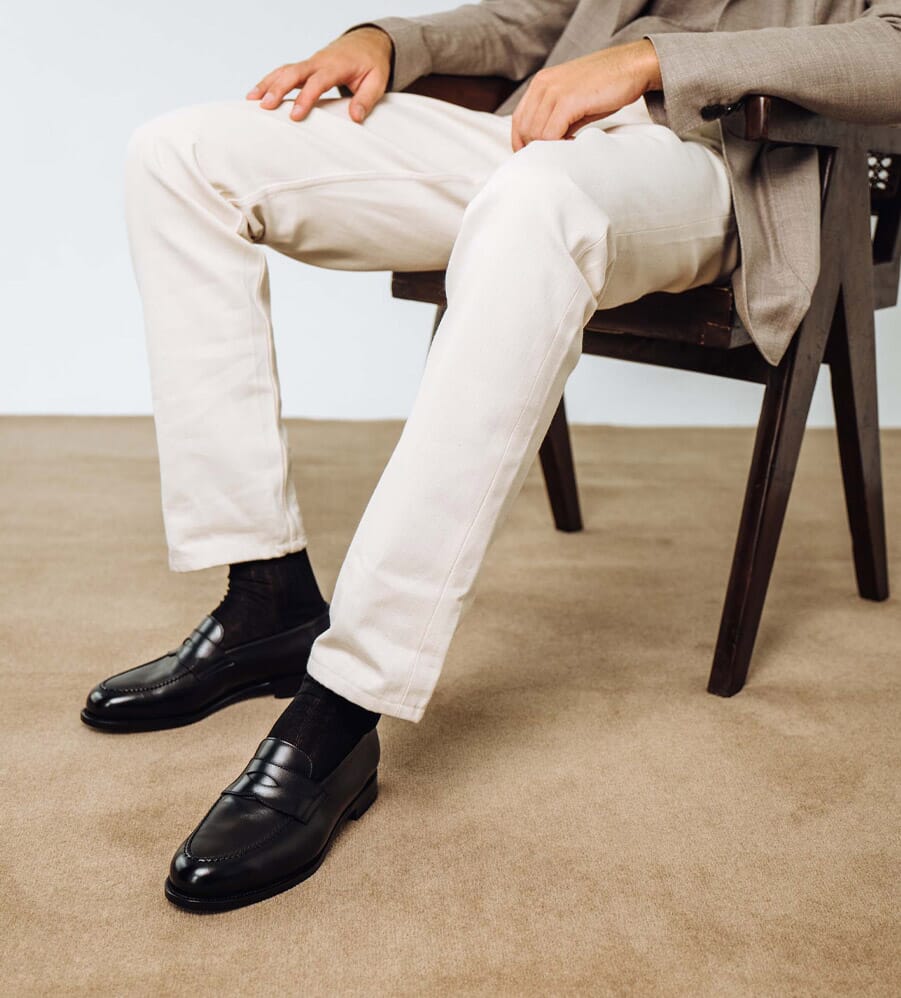 History of penny loafers
G.H. Bass is heavily linked to the penny loafer - the US brand popularised the style when it brought it to America back in 1936. The design was inspired by traditional Norwegian fisherman's shoes and, as a nod to this, G.H. Bass called its version the 'Weejun' to pay homage to its origins. Initially the American market favoured their Weejuns as house slippers, but it didn't take long for them to be worn out and about. 
It was those penny-wearing Ivy League college students who helped make the style a casual menswear staple, adopting it as their de facto uniform and giving birth to its preppy reputation. American college students continued to rock penny loafers on campus throughout the '50s and '60s, and were further bolstered by prep-king John F. Kennedy, who too enjoyed them throughout his (most stylish) presidency. 
Penny loafers were also enjoyed by everyone from James Dean and Paul Newman to sub-cultures like the mods and rude boys to Michael Jackson, who wore his Weejuns while moonwalking. Today, penny loafers maintain an air of preppiness but can be incorporated into a range of looks. Versatile and effortless, they'll finish off tailoring or a layered weekend look with ease. 
What to wear with penny loafers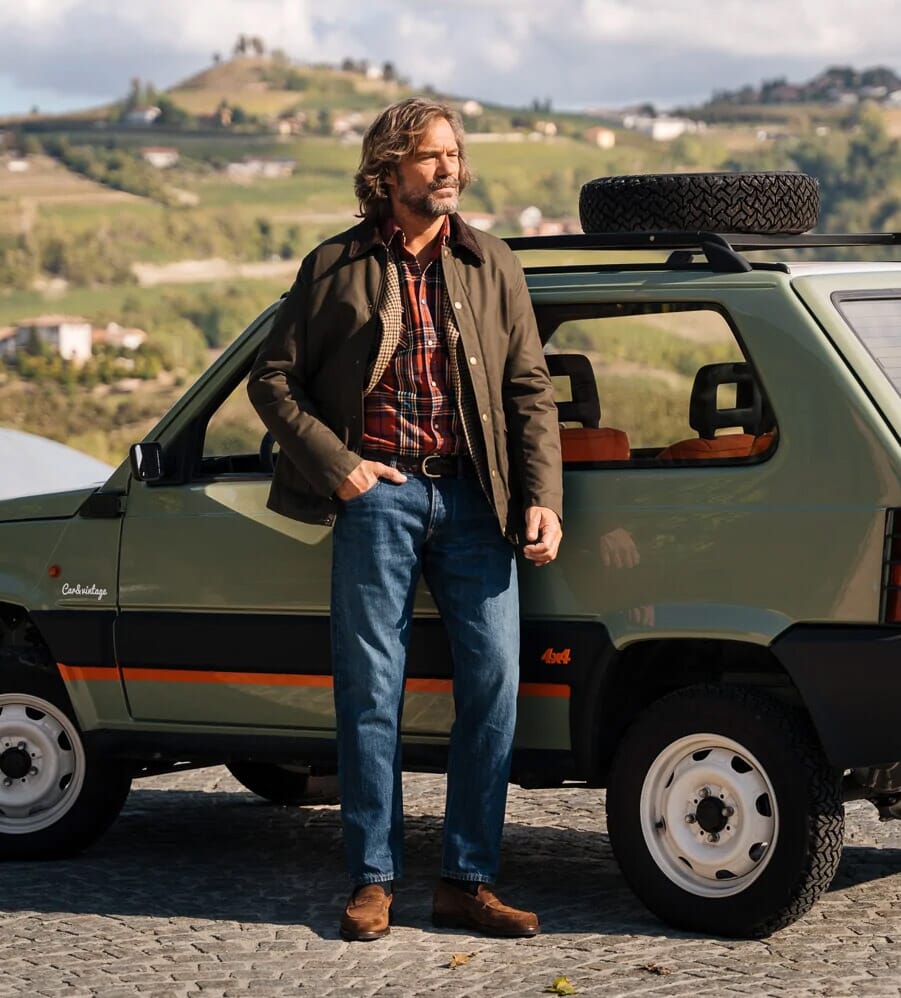 Laid back
Slim dark denim never fails to look cool when worn with penny loafers. Go for raw denim or black jeans and pair them with a similarly dark T-shirt for a classic off-duty look.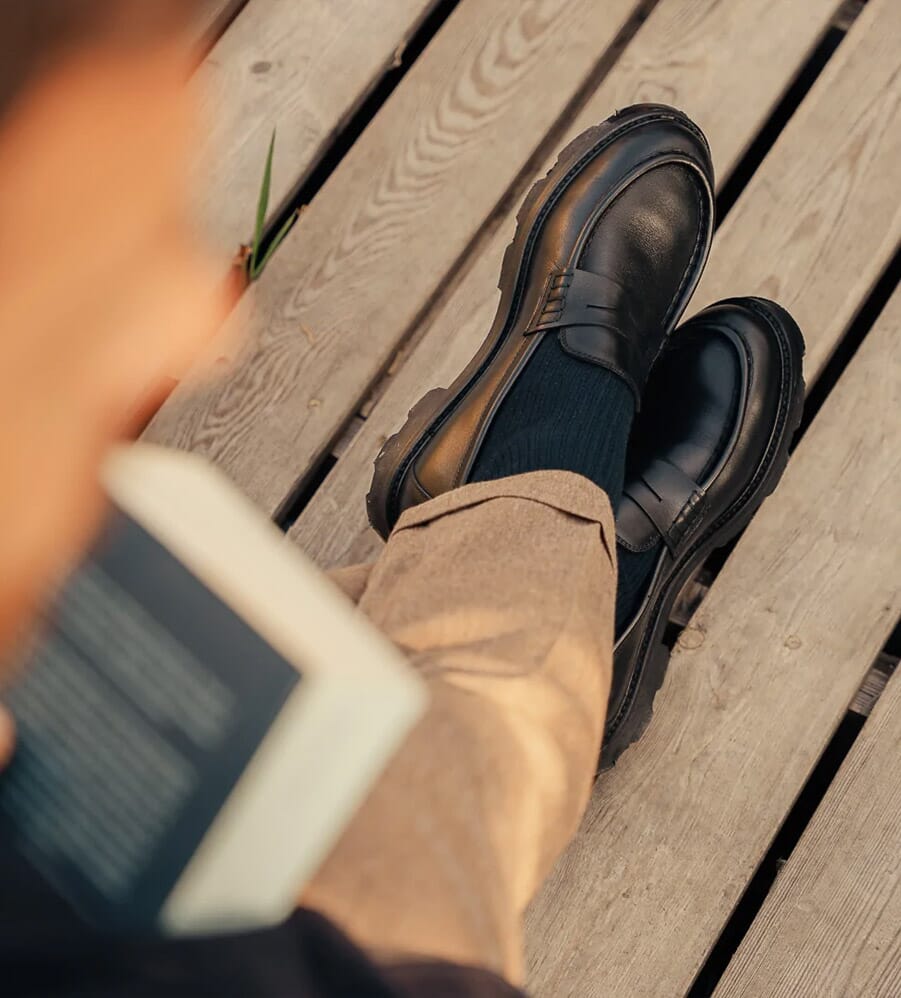 Mid-century cool
Hark back to the penny loafer's mid-century Ivy League heyday and opt for a pair of belted wide-leg trousers. Make sure to have the hems tailored or simply roll them up to allow some of your socks to show underneath, and complete the look with a knitted polo shirt.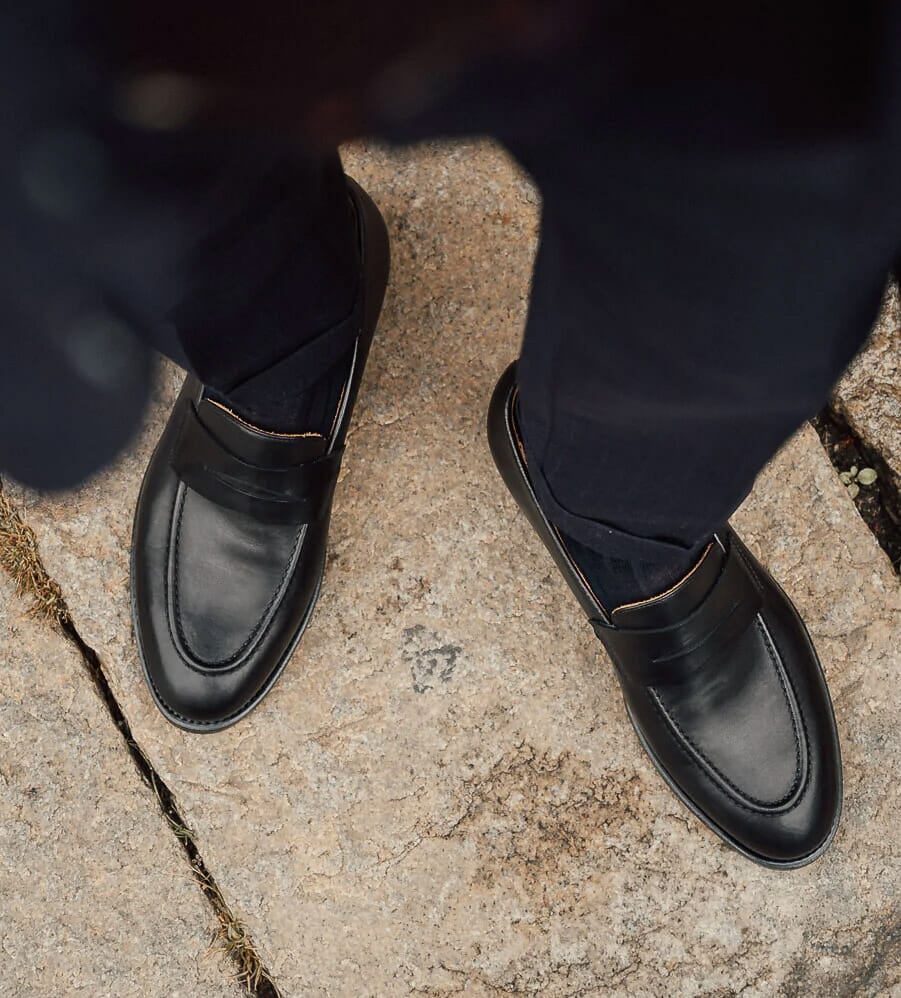 Office ready
Penny loafers are more than appropriate for a smart office look. A G.H. Bass oxblood pair adds a point of difference and will jazz up an otherwise minimally-styled outfit consisting of slim trousers and a plain white shirt. A classic mac coat completes the look, harking back to the mods of the 1960s. 
Best penny loafers for men in 2023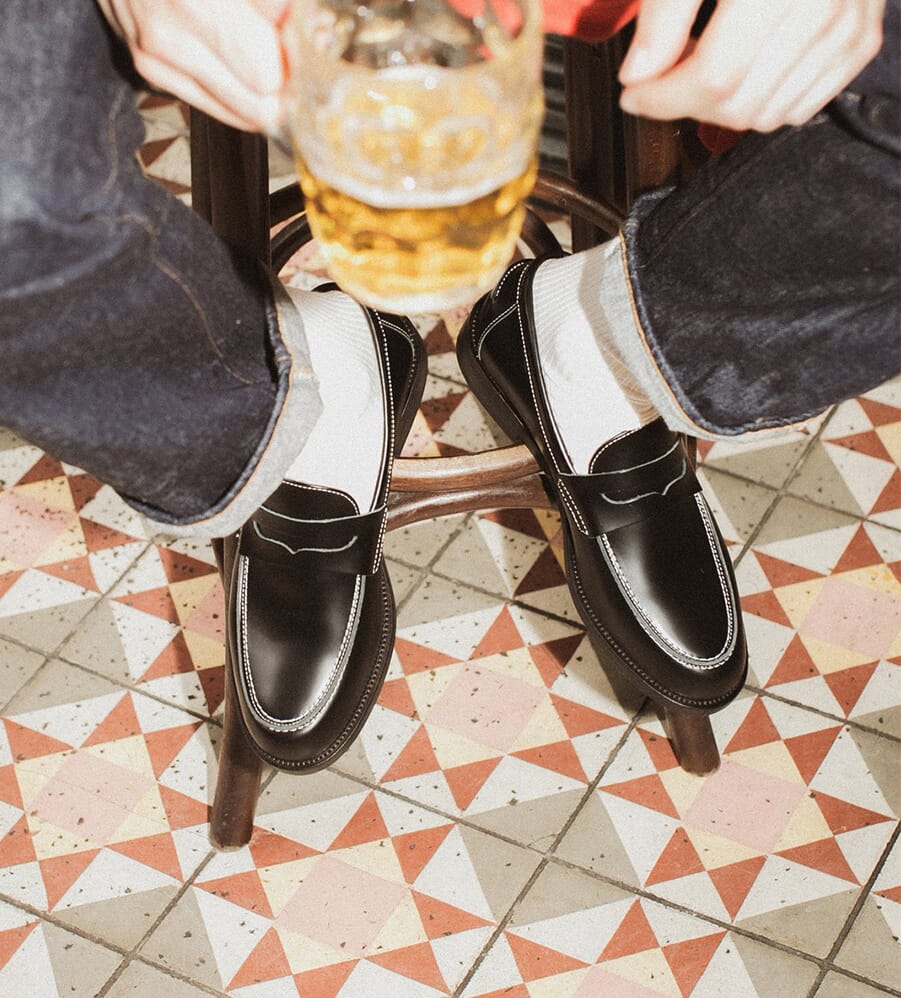 Duke & Dexter Black Penny Loafer
These made-in-England Duke & Dexter men's penny loafers are as luxurious as they come. The elegant black leather upper with matching black crepe rubberised sole and contrasting stitching make them the perfect finishing touch for your everyday ensembles, as well as ideal for pairing with the more formal tailoring pieces in your wardrobe.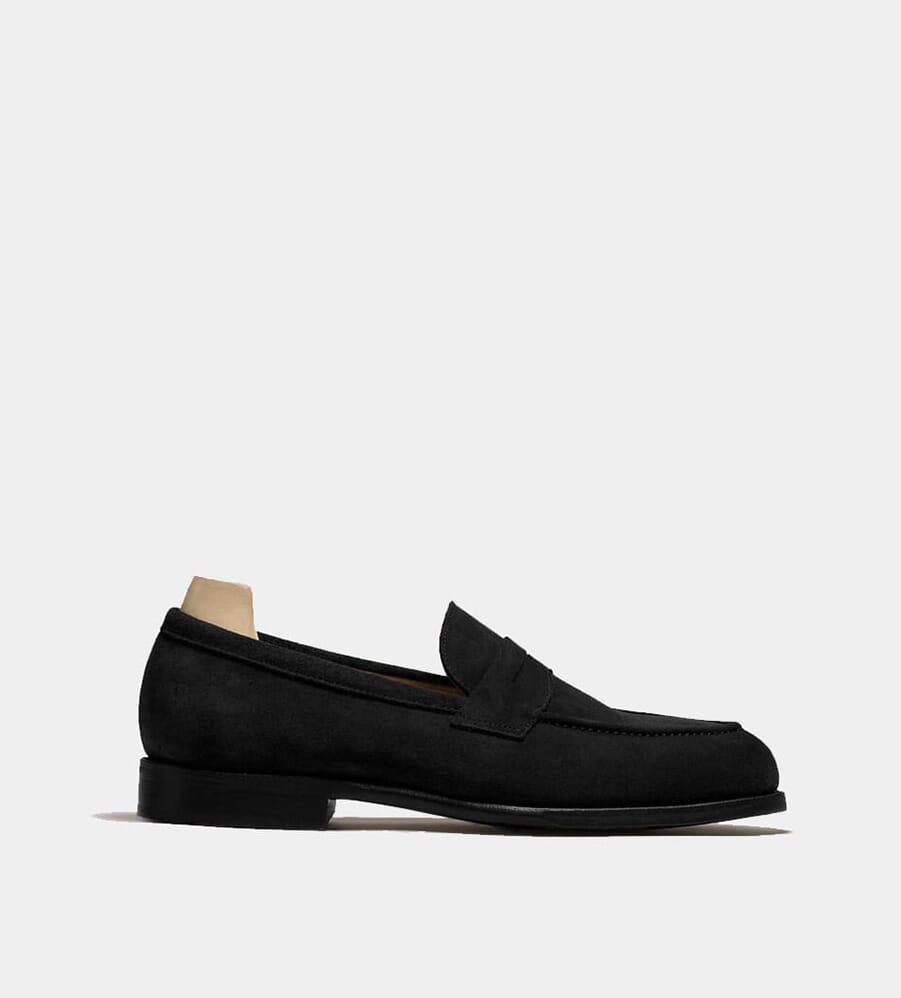 Myrqvist Stenhammer Black Suede Loafers
These made-to-order penny loafers from Swedish footwear label Myrqvist exude elegance. They're guaranteed to stand the test of time, thanks to their sturdy Goodyear-welted construction, leather board heel caps and cork filling and premium water repellent suede.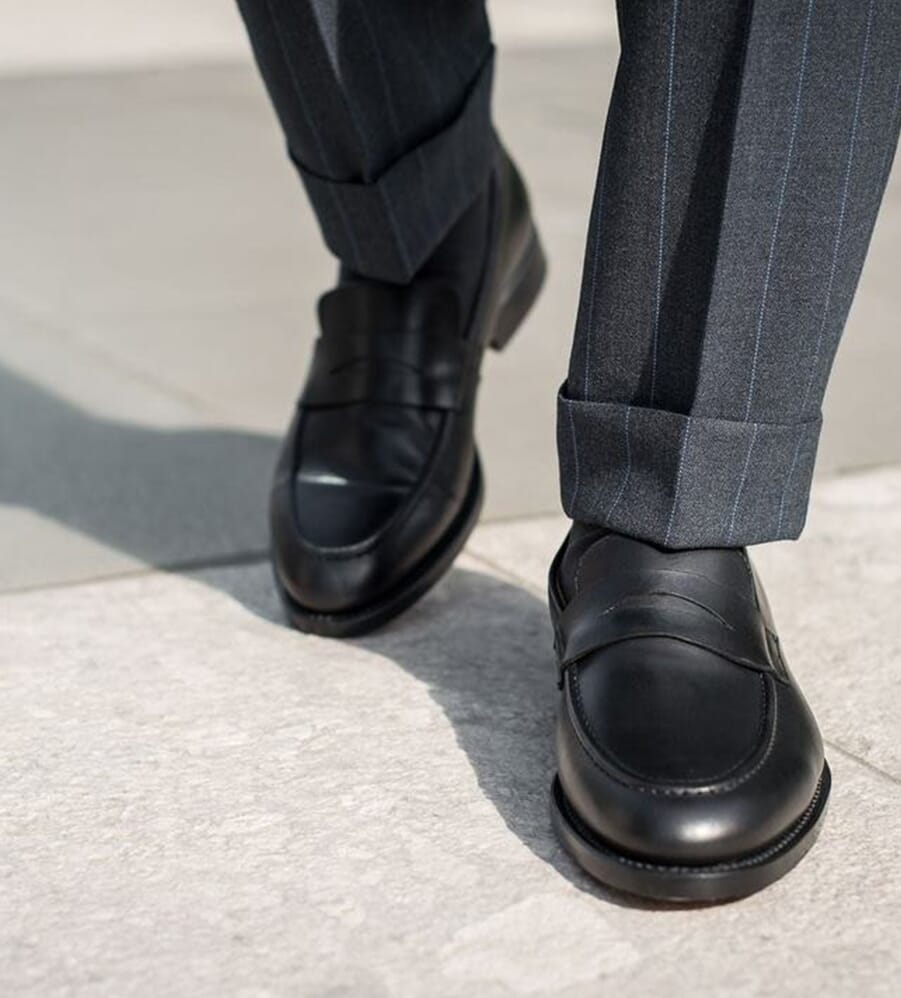 Velasca Daziee Penny Loafers
Despite their appearance, these sophisticated loafers from Velasca are surprisingly not true penny loafers. They are designed to resemble the tapered shape and construction of the tassel loafer, sans tassel. With a construction method that is easy to repair, these sleek slip ons will last you years and years.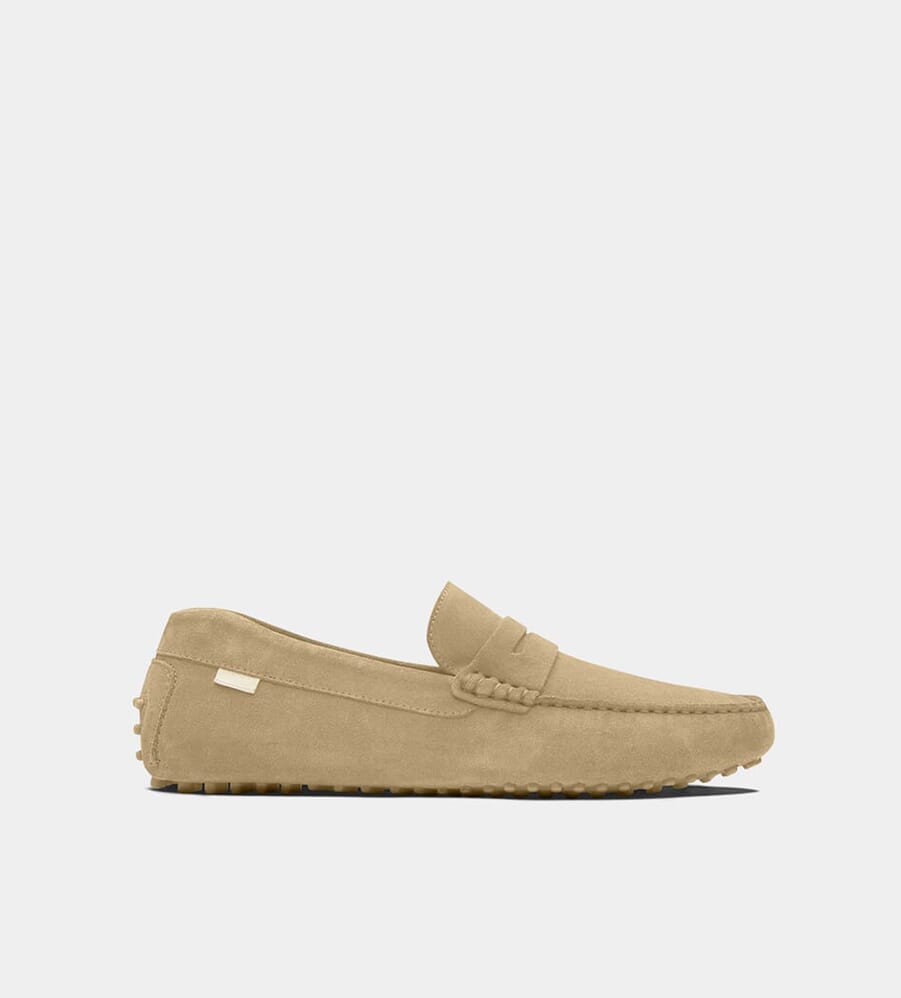 Oliver Cabell Driver Loafers
These Oliver Cabell Driver Loafers will have you going from 0 to 60 in a matter of seconds, with total control. The comfortable moccasin style design will keep you calm, cool and collected behind the wheel. Meanwhile the rubber grip construction on the sole means your foot will never slip off the pedal, which you can put straight to the metal.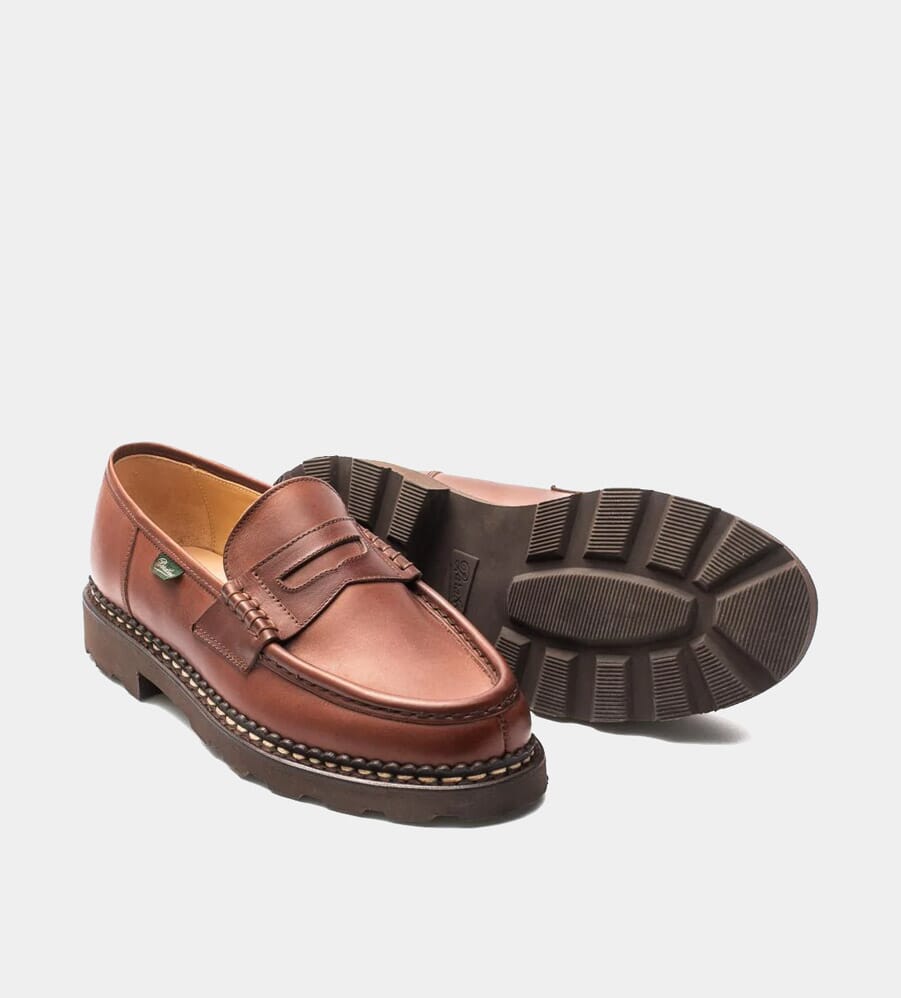 Paraboot Reims Loafers Marron
Beloved by menswear enthusiasts the world over, Paraboot's Reims Loafers are a paragon of timeless casual elegance. The style is characterised by its iconic chunky and waterproof Norwegian welted construction, with full grain leather uppers combined with a hardwearing vulcanised rubber outsole. Team them with cuffed selvedge denim jeans and a worker jacket for effortless workwear-inspired style.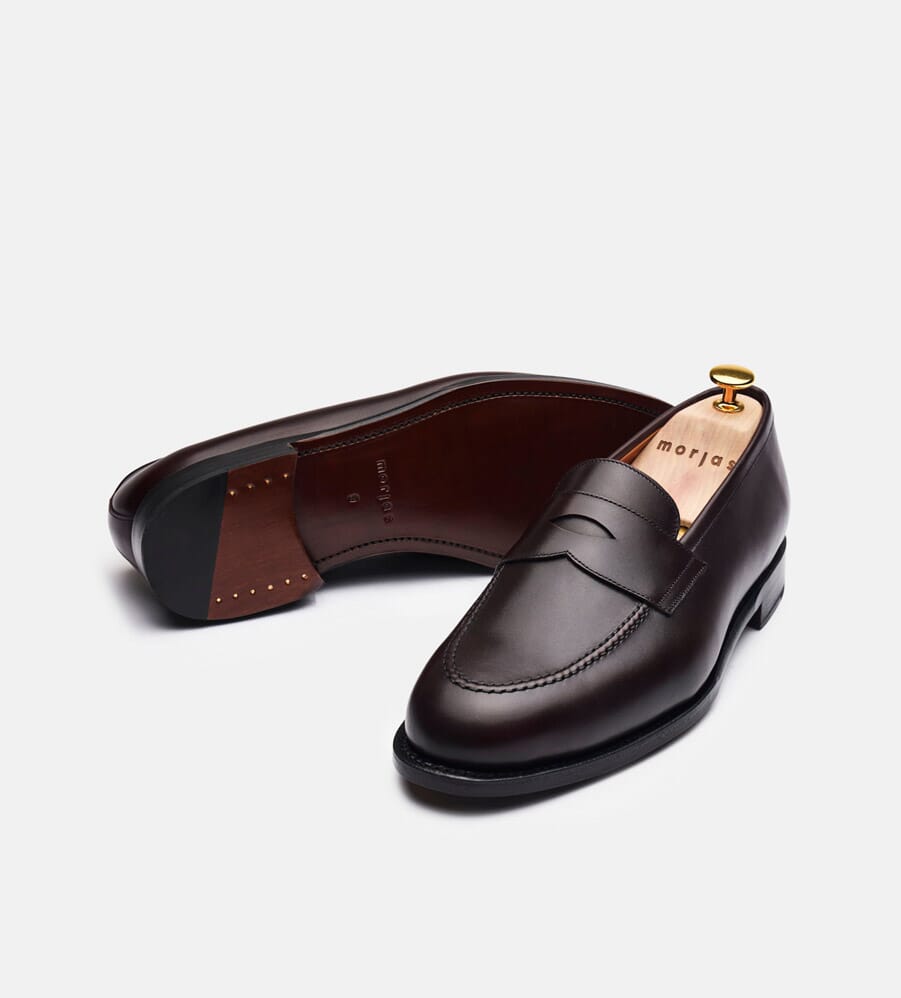 Morjas The Penny Loafer - Burgundy Calf
Spanish footwear label Morjas creates timeless men's shoes that will look as good in 50 years time as they do now. Its penny loafer style, seen here in Burgundy Calf, was developed over the space of a year and a half, in order to ensure perfectly balanced proportions and the best fit possible. Handcrafted from luxurious calf leather and Goodyear welted for ultimate durability, this is a pair of shoes that you'll reach for time and again for years to come.
Looking for more footwear inspiration? Check out our ultimate guide to smart winter shoes.
---
---