Winter calls for functional dressing. The nonchalance of summer style has disappeared into the grey clouds and made way for practicality. Think puffer jackets, cosy knitwear and chunky boots. That needn't be a bad thing, though. We're lucky enough to live at a time when we really can have it all – style and substance, form and function. So, when winter rolls around, you should still pay attention to looking pristine, and where better to start than a pair of smart men's dress shoes. Simultaneously practical and stylish, the best smart winter shoes for men will keep you comfortable in the cold, while helping you look the part at all times. What's not to love?
What to look for in smart men's winter shoes
Comfort
A pair of new shoes is almost useless if they're unbearably uncomfortable. No matter how nice a pair of men's shoes may look, it's difficult to get past discomfort. So, what contributes to comfort? Unfortunately, there's no quick answer to this. It's a combination of elements.
Obvious aspects that contribute to comfort include the sole and insole. Make sure that your winter shoes and boots include a comfortable insole construction. Look for padded leather insoles as these will provide necessary support and are more healthy for posture. When it comes to the outsole, look for something substantial but preferably finished with rubber. A rubber outsole means that you can wear your new winter shoes on various terrains without the fear of an undignified tumble.
Another thing to consider with regards to comfort is the upper material. Leather uppers will usually be the most durable and look great, but premium leather may take some time to soften. Once worn in, leather becomes one of the most comfortable materials for footwear, but there may be a painful week – it's part of the journey though, right?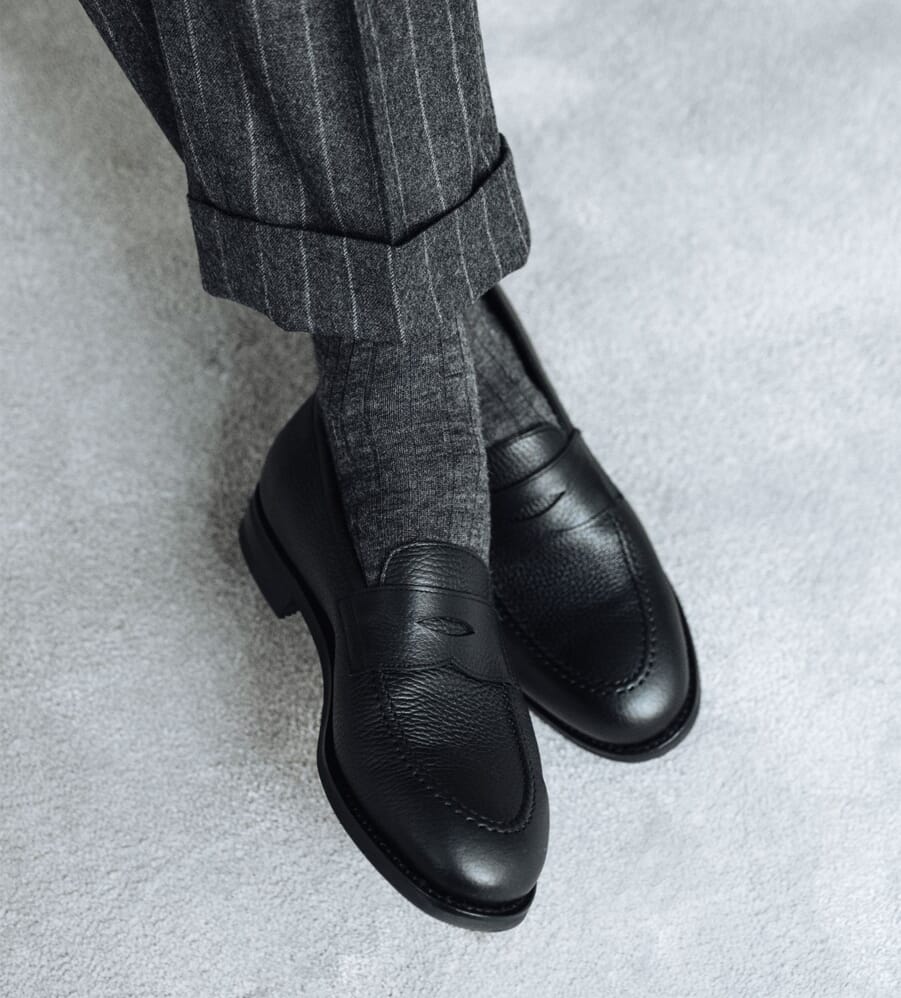 Function
Your favourite slippers offer comfort, but simply won't cut it on a rainy run to the train. So, along with comfort, think about what you expect to use your new winter shoes for. If you're on the search for one pair of boots or shoes to see you all the way through the season, then upper material and sole construction should be prime considerations. Your shoes will be expected to stand up tall in the face of adversity, so make sure that they're made of premium materials.
We recommend sticking to suede and leather for their durability. Bonus points for Goodyear welted construction and sturdy rubber soles. A high-quality pair of men's leather shoes will last several seasons. What are high-quality materials if they won't stay together? Nothing, so make sure that your prospective shoes have a stitched sole.
Style
We couldn't leave style out. While some will argue that it's not as important as function or comfort in the winter months, we disagree. The best men's winter shoes or boots should make you feel and look great. Think about how you will be integrating your new shoes into your wardrobe – the sorts of occasions you need them for and the corresponding outfits. A black tie event will require a much more formal pair of dress shoes than a standard day at the office, for example, with patent leather being the preference. Choose wisely when it comes to colour and cut: if in doubt, keep things classic with black leather. Traditional Oxfords, brogues and Derby shoes are timeless in style and will never let you down.
Best smart men's winter shoes in 2023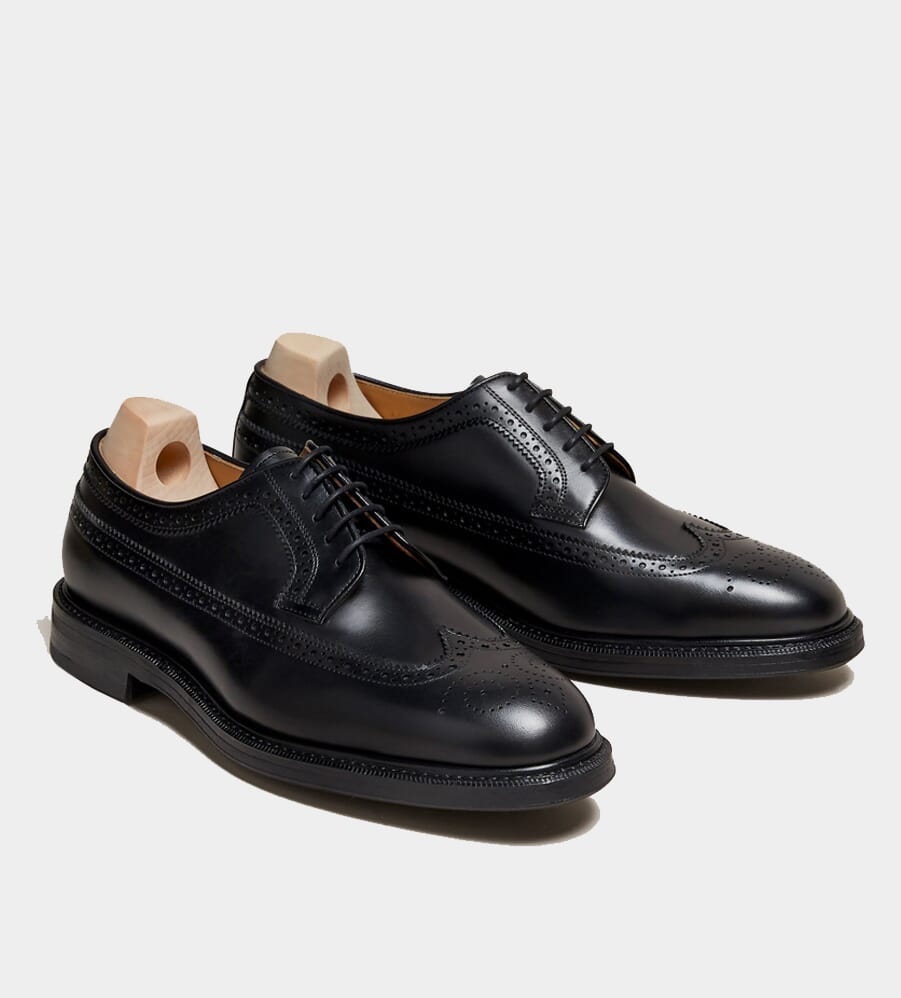 Myrqvist Orust Black Calf Derbies
Swedish footwear label Myrqvist takes a distinctly Scandinavian approach when designing its men's shoes. Its Orust Derby shoes are sleek and stylish, but also suitable for harsh climates and weather conditions, finished with a 360° storm welt for water protection and a double studded rubber sole. The decorative broguing adds a touch of sartorial flair, while full grain calf leather construction and Goodyear welting ensures they'll stand the test of time.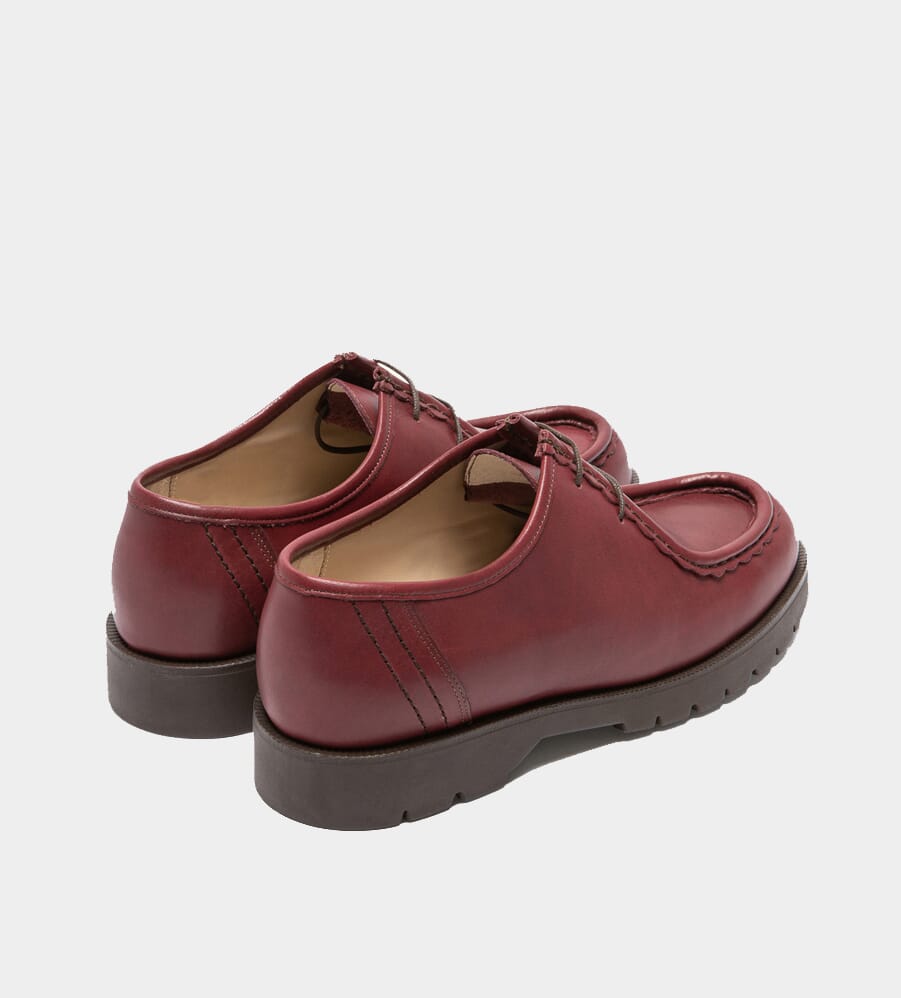 KLEMAN Padror L VGT
Add a pop of colour to your winter wardrobe with KLEMAN's iconic Padror style in burgundy. Originally introduced in the '90s for the SNCF (the French national railway company), the Padror shoe has evolved to become a smart-casual staple beloved by stylish men around the world. This particular pair is made in France from grained vegetable tanned leather and features a sturdy rubber sole.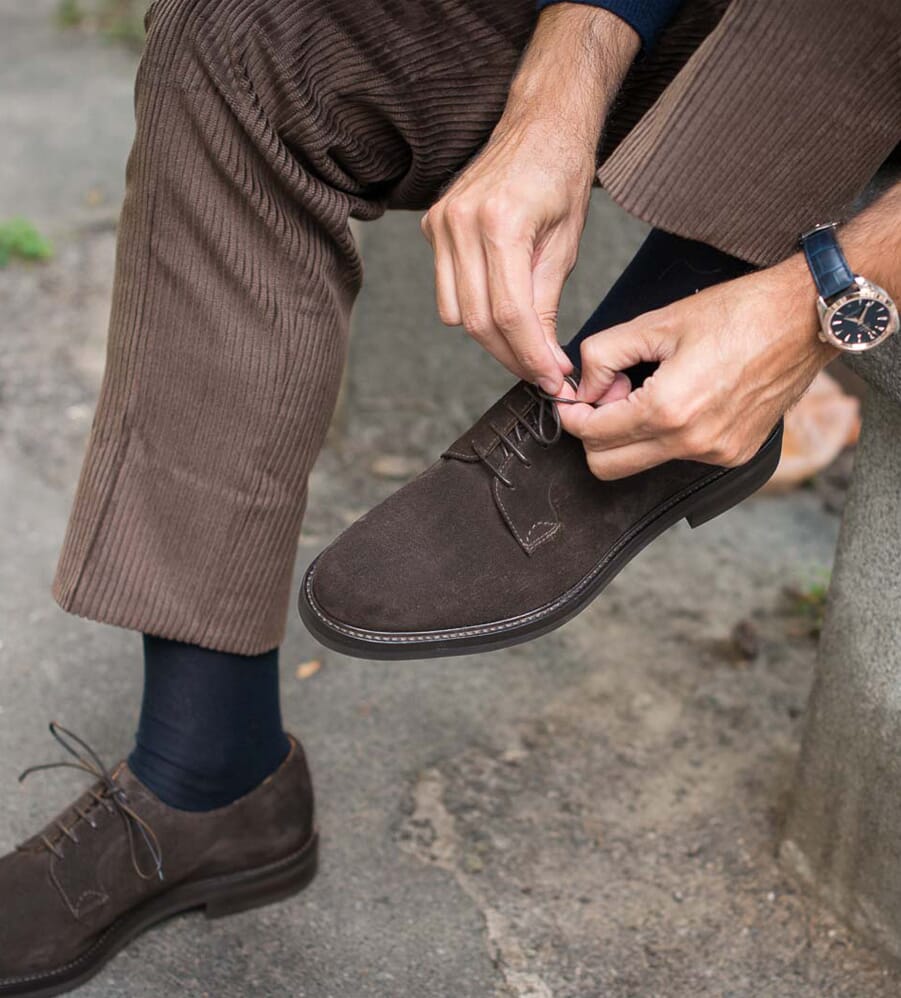 Velasca Urtulan Derby Shoes
With their rich texture and deep chocolatey colour, these smart shoes from Velasca will spruce up any autumn or winter outfit. Try them with raw denim jeans and a corduroy jacket for a simple smart-casual look, or take things up a notch with tailored separates. Handcrafted in Italy from premium suede calf leather, they boast a durable Vibram rubber sole that's ideal for your winter walks, even in the rain or snow.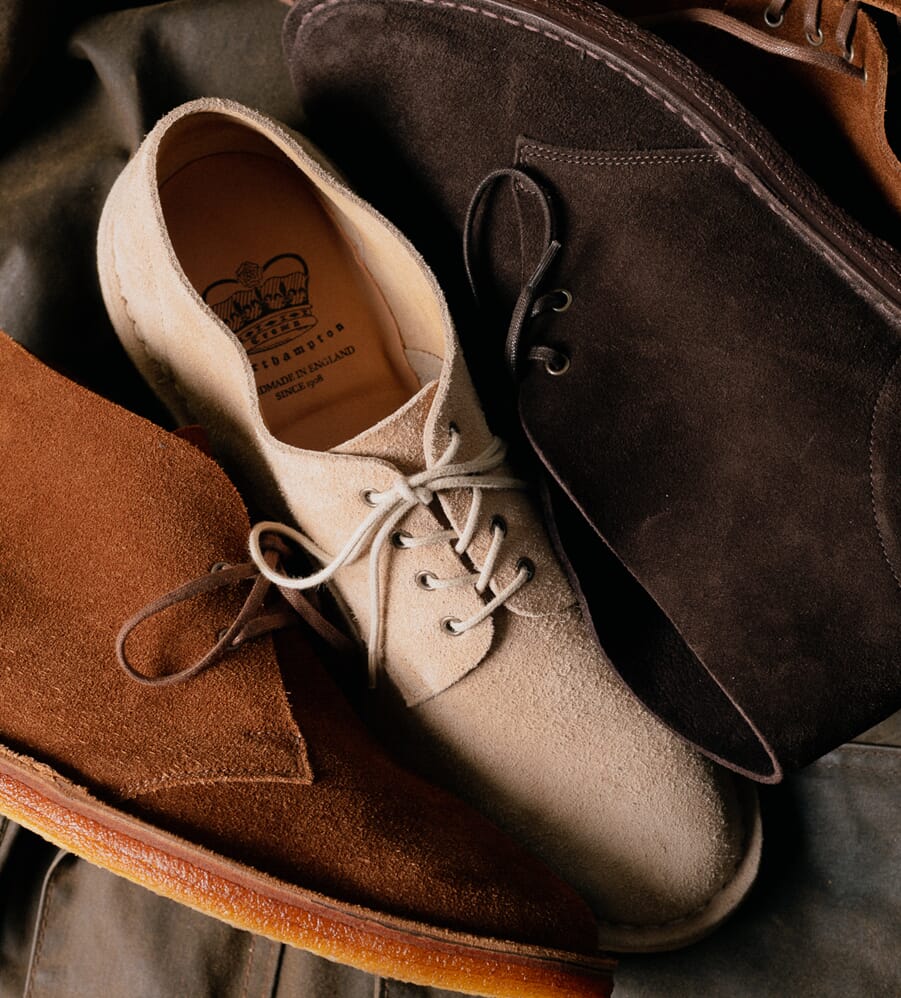 Crown Northampton Woodford Desert Boot
Handcrafted in Northampton, England from premium kudu suede – a material known for its flexibility and strength, Crown Northampton's 1950s-inspired Woodford Desert Boots are built to stand the test of time, so you're guaranteed to reach for them time and again. Wear these suede boots with a sharp blazer and cashmere roll-neck for an elegant look that will take you effortlessly from a day at the office to after-work drinks.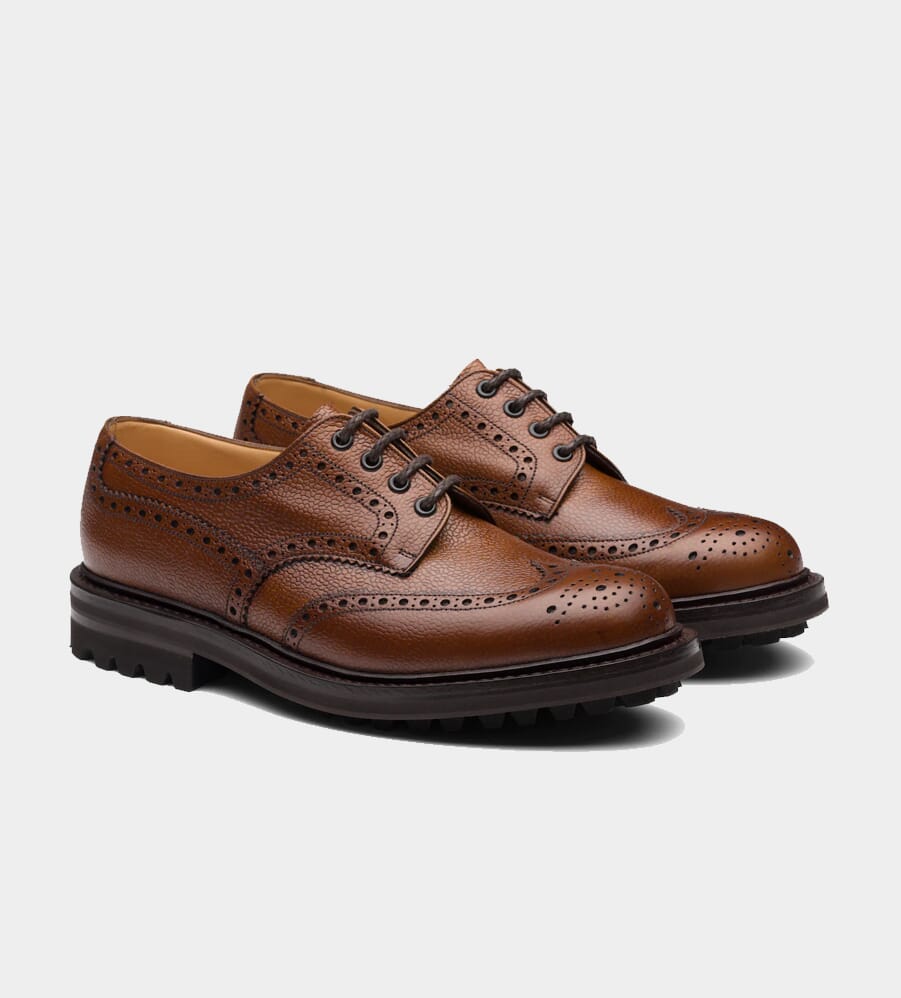 Church's Highland Grain Derby Brogue
These classic Derby shoes from Church's are crafted from finely grained calf leather that's detailed with decorative longwing brogue perforations, for an elegant smart-casual look. Robust yet refined, they feature a lightweight rubber sole and storm welt, for added traction and protection from the rain. Stylish and practical, the ultimate combination in our eyes.
For a more casual look, check out our pick of the best leather trainers for men.
---
---