Bad weather calls for functional clothing. The nonchalance of summer dressing has disappeared into the grey clouds. That needn't be a bad thing, though. We're lucky enough to live at a time when we can have both style and substance, form and function. So, when winter rolls around, you should still pay attention to looking pristine, and where better to start than a pair of smart men's shoes. It is not only possible, but wholly probable that a pair of men's smart shoes from OPUMO will be a great-looking and functional addition to your winter rotation.
What to look for in smart men's winter shoes
Comfort
A pair of new shoes is almost useless if they're unbearably uncomfortable. No matter how nice a pair of men's shoes may look, it's difficult to get past discomfort. So, what contributes to comfort? Unfortunately, there's no quick answer to this. It's a combination of elements.
Obvious aspects that contribute to comfort include the sole and insole. Make sure that your men's boots or shoes for winter include a comfortable insole construction, look for padded leather insoles as these will provide necessary support and are more healthy for posture. When it comes to outsole, look for something substantial but preferably finished with rubber. A rubber outsole means that you can wear your new winter shoes on various terrains without the fear of an undignified tumble.
Another thing to consider with regards to comfort is the upper material. Leather uppers will usually be the most durable and look great, but premium leather may take some time to soften. Once worn in, leather becomes one of the most comfortable materials for footwear, but there may be a painful week – it's part of the journey though, right?
+
Charcoal Glenn Suede Crepe Boots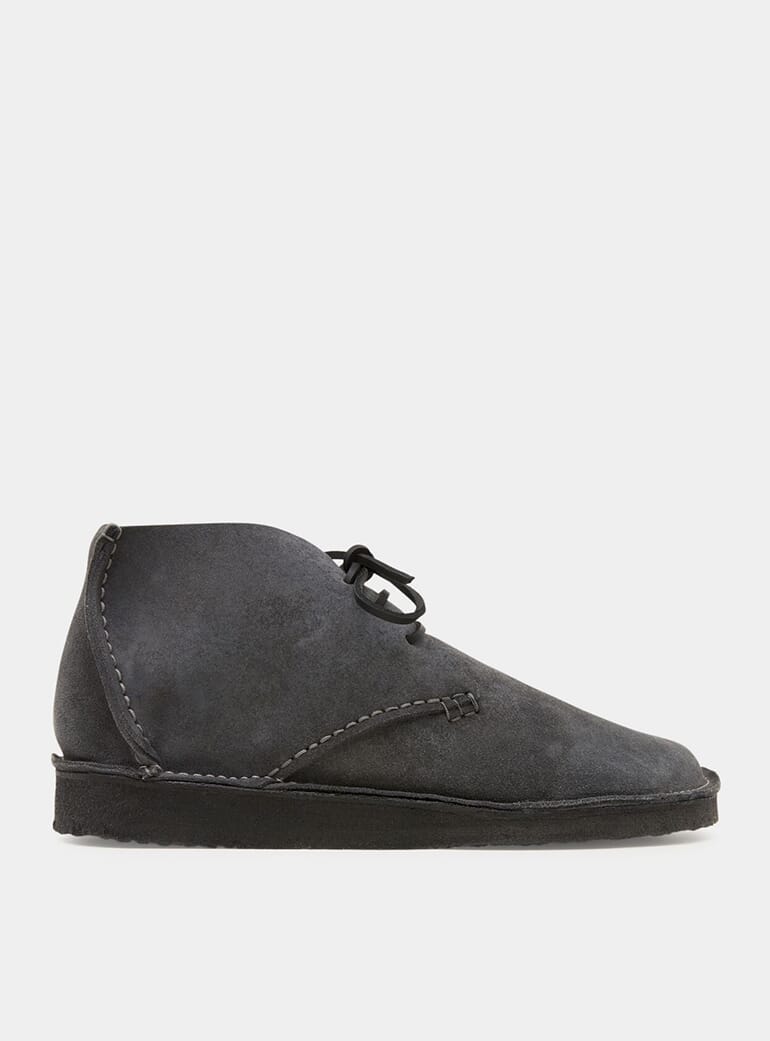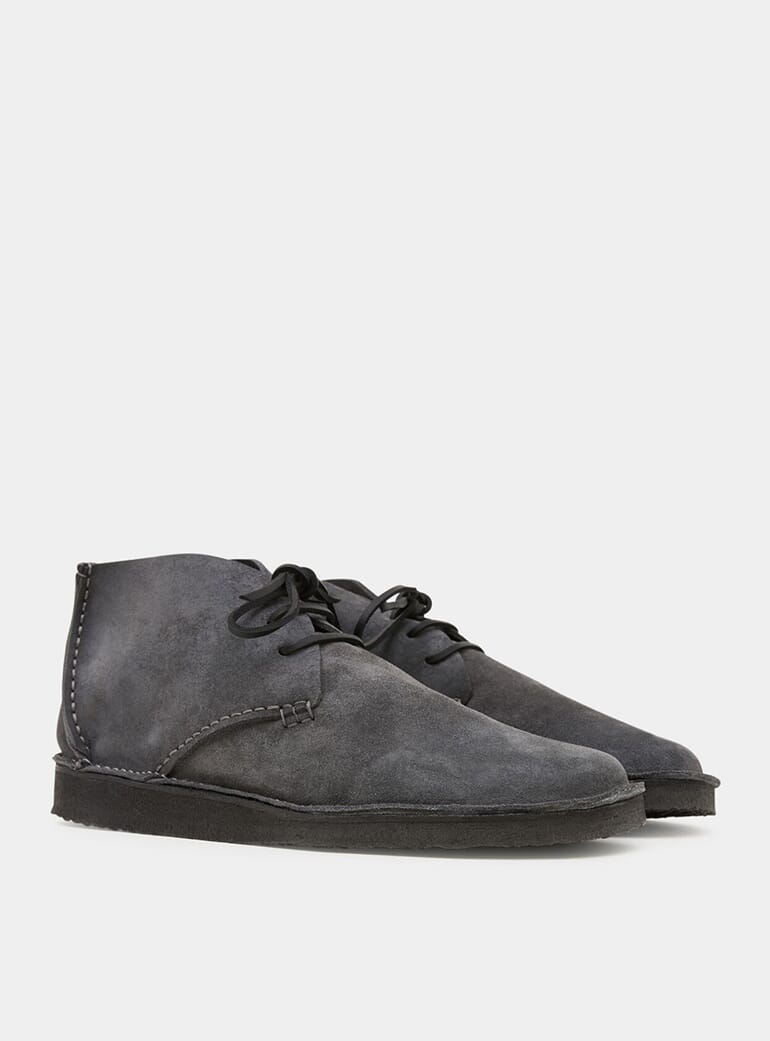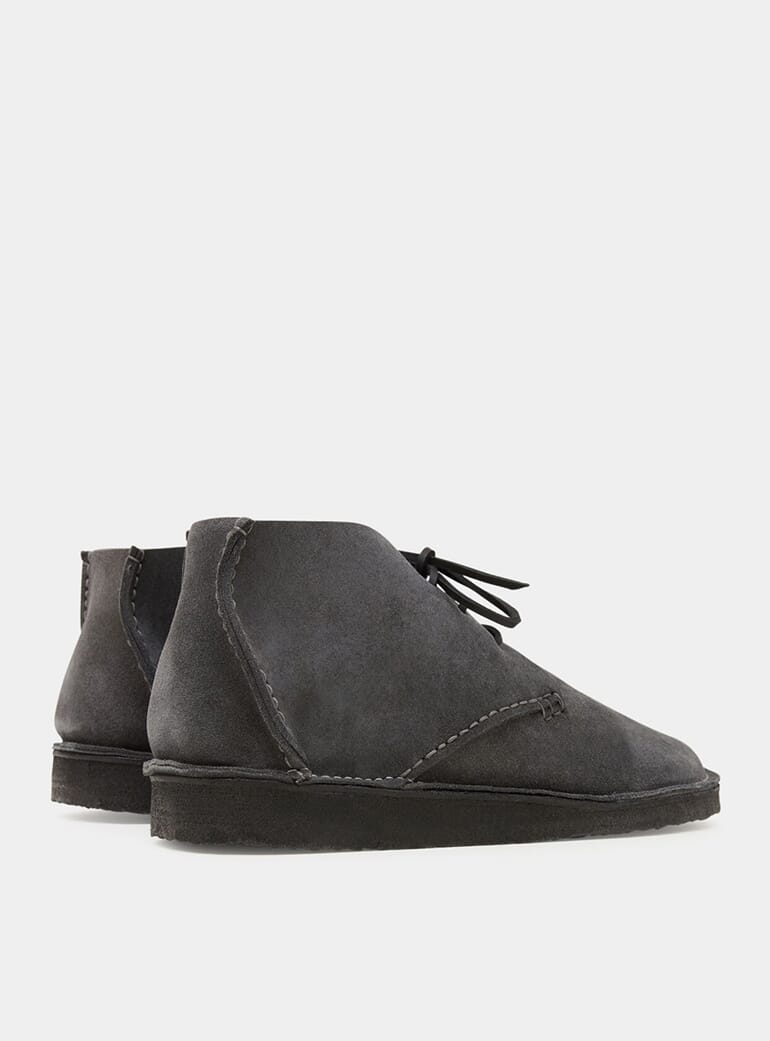 Charcoal Glenn Suede Crepe Boots
Function
Slippers are supremely comfortable, but won't cut it on a rainy run to the train. So, along with comfort, think about what you expect to use your new winter shoes for. If you're on the search for one pair of boots or shoes to see you all the way through the season then upper material and sole construction should be prime considerations. Your shoes will be expected to stand up tall in the face of adversity, so make sure that they're made of premium materials.
We recommend sticking to suede and leather for their durability. A high-quality pair of men's leather shoes will last several seasons. What are high-quality materials if they won't stay together? Nothing, so make sure that your prospective shoes have a stitched sole.
Be sure to read our recent rundown of the best men's shoes for the rain.
Style
We couldn't leave style out. While some will argue that it's not as important as function or comfort, we disagree. A great pair of new shoes or boots for winter should be a pleasure to wear. Styling should be easy and you should feel great when you wear them. Luckily, we take the time to pick out the most stylish men's shoes for the OPUMO pages so it shouldn't be a difficult job finding a pair you love.
Our top three smart men's winter shoes
Sons of London shoes are all made in Italy, inspiring the label's tagline: Born in Italy, Raised in London. Luckily, the brand's The Eighth Son winter boots are more suited to the weather in London than in Italy. Crafted from soft, durable Italian cowhide, Blake stitching ensures that this pair of men's smart boots won't come away at the seams. A full leather lining adds to the model's durability and comfort while the full leather midsole is topped by a commando rubber outsole. This commando outsole transforms their leather boot for men, making it an extremely versatile option.
Yogi Footwear takes inspiration from unorthodox styles made popular in the '70s. This tumbled leather moccasin makes the perfect smart casual shoe for winter. Made using all natural materials, Yogi's Lucas boot balances eco-conscious design with high-quality craftsmanship and durability. The tumbled leather features an attractive textured grain which will only improve over time and with more wear. Combine the supple leather uppers with a Vibram sole and you're in for a comfortable ride. Even better, the mid-rise construction opens many styling doors. Wide-leg trousers will fall effortlessly on this pair of leather chukka boots.
Although ETQ Amsterdam is most well-known for premium men's sneakers, the Black DS 01 Shoes prove that the label has much more to showcase. Built with full-grain nappa leather and lined with calfskin, this feels like a classic Derby shoe. That is, until you see the sole. The double-stitched welted outsole with commando treads is built for more than the average Derby shoe. Few leather shoes for men are as comfortable coping with office standards as they are with torrential downpours.
Shop all men's shoes at OPUMO.
Be sure to read our ultimate guide to men's shoes.