Winter is coming and it's back to big coat weather. For some, that might mean long, tailored wool coats and for others that might mean technical outerwear. There's space for both, but know that when it comes to wintry weather, howling wind, punishing rain and the prospect of a trip from A to B reaching sub-zero, your best friend is always a down-filled puffer jacket. Nothing hits quite like it.
A puffer jacket basically allows you to transfer duvet levels of snug into your daily routine and nothing compares. Layer up all you want. That insulated, down-filled coverage is unrivalled. Luckily, there's a down puffer jacket for everyone. Whether you're on the hunt for a statement piece that will break the bank or you're looking for affordable, lightweight packable comfort. We've put together a collection of some of the best puffer jackets for men on the market complete with a handy buying guide.
Men's puffer jackets buying guide
Weather suitability
Just because a garment looks technical, it doesn't mean that it is. Men's puffer jackets, despite so often looking like they're capable of everything from a walk to the shops to a Sherpa-led Everest mission, do not do everything. It's important when choosing a puffer jacket to check for water resistance, wind resistance, waterproofing and temperature limits. Some brands will give you a full breakdown of this, whilst others will keep this brief.
Weather suitability will often relate to price too. Needless to say, brands that cater to winter sports are more likely to produce serious weatherproof garments. Likewise, a cheap and cheerful puffer isn't going to be as much use in sub zero temperatures. It's also worth noting that true waterproofing is a long way from water resistance.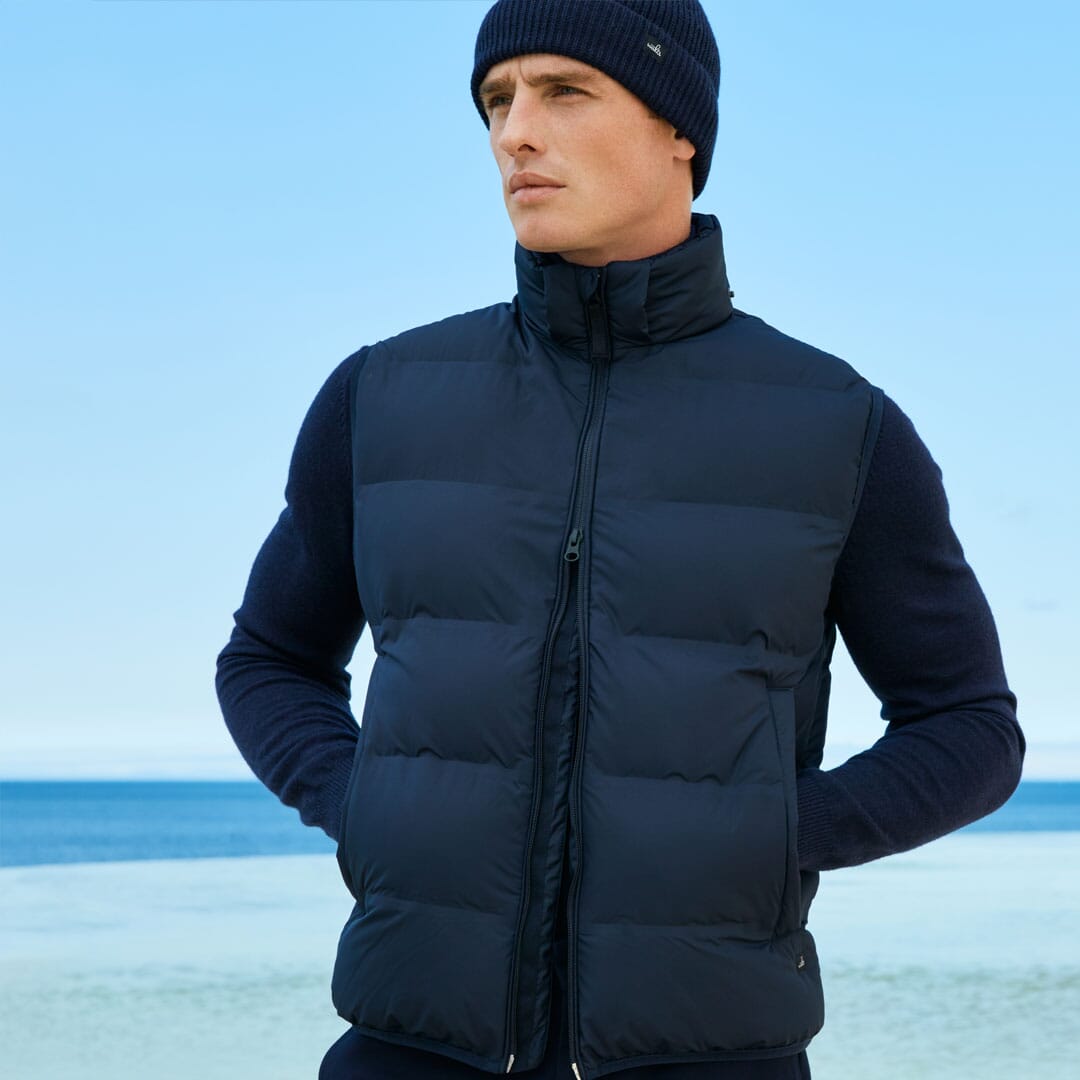 Materials
Whilst outer layers will more often than not feature technical versions of polyester and nylon, it's the innards that are worth considering when purchasing a puffer. Many of the brands on this list are now using recycled, sustainable and environmentally-friendly down materials and alternatives to fill jackets and this should be a consideration when you make a purchase. Whilst feather has been an industry staple, it's worth trying to source reused feathers or recycled materials when possible.
Packability
This takes into account how heavy a garment is too. Puffer jackets are great and by their very nature they are hefty. But depending on your usage, it might become a chore to carry your jacket around if you're in situations where you keep having to take it on and off. Likewise, when travelling. There are some excellent design-led features in this list that not only make for extremely warm and comfortable jackets in a lightweight package, but also make storing away and carrying extremely simple. Keep an eye out for those features.
Best puffer jackets for men in 2023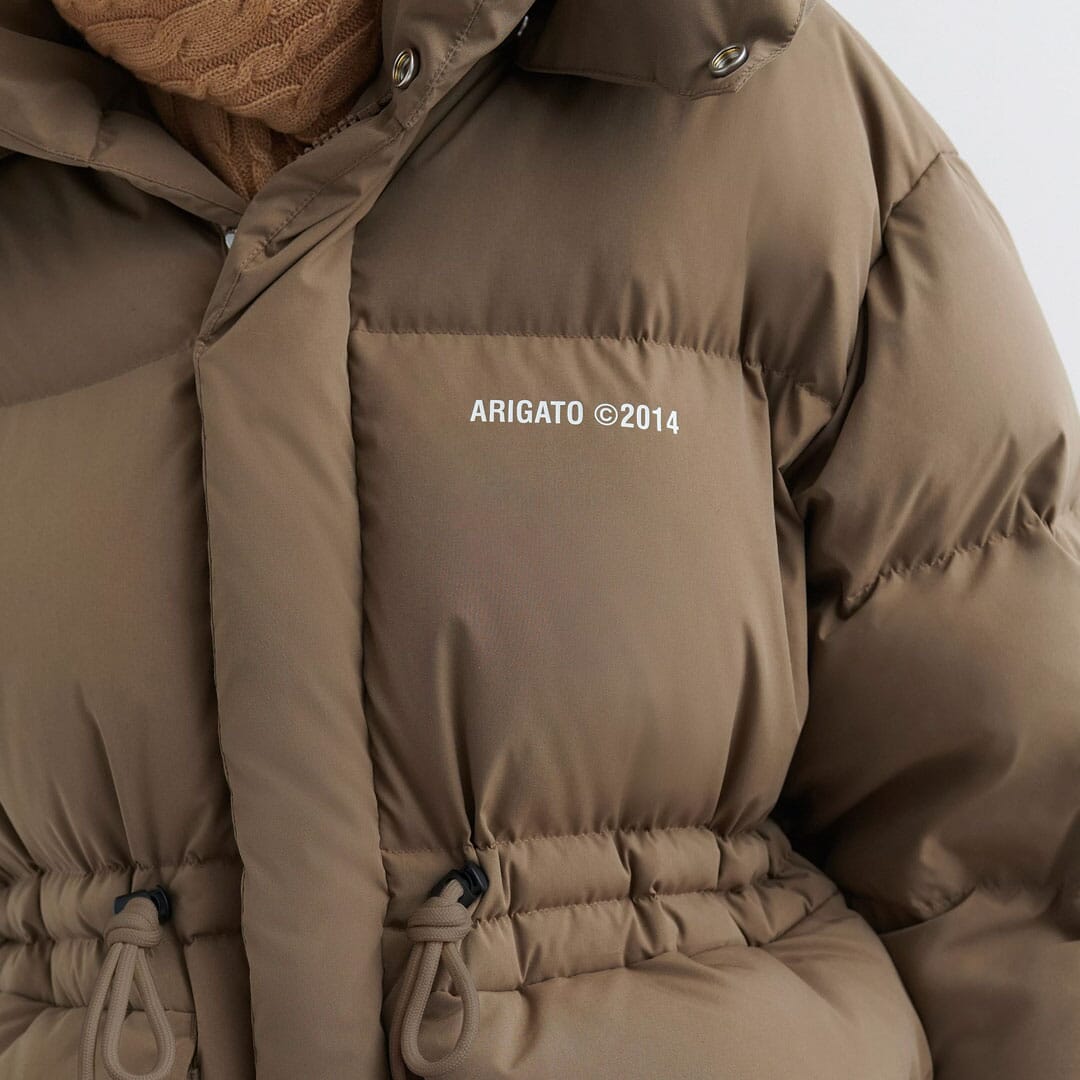 Axel Arigato Nebraska Down Parka
You can always count on Axel Arigato for something a bit extra. Bolshie almost. Unwilling to comply with the status quo and thus creating something bold and enjoyably out there. The Nebraska Down Parka is a statement piece. Oversized and made from lightweight recycled polyester filled with re-used down and feathers, it's a future forward garment. A detachable hood, sizeable pockets and adjustable waist ties make it practical and personal whilst a RE:DOWN QR code on the label allows the wearer to track its journey. A city option that's fashion forward.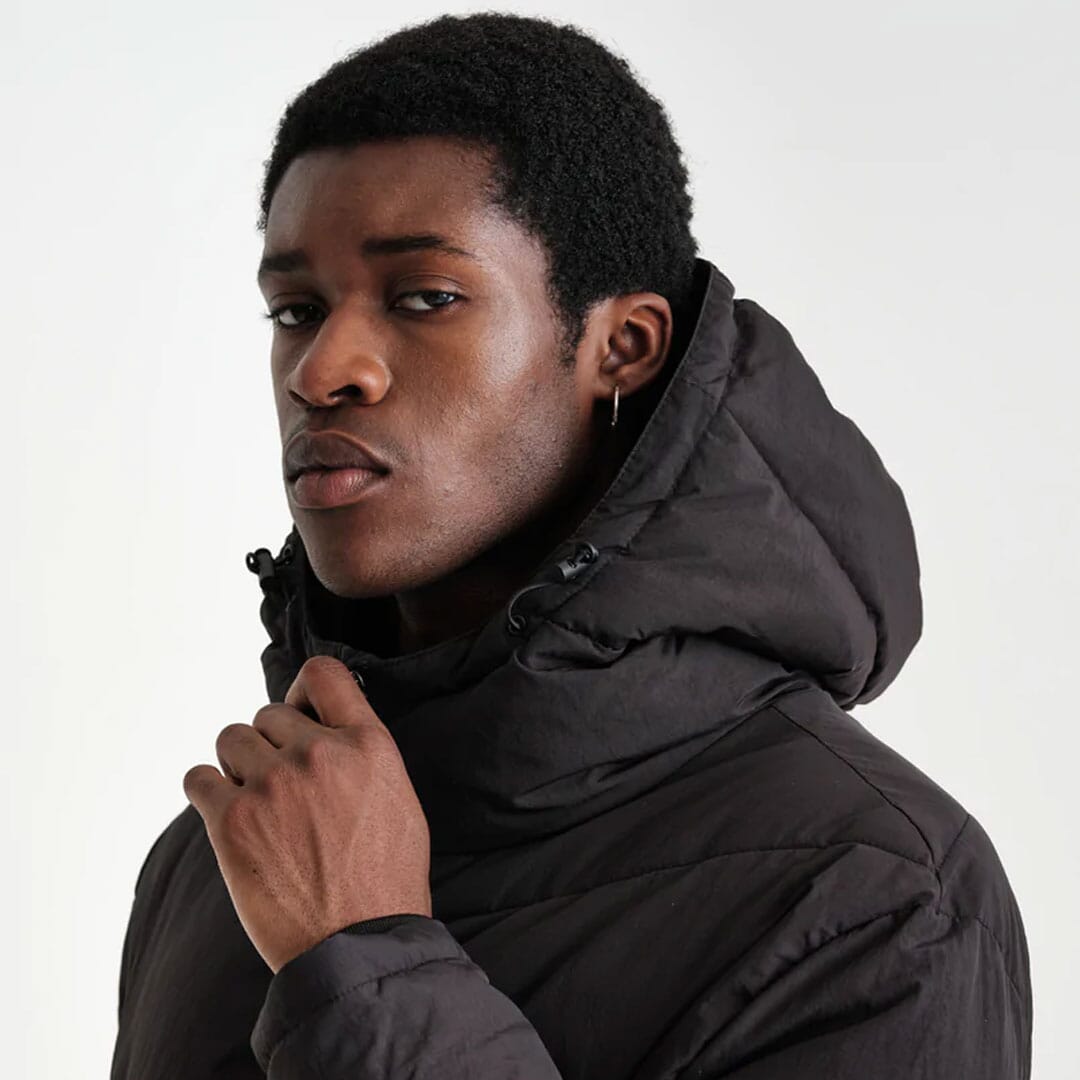 Wax London Malmo Puffer Black Tech Nylon
Good old Wax London. They never let you down. The British brand describes its Malmo puffer as "mollycoddle warmth". We love that, very evocative. Heavily quilted with ethically-sourced down filler, Wax say it'll keep you warmer than genuine animal down. Packed full of practical features like a front welt pocket, storm ribbed cuffs, adjustable hood and with barrel pullies and rope elastic, it's a looker too. Available in black, grey and green with a slightly oversized fit.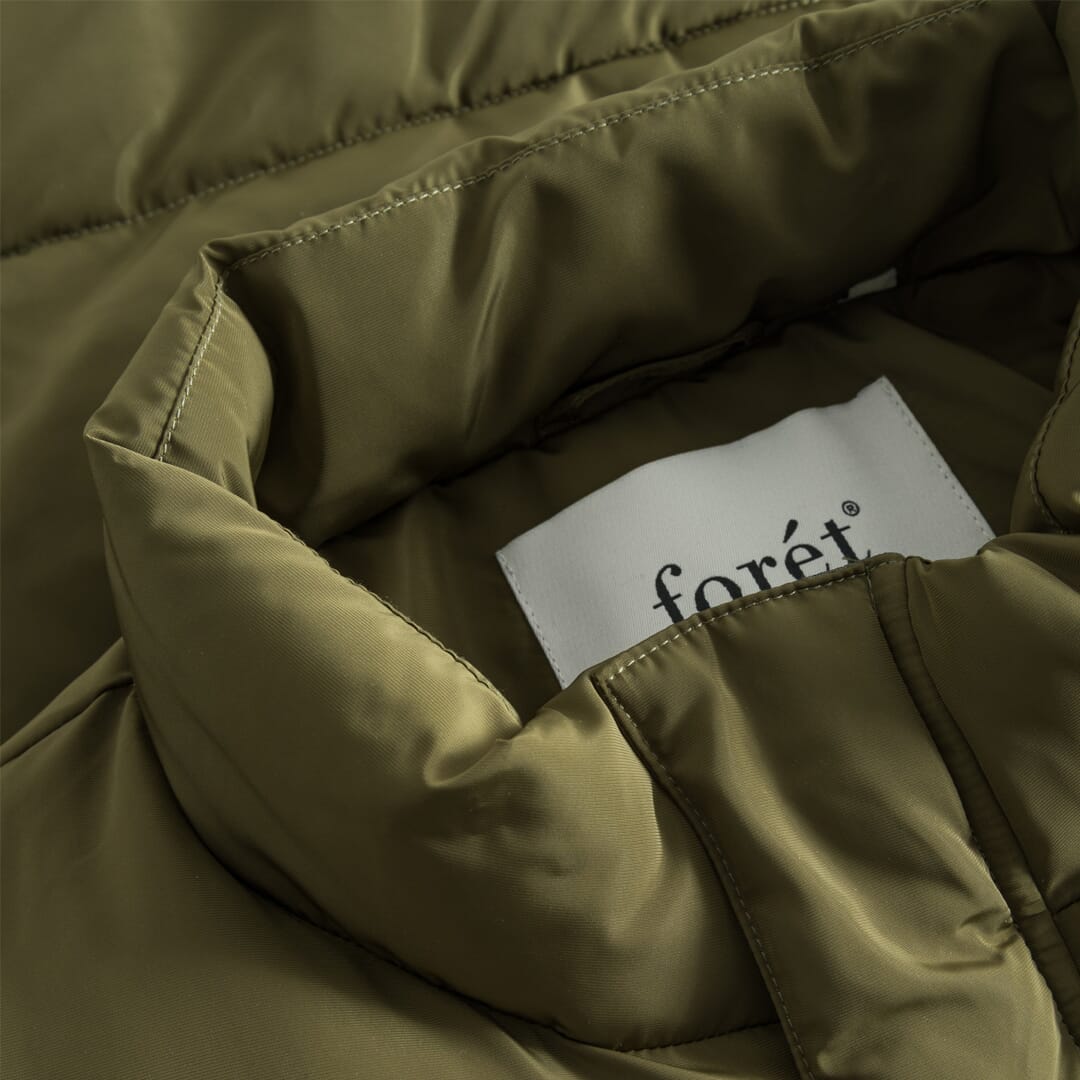 Forét Taiga Jacket - Army
Danish menswear label Forét creates clothing that will look just as good in the great outdoors as on your commute to work. Case in point: this rugged and ready-for-anything men's puffer jacket. Crafted from recycled polyester, it's wind and water repellent, guaranteed to keep you snug and protected from the elements even in the depths of winter. The contrasting oversized flap pockets lend it just the right amount of statement-making flair.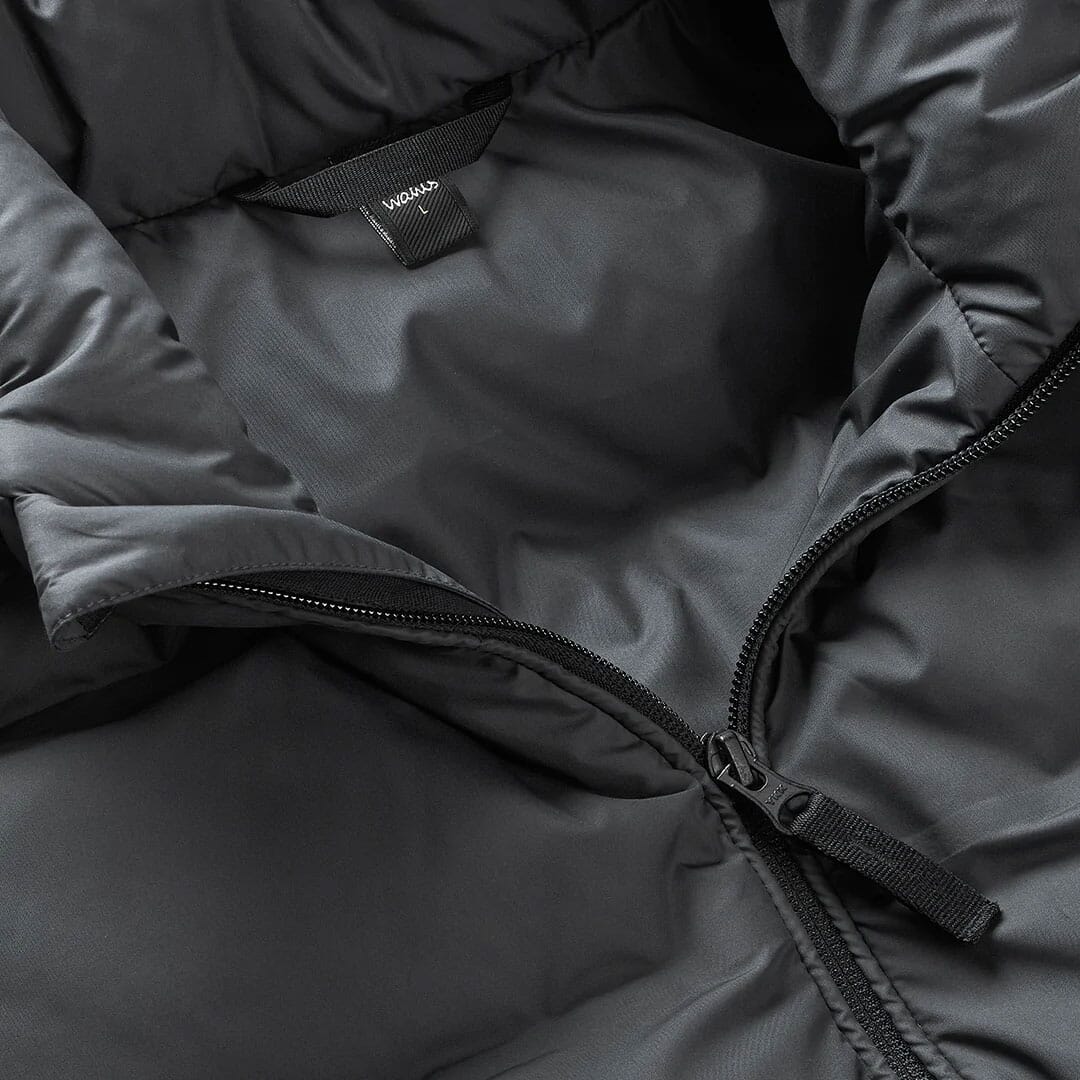 WAHTS Colt Puffer Vest
If you want warmth, performance and technical prowess without a big coat, consider a WAHTS Colt puffer vest. Made so that you can add a lightweight burst of warmth to any outfit, the vest still offers puffer visuals but in a slimline stylish package. Matte finishing, a soft touch feel, detachable hood, zipped side pockets and eco-friendly padding all make for a comfortable padded layered above or underneath.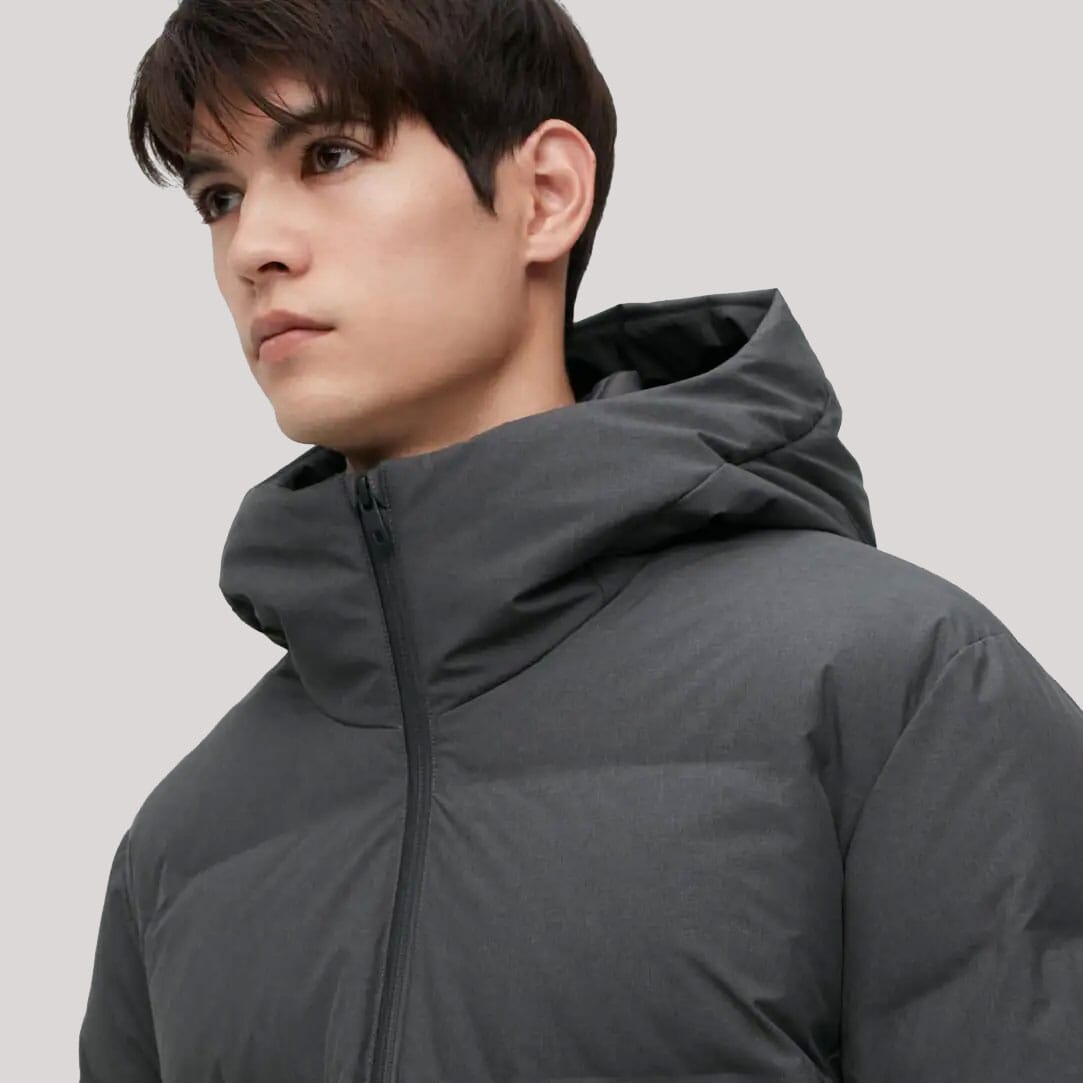 Uniqlo Seamless Down 3D Cut Parka
There are puffer coats on this list that will break the bank and there are puffer coats on this list that will still look the part, do the job with no need for serious spending. File Uniqlo under the latter. The brand's seamless down outerwear is high-performance and stitch-free, meaning it'll shut out water and wind, keeping you warm, comfortable and dry. Uniqlo's seamless down 3D cut parka is lightweight, functional and stylish. Plenty of colour options too, making it versatile for sporty and casual styling.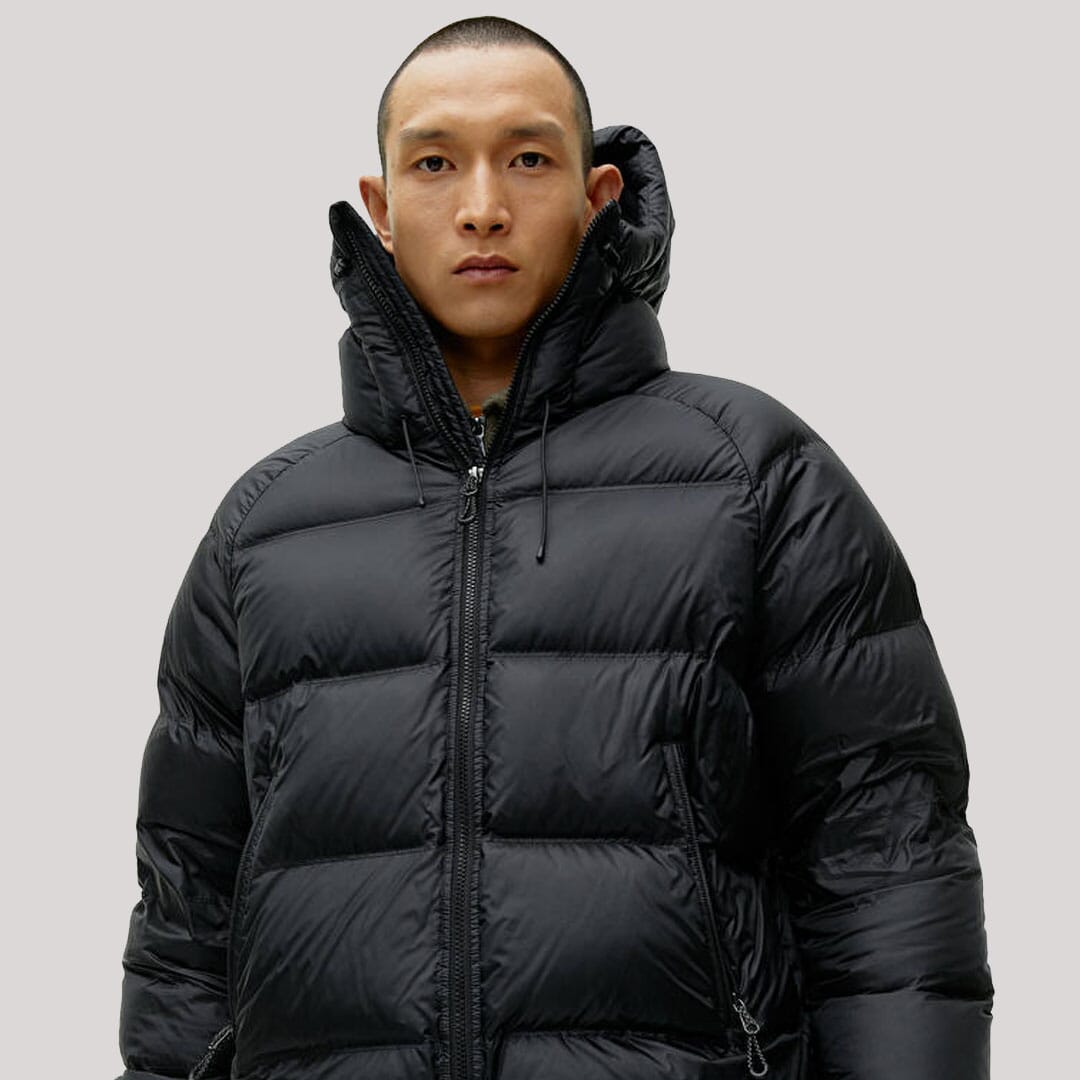 ARKET Sporty Down Jacket
Lightweight natural warmth from reused materials. What's not to love? ARKET's latest collection in the puffer coat department makes use of high-quality down and feathers that are reclaimed from pre-used sleeping bags and bedding products that otherwise would've gone to landfill. Don't worry it's all wash and sterilised. Much better to make use of existing materials than producing more. ARKET's sporty down jacket comes in a regular fit with recycled polyester shell and a recycled down-filled hood. Dashing in light khaki.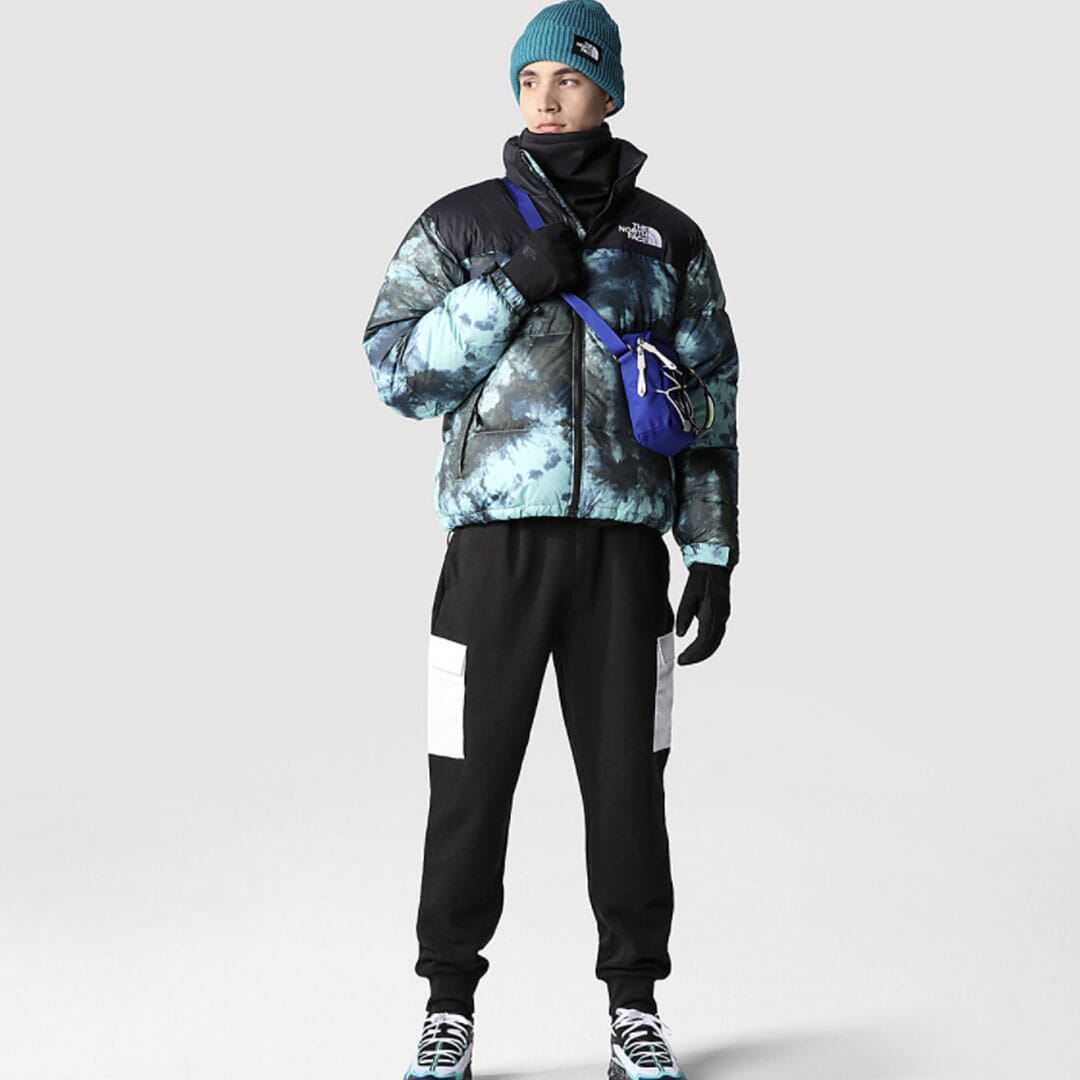 The North Face Men's Printed 1996 Retro Nuptse Jacket
Say what you like, deep down, everyone wants a Northy. A brand synonymous with early gorpcore now transformed into a streetwear staple thanks to the endless potential of collaboration. A statement piece in bright colours, others might prefer a simple black outershell. Quality, warmth and weatherproofing guaranteed either way. We're very much here for the printed 1996 Retro Nuptse Down Jacket in its various flamboyant guises. Made from recycled materials with that trademark down fill and packability (you can pack the jacket into its own pocket).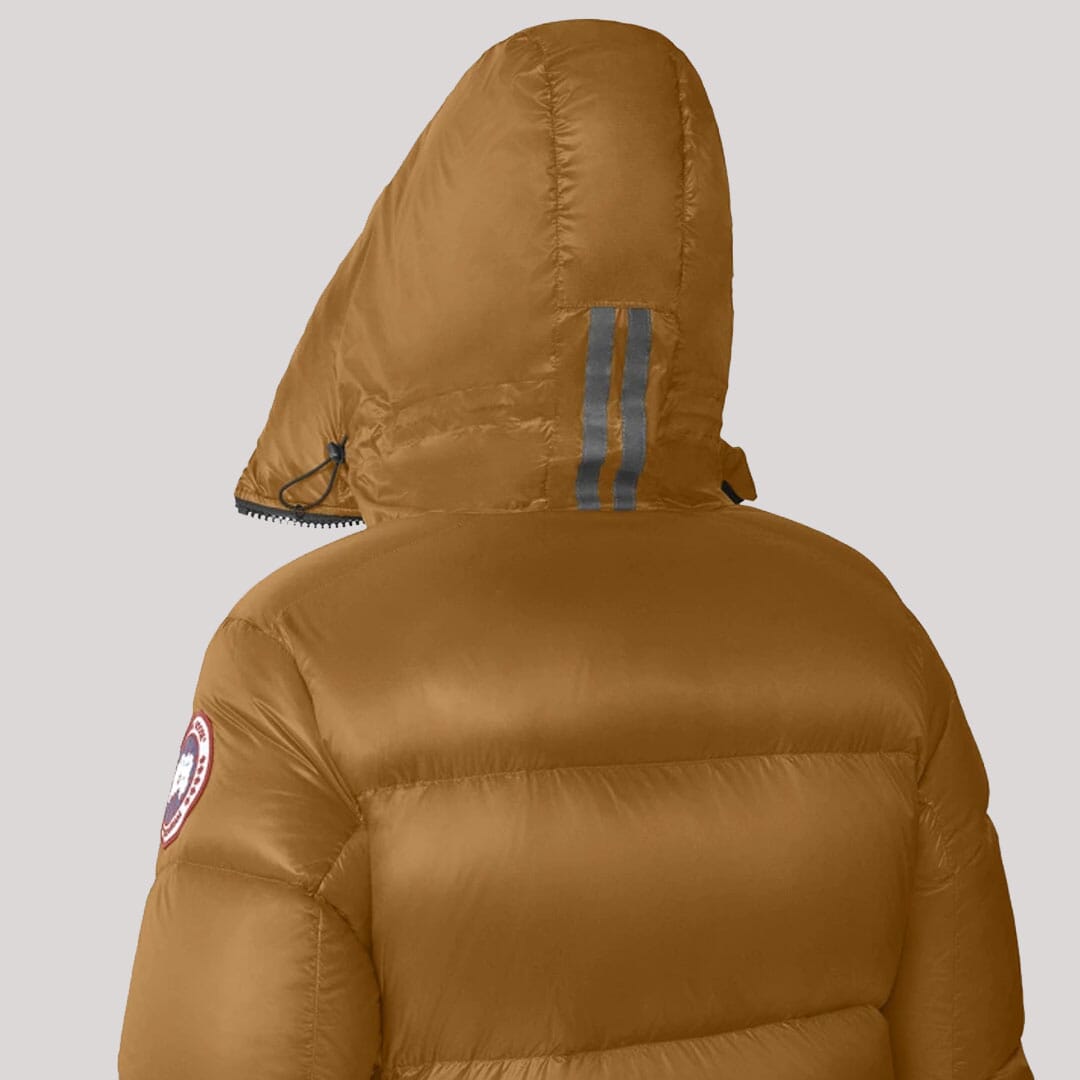 Canada Goose Crofton Puffer
Difficult to put together a list of men's puffer jackets without a certain feathered heavyweight from Canada Goose. Extreme weather outerwear since 1957 goes the strap line. Needless to say it'll cost you. Whilst the brand do everything from parkas to bomber jackets nowadays, you can't beat the brand's ultra-lightweight down. Trademark innovation with extra movement and versatility, minus the heft. The Crofton Puffer is made with Recycled Feather-Light-Ripstop fabric making it an all-season essential. Away from the inevitable high performance that comes as a given with the brand, the design behind the packing capability, notably a dash bag or rucksack style clip, is inspired.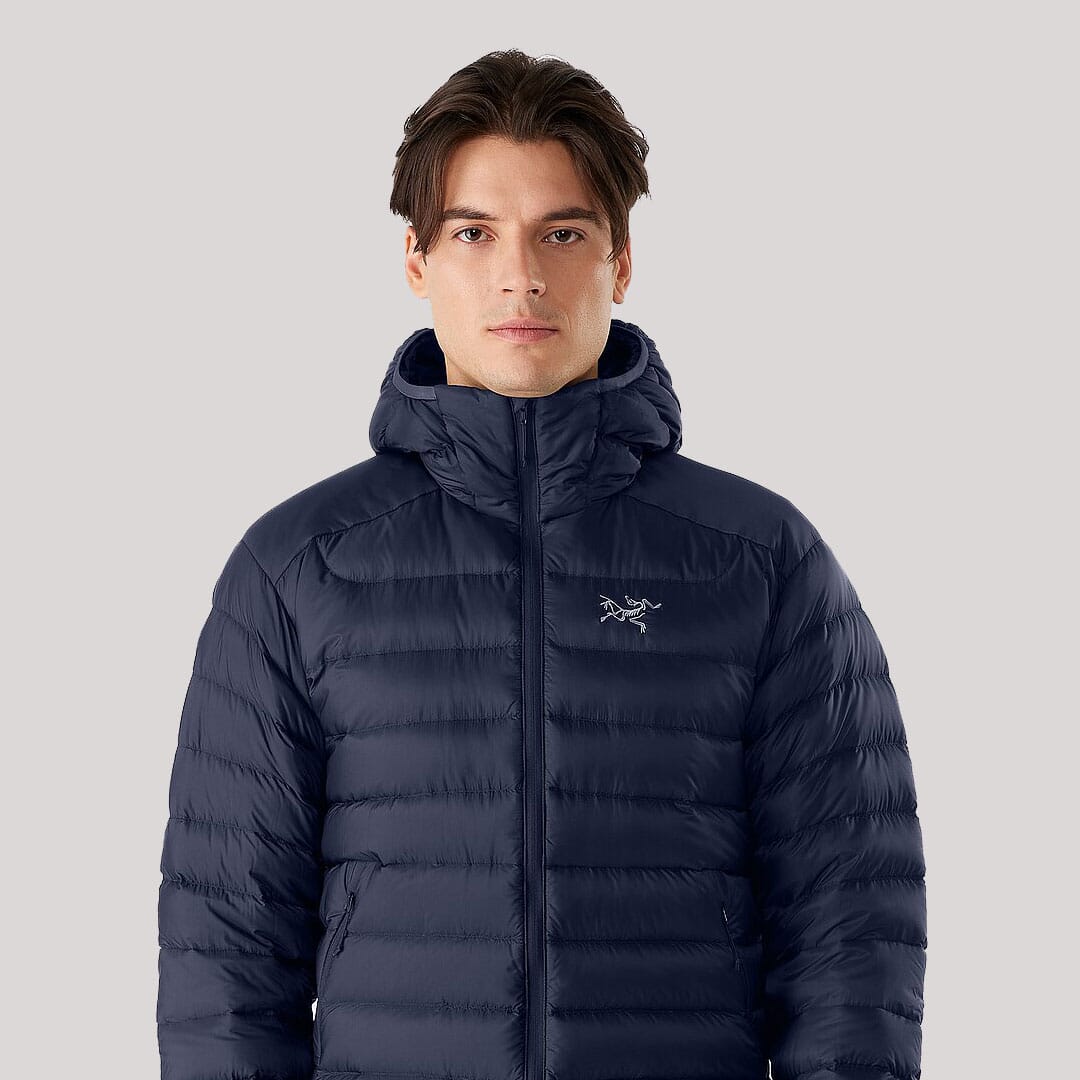 Arc'Teryx Men's Cerium LT Hoody
You've seen the viral videos. Arc'Teryx wearers stood in the shower, rain rushing off the jackets, not a drop left when the tap has been turned off. Next level waterproofing. Another leader on the gorpcore scene, Arc'Teryx has proven over the years it knows its way around a weatherproof jacket. Sometimes you want something a little less heavy and a little more versatile without all the bells and whistles that you can still wear casually. The Cerium LT hoody is just that. Down insulated but suited to dry, brisk conditions.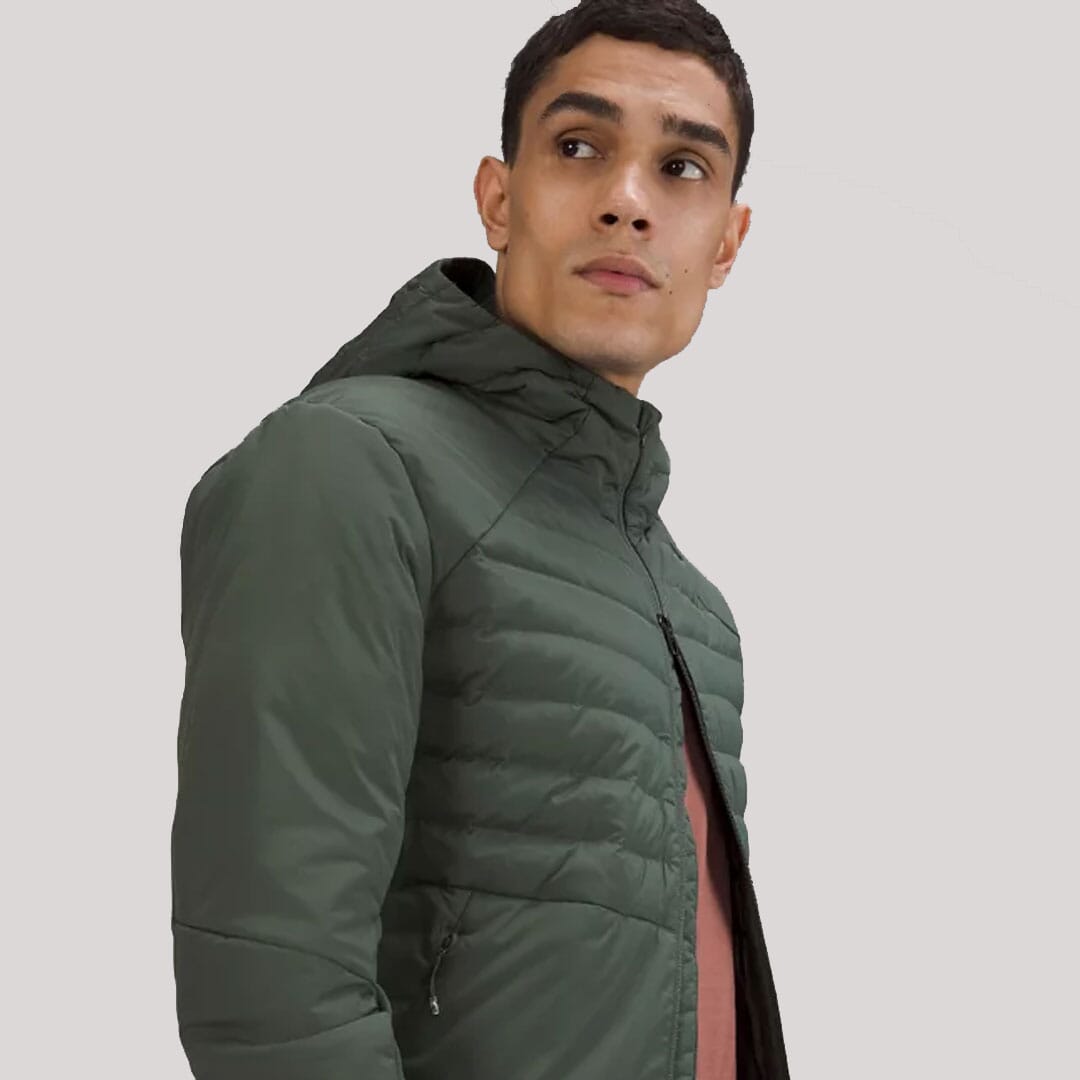 Lululemon Down For it All Hoodie
A handsome piece of sportswear. Lululemon's Down For It All Hoodie is a dynamic piece that blends a lightweight track-jacket style build with the all-important down panels for warmth. It'll keep you snug and cosy but it'll also allow you to move with a welcome stretch to the fabric. Not everyone wants to be swaddled. Exterior pockets with hidden phone sleeve and reflective details are welcome features that understand the needs of the active person on the go. A great option for layering too.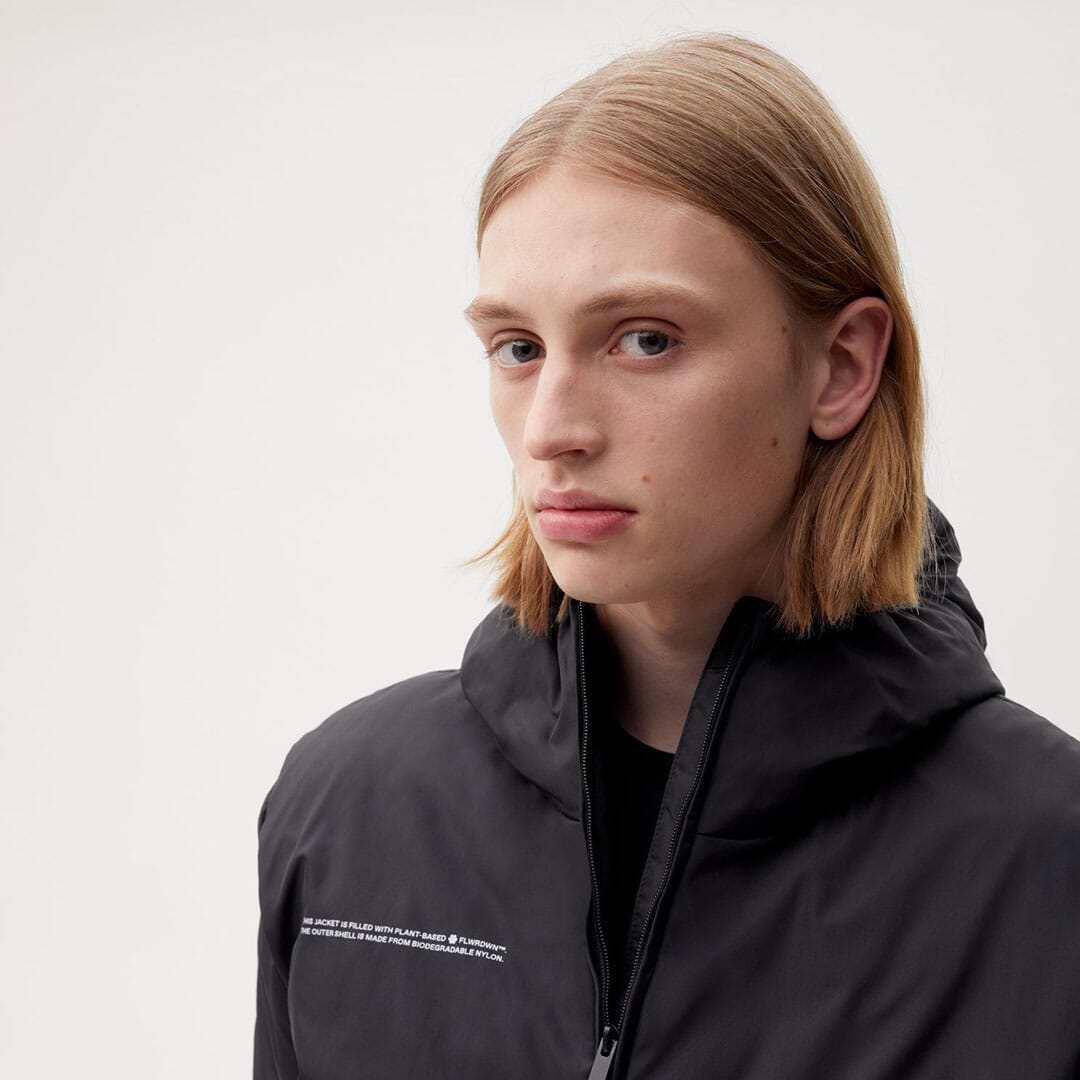 Pangaia FLWRDWN™ Fitted Long Puffer Jacket
Channel your inner Arsene Wenger and get a bench coat. A long one. Caterpillar-esque. The more of your body that's covered by pillowy filled down, the warmer you'll be. Pangaia's FLWRDWN™ Fitted Long Puffer Jacket is a good place to start. Down made from wild flowers. Is there a warmer more beautiful material out there? We'll wait. Fits down to the calf or ankle, two external side pockets and one internal pocket mean you can fit your phone and everything else. Snap fastenings and a two way zip mean you can open it up for movement and a bit of fresh air. Climate positive design at its finest.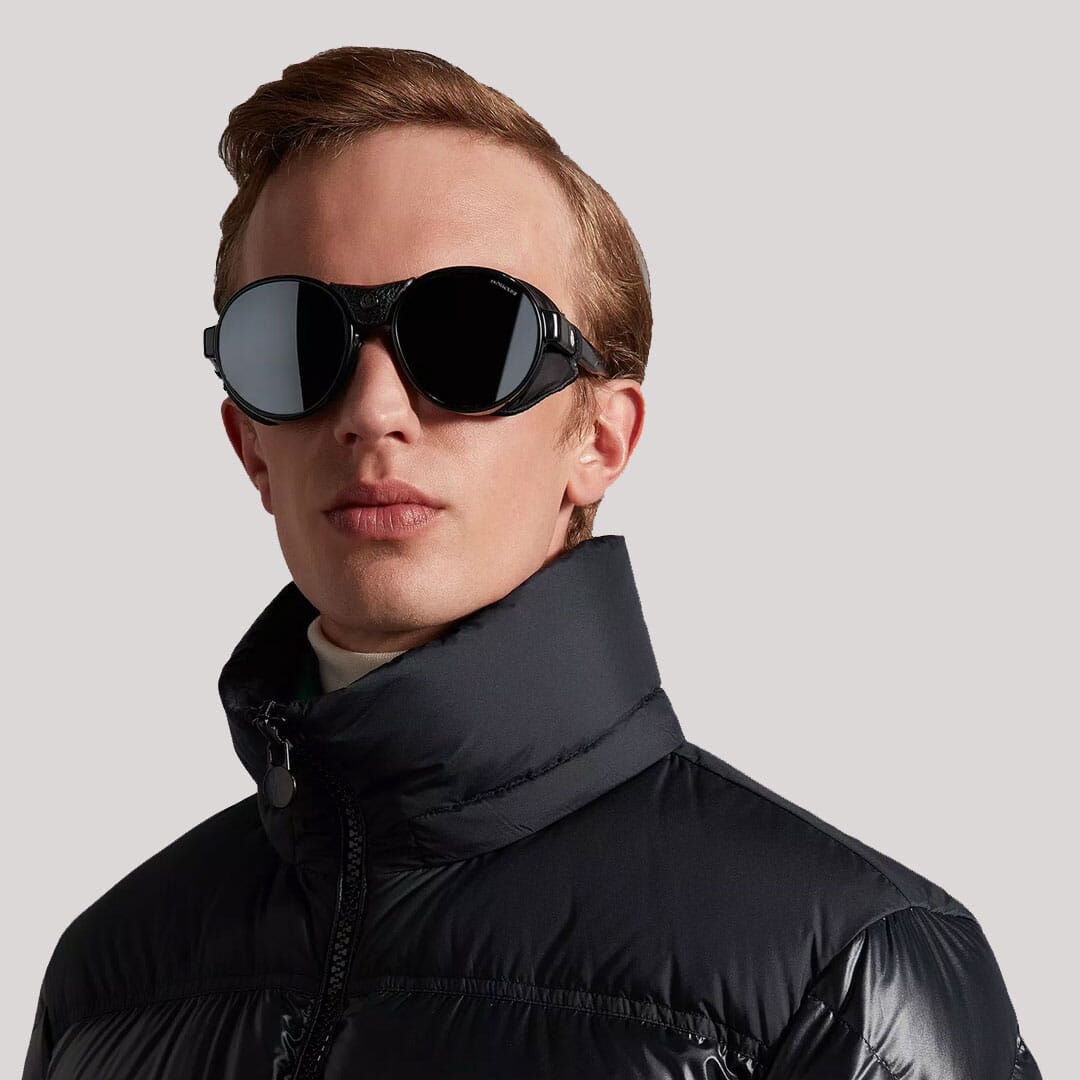 Moncler Masaya Short Down Jacket
Milan-born fashion house Moncler has always made outerwear garments that stand out. Think statement warmth in the Italian Alps, or season-proofing short jackets for when the temperatures drop on Como. Made from recycled polyester, the Masaya short jacket comes with a shiny poly shell and lining, detachable matt poly hood zip closure and adjustable hem. Bold, brash and beautiful.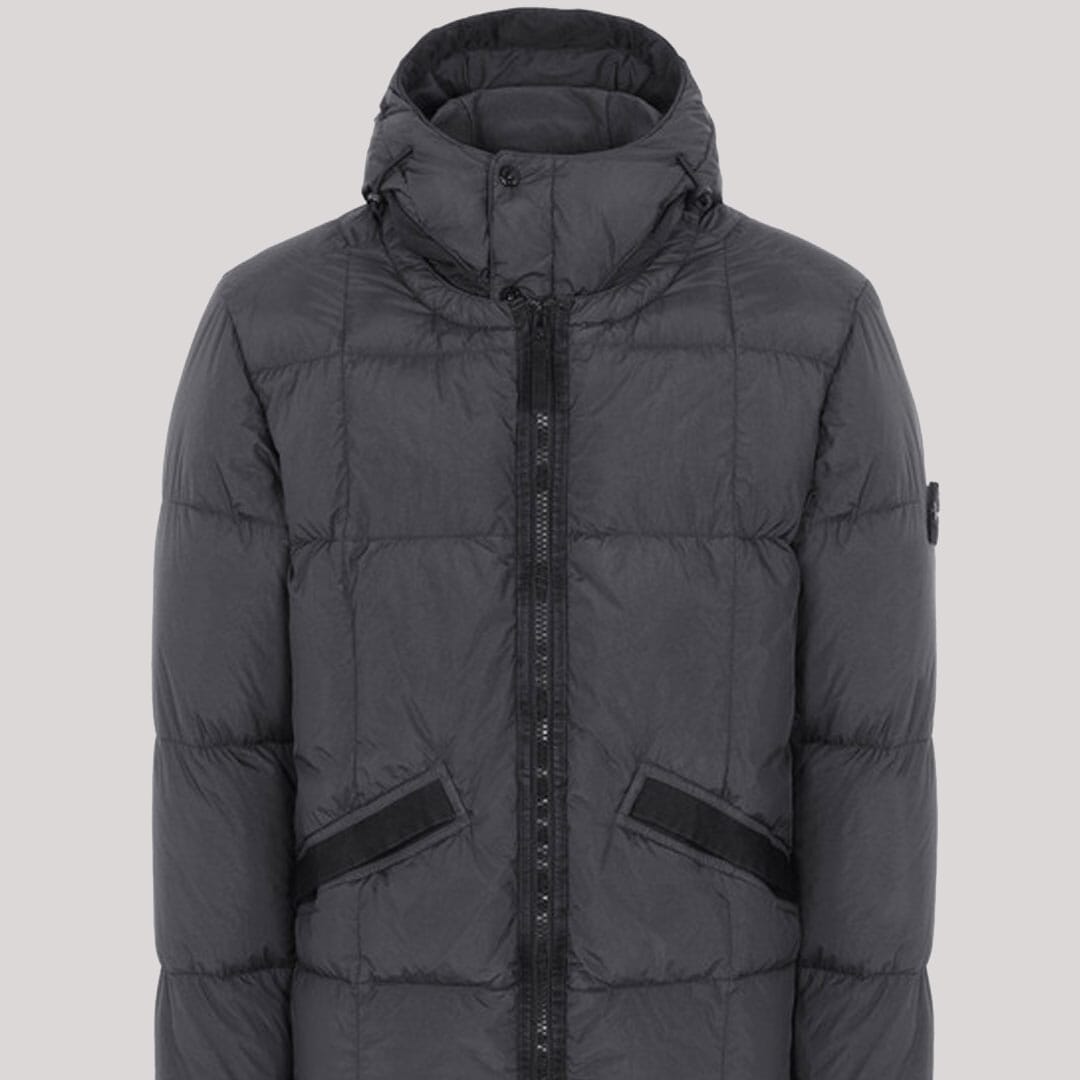 Stone Island 40223 Garment Dyed Crinkle Reps NY Down
Last but not least. The old faithful Stony'. The badged arm to beat all badge arms. A brand that has been absorbed into so many subcultures. Previously football casual culture and more recently streetwear. The 40223 garment-dyed crinkle reps NY down jacket is available in the brand's statement colour spectrum and features 100% recycled light nylon rep with an ultra-tight weaving construction. A resin coating makes it wind-proof and water resistant whilst the finest down keeps it snug. A visor hood with contrast drawstring completes a desirable garment.
Get winter-ready with our pick of the cosiest cardigans for men.
---
---